X Games returns to Austin, Texas, for its third and final year at the Circuit of The Americas and features world-class action sports competition, concerts, interactive festivals and more. Let's take a look at what you need to know: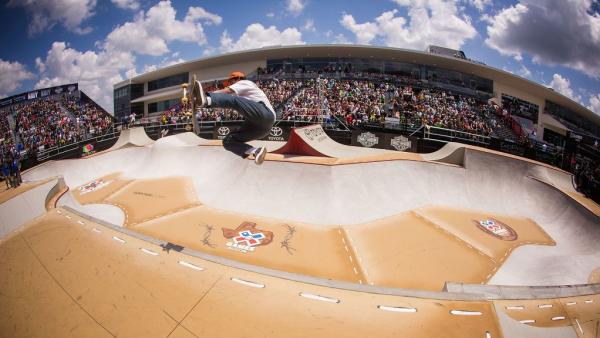 Street Skateboard Competition. Courtesy of ESPN Images.
When: Thursday, June 2 – Sunday, June 5, 2016
Where: Circuit of The Americas™
Event Hours:
Friday, June 3, 2 p.m. - 10 p.m.
Saturday, June 4, 10 a.m. - 10 p.m.
Sunday, June 5, 10 a.m. - 5 p.m.
Who's Coming: Familiar faces Bob Burnquist, Nyjah Huston, and Vince Byron will all return to Austin to defend their gold medals in 2016. The full list of invited athletes can be found here.
Competitions: This year, X Games Austin will host Moto X Step Up and Harley-Davidson Flat-Track Racing on Thursday and the following finals Friday-Sunday: BMX Big Air, BMX Dirt, Park, Street, Vert; America's Navy Skateboard Big Air, Monster Energy Men's Skateboard Street, Street Amateurs, Women's Street, Park, Vert, Vert Best Trick; Moto X Freestyle, Best Whip/Quarter Pipe and Best Trick.
New Competition: On Saturday, Jun 4, X Games will kick off the first Dave Mirra BMX Park Best Trick competition, in memory of the BMX legend. This memorial competition will recognize and honor Mirra's contributions to the X Games and BMX as a 14-time gold medal winner across multiple events.
Music:
Listen to the official X Games Austin 2016 Spotify playlist to get amped up for the weekend of action!
Friday, June 3: Logic + G-Eazy
Saturday, June 4: All Time Low + blink-182
Festivals at Circuit of the Americas: X Games Austin 2016 features six themed interactive festival villages: Galleria, Sour Punch Next X Parks, Torchy's Tacos Playground, Vert Village, Sound Factory and Gaming Shack. Villages offer entertainment, interactive games, attractions, food and other activities, all included with price of admission. Located throughout CoTA, the festival villages also feature live music, athlete autograph signings, giveaways and much more.
Tickets: xgames.espn.go.com
Be sure to follow all the action with ESPN and share your photos with #TrueAustin on Instagram and Twitter!