EXPERIENTIAL EVENTS IN AUSTIN 
Meeting Outside the Box in The Experience Economy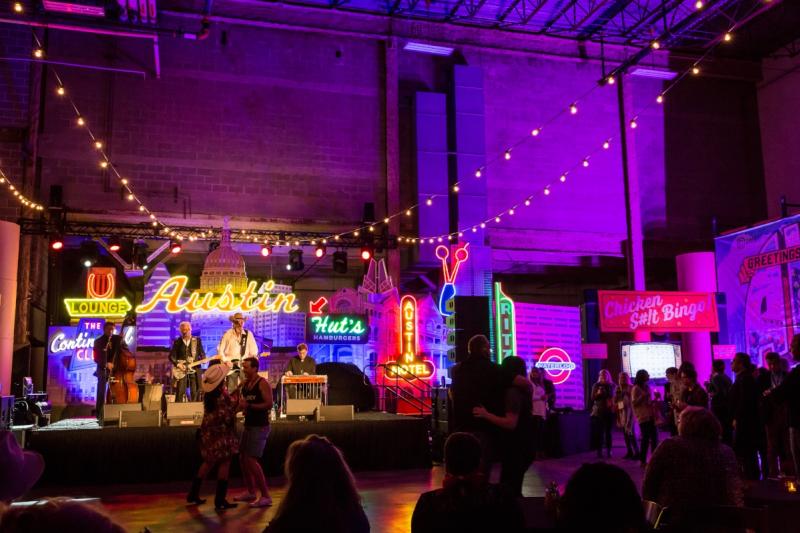 Courtesy of Arts + Labor.
The number one indicator of a successful meeting is attendee satisfaction, according to a recent survey of meeting planners reported in "State of the Event Industry" by Event MB. Likewise, satisfied attendees are more likely to register for the following year, recommend an event to others and share their experiences on social media, according to PCMA's industry-insider magazine Convene.
Satisfaction, sharing word of mouth praise and repeat attendance are critical to an event's ROI. As meeting planners seek to improve attendee experiences, reduce costs and boost ROI, they're looking for unique locations and brands that create experiences singular to their place, according to a report from Eventbrite.
"Until recently, conferences have been mostly about knowledge building and networking," says Juraj Holub, Marketing Manager at Sli.do, an audience interaction app for meetings and events. "But this paradigm is shifting; attendees are attending conferences with a new objective in mind—to gain a unique experience."
If attendees are going to travel for professional development, they want to have experiences they cannot have in another location. Amy Brown, Director of Sales at Visit Austin, is part of a contingent of destination marketers working with event planners to harness the uniqueness of their cities. "Event planners increasingly are choosing a destination so attendees can experience the city," Brown says. "Attendees don't want to stay in a traditional meeting or conference room. They prefer unique spaces that foster creativity and learning."
Providing that vibe by using nearby offsite venues and harnessing local talent can dramatically increase positive attendee survey ratings.
The "festivalization" of meetings follows the lead of pioneer events such as South by Southwest, providing a multitude of events spread over the city to engage all of an attendee's senses. The EventMB report found that more than half of surveyed meeting planners were seeking new and unusual venues for their next events, such as parks, lofts, museums or warehouses. Spreading meeting events to venues deeper into the city also creates connection to the location itself. "On repeat visits, attendees arrive earlier than their meeting begins or stay longer than it lasts to have an opportunity to do everything they didn't have a chance to do on their first visit," Brown explains.
Intellectual and corporate assets can also provide one-of-a-kind opportunities for attendees. "Organizations want to tap into local speakers and local tie-ins to the community. It started organically and now it's what they expect," Brown says. "They want to know the assets in our community that they can tap to make their meeting special." The bonus for event planners is saving on speaker costs.