The new AFS Cinema is the place to immerse yourself in world-class film culture, from the most exciting current independent titles to art house classics and rediscoveries. This December's programming showcases the variety of films you can enjoy at the Cinema, all while supporting Austin Film Society's many community and artist programs.

Credit David Brendan Hall.
Come early for cocktails (The Bickle is a local favorite), a full food menu, and popcorn, of course! The AFS popcorn was named "Best Movie Theatre Popcorn" in The Austin Chronicle's Best of Austin 2017.
The AFS Cinema is one of the nation's leading art house theaters, so add it to your itinerary (and don't forget to take a selfie in front of the iconic red curtain!).
New Releases
"Lady Bird," Through December 14, 2017
See the film that's getting great buzz from fans and critics alike. In Lady Bird, Greta Gerwig's directorial debut, we experience the aches, pains and, yes, laughs of a lower middle class family through the eyes of their imaginative, drama-obsessed daughter (Saoirse Ronan).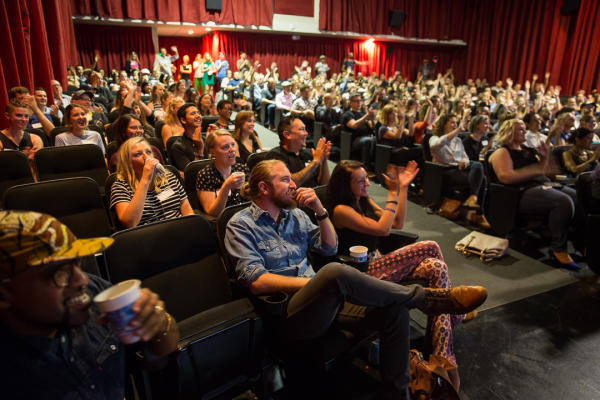 Courtesy of AFS Cinema.
Jewels In The Wasteland: Hosted By Richard Linklater
Wings of Desire, December 13 and 19, 2017
Director and AFS Founder Richard Linklater screens German filmmaker Wim Wenders' underground classic about a guardian angel who falls in love with his charge, an ethereally beautiful trapeze artist, and decides to renounce his immortality. Linklater will introduce the film and participate in an audience discussion afterward.
Home for the Holidays, December 22 - 30, 2017
We present a unique selection of some of our favorite Hollywood holiday classics on the big screen including Christmas in Connecticut, The Thin Man, White Christmas, and It's a Wonderful Life.Come share the holidays with all of us.
View full calendar at www.austinfilm.org/screenings. The AFS Cinema is located just 5 miles from downtown at 6406 N Interstate 35 Frontage Rd., Ste. 3100.