Nestled just west of Austin's city limits is Bee Cave, Texas. The area derived its name from the colonies of Mexican honeybees that lived near the banks of Barton Creek and Little Barton Creek that encompassed a large area of Western Travis County. Today, Bee Cave is known for its laid-back atmosphere and a visit makes for a relaxing day-trip away from the hustle of downtown Austin. So, whether you're in the mood for some retail therapy or just a quiet getaway, Bee Cave has a lot to offer.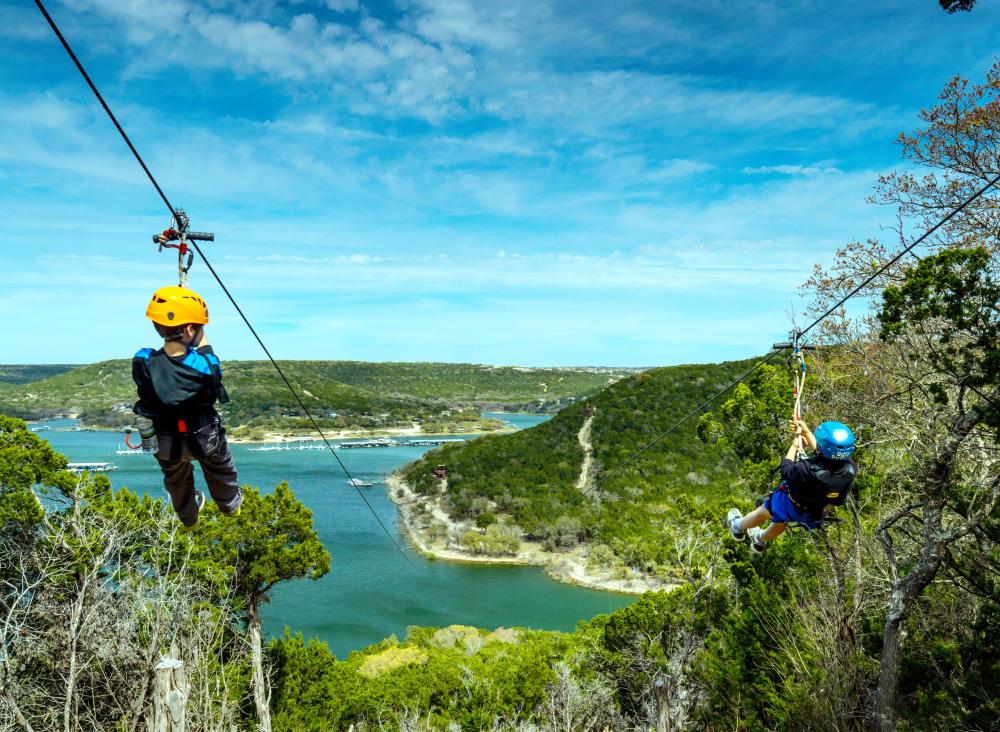 Courtesy of Lake Travis Zipline Adventures.
ACTIVITIES
As you drive west towards Bee Cave, you'll notice the stunning views of the surrounding Hill Country. Plenty of parks and golf courses are laid out to make the most of the landscape, so be sure to stop by Falconhead Golf Club to swing away at one of the best courses in the area.
About 30 minutes outside of Bee Cave is the longest and fastest zipline in Texas, Lake Travis Zipline Adventures. This company prides itself on creating a safe, family friendly, and memorable experience for its customers at all times. The adventure is waiting for you.
Enjoying and protecting nature is nothing short of importance at the Westcave Outdoor Discovery Center. On 76-acres of the beautiful preserve, reserve your tickets to be able to walk through hundreds of thousands of years of geological formations, go on bird hikes, and create a sketch with a wonderful view of nature.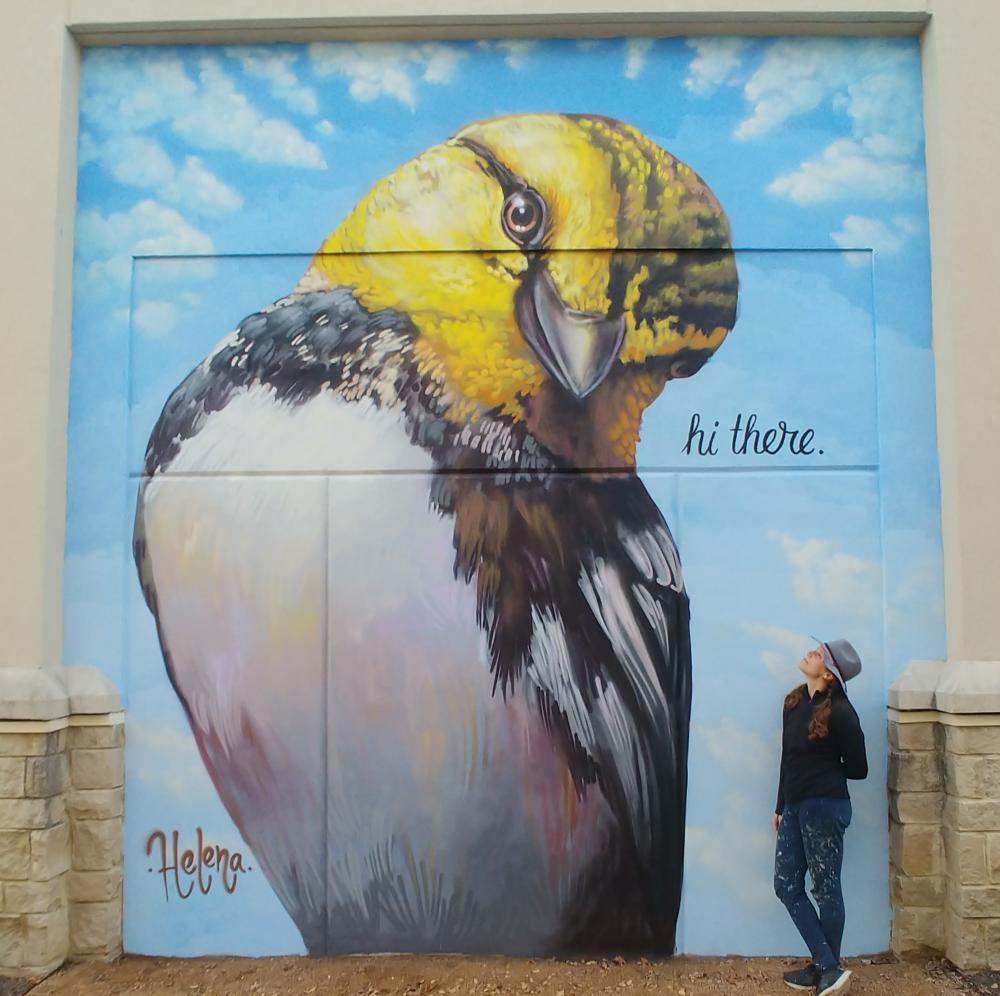 Hi There. Courtesy of Hill Country Galleria.
SHOPPING
At the heart of Bee Cave is the Hill Country Galleria, where you'll find some of the best shopping that the Hill Country has to offer. Set outside, the hot-spot is 152 acres of shopping, dining and entertainment venues. Spend an hour, or an entire day, at the Galleria to unwind and practice a little retail therapy.
The Galleria includes a mix of department stores and local-owned shops, like New Origin Shop. This Black-owned boutique was created to provide unique and affordable selections to shoppers who want to support independent makers and small businesses. Featuring handcrafted, artisanal products, New Origin Shop is the perfect place to find a unique Austin souvenir for yourself or a gift for someone you love.   
ATTRACTIONS AND LIVE MUSIC
If you want to enjoy the more artistic side of the town, take a stroll around Bee Cave Sculpture Park. The park expands over 7 acres of gorgeous Hill Country terrain showcasing both permanent and seasonal sculptures. A children's playarium, a pond, expansive oak trees and numerous wildlife run-ins makes this sculpture garden a must-try when visiting Bee Cave.

Hamilton Pool. Credit Dave Mead.
Although swimming is currently closed, Hamilton Pool is a beautiful place to swim and enjoy the natural beauty of the canyon during the hot summer months. The swimming hole is home to many wildlife and natural species and is now named a significant natural area in rural Travis County. Advance reservations are required every day of the week. 
If want to experience the Hill Country, but don't want to miss out on Austin's live music scene, The Backyard Live Oak Amphitheater is best known for its intimate, natural setting and has hosted names such as Bob Dylan, David Bowie and Willie Nelson. Catch an outdoor concert here to get your music fix (reopening in 2024).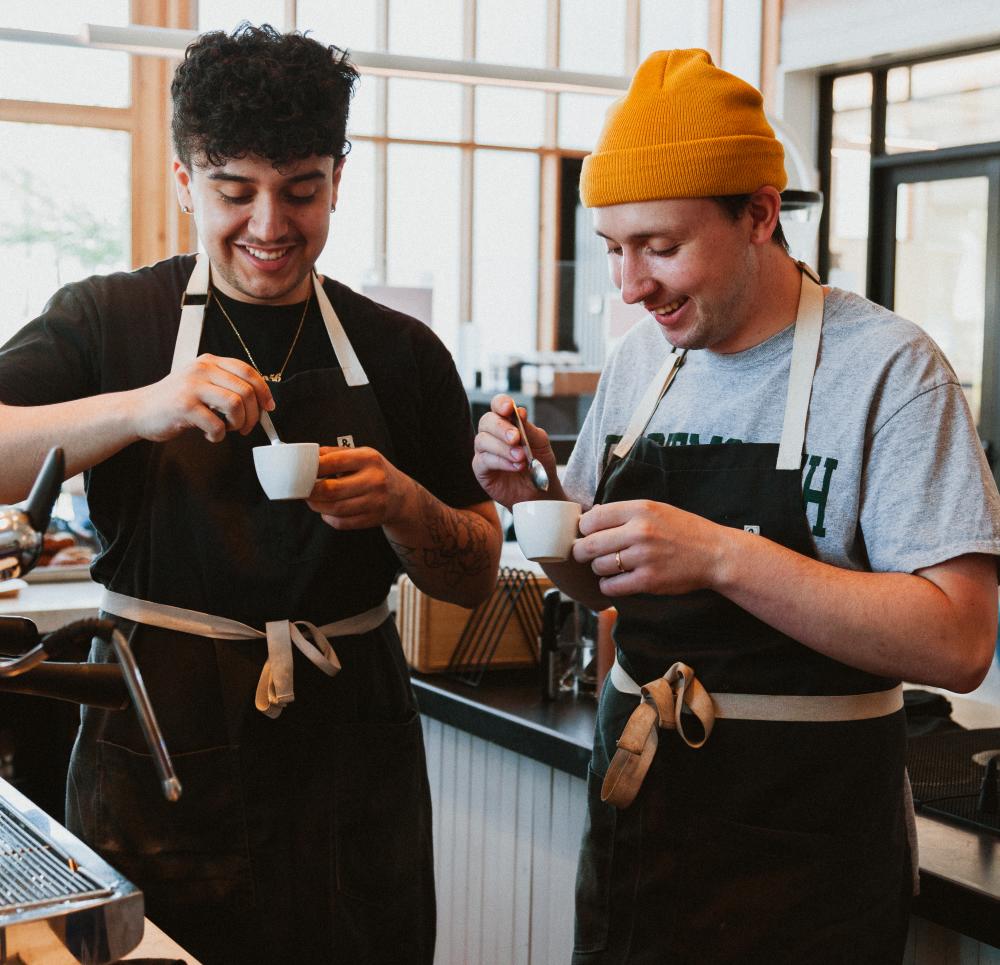 Courtesy of Greater Goods Coffee Co.
RESTAURANTS
Spend an afternoon exploring all that Bee Cave has to offer, then dine in luxury with the natural landscape of the surrounding Hill Country at Meridian 98, a rooftop lounge and eatery. Or, get your bib ready for some lip-smacking baby back ribs from Schmidt Family Barbecue. In business for more than 75 years, the Schmidts are known for their house-smoked meats, including tender barbecue beef brisket. 
Get a taste of the award winning menu from Cafe Blue with coastal cuisine from around the world such as grilled fresh fish, Cajun creations, oysters, salads, steaks and more. Or, have a taste of Boston right here in Bee Cave when you stop by The Garden at Ellera, an authentic Italian seafood restaurant that serves a variety of beer, wine and craft cocktails.
We know all that talk about dinner food has you craving some sweets so crave that sweet tooth at the Artisan bakery Baguette et Chocolat, and try their freshly baked croissants, bread, and pastries that are cooked daily on premises. Or head to what was named the 2021 Micro Roasters of the Year by Roast Magazine, Greater Goods Coffee Roasters, to sip on some quality coffee from around the world and see for yourself why they are the best of the best. Each cup of coffee is carefully crafted to bring out the best in the recipe with beans from sustainable growers. For a great mixture of breakfast, lunch, dinner, weekend brunch, beer, wine and cocktails, The Wayback Cafe has it all. With a variety of menu options, your taste buds will be satisfied with just about any meal at any time of the day. 
Where to Stay
If you're looking to stay in the middle of the action, Sonesta Bee Cave offers well appointed accommodations infused with the energy of the Texas Hill Country. Guests can enjoy the Hill Country Galleria that is literally steps away, relaxation at the courtyard pool or outdoor activity on the on-site hike and bike trail. Looking for additional options? Check out these West Austin hotels and book your stay now.
Although Bee Cave is a small town, it never fails to serve up big experiences. Make sure to make time in your trip schedule for a visit to Hill Country and share your trip pics with us using #TrueAustin on Twitter and Instagram!