In 1980, the Texas Parks and Wildlife Department cited Hamilton Pool as the "most significant natural area in rural Travis County," which was later acquired by Travis County in 1985 in an effort to restore the land through an aggressive land management plan. Historically, the property had been over-trafficked with no regulation, so there has been immense effort since to restore the pool to its most natural state—which is both beautiful and an important part of the local ecology. The preserve includes the pool itself, which is a glistening grotto with a 50-foot waterfall pouring into the center and lush ferns growing along the cliffsides that surround the pool. Hamilton Pool is a spectacle, indeed, and it's bright blue waters and steep cliffs are accessible with only a minimal hike.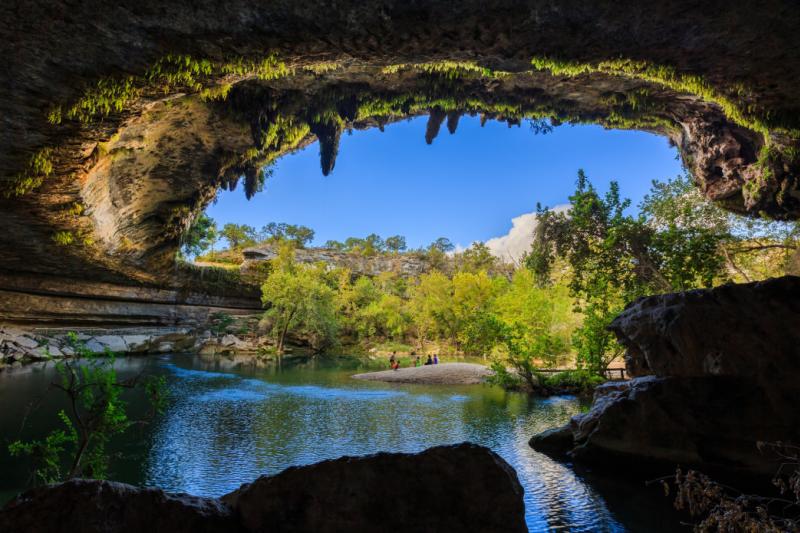 Credit Srini Sundarrajan, courtesy of RootsRated.
What Makes it Great
The preserve is a magical oasis backdropped by lush fern canyons. With blue waters and green flora, the setting couldn't be more idyllic and almost unexpected in the Central Texas landscape. While swimming is sometimes restricted, when it is allowed, Hamilton Pool Preserve is a perfect place to throw down a towel and take a dip in the peak of Texas summer. The pool is a refreshing escape, shaded by giant trees, overgrowth and the cliff walls, which shelter you from the scorching sun and give relief from hot summer temperatures.
Beyond that, the longer hike to the Pedernales River gives visitors the opportunity to visit a less popular section of the river which courses through the area and attracts thousands of visitors through neighboring areas. At 1.8 miles out-and-back, the hike is an easy-to-moderate hike.
Who is Going to Love It
While the nature of the trail is limiting to visitors with mobility issues, it's an otherwise easy trek through beautiful landscape and a real prize at the end. The ease of the trail makes the preserve a favorite among families, those who are looking for an easy hike, and those who just want to kick back in the shelter of the cliffside shade spend a leisurely summer day by an old school swimming hole. The preserve is also a favorite among those who love photography, as Hamilton Pool is a commonly photographed setting in Central Texas. There is no bad angle, no matter which time of year you visit.
Directions, Parking & Regulations
Reservations are required May 15 through September 30, which is the peak season at Hamilton Pool Preserve; however, there are limitations year round to the number of visitors at a given time, which could mean long waits. Swimming is sometimes restricted based on bacteria levels at the preserve. If swimming is the purpose of your visit, be sure to check the current status. No dogs are allowed, even on leash. And the public display or consumption of alcohol is prohibited. There is also no camping. While there are many restrictions currently in place at the preserve, it's because of rigorous preservation efforts on the behalf of Travis County. You can call 512-264-2740 for information about the preserve, which is updated daily at 9 a.m.
Tips
Difficulty

The walk from the parking area to Hamilton Pool is only a quarter mile long, though it is a steep and rocky path. This makes visiting the preserve a challenge for anyone who may have mobility issues. It's an otherwise easy trail.

Time to Complete

2.0 hours

Distance

1.8 miles

To reach the pool, it's a quarter mile from the parking area each way; however, there's also a 1.8-mile, out-and-back trail that goes all the way to the nearby Pedernales River, giving visitors the opportunity for a longer hike.

Seasonality

Spring

Summer

Fall

Winter

Hamilton Pool Preserve is a destination year-round, although with overcrowding and historically absent regulations (until recently), Travis County has had to limit the number of visitors at a given time, turning away overflow traffic when necessary. This means that you may have a greater chance of being granted entry in seasons where traffic is generally lower. The Austin-area winters are mild and could mean fewer visitors; springtime is often a colorful display of wildflowers and a busy season.

Land Website

Fees/Permits

There are different fees at Hamilton Pool Preserve. The day-use rate per car is $15; the day-use rate per pedestrian or cyclist is $8. Additionally, season passes can be purchased for $100 per vehicle or $25 per pedestrian/cyclist.

Dog Friendly

No

Destination Highlights
Contributed by RootsRated.