Rainey Street has gone through many changes since its late-1800s inception, but the historic street's live music keeps the Rainey spirit and its burgeoning social scene alive. As a vibrant part of Austin's history and culture, Rainey Street continues to develop its nightlife scene with live music venues at its core. Check out our list of the best places to find live music on Rainey while you enjoy the sights and sounds of Austin.
Hop over to Icenhauer's, another dog-friendly bungalow, for a night of great live music and handcrafted cocktails. The venue is nestled in the heart of Rainey Street and was once, like many establishments located in this historic district, a single-family residence. Originally built in 1895 as a traditional "wing and gable" house, the property was given new life in 2009 when it was converted into a music venue and bar. Now, in its intimate backyard, the venue hosts live band karaoke, DJs, and a variety of other musical performances. Come for the music and stay for the drinks and food from the on-site food trailer Gobble Gobble.
If you're looking for a music venue that has the power to seduce you into staying a little longer, Lustre Pearl should be at the top of your list. Anchoring the north end of Rainey Street, Lustre Pearl welcomes all types of music lovers and dog lovers alike. The venue is known for its dog-friendliness, regular music programming, vintage decor, spacious roof with downtown views, and the best wings in Austin from its resident food truck Tommy Want Wingy. The music programming focuses on guitar-heavy genres such as blues rock, roots rock, and Americana. Grab a refreshing signature cocktail, get your 'pong on, and stay as long as you like (or until closing time). As they like to say at Lustre Pearl, welcome home!
If you are looking for a place to dance, head over to Stagger Lee. This Rainey Street venue is a great place to meet up with friends, grab a drink, and dance the night away. With live music almost every night of the week, you can find bands and DJs playing a variety of genres. The venue was named after the tune of the same name, written in 1911 by Harold Logan and Lloyd Price and covered by a number of artists such as Woody Guthrie, Taj Mahal, the Grateful Dead, Duke Elllington, Cab Calloway, James Brown, the Clash and Bob Dylan. Stagger Lee is home to Metcalf BBQ, a locally-owned BBQ truck that serves classic pit-smoked Texas bar-b-que. Swing by for a taste of the good life.
If you're looking for a place to enjoy some brats and beer, look no further than Rainey Street's own Banger's Sausage House & Beer Garden. With more than 200 beers on tap, over 20 homemade sausages, an off-leash dog park, and one of the liveliest music stages on the street, this is a great place for Sunday brunch or just an after-work beer hang. The sausage house is open six days a week for some good ol' fashioned fun, and the stage is lit up each weekend. Whether it's a brass band or some country music, you'll always be able to find some music that will go well with a cold beer and a plate of bangers.
If you're looking for an intimate environment, top-notch artisan cocktails, and a cozy space to watch some talented bands hit the stage, Half Step is just a step away. This live music venue is a perfect date night destination, sweet tooth heaven (try the mini donuts at on-site food truck Little Lucy's!), or a great place to meet friends for a chill night on the patio. Half Step was built with live music in mind. Its small stage has lifted up some hugely talented bands and local artist residencies. While you're there, check out their other on-site food truck Spicy Boys, a fried chicken utopia that will satisfy your deepest chicken cravings.
Pinning the northernmost end of Rainey Street is Hotel Van Zandt, home of Geraldine's, a chic restaurant and music venue whereupon one could find a beautiful view of the downtown skyline and a warmly lit stage. The restaurant features a contemporary Austin-inspired menu, rooftop pool and a trendy outdoor bar. Every night of the week, Geraldine's spotlights local singer-songwriters and bands, featuring some of the best local artists in Austin. Don't miss their Sunday jazz brunches every other weekend!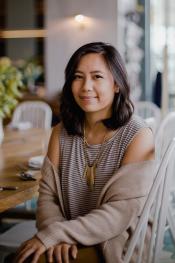 Contributed by Nathalie Phan.
Nathalie Phan is a local music connoisseur and the founder of On Vinyl Media and SoundSync Music. She is passionate about helping Austin musicians and the local music industry.
Twitter: @natphantastic