Once a sleepy residential area, Rainey Street has become an entertainment hot spot of bungalows-turned-bars, high-end hotels and live music venues in a tucked-away corner of Downtown Austin. Find out where to go and what to do on this street that never sleeps.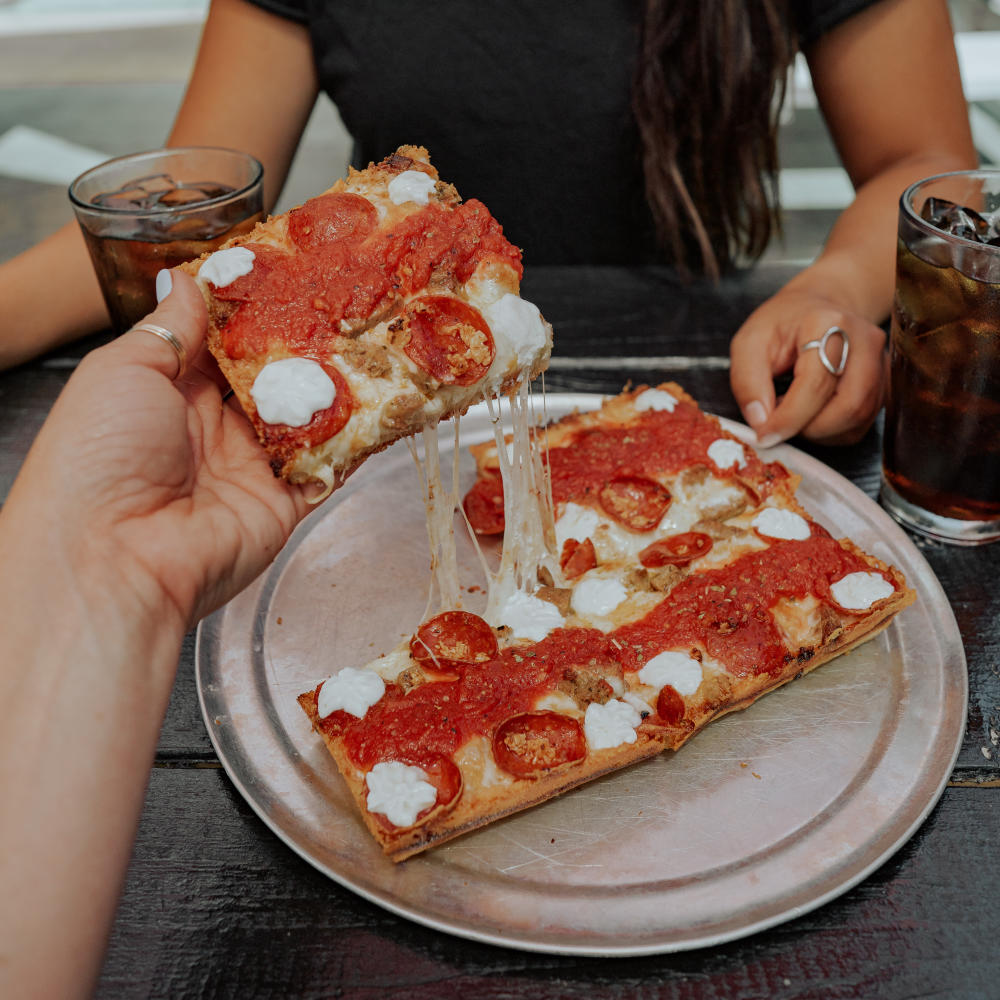 Courtesy of Via 313.
DINING
Keep it casual at a backyard food truck or indulge in fine dining on hip Rainey Street. Try Detroit-style pizza from the Via 313 food truck at Placeholder Tiki Bar. The thick, chewy crust supports a heavy blanket of cheese from edge to edge. Wear a Hawaiian shirt at Placeholder for a discount on your cocktail! At Banger's Sausage House and Beer Garden, choose from over 200 beers on draft to go with a juicy sausage or plate of whole hog barbecue. The chicken lollipops at food truck Tommy Want Wingy have earned a cult-like following, with flavors like garlic parmesan and the super-spicy Holy Schnikes. Dine on inventive twists on bar food like mini corndogs or crunchwraps at Thunder Chief at Stagger Lee, a colorful, open bar with an impressive hard selzter section. 
Latin, Asian and Texas flavors come together at Anthem, and eclectic tropical pub. Try the shochu, a distilled Japanese spirit made from barley and rice. A the other end of the street, award winning chef Kevin Fink of Emmer & Rye serves American bites from a rolling dim sum cart. Geraldine's at Hotel Van Zandt delights with elevated Southern fare in a stunning dining room, with live music every night and lovely lake views.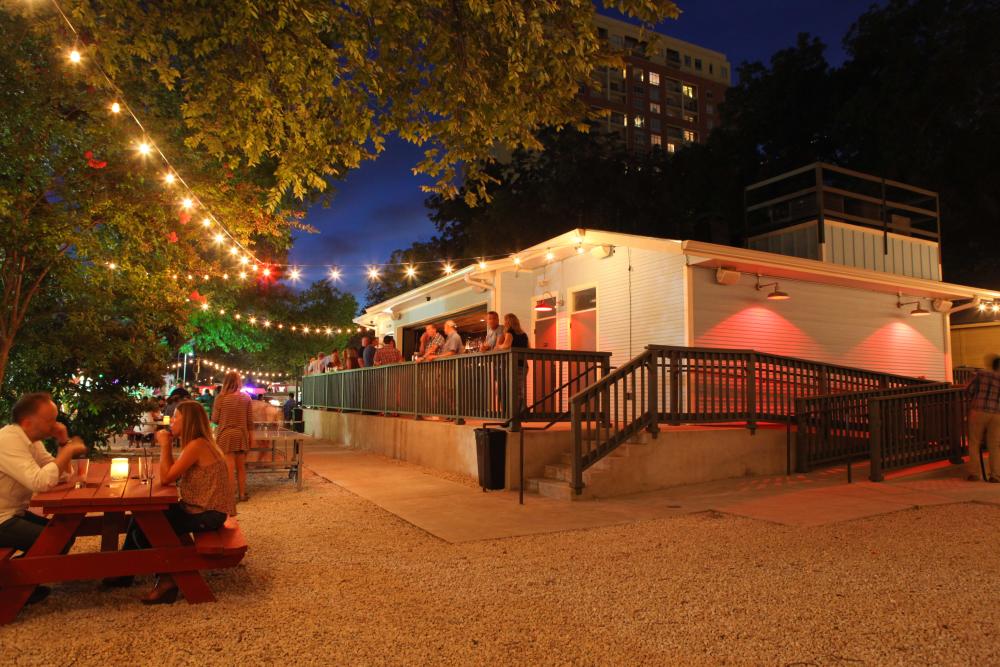 Half Step Bar. Credit Claire McCormack Photography
LIVE MUSIC & NIGHTLIFE
The Rainey Street party starts during the day and continues well into the night. Grab a coffee or cocktail at Little Brother Bar, a closet-sized bar with punk rock attitude. At food truck Bummer Burrito next door, pick up a hefty burrito. A recent expansion added a third story to Clive Bar, the longest-running drinkery on the street. Check out their extensive whiskey collection. Lucille Patio Lounge invites you to soak up the Texas night in an outdoor space that warps around this historic-house-turned-bar. Play a game of ping-pong at Lustre Pearl, or head up to the airy rooftop for city views with your drinks.
Parlor Room hosts comedy shows, DJ nights and vinyl parties at their converted bungalow with two full bars. Cuban-inspired Idle Hands specializes in refreshing cocktails, including boozy frozen options and daily live music. Out back, Michelin-starred chef Phillip Frankland Lee has rethought the smashburger at Not a Damn Chance Burger. Classic cocktails are crafted with care and giant ice cubes at Half Step, a relaxed bungalow turned into a cozy lounge. Live music, DJs and karaoke make Icenhauer's a party destination. Check out PDA Band on Sundays for high-energy boy band covers.
Stop by the Little Lucy's Mini Donuts truck out front for a late-night sweet treat. The creative donuts are all named after dog breeds. If you're looking for something healthier, try a light cocktail at Augustine. The drinks are made with fresh juices and local liquors, instead of high-sugar syrups. Shuffleboard gets a high-tech upgrade at Electric Shuffle. A computerized scoring system tracks play while you knock your friend's puck into oblivion.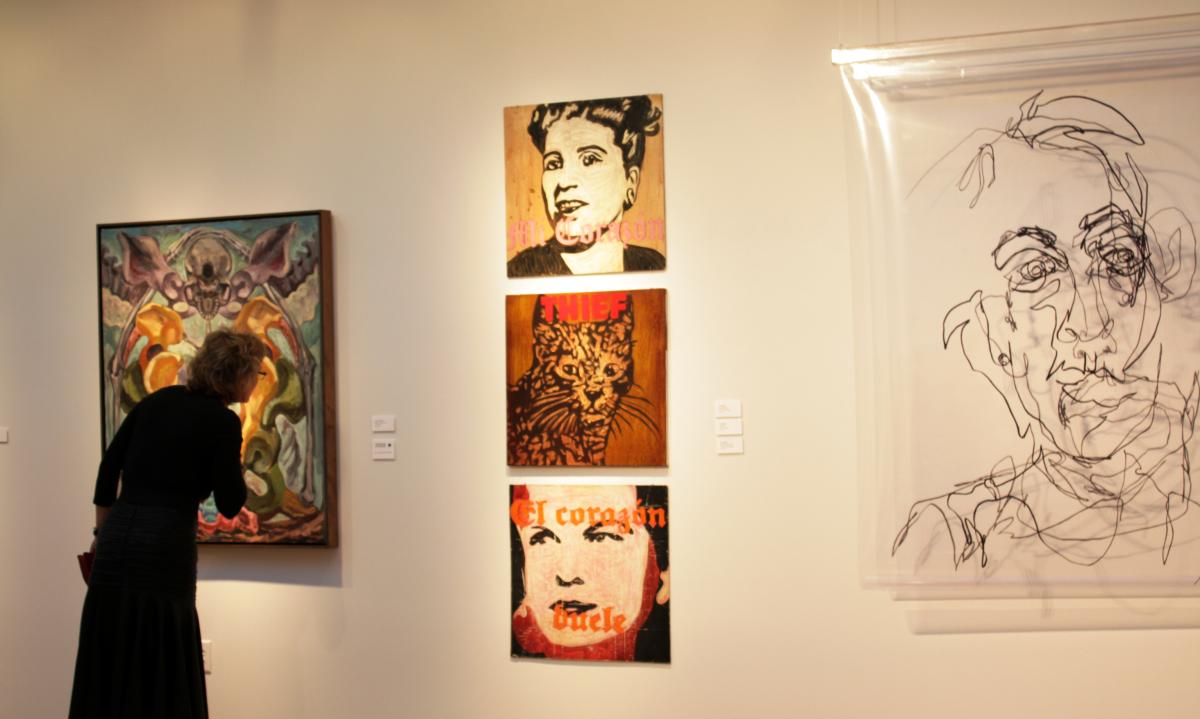 Emma S. Barrientos Mexican American Cultural Center (ESB-MACC). Courtesy of City of Austin.
MUSEUMS & ACTIVITIES
Austin's diverse culture is not just contained in a museum but sprinkled throughout the entire city. Learn about the cultural arts of Mexican-Americans and other Latino cultures via the gallery, exhibits and special events at the Emma S. Barrientos Mexican American Cultural Center (temporarily closed). While you're there, catch a play by the bilingual theater company Teatro Vivo. Take a stroll along the Tejano Walking Trail, a historic walking trail that guides visitors through the heart of the historically Hispanic East Cesar Chavez and Holly neighborhoods. The Tejano Walking Trail covers an expansive part of American history in a loop of just under 5 miles. The Frida Friday pop-up market showcases female artisans of color. Shop for handmade goods at Frida Friday's monthly market, supporting and amplifying local creatives.