For the latest updates about the status of each event, please check each event's website.
Whether you're in town for spring break or just looking for some good Guinness and grub, we've put together the definitive guide to all things Irish this St. Patrick's Day in Austin, Texas. Sláinte!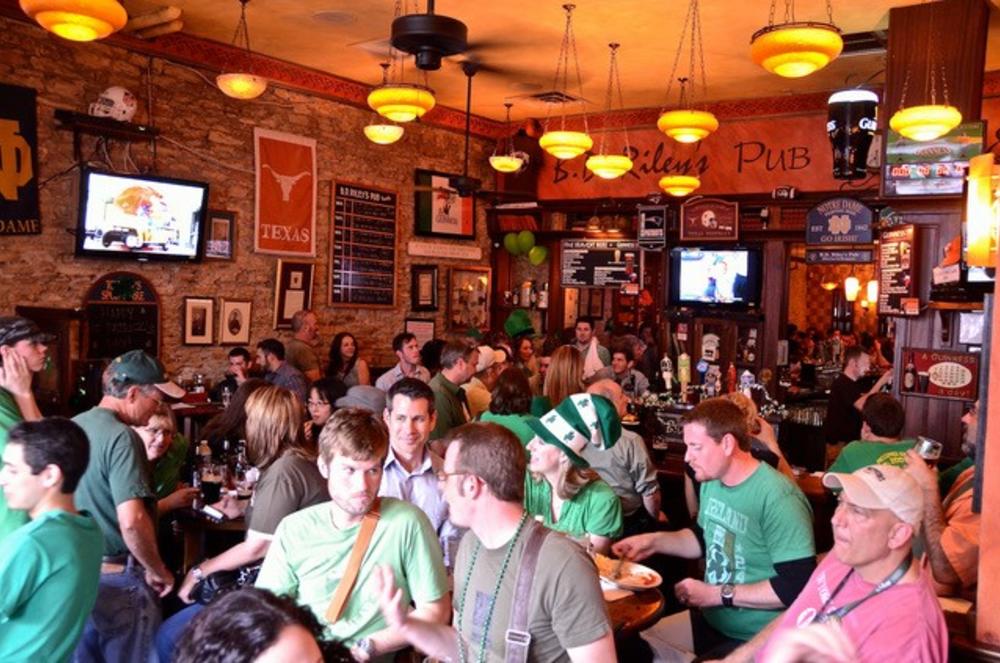 St. Patrick's Day. Courtesy of B.D. Riley's Irish Pub.
3/13/20
St. Practice Day at Aldrich St.
B. D. Riley's Irish Pub - Mueller
Celebrate St Patrick's Day mid-week at B. D. Riley's Irish Pub's Aldrich St. Mueller location. Escape the hurry of downtown and enjoy a pint of Guinness (never green), along with live Celtic music, Irish dancing from Inishfree School of Irish Dance, bagpiper performances, and other fun Irish-themed goods and activities.
www.bdrileys.com
3/15/20
St. Practice Day
B. D. Riley's Irish Pub - Downtown
Kick off the St. Patrick's Day festivities right with B.D. Riley's annual St. Practice Day at the downtown location. Sunday's event will kick off with 6 Nations Rugby and features live music from The Chancers, Daithi Arwine and more. Starting at 12 a.m.
www.bdrileys.com
3/17/20
St. Patrick's Day Limo Bus Bar Crawl
Revelry on the Boulevard
Start at Revelry on the Boulevard with all day happy hour, then board the limo bus to Corner Bar on South Lamar at 2 p.m., followed by a departure to Revelry Kitchen & Bar on East Sixth Street at 5 p.m. Jameson will be featuring specialty shots and cocktails at each location as well as samples and swag. $20 for the limo bus ticket and food & drink available for purchase at each stop.
revelryatx.com
3/17/20
St. Patrick's Day at Drop Kick
Drop Kick
Newly opened cocktail bar and kitchen Drop Kick is celebrating St. Patrick's Day on the  Eastside. Drop Kick's Head chef Francisco Baca will offer his take on fish and chips that can be perfectly paired with an Irish mule cocktail for $10. This new spot boasts a variety of additional draft beers to cheer the luck of the Irish as well as small and big bites to enjoy with friends.
www.dropkickbar.com
3/17/20
St. Patrick's Day with the Dirty River Boys
Cosmic Coffee & Beer
Cosmic Coffee will kick off six days of free, live music on St. Patrick's Day. The popular South Austin locale will feature a Frozen Irish Coffee and a Guinness and Tullamore D.E.W. combo special. Dirty River Boys and Warren Hood will take the stage. Additionally, Scottish bagpipes and drums march the grounds via Silver Thistle!
www.cosmiccoffeebeer.com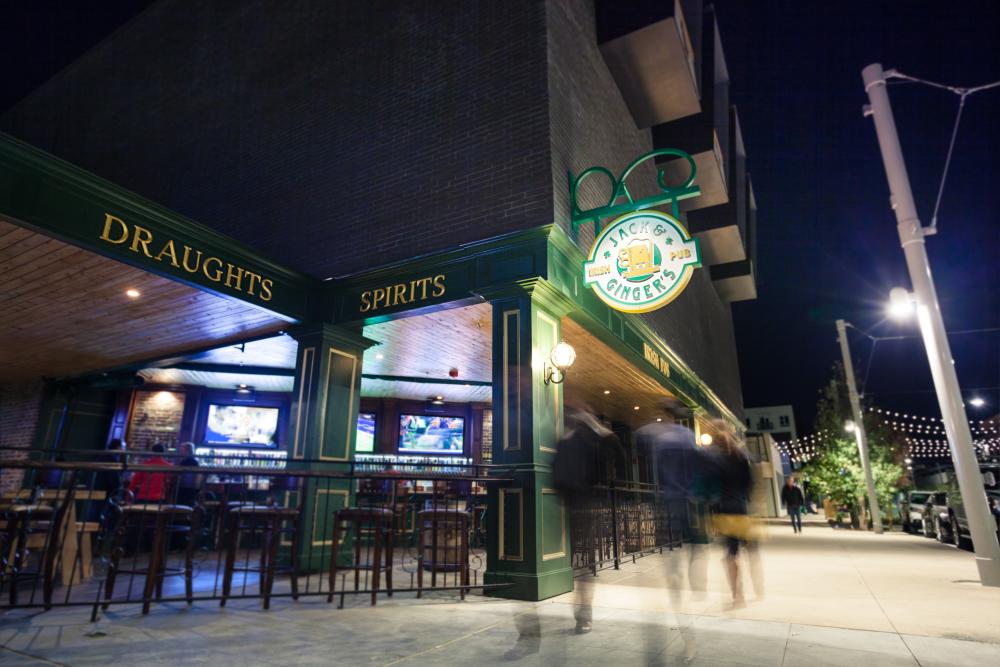 Jack & Ginger's Irish Pub. Courtesy of Hua Liu (Tilted Chair).
3/17/20
Rock Rose St. Patrick's Day Block Party
Jack & Ginger's Irish Pub
Head to Domain NORTHSIDE's Rock Rose district for a day-long celebration of Irish food and drink. Jack & Ginger's Irish Pub will host a street festival with Irish and American comfort food, green beer and Irish whiskey on tap and four bars under one cover featuring live bands, bagpipes and more! 12 p.m. - 2 a.m.
www.jackandgingers.pub
3/17/20
St. Patrick's Day Party at Pinthouse
Pinthouse Pizza South & Central
Spend your St. Patrick's Day in South and Central Austin with Pinthouse Pizza. This mellow party will feature special edition beers on tap like the award-winning Bearded Seal Dry Irish Stout, limited edition shirts, live pipes and drums and plenty of pizza and Guinness on the patio. Both parties kick off at 11 a.m.
www.pinthousepizza.com
3/17/20
St. Patrick's Day at NXNW
North by Northwest Brewing Co.
Avoid the SXSW traffic downtown and spend your St. Paddy's at NXNW! Expect their special edition Lucky Charm stout on tap all day, along with a special menu featuring items like savory Irish stew, fish n' chips, shepherd's pie and plenty of live entertainment.
www.nxnwbrew.com
3/17/20
St. Patrick's Day
B.D. Riley's Irish Pub - Downtown
Sixth Street certainly isn't for the faint of heart but for those willing to brave the crowd, B.D. Riley's is hosting their annual St. Patrick's Day gathering again this year. The authentic Irish pub will host a day-long celebration featuring authentic Irish music, draughts and feat-worthy food. And the best part - no cover! Doors open at 9:30 a.m.
www.bdrileys.com
3/17/20
St. Paddy's Day at Scholz Garden
Scholz Garden
The longest running Biergarten in America and Austin Facial Hair Club are hosting their St. Paddy's Day Celebration again on Tuesday, March 17. Beginning at 4:00 p.m., Scholz will provide festive food and drink specials including green Lone Star, Guinness, Tullamore D.E.W. Irish Whiskey and a Bangers and Hash Hangover Plate. There will also be a Stein Holding Competition, a Luck of the Irish Coin Toss and live music provided from Black Irish Texas and DJ Island Time.
www.scholzgarten.com
3/17/20
Irish Stroll Bar Crawl
Parlor & Yard & More
Explore the city with a St. Patrick's Day Bar Crawl. Visit some of the city's best bars and get access to exclusive drink specials at venues around town. The crawl starts at 5 p.m. and stretches from Parlor & Yard on West Sixth Street to Maggie Mae's on East Sixth and more. Registration is open from 5 p.m. - 8 p.m.
www.barcrawls.com/austin
Watch for more updates on this post as the holiday nears! Looking for more local food and drink suggestions? Ask us @VisitAustinTX!