Whether you're in town for spring break or just looking for some good Guinness and grub, we've put together the definitive guide to all things Irish for St. Patrick's Day 2023 in Austin, Texas. Sláinte!

Courtesy of Jack & Ginger's Irish Pub.
St. Patrick's Day Events in Austin
3/17/23
Austin's Official St. Patrick's Day Bar Crawl
Various Locations
Feeling lucky? Get ready for a day full of fun with this hosted St. Patrick's Day bar crawl. Tickets include access to various Austin bars with food & drink specials, live music, an exclusive NFT and more. 
3/17/23
Family Friendly St. Patrick's Day
Vista Brewing
Bring the whole crew for a day of Irish-inspired specials. Chow down on fish and chips, and corned beef and cabbage, or partake in the $25 Pot 'O Gold special with pitchers of the brewery's Barton Creek Gold Blonde Ale. The kids will have fun exploring the grounds and participating in a themed scavenger hunt.
3/17/23
St. Paddy's Day Birthday Bash
Cork & Barrel
Celebrate Cork & Barrel's second birthday with an Irish celebration! Nosh on a menu of fish and chips, Reuben fries, garlic pretzels and more. Then wash it all down with a classic St. Patrick's green beer. There will also be live music throughout the evening to keep the party going all night long. 
3/17/23
SXSt. Paddy's Day Showdown
Gnar Bar
This unofficial SXSW event will have 14 hours of music with two stages of punk and EDM music. 
3/17/23 & 3/18/23
Lucky's St. Patrick's Day Bar Crawl
Parlor & Yard
Grab your ticket for two days of fun with exclusive drink specials, drinks included with ticket, custom crawl cup and more. Don't forget to wear your green!
3/18/23
Shamrock Stroll Pub Crawl
Various Locations
Didn't get enough on St. Patrick's Day? Keep the party going with a pub crawl through some of Austin's favorite bars with food & drink specials, holiday themed drinks, live music and more!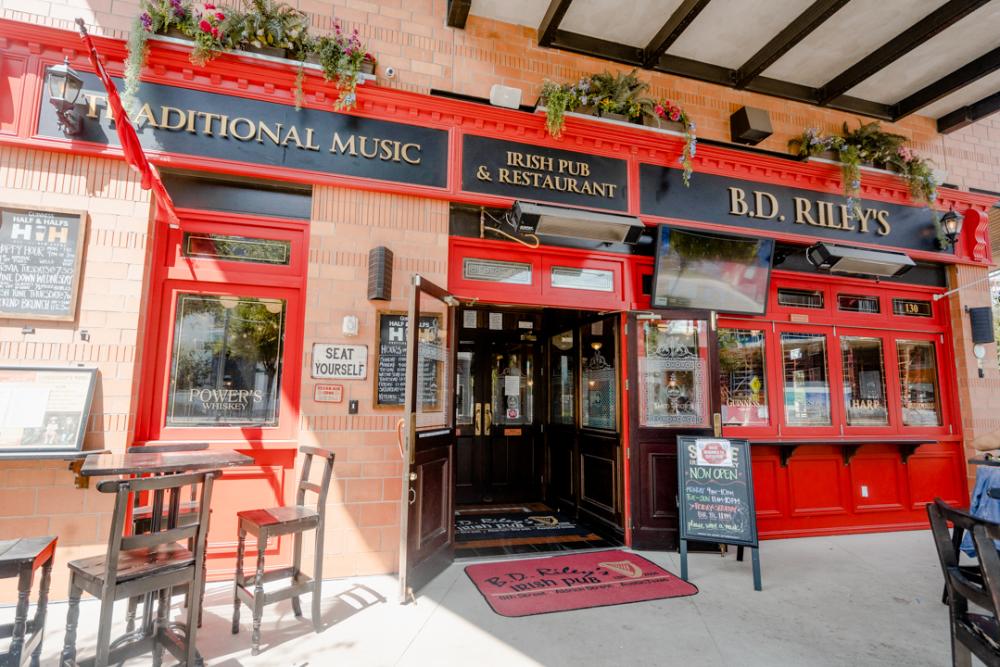 BD Riley's Irish Pub. Credit Jane Kim.
St. Patrick's Day Bars & Restaurants
B.D. Riley's Irish Pub
Celebrate St Patrick's Day at the family-friendly B. D. Riley's Irish Pub in the Mueller district. Escape the hurry of downtown and enjoy an expertly poured pint of Guinness (never green), along with Celtic music, soccer games, bagpipers and delicious Irish pub fare.
Jack & Ginger's Irish Pub
Head to Domain NORTHSIDE for a celebration of Irish food and drink at Jack & Ginger's Irish Pub. The pub offers a menu of Irish and American comfort food, Irish coffee, and a large selection of Irish beers and whiskeys on tap. On St. Patrick's Day, expect a day-long street festival on Rock Rose Avenue with live bands, bagpipes, green beer and one cover to get you in to three bars!
Foxy's Proper Pub
Foxy's is located in Downtown Austin and is a great spot for a date and a proper pint of Guinness. The welcoming space offers a spacious patio, a menu of refined Irish comfort food and a selection of upgraded cocktails.
Mister Tramps
Mister Tramps is a local favorite for European sports fans. Come early for a spot to watch EPL matches over a pint of Guinness and an order of fish and chips. The unassuming bar is a meeting place for Tottenham fans and has a spacious, shaded patio for outdoor viewing.
Nosh & Bevvy
Neighborhood bar Nosh & Bevvy is a true Tex-Brit bar, but they know how to host a St. Patrick's Day celebration with the best of 'em. Come for the bangers & mash and stay for the imported beer on tap (expect Guinness, Harp, Newcastle, London Pride EPS & more).
Drop Kick
Cocktail bar and kitchen Drop Kick is a great place to celebrate St. Patrick's Day on the Eastside. Pair a burger and chips with an Irish mule cocktail. This new spot boasts a variety of additional draft beers to cheer the luck of the Irish as well as small and big bites to enjoy with friends.
Revelry on the Boulevard
Start at Revelry on the Boulevard with brunch and Jameson cold brew cocktails. The neighborhood bar and restaurant offers a large, dog-friendly patio with plenty of TVs to watch sports and passersby on the street.
Scholz Garden
The longest running Biergarten in America is a great place to celebrate St. Patrick's Day each year. Keep an eye out for holiday specials, or share an order of the garden cheese fries with a cold Guinness, Magner's Irish Cider or a "Beardo Bang For Your Buck" (Lone Star + a shot of Tullamore D.E.W. Irish Whiskey). Past events have included Stein Holding Competitions, Luck of the Irish Coin Tosses and local live music.
Watch for more updates on this post as the holiday nears! Looking for more local food and drink suggestions? Ask us @VisitAustinTX!