Whether you're in town for spring break or just looking for some good Guinness and grub, we've put together the definitive guide to all things Irish for St. Patrick's Day 2022 in Austin, Texas. Sláinte!
Courtesy of Jack & Ginger's Irish Pub.
St. Patrick's Day Events in Austin
3/1/22
Dropkick Murphy's St. Patrick's Day Tour
Stubb's Bar-B-Q
Celtic punk band Dropkick Murphys is coming to Austin for their brand new St. Patrick's Day Tour this year. Kick off your St Patrick's Day festivities and them live at the Stubb's Waller Creek Amphitheater on March 1.
stubbsaustin.com
3/12/22
St Practice Day
B.D. Riley's Irish Pub
Should you wish to celebrate your Irish roots a little early this year (or perhaps you need a bit of a warm up), B. D. Riley's annual St. Practice Day celebration is for you. Things start early, as Scotland takes on Italy in Six Nations Rugby at 8:15 a.m., followed by England vs. Ireland at 10:45 a.m. Live music takes over at 1 p.m. with Daithi Arwine from Fermanagh, Ireland, joined by The Chancers and the Kristen Gibbs Band, for an evening of Irish music and family-friendly entertainment.
bdrileys.com
3/17/22
St. Patrick's Day Festival
Online Event
This annual family-friendly festival celebrates all things Irish. In 2022, enjoy international and local Celtic musicians, the Inishfree Irish Dancers and plenty of good craic!
stpatricksdayaustin.com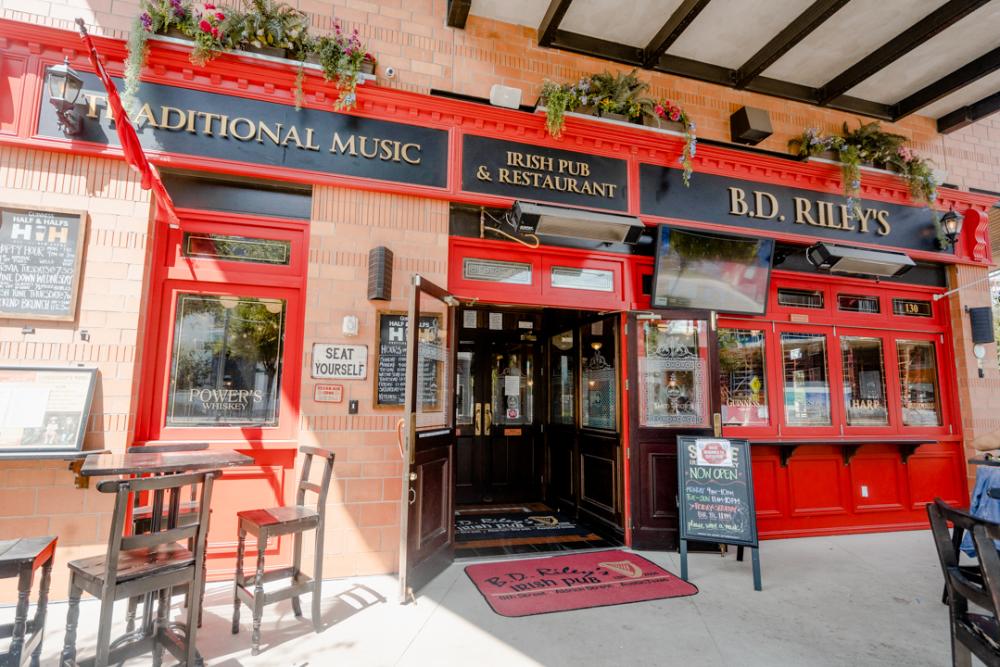 BD Riley's Irish Pub. Credit Jane Kim.
St. Patrick's Day Bars & Restaurants
B. D. Riley's Irish Pub
Celebrate St Patrick's Day at the family-friendly B. D. Riley's Irish Pub in the Mueller district. Escape the hurry of downtown and enjoy an expertly poured pint of Guinness (never green), along with Celtic music, soccer games, bagpipers and delicious Irish pub fare.
bdrileys.com
Jack & Ginger's Irish Pub
Head to Domain NORTHSIDE for a celebration of Irish food and drink at Jack & Ginger's Irish Pub. The pub offers a menu of Irish and American comfort food, Irish coffee, and a large selection of Irish beers and whiskeys on tap. On St. Patrick's Day, expect a day-long street festival on Rock Rose Avenue with live bands, bagpipes, green beer and one cover to get you in to three bars!
jackandgingers.pub
Foxy's Proper Pub
The newest Irish pub on the scene, Foxy's is located in downtown Austin and is a great spot for a date and a proper pint of Guinness. The welcoming space offers a spacious patio, a menu of refined Irish comfort food and a selection of upgraded cocktails.
foxysproperpub.com
Mister Tramps
Mister Tramps is a local favorite for European sports fans. Come early for a spot to watch EPL matches over a pint of Guinness and an order of fish and chips. The unassuming bar is a meeting place for Tottenham fans and has a spacious, shaded patio for outdoor viewing.
mistertramps.org
Nosh & Bevvy
Neighborhood bar Nosh & Bevvy is a true Tex-Brit bar, but they know how to host a St. Patrick's Day celebration with the best of 'em. Come for the bangers & mash and stay for the imported beer on tap (expect Guinness, Harp, Newcastle, London Pride EPS & more).
facebook.com/Nosh-and-Bevvy
Old 290 Brewery & Restaurant
Traditional Irish fare is on the menu during St. Patrick's Day weekend (March 17-20) at Carter Creek Winery Resort & Spa's Old 290 Brewery. Comforting, satisfying and flavorful specials include the Old Country Stout braised beef stew paired with spring-brewed Irish red beer, or Irish corned beef and cabbage accompanied by a smoked imperial porter. The holiday's special cocktail is a dreamy Saint Patrick's Martini composed of Crème De Menthe mousse, chocolate, Oreo crumbles and Baileys-infused whipped cream.
cartercreek.com
Drop Kick
Cocktail bar and kitchen Drop Kick is a great place to celebrate St. Patrick's Day on the Eastside. Pair a burger and chips with an Irish mule cocktail. This new spot boasts a variety of additional draft beers to cheer the luck of the Irish as well as small and big bites to enjoy with friends.
dropkickbar.com
Pinthouse
Spend your St. Patrick's Day in South and Central Austin with Pinthouse Pizza. The brewpub usually hosts a mellow St. Paddy's party featuring special edition beers on tap like the award-winning Bearded Seal Dry Irish Stout, limited edition swag, live pipes and drums and plenty of pizza and Guinness on the patio. 2022 details TBA.
pinthousepizza.com
Revelry on the Boulevard
Start at Revelry on the Boulevard with brunch and Jameson cold brew cocktails. The neighborhood bar and restaurant offers a large, dog-friendly patio with plenty of TVs to watch sports and passersby on the street.
revelryatx.com
Scholz Garden
The longest running Biergarten in America is a great place to celebrate St. Patrick's Day each year. Keep an eye out for holiday specials, or share an order of the garden cheese fries with a cold Guinness, Magner's Irish Cider or a "Beardo Bang For Your Buck" (Lone Star + a shot of Tullamore D.E.W. Irish Whiskey). Past events have included Stein Holding Competitions, Luck of the Irish Coin Tosses and local live music.
scholzgarten.com
Watch for more updates on this post as the holiday nears! Looking for more local food and drink suggestions? Ask us @VisitAustinTX!