A city is only as cool as its artists. Austin has no shortage of creatives working to either preserve or transform different aspects of the city's vibrant culture. Whether you want to soak in some culture or find a stunning piece for your home, there is an art gallery in town to suit your tastes. Here are some of our favorites.
Women & Their Work has been a part of Austin for over four decades, which is an honor only a few places in town can claim. They showcase stunning and ambitious work and have long provided career support to women artists. They've already announced the eight talented artists who are exhibiting solo shows throughout 2023 and 2024. Narrowed down from over 450 entries, the artists showcasing new works over the next few years include names like the immersive sculpture artist Alejandra Almuelle and the thought-provoking Dallas photographer Grace Nicole. Visit their site to learn more about current shows and available artist resources.
This next gallery is casual. To some, that may sound like an insult, but the team behind The Austin Art Garage has made a big effort to make showcasing and purchasing art as hassle-free as possible. They work only with emerging Austin artists and aim to provide fair but affordable prices to customers. It's an eccentric space that very much captures South Austin's lively spirit.
Established in 2016 by furniture maker Brian David Johnson and his sister Laura Lynn Johnson, this gallery aims to provide an affordable venue for community performances and celebrations. Located far out in East Austin, the studio half of this venue is currently home to Brian David Johnson (wood artist), Lucas Aoki (artist), Lydia Garcia (artist), Lolly Harrison (jeweler), and Louie (dog). Cloud Tree Studios & Gallery have hosted a ton of emerging and contemporary artists across styles. However, a general through line you can expect are works that are and feel fresh. Check out the calendar for their upcoming slate of shows. 
On the north end of Guadalupe Street sits a small building illuminated by a pink neon sign. A relatively new gallery, Martha's Contemporary focuses on early-career artists. Many of the works here capture a youthful yet refined energy that will strike a chord with many. If you are in the mood to discover some beautiful works by new artists, this is the perfect place. See their current and upcoming shows.
Coming courtesy of artist couple Felice House and Dana Younger, the Davis Gallery represents Austin's West End neighborhood. The pair pay particular homage to the American Wilderness, taking after painter Thomas Cole. Their personal work, which was recently showcased, features Younger's intricate nature sculpture work and House's vibrant renditions of national parks. No matter who they are showcasing, however, the pair are known to be very welcoming and knowledgeable. If you happen to be in the market, they also do high-quality custom framing. See their upcoming exhibitions.
Riches Art Gallery is a well-loved and Black-owned art venue on East 6th Street. Founded by experienced watercolor artist and former Texas Southern football player Richard Samuel, the lively gallery hosts weekly events, including live-drawing classes, lectures, and stand-up shows. The gallery just wrapped its display of "Good Kid, M.A.A.D City, Cole World," an exhibition dedicated to rappers J. Cole and Kendrick Lamar. It featured a range of mediums, including detailed sculpture work and custom clothing. See their upcoming events.
West Chelsea Contemporary is one of Austin's representatives in the heavy-weight art scene — offering works by names like Banksy, Alex Katz, Yayoi Kusama, and Damien Hirst. They primarily focus on contemporary art from American, Asian, and European post-war movements. Works from well-established names and emerging Austin artists appear in their sizeable exhibition space that totals more than 7,800 square feet. See their upcoming exhibits.
Located in an unassuming century-old house grayDUCK Gallery has featured exhibits that are just downright cool. Founded in South Austin in 2010, and relocated to East Austin in 2014, they've fully refurbished the space's interior. They aim to create an open and welcoming environment. Their "small acts" exhibit from 2021 featured the works of Christina Coleman, Betelhem Makonnen, Deborah Roberts, and Tammie Rubin. It was a great example of the range of mediums they highlight, from Coleman's photographic studies, Roberts' collages, Makonnen's videography, and Rubin's sculptures. Check out their upcoming slate of exhibitions on their site.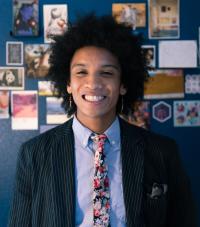 Contributed by Jade Fabello
Jade Fabello is an Austin-based writer and a recent graduate of the University of Texas, where he was a double major in the Journalism and the Communication and Leadership programs. You can find his work at JadeFabello.com. 
Instagram @Jade__Fab. Twitter: @Jade_FW