"Chain restaurant" is often used to indicate a restaurant is… less than desirable. But not the way Austin does it. Austin-based chains are simply spreading the love of good food all over the city and state. We've exported some of the most fun and fabulous restaurants so that other folks can get some of this goodness. Check out this list of must-try local chains, with multiple locations around the city.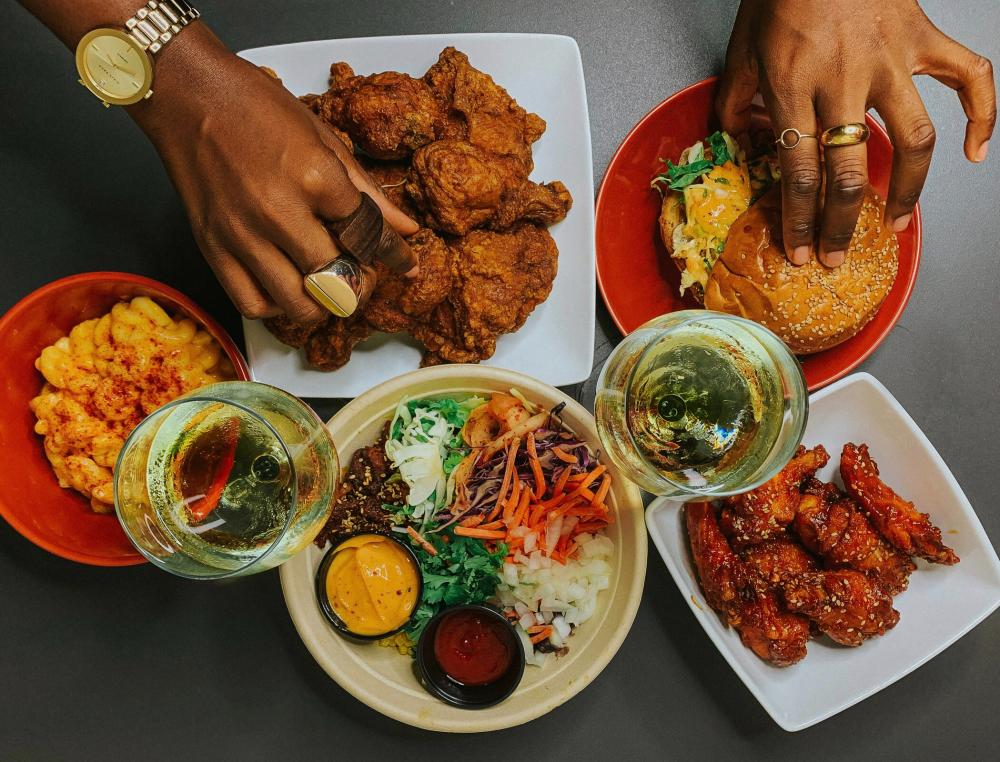 Chi'lantro. Credit Laolu Onabanjo.
Like many of Austin's successful restaurants, Chi'Lantro BBQ started as a food truck. They've grown up from slingin' kimchi fries near Sixth Street to a recognizable Korean-Mexican featured on Shark Tank. This fast-casual joint can be found all over town. The addictive kimchi fries that kicked off their success are still on the menu plus a build your own bowl or taco with spicy chicken, Korean barbecue, spicy pork, tofu plus veggies, toppings, and sauces that bridge the culture gap. 
One of the most prolific and recognizable Austin based chains, Chuy's sprung forth from our fair city in 1982. The restaurants themselves are eye-popping – decorated with every color, dangling wooden fish, hubcaps and various car parts plus a shrine dedicated to the King himself, Elvis Presley. Their Tex-Mex menu features all the staples (fajitas, tacos, margaritas, burritos, enchiladas) and five different sauces to smother them all in. Our pro-tip is to start with the boom-boom sauce and work your way up. The best part is that weekdays from 4pm - 7pm offer a free buffet with nachos, salsas, queso, taco meat, and the fixin's.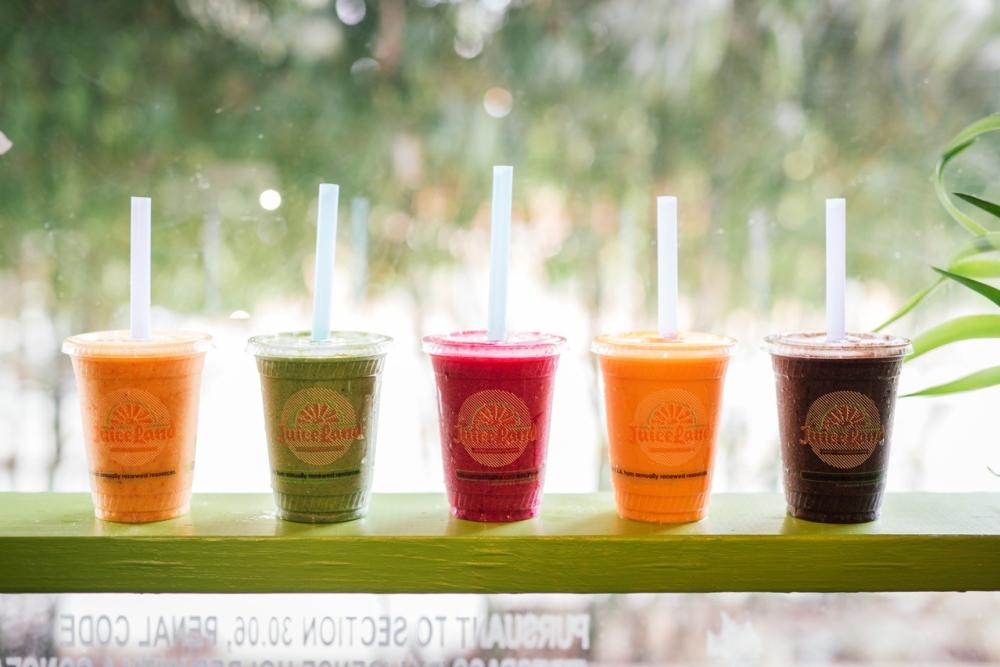 JuiceLand. Credit Dalton Campbell.
There are few things more refreshing (and healthy) than a fresh juice on a hot day. JuiceLand has come a long way since its 2001 founding with several locations in Austin, Houston, and Dallas. The brand is fun and funky, serving creatively named juices like the Ninja Bachelor Party and the XTra Holla Pain Yo! For something heartier, they also serve smoothies and smoothie bowls, superfood tonics and lattes plus a solid selection of plant-based meals. Grab a Tree of Life (coconut water, cayenne, carrot, beets, turmeric, ginger) and a Double Rainbow quinoa bowl to fuel up for Austin adventures.
Back when partners Anthony Sobotik and Chad Palmatier first opened their ice creamery in Austin, folks lined up around the block to sample their inventive ice creams. Flavors like lemon lavender, honeyed peaches with rosemary, and Texas sheet cake might be what turned our heads initially but this soy-free, palm oil-free, and preservative-free ice cream is the whole package. Lick makes all of its ice cream from scratch and supports a number of other local businesses in the process. They have four locations in Austin, three in San Antonio, and are opening one in Houston.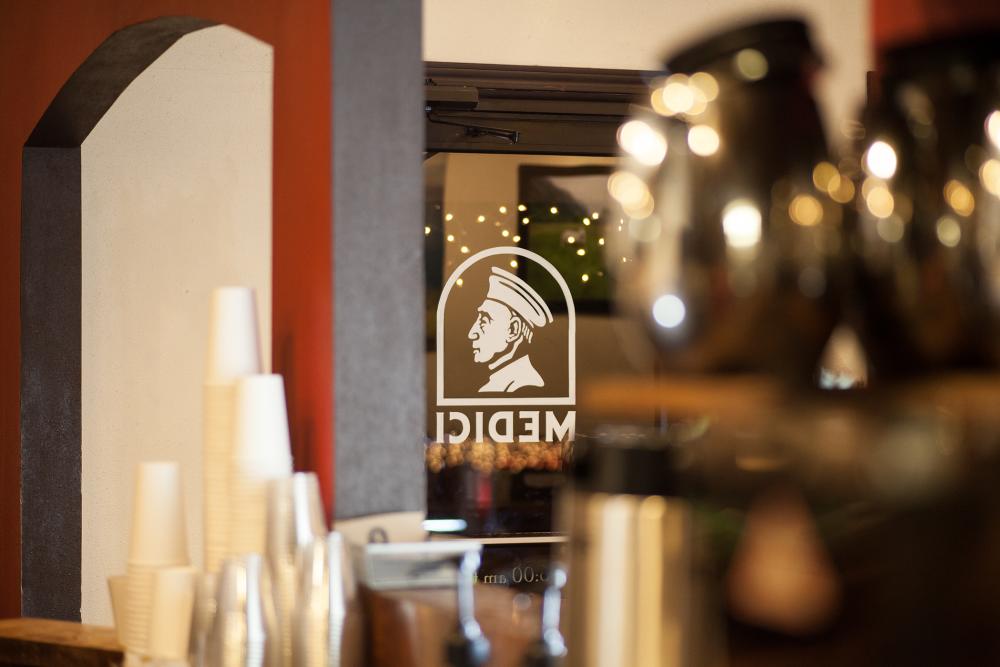 Caffe Medici. Credit Maia Assaf.
A go-to destination for everyone from students looking to get some eye-popping caffeine to casual late-afternoon conflabs between friends, Medici (both coffee shops and a roasting company) is a staple of Austin's coffee culture. Six locations later, Michael and Alison Vaclav's dream of building welcoming spaces has been realized. Stop by for one of their hand-crafted cups of coffee. Exquisite espressos, perfectly poured cortados, matcha lattes, golden mylks, and breakfast tacos and sandwiches are all on offer. Pick up a bag of single-origin coffee to go.
Other cities have their favorite burger joints and Austin's is P. Terry's. Twenty-two signature teal-and-red vintage-look buildings dot the Austin landscape serving up double cheeseburgers and fresh cut fries. And this isn't just your regular fast food situation – you can feel good about eating here. P. Terry's uses all-natural beef and chicken, canola-oil fried fries from fresh potatoes. They also fresh squeeze their orange juice and bake banana bread and cookies every day.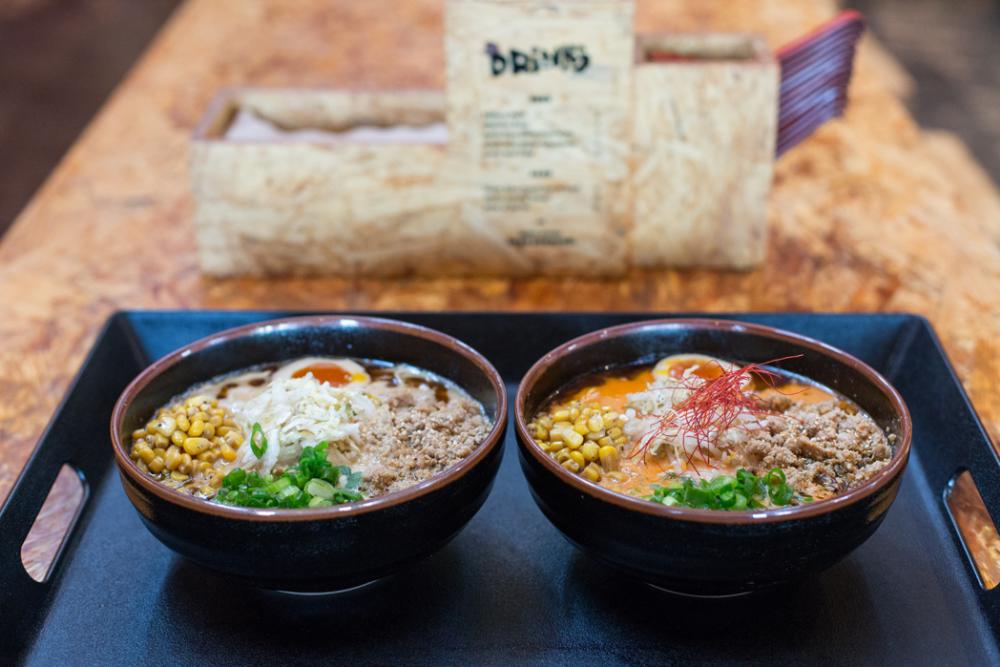 Ramen Tatsu-ya. Credit Kirsten Kaiser.
Back when Austin still thought that ramen was that stuff you ate in college, local chefs/DJs Tatsu Aikawa and Takuya Matsumoto teamed up to launch Ramen Tatsu-ya. Starting off in a tiny location in North Austin, the line wrapped around the block. Now with four locations, they're still the ramen darlings of the city. They offer a variety of pork, chicken, and veggie ramens with different flavor profiles and ingredients plus mix-ins (ajitama egg, woodear mushrooms, scallions, menma, napa cabbage, corn) and flavoring "bombs" with chili, yuzu, butter, and honey.
A spinoff of Austin's beloved Clay Pit, Tarka is a fast-casual Indian concept started by Tinku Saini, his wife, and two cousins. They've grown to nine restaurants in San Antonio, Austin, Round Rock, and Houston and you'll often find them anchoring a strip center, delicious smells wafting out with each customer. Their menu is extensive and has something for everyone. Fresh baked flatbreads, steaming samosas, crunchy pakoras, rich curries, grilled kabobs, spiced biryanis, and even a kids menu plus vegetarian, vegan, and food allergy-free options. Most of the locations also have a patio where you can enjoy a glass of wine or a fruit lassi.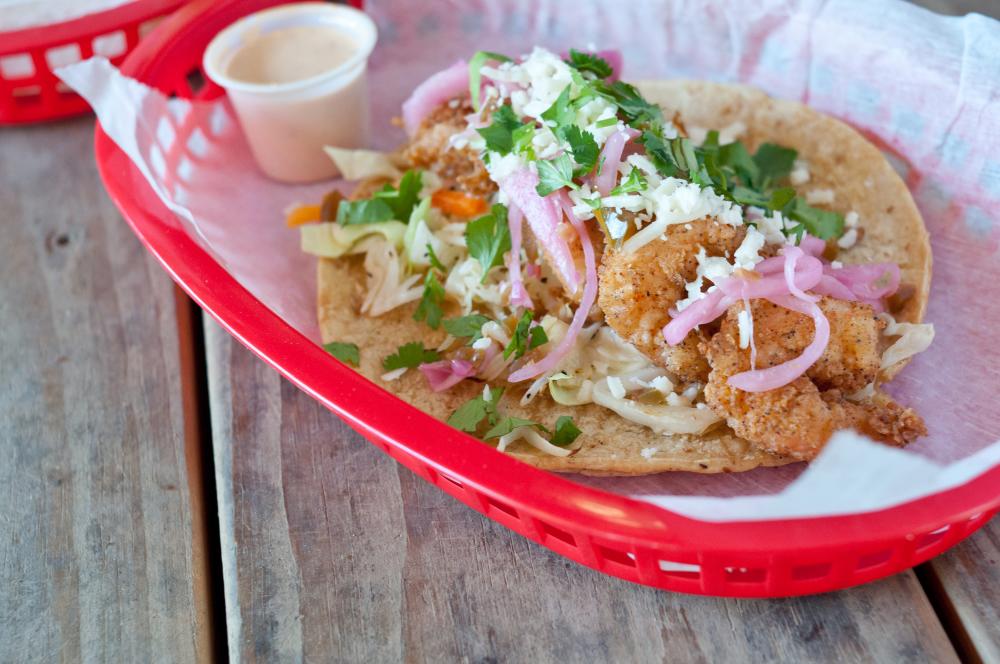 Torchy's Tacos. Photo Credit Aimee Wenske.
What began in a little trailer on South First street has now ballooned into a veritable taco empire. Torchy's early experimentation with creative tacos was a hit, luring in adventurous eaters with their Trailer Park taco (fried chicken, poblano sauce) and their Brushfire (jerk chicken, mango). Politicians even stop here for a photo opp and their chance at a Republican or Democrat taco. Find Torchy's all over Austin and in 14 other states around the country. 
Detroit-style pizza was a revelation when brothers Brandon and Zane Hunt first debuted Detroit's deep-ish dish, edge-to-edge sauced square pizza. Their popularity continues to grow as their business does— Via313 has multiple Austin locations and now in San Antonio and Utah. While they have classics available (cheese, margherita, pepperoni), be adventurous and get The Cadillac with gorgonzola, fig preserves, prosciutto, parm, and a balsamic glaze or the Bobo Brazil with hot Calabrese, sausage, red pepper flakes, and Mike's Hot Honey.
Looking for other cool Austin-based businesses to support? Check out these Austin-Based brands and retailers.
Contributed by Kelly Stocker.