Sixth Street is a National Register historic district in Austin, with six blocks of turn-of-the-century Victorian commercial buildings. It is also home to a number of rocking venues that contribute to Austin's robust music scene. Before the music era began, the area was a melting pot of small businesses, with owners from many cultures – European, Middle Eastern, Asian and more. Read on for the must-see sites and museums in this iconic neighborhood.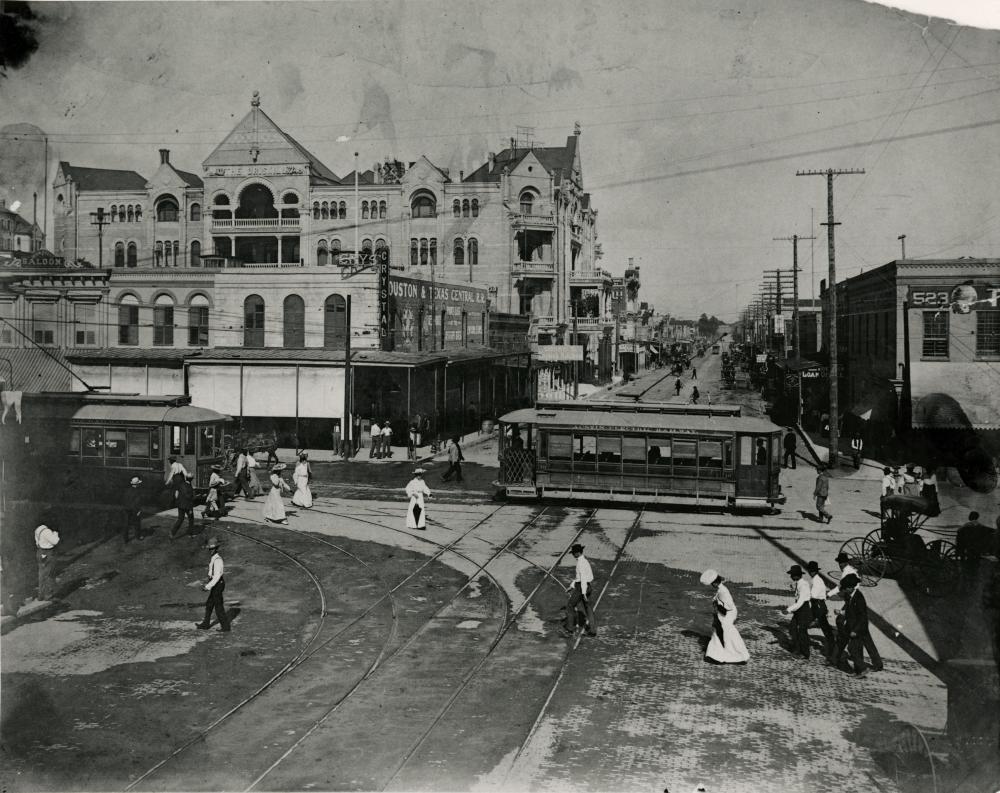 Historic Sixth Street and the Driskill Hotel. C00146, Austin History Center, Austin Public Library.
Italian immigrant Michael Paggi operated a carriage shop on property he owned at 421 E. Sixth St. (now Pete's Dueling Piano Bar) from 1875 to 1905. Former enslaved person E. H. Carrington, followed by son-in-law D. H. Lyons, owned a successful grocery at 522 E. Sixth St. (next to modern day Easy Tiger) from 1873 to the 1940s and both were African American community leaders. Starting around 1921, Ben Garza and his brothers owned a meat market in the Randerson-Lundell Building, 701 E. Sixth St., for many years. Today, crowds of music lovers and revelers keep the old buildings young.
The Driskill Hotel
604 Brazos St.
Since its beginning in 1886, cattleman Jesse Driskill's hotel has provided an elegant backdrop for gatherings of the powerful, the famous and the sociable. J. N. Preston's Romanesque building design features portrait busts of Driskill and his sons. An annex was added in 1930 to compete with the 1924 Stephen F. Austin Hotel on Congress Avenue. The Driskill celebrated its 130th Anniversary in December of 2016.
Brush Square Museums
Austin founder Mirabeau Lamar's 1839 plan called for a public open space in each quadrant of the city. What was once a space for a bustling community market is now home to two historic museums.
Susanna Dickinson Museum
411 E. Fifth St.
The 1869 home of Alamo survivor Susanna Dickinson was built by husband Joseph Hannig.
O. Henry Museum
409 E. Fifth St.
William Sydney Porter, who later found fame as short-story writer O. Henry, lived in this 1886 Victorian cottage. Visit this spring an experience "Once A-Pun a Time: 40 Years of the Pun-Off," an exhibition celebrating one of Austin's weirdest (and punniest) annual events.
Pecan Street Festival
Historic E. Sixth Street
To celebrate the history and diversity of Austin's Historic Sixth Street (formerly known as Pecan Street) the Pecan Street Festival is a free two-day arts festival held twice yearly in Downtown Austin's Sixth Street Historic District. Taking place the first Saturday & Sunday in May and the last Saturday & Sunday in September, the juried festival attracts hundreds of local and national artisans offering original handcrafted creations in a variety of mediums, from metal, wood, fiber, clay, leather, glass and stone to repurposed materials of all kinds.
Ready for another history lesson? Hop on a historic downtown walking tour at the Austin Visitor Center or check out other significant and storied places by visiting our History page.