Summers in Austin mean rooftop patios, refreshing food and drinks and long, laid-back days. It also means rising temps. Here are some of the area's top splash spots to help you make the most of summer.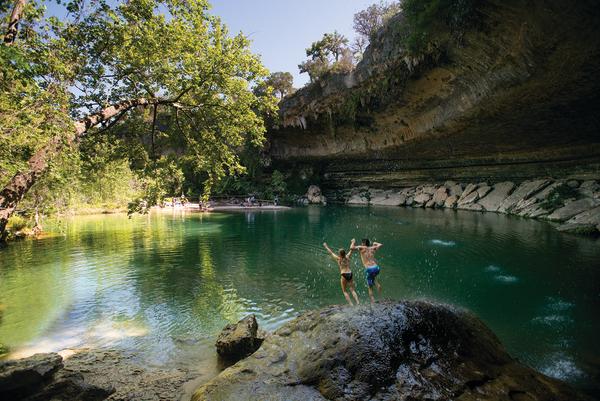 Hamilton Pool. Credit Dave Mead.
Natural Pools
Barton Creek Greenbelt
Head south of downtown to the Twin Falls and Sculpture Falls area of the greenbelt and chill out in the shallow waters, enjoy the slow-moving current and spread out for a picnic on the sidelines. Daredevils will love climbing and jumping from the rocky areas and exploring the falls.*
Krause Springs
Located in Spicewood, just 30 miles west of Austin, this popular camping and swimming destination has been privately owned by the Krause family for more than 50 years. The hospitable Texans invite guests to explore 32 springs, a man-made pool and natural pool. Make time for a stroll through the Butterfly Gardens.
McKinney Falls State Park
Looking to get out of the city but aren't looking to go far? Jaunt on over to this nearby 635-acre state park. Pedal or hike miles of trails, have a picnic or camp out, but be sure to visit the waterfalls and dip into the cool swimming hole.
Pedernales Falls
This state park has it all: camping, picnicking, hiking, river swimming, mountain biking, fishing and horseback riding. After swimming and splashing around in the river, take an easy hike along the family-friendly quarter-mile nature trail to the Twin Falls scenic overlook. Don't forget the camera.
Barton Springs Pool
In the heart of Zilker Park, minutes from downtown, lies this 200-yard swimming paradise. Barton Springs Pool features year-round, 68-degree, clear water, deep diving and shallow areas for the kids and grassy hills for sunbathing. You name it, this park has it and everyone knows it so get there early if you can.*
Hamilton Pool
A 40-minute drive from town takes you to another world. One of the most inviting geological phenomena of the Texas Hill Country, Hamilton Pool provides excellent hiking and trail running trails, as well as a stunning swimming hole with a 50-foot waterfall. Hop on in - the water is nice and cool. Note: Reservations are now required between May 15 and September 30. Click here to make reservations.

Deep Eddy Pool
If you're looking for a traditional public pool experience in the heart of Austin, Deep Eddy is your go-to. The state's oldest swimming pool also hosts Splash Party Movie Nights when they show films on an inflatable screen. Check their site or call for show times.
Jacob's Well
A must for any Texan and Texas visitor, Jacob's Well Natural Area gives folks the unique opportunity to swim directly in an artesian spring. About 40 minutes from Austin, the spring's cool, clear water surrounded by rock ledges and lots of trees represent what all Texas swimming holes used to be, and should be. Click here to make reservations.
Splash Pads
The City of Austin runs 11 free splash pads that are perfect for playing around on a warm summer day.*
Visit Liz Carpenter Fountain at Butler Park and let the little tikes dance around in the splash pad. Spurts of water shoot sky-high and keep happy dancers soaked and cool.
With water squirting up and showering down, Pease Park's Splash Pad will have the kids squealing with delight and puddle jumping all day.
Dick Nichols District Park features a kids' waterscape with a dolphin that spits water, along with a fantastic playground, volleyball courts and hike and bike trails.
Share your summer pics with us using #TrueAustin on Instagram and Twitter!
*Check the Austin Parks & Recreation website for summer hours and potential closures.