Splish splash, y'all! Austin's warm weather is here and it has locals and visitors alike on the hunt for water activities to cool down from the summer sun. Austin has so many places to chill out, like spring fed swimming holes and natural oases. But if you're a planner, or want something a little less natural, you may want to hear about pool passes in Austin where you can sun tan, dip in the water, and even be served food and drink while doing it. Here's our list of hotel swimming pool passes in the Austin area.  
Hotel Swimming Pool Passes
Austin Marriott Downtown
This rooftop pool is an oasis amongst Austin's busy downtown. Grab bites off of Zanzibar's poolside menu and enjoy tiki-inspired drinks and bites from your chaise lounge chair while you enjoy the view. The pool is heated for multi-season use and open until sunset, daily. Day passes and cabanas available with reservation.
Hours: Daily, all day
Price: $40+
Reserve online: ResortPass
Austin Motel
Stroll around South Congress, then end your day at Austin Motel's iconic kidney-shaped pool in their retro courtyard. Beverages are always cold at the pool bar, including their Lemonade Lounger, a refreshing mix of Deep Eddy lemon vodka, lemonade, simple syrup and chambord. Day passes and adult night swim passes available with reservation.
Hours: Day Passes available every day from 11 AM - 5 PM for three-hour blocks; Adult Night Swim Pass available daily from 5 PM - 10 PM
Price:  Day Passes: $25+; Adult Night Swim Passes: free of charge Monday - Thursday (reservations recommended) and $25/person over the weekend; kids under 5 can enter free of charge
Reserve online: Resy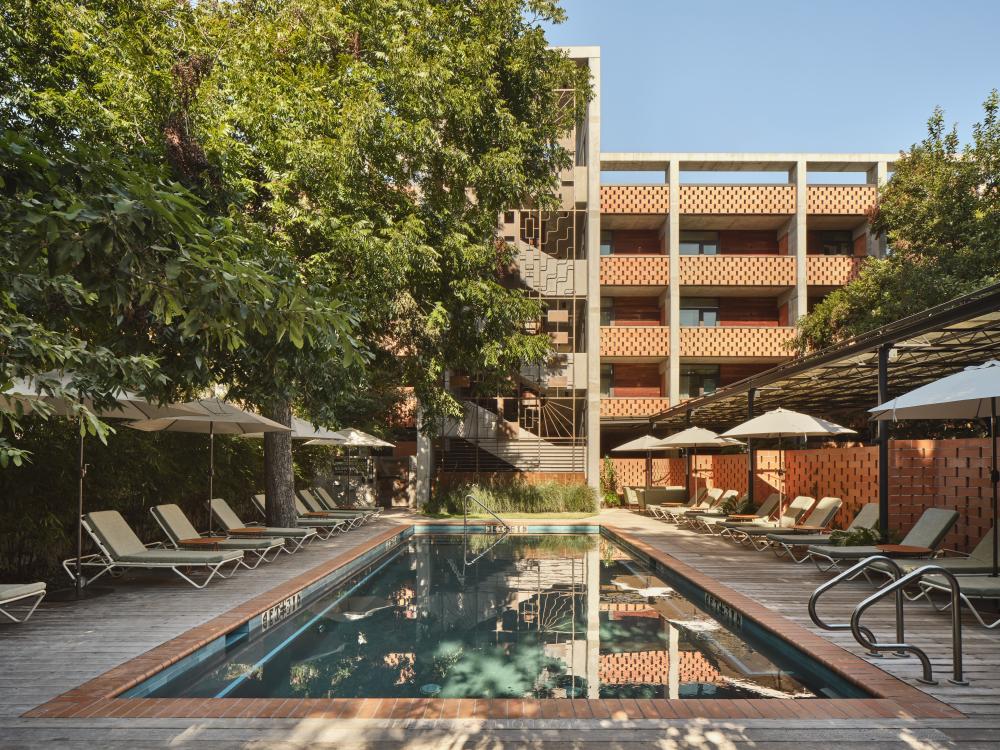 Carpenter Hotel Pool. Credit Andrea Calo.
Carpenter Hotel
The vibe at the Carpenter Hotel is unmatched, including it's pool space. Originally built in 1948 as a place for community, this boutique property has done a great job of keeping that style and culture alive today. The Carpenter's breezy pool area is complete with lounge chairs, shady oak trees and terracotta breezeblocks for privacy. Sunbathers can enjoy special bites from Carpenter's Hall along with cocktails, coffee, beer and wine.
Hours: Monday-Thursday from 11 AM - 2 PM or 3 PM - 7 PM
Price: $40/person
Reserve online: Resy, available without reservation to hotel guests
Hotel Magdalena
This South Congress hotel is all about paying homage to icons of the past, with the hotel's location standing as the original home to the 1950s - 1960s hot spot, the Terrace Motor Hotel. Hang out in the sunken pool surrounded by luscious landscaping that makes you feel like you're in nature, in the heart of the city. Sip on a Summer House Shandy while you take in some rays.
Hours: Sunday - Thursday; 3 PM - 10 PM
Price: $30/person
Reserve online: Resort Pass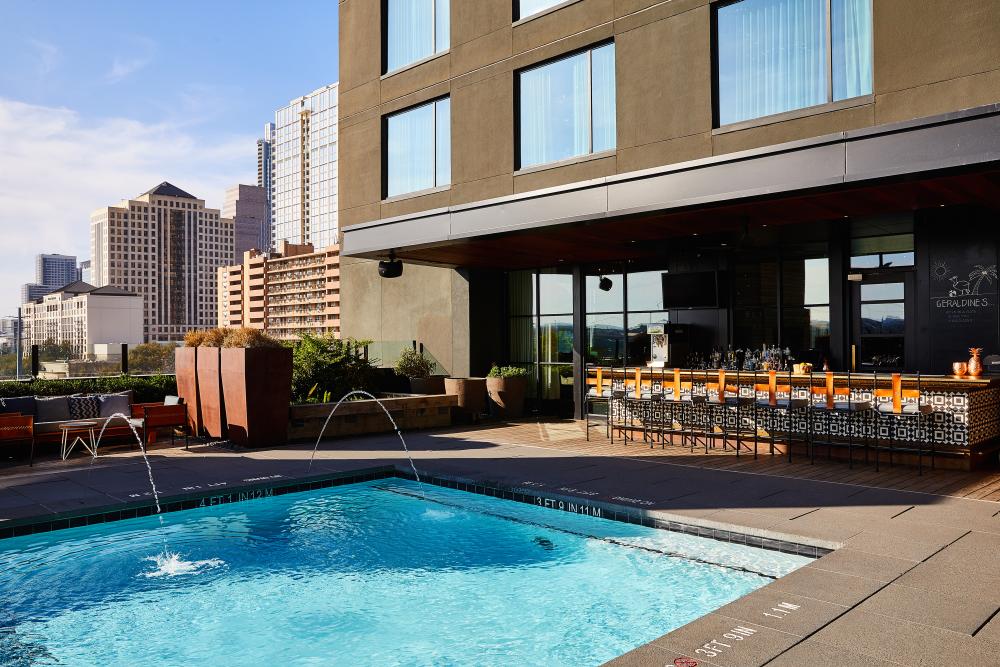 Hotel Van Zandt. Credit Aubrie Pick.
Hotel Van Zandt
Be the envy of your friends by lounging on Hotel Van Zandt's rooftop pool. With downtown views for days and a killer food and drink menu, you'll be hard pressed to leave this relaxing poolside sanctuary. Rent a daybed for shaded seating and complimentary bottled water.
Hours: Monday - Thursday, 11 am - Sundown
Price: $38+
Reserve online: Resort Pass
Hotel Viata 
Discover one of Austin's sweet retreats, Hotel Viata, with touches of Tuscany and Texas in the heart of Hill Country. Find peace and tranquility in the beautiful courtyard and pool with the hills of Austin as the picturesque background. Sip Prosecco on the patio, or book a luxurious private cabana with lounge chair seating, TV, fan, and mini-fridge stocked with water, soda, chips, and chilled towels. A daycation spent at Hotel Viata will make you feel worlds away on a magical holiday abroad.
Hours: Daily, all day
Price: $45
Reserve online: ResortPass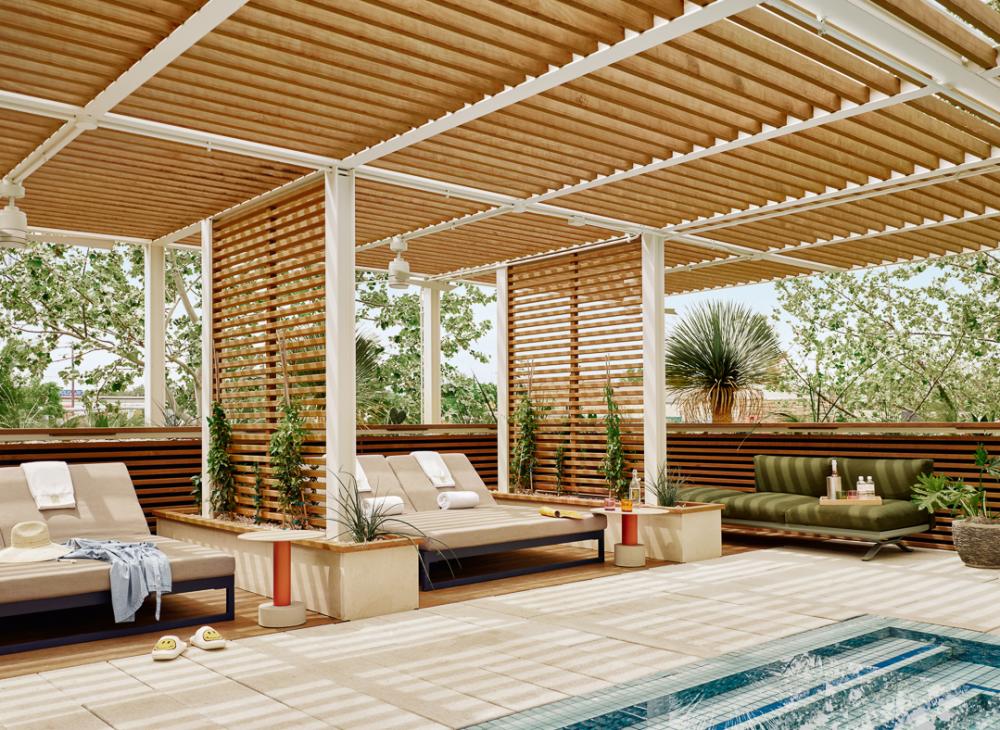 South Congress Hotel Pool Cabanas. Credit Casey Dunn.
South Congress Hotel
Looking for a posh poolside hang? Bring your suit and sunscreen, South Congress hotel will bring the good vibes. Relax on one of their sunny loungers or reserve a cabana for your whole crew. Passes include pool entry and parking pass, and poolside dining is available.
Hours: Daily 10 AM - 5 PM
Price: $40+
Reserve online: Tock
The Wayback
Tucked away in West Austin's rolling hills is The Wayback. Sunbathe at their exclusive pool and keep the food and drinks coming from their fresh onsite cafe. Just fifteen minutes from downtown, this Hill Country escape will make you feel miles and miles away from the busy city.
Hours: Wednesday - Friday, 10 AM - 3 PM
Price: $40
Reserve online: Resy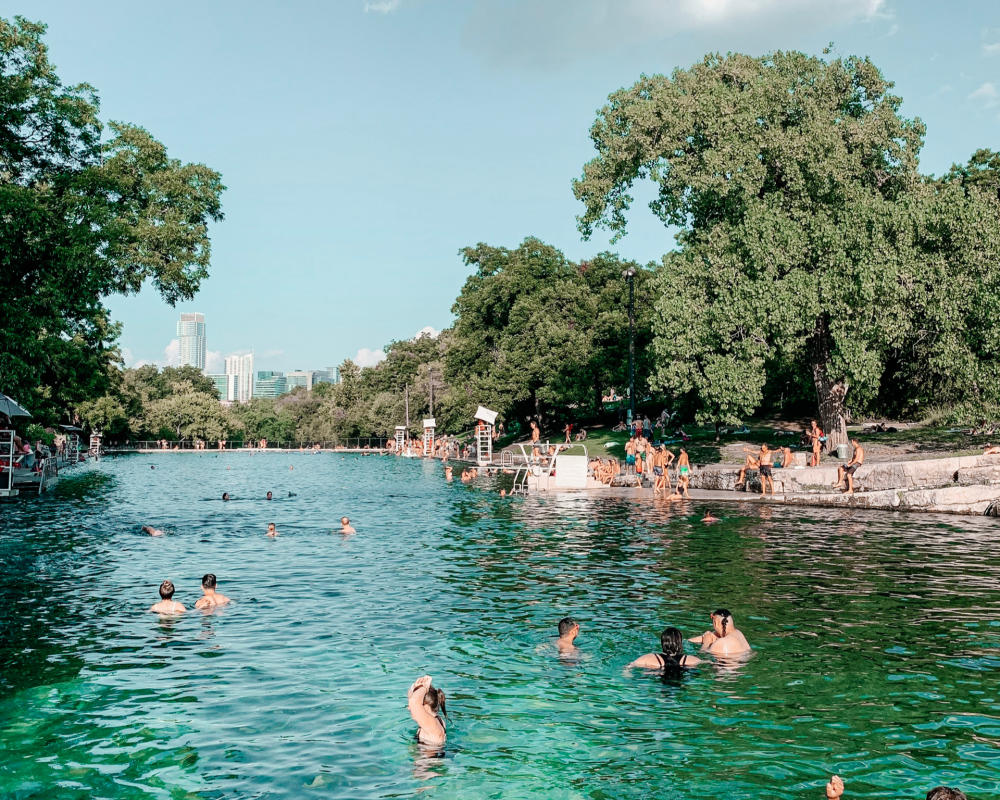 Barton Springs Pool. Credit Cindy Bolanos.
Public Pools in Austin
Barton Springs Pool
This 1,000-foot long natural limestone pool is one of the most popular day destinations when the weather starts hitting triple digits. It's open from 5 a.m. to 10 p.m. and only costs $1-$3 dollars a day, so it's definitely worth it. And here's a tip: bring water shoes!
Deep Eddy Pool
A day pass for Deep Eddy will cost no more than $8 and will get you access to the oldest, coolest swimming hole in Texas. There's plenty of grass, plenty of shade and a whole lot of cool, clear water.
Big Stacy Pool
If a swimming hole isn't what you're looking for, the Big Stacy pool is a free municipal pool in South Austin that lets the kiddies wade and the adults swim laps from 6 a.m. to 8 p.m. on weekdays and 12 p.m. to 7 p.m. on weekends.
Check each pool's website for current hours and operations.
If you want to make the dip even more rewarding, explore Austin's outdoors before cooling off and relaxing by the pool. Here's our guide to some of the best outdoor activities in Austin to help you plan.