In Austin, breakfast tacos are a dietary staple. Like water. But tastier.
These are not burritos, but carefully curated tortillas with essential, well-seasoned fillings of all types. You've seen our dinner and lunch round-up, but no meal takes a stand like the Austin breakfast taco. Here are some of the best in town: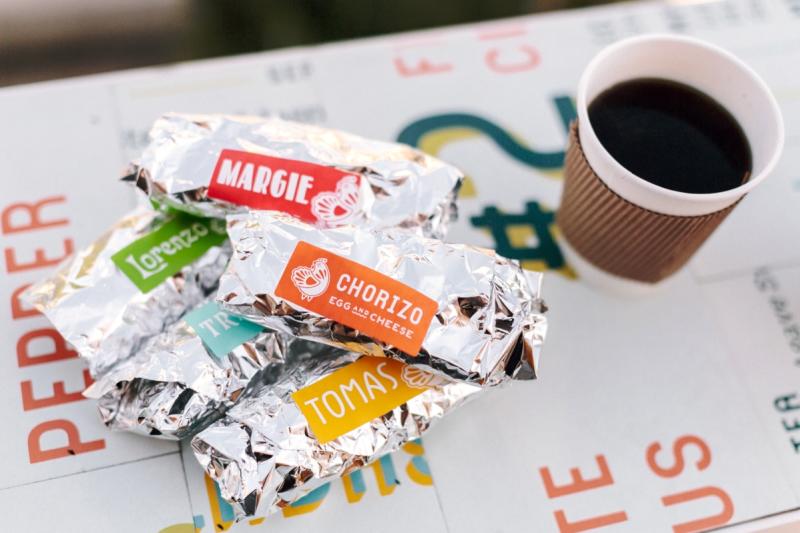 Fresa's breakfast tacos. Credit Julie Cope.
Fresa's Chicken Al Carbon
Walk up or drive thru at this fast-fresh Austin fave. Care is put into housemade ingredients like flour tortillas, rice, beans and fresh salsas and Fresa's organic eggs come from pasture-raised chickens. Look under "Our Favorite Breakfast Tacos" for The Margie with steak, eggs, rajas and charred onions.
Veracruz All Natural
Rachael Ray crowned their migas breakfast tacos as one of the best in the country. The simple eggs, avocado, pico and cheese creation is folded into a thick homemade corn tortilla and laced with bits of spicy fried tortilla for an extra crunch. You can feel good about indulging: Veracruz uses only fresh, all natural ingredients.
Mi Madre's
Soak up the morning sun on this pooch-friendly patio. Nosh something different and order the pork carnitas breakfast taco dressed in avocado and cilantro, or the homemade machacado, eggs and pico taco. There's a reason the Austin Chronicle awarded Mi Madre's the coveted "Best Breakfast Tacos" nod.
El Chilito
This laid-back local charmer serves from-scratch breakfast all day, calling on Texas ingredients that include Vital Farms eggs, El Milagro tortillas, Texas Coffee Traders and Texas-raised beef. Hit the Tex-Mex taqueria for the Vaquero tacos built with farm eggs, carne asada and jack cheese. So good.
Torchy's Tacos
Known for their Damn Good Tacos, you can grab a delicious meal here any time of day. The real highlight is kicking things off before the sun rises at 7 a.m. Try the taco of the month, or get fancy with custom orders off their secret menu (shhh).
El Primo
Just a quick hop from downtown on South First Street, this spot's got your classic egg, bean, meat and cheese tacos covered. Order all day long, or get the BIG Breakfast if you're somehow still hungry after one taco.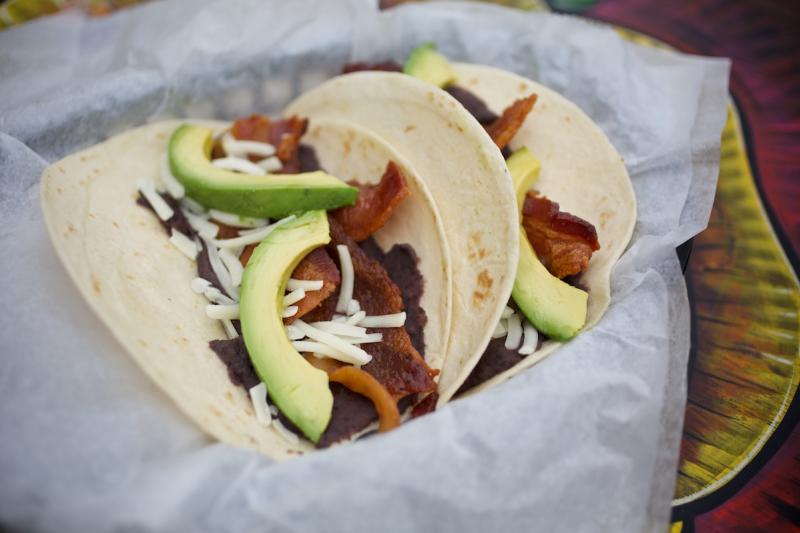 The Otto. Credit Tacodeli.
Tacodeli
This establishment is so serious about their breakfast tacos, locations close at 3 p.m. daily, with breakfast served all day each weekend. Try the classic Otto, the Jess Special or Freakin' Vegan if you're feeling a health kick. These fresh-made ingredients also pair perfectly with the build-your-own menu. If you know what's up, you'll become a Tacodeli Insider.
Joe's Bakery and Coffee Shop
Around since 1962, this team knows what they're doing. Breakfast plates and tacos are served all day, every day. Get adventurous and try the chicharrone taco, or the round potato if you're in the mood to carb-load.
Juan in a Million
No list would be complete without this infamous breakfast taco hot-spot on the east side. In business since 1980, this East Cesar Chavez establishment sometimes has a line out the door beginning at 7 a.m. Try a few Tex-Mex classics such as the chorizo or bacon, or get creative with the nopalitos with egg.
Tyson's Tacos
A north-central hot-spot, Tyson's boasts a variety of creative breakfast tacos at a laid-back dining stand with a welcoming patio. Stop by on your way to that morning meeting, or make the special trip – the ambiance will make you proud to be in Austin.
Las Cazuelas
Good news, early risers – this Austin must-eat opens at 5 a.m. Start your day on their outdoor patio with a few delicious tacos. Build your own with an ingredient list spanning eggs, beans, cheese, bacon, ham, rice, sausage and nopal (yep, that's cactus and it's awesome).
We've tried to eat as many tacos as possible during this experiment. Now that you've seen them all, what are your favorite tacos in Austin? Let us know with #TrueAustin on Twitter and Instagram!