Austin is an incredibly dog-friendly city. Locals take their fur babies everywhere—off-leash parks, specialty pet shops and even their favorite bars and restaurants. For visitors, pet-friendly hotels abound, and you won't run out of fun activities to share with your best friend. Here are some ideas for a three day itinerary for you and your pup to enjoy.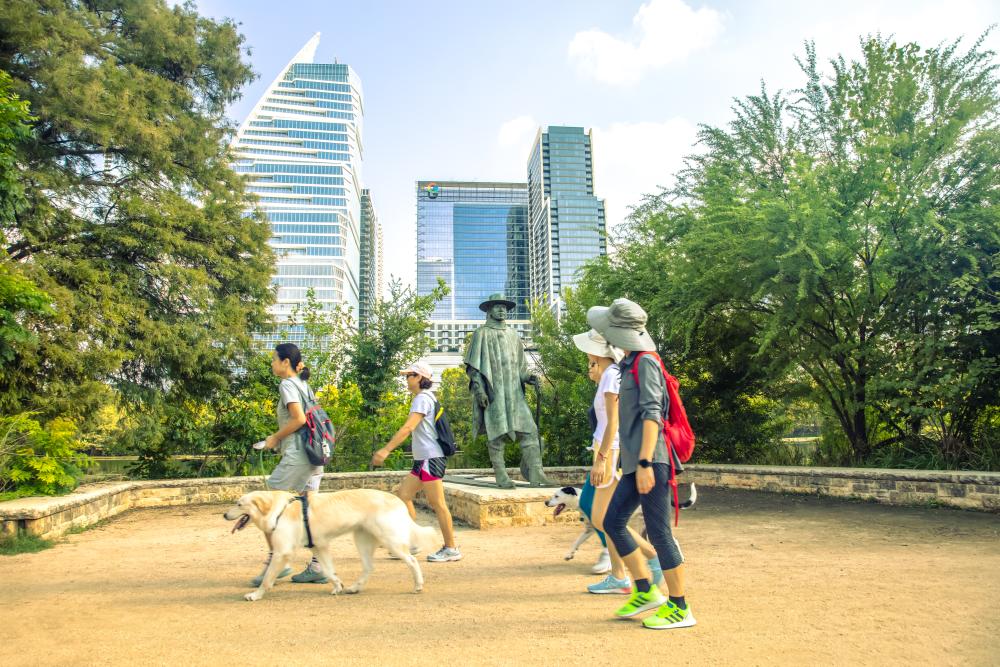 Butler Hike & Bike Trail. Credit Jeff Djayasaputra.
Day 1
Start your afternoon downtown on the Lady Bird Lake Hike and Bike Trail and make your way to Austin's famous Zilker Park, the largest off-leash dog park in the city. With 350 acres of land, locals enjoy practicing sports and even catching live music at Blues on the Green. Sadly, Lady Bird Lake is not safe for pups to swim, so keep them occupied with a frisbee or a ball and be sure to bring plenty of water for them to drink.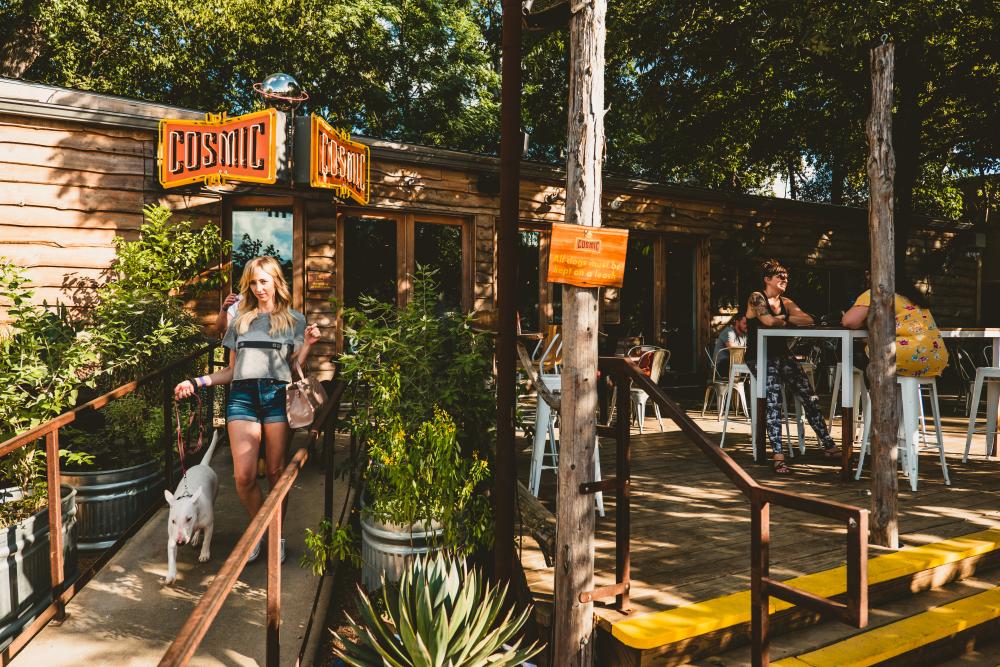 While the water along the river is not safe for a swim, you are not far from Onion Creek District Park where dogs freely romp around and cool off. The water is typically flowing and cool, refreshing after playtime in the park. If swimming is not your pup's favorite thing, walk around the Zilker Botanical Garden and enjoy the lovely displays and peaceful gardens, but be sure to keep your pup on leash. Check with the City of Austin here for the latest water safety information
If you guys are not done playing, head south on Lamar Boulevard to Bouldin Acres, an open air, dog-friendly playground and eatery that features a full bar plus pickleball courts, lawn games, a kid's playground and one fenced in for your pup. It is a high energy place, so if you and your pup prefer to relax, check out Cosmic Coffee on South Congress Avenue, a spacious outdoor venue where you can chill with an expertly made cup of coffee, a local beer or a craft cocktail, and a bowl of cool water for doggo. There are great food trucks on site to grab a bite or two, and in the fall and winter the friendly coffee house provides blankets, heaters, and firepits to keep warm.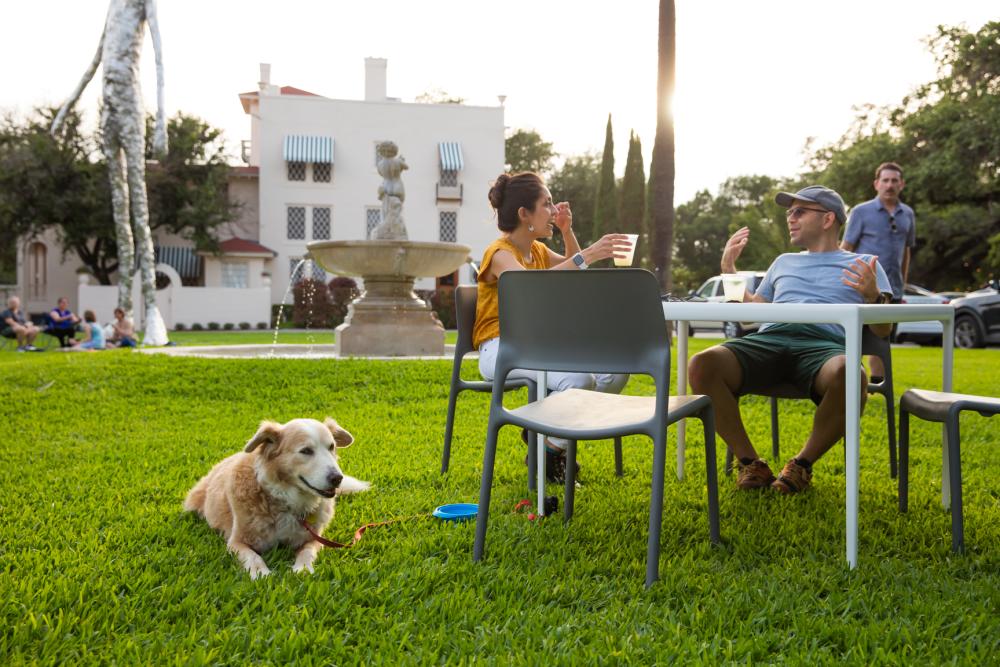 Laguna Gloria. Courtesy of The Contemporary Austin.
Day 2
Time to explore the other side of the Colorado River. Start with breakfast at Oakmont Food Company in Central Austin, a family and dog-friendly eatery with an ample patio and an all day menu of fresh Texas fare. Think classic breakfast plates, avocado toast, and Southwest migas. After a nourishing start, why not take in a peaceful, art-filled walk? 
The Contemporary Austin - Laguna Gloria is a gorgeous West Austin institution where locals enjoy gardens filled with shady trees, a lovely pond, and paths dotted with sculptures from local and international artists. Keep your pup on a leash and stroll around the lush green spaces.
Afterwards, head to one of Austin's favorite fenced dog parks that also happen to serve fantastic food and drinks. The Pitch, a new sports, dining and entertainment complex in Northeast Austin, includes a 1,200-seat stadium, an artificial soccer pitch, and a five-acre pond. You and your pup can play in the sports park or hang out on a picnic table with a frozen drink and a treat. If you enjoy futbol, The Pitch is also a popular hub for Austin FC fans and their dogs on gameday.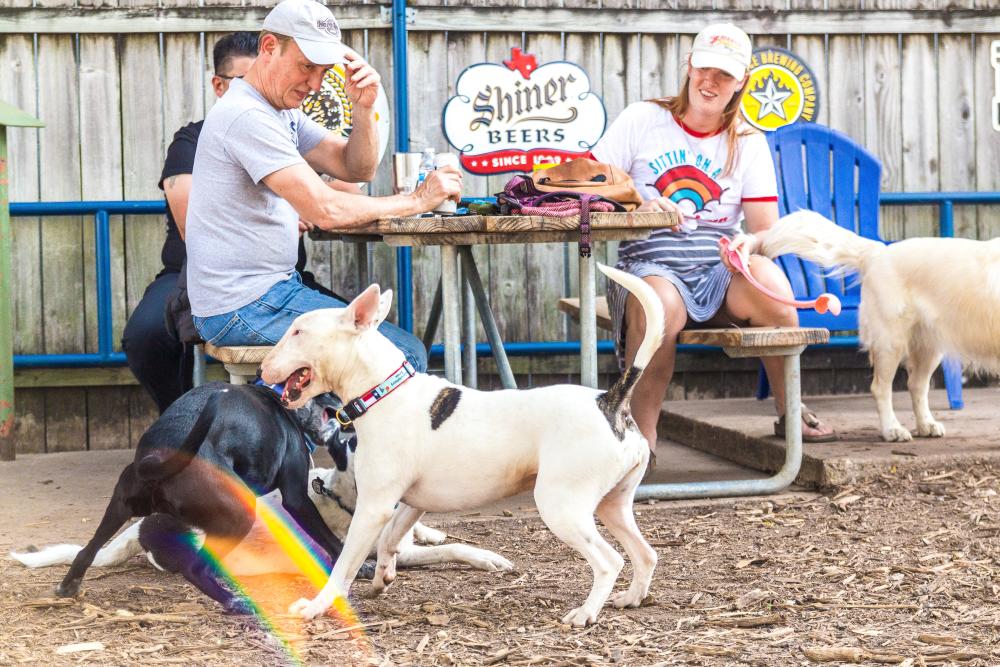 Yard Bar. Credit Jasmin Porter.
There's also Yard Bar, the very first dog park and bar in Austin. For a small day fee, you and your dog can bond in the agility park or you can sit on a picnic table and have a drink and a burger while they play off leash with their pup pals. There are separate sections for large and small dogs, and "bark rangers" are on hand to make sure they all play nice while you relax.
Austin is home to lots of craft breweries, and most of them are dog-friendly. Hopsquad Brewing Co. is a local favorite that features a large selection of great brews, food trucks on site, and a variety of activities for you and your pup such as yoga in the mornings, Austin FC viewing parties, and events dedicated just for your fur children. It boasts a large indoor space and a huge outdoor patio with picnic tables, and pups are welcome in both. 
Before heading home to rest, treat your pup to a shopping spree at Tomlinson's, one of Austin's oldest and most beloved pet shops. Stocked with everything from high-quality food, cute leashes and collars, beauty products, and a wide range of treats and toys, your pup will also enjoy visiting with the friendly staff.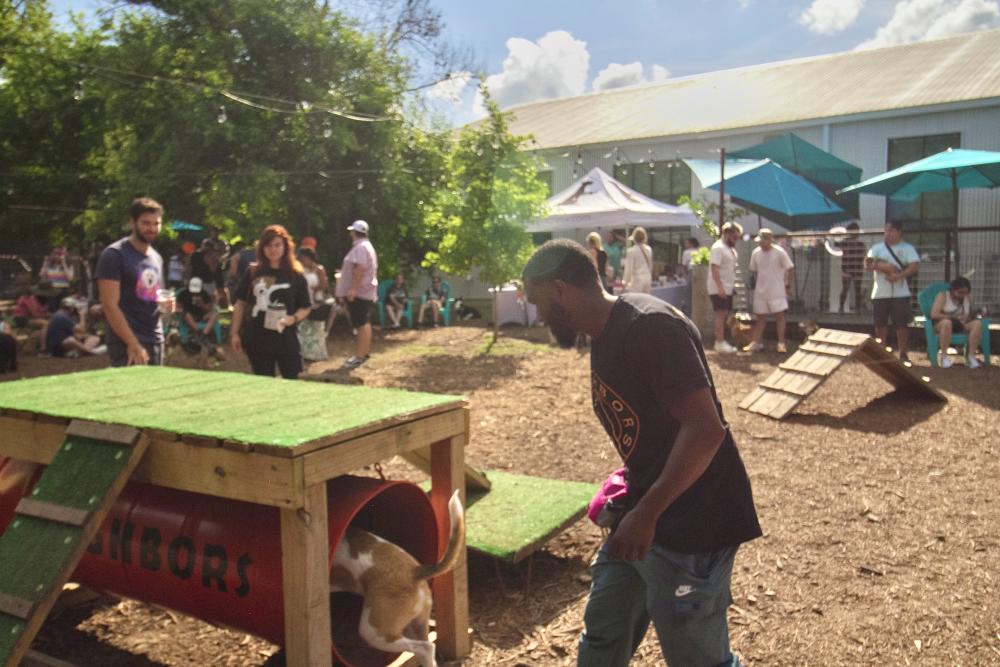 Courtesy of Neighbors.
Day 3
Start your day with a good cup of coffee and a local pastry at Jo's Coffee on the South Congress strip, where you and your pup can have your photo taken in front of the famous "i love you so much" mural. Have a walk along the avenue and peek around the many shops that flank the sidewalks, from funky bohemian clothes and antiques to designer jewelry and eyewear.
After a nice walk, head south on Congress Avenue to Neighbors, a coffee shop and dog park founded by actual neighbors Kati and Lamar. It is a membership dog park like Yard Bar, but day passess are available for visitors. Enjoy craft coffee and tea and pastries from The Steeping Room. This very friendly community also hosts events like training classes and dog meetups, with the occasional live music or special event. All pups must be spayed or neutered to enter.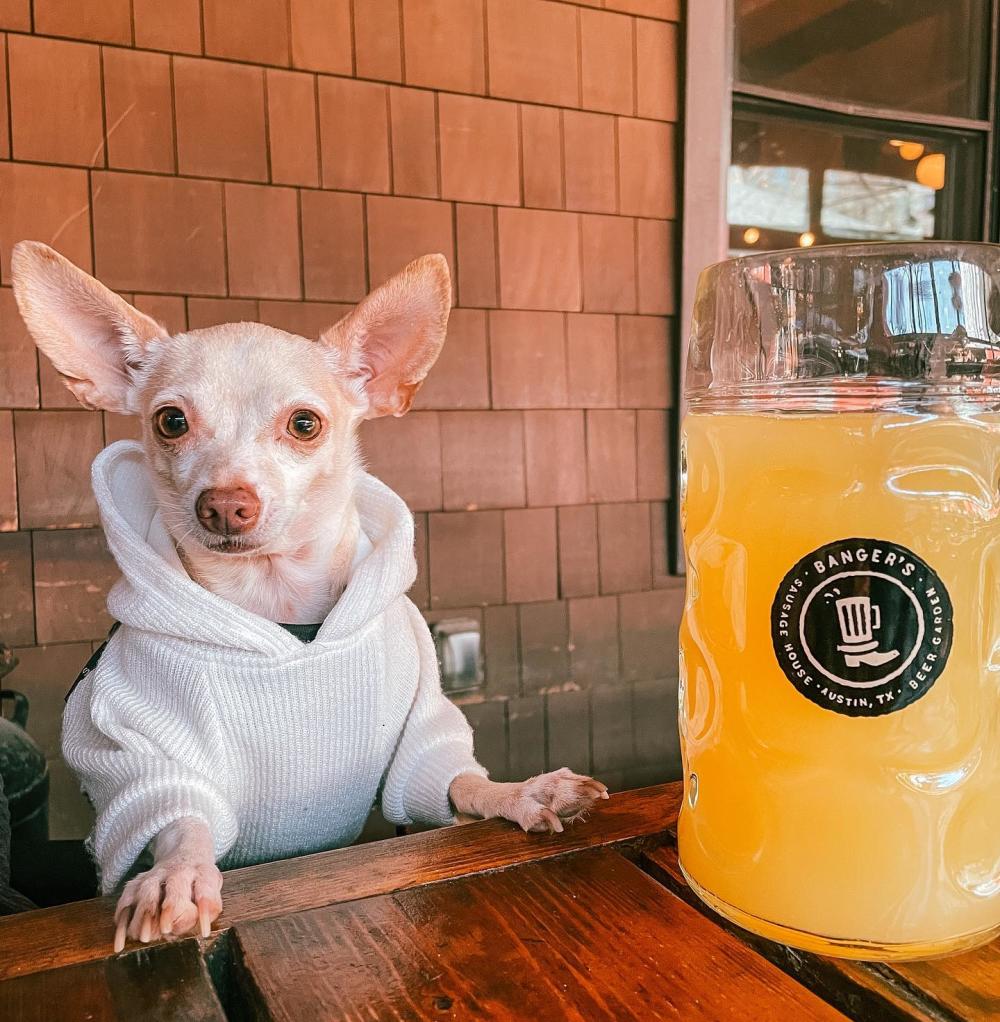 Dog at Banger's. Credit @potatounleashed.
When you guys get hungry, a popular dog-friendly option is Banger's Sausage House and Beer Garden. Located on bustling Rainey Street, it combines everything that's great about Austin in a single space: a large, convivial beer garden, a huge selection of beer on tap, and a live music program. The menu centers around house made, craft sausages - including a woofwurst for Fido - and there's a fenced off-leash playground where he can play safely while you hang out with friends or make new ones over a pint or two.
We weren't kidding when we said Austin was pet-friendly! Check out additional articles below for more ideas on where to take your pup while you're in Austin!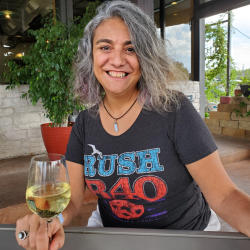 Contributed by Claudia Alarcón
Mexican by birth, Austinite by choice, Claudia has been immersed in the city's food and beverage scene since her arrival in 1984. After years of working in restaurants she started writing about them in 2000, and has seen the growth transformation of the dining scene from the beginning. In her sparse spare time, she watches futbol, tends her garden, and is an active dog rescue advocate. She lives in South Austin with her fur babies, Benji and Eddie.