Not sure where to hang your hat (and leash) when you travel to Austin with pets?  Austin is more than dog-friendly. In fact, you could say we're dog-obsessed. So there are plenty of welcoming hotels to choose from, including some of the city's best boutique and high-end accommodations.  With pools, dining, and luxe linens for you...and treats, toys, and cozy beds for your best friend...there's plenty to delight everyone at these pet-friendly hotels.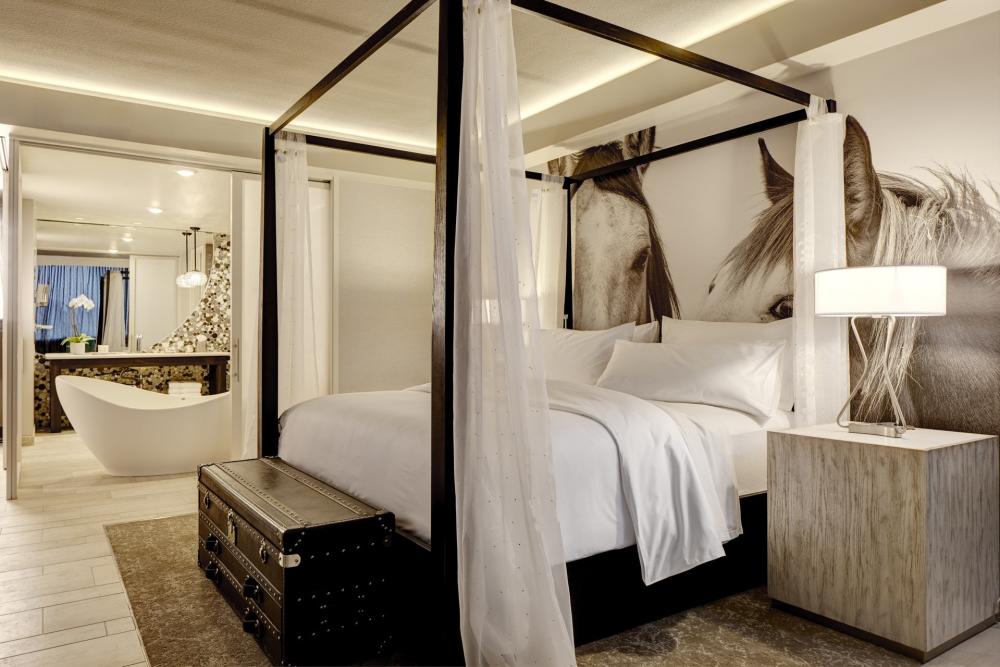 Courtesy of Archer Hotel Austin.
If you've got plans with your pup in the Domain, the Archer Hotel Austin is the place to stay. From the moment he gets his Buddy Biscuit treats at the front desk, he'll feel like a VIP. Once you reach your room, you'll find a bag of treats and a welcome card—not for you. For your dog. Stainless steel bowls and a dog bed will be provided for use during your stay. Plus you'll get waste bags and a chew toy from Phydeaux & Friends to take home. 
For dogs up to 50 lbs.*
Requires a non-refundable pet deposit of $150.**
Just off buzzy Rainey Street, Hotel Van Zandt welcomes cats, dogs, birds, and more at no extra charge. Pet beds and water bowls will be available to use, plus waste disposal bags. Ask the concierge for a list of pet-approved restaurants, parks, and attractions nearby so you can stay together at all times. Or if you have to run out, schedule a pet-sitting or dog-walking service through the hotel. 
No weight limit or breed restrictions.
No pet fee.
You may not expect a historic hotel to welcome dogs, but The Driskill is full of surprises for their four-legged guests. A pet bed, food and water dishes and a mat will be provided upon your arrival, as well as dog treats and bottled spring water. Consult the supplied map of Austin's pet-friendly places while you plan your daily activities.
For dogs up to 50 lbs, or two pets under 75 lbs combined.
Requires a non-refundable pet fee of $100.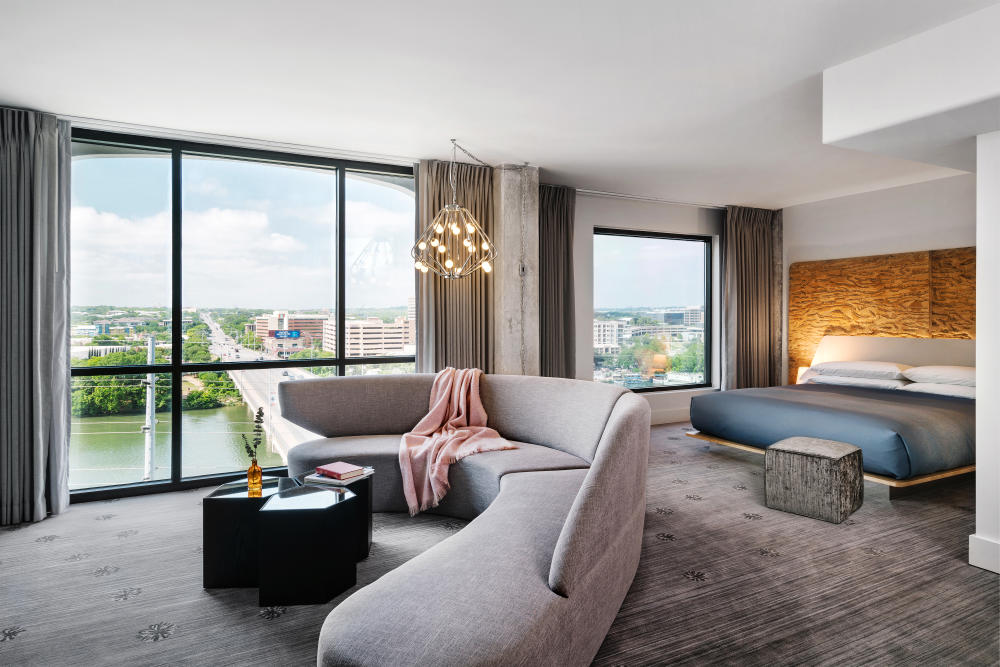 Courtesy of The LINE Austin.
Hip downtown Austin hotel The LINE is dog, cat, and bird friendly. Located adjacent to Lady Bird Lake, you'll have easy access to waterfront trails for morning walks with your furry friend. Check in with the front desk to get a water dish, treats, and bags for "the business."
No weight limit or breed restrictions.
No pet fees.
Hoping to bring your best friend to the University of Texas campus? The Otis has you covered. Rooms include record players for you, and record player-shaped dog beds for them. Dog toys, food and water bowls, and waste bags are available for your convenience. The concierge can help arrange grooming, dog walking, doggie day care, and help you find the best treats in town. 
For up to two dogs under 30 lbs each.
Requires a non-refundable pet fee of $100.
Treat your pup to the good life at Hotel Ella. This historic mansion-turned hotel just north of downtown welcomes dogs of all sizes with no pet fee. They'll get a comfy bed and bowls for meals, plus a bandanna so the can explore the city in style. When they need to go out, a grassy area on the property makes it super convenient. 
Up to two dogs. No weight or breed restrictions.
No pet fee.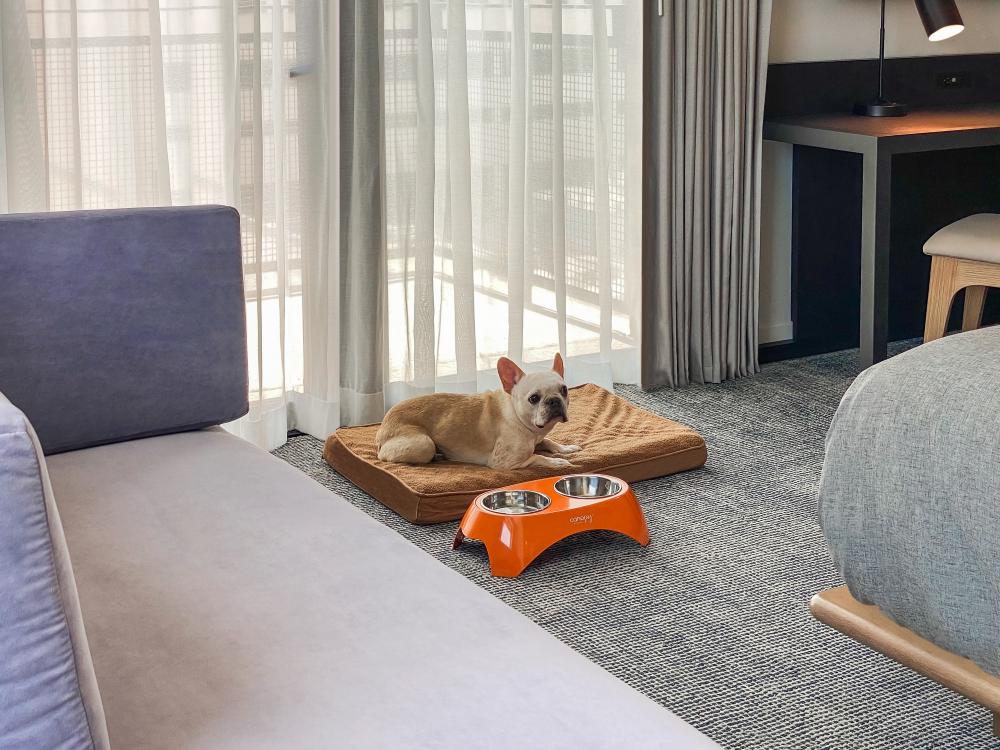 Courtesy of Canopy Hotel by Hilton Austin Downtown.
Austin's new Canopy Hotel sits right in the middle of bustling West Sixth Street. Your pooch will feel just as pampered as you in this hotel with their own bed, food and water bowls and special treats. Fitness fanatics can grab one of the hotel's complimentary bikes, perfect for a ride along the trails of Lady Bird Lake to wear out your furry friend.
For dogs up to 75 pounds.
Requires a non-refundable pet deposit of $50.
Wander the boutiques on South Congress before bringing your canine companion back to the South Congress Hotel to rest. They'll supply you with a comfy dog bed, bowls and treats upon request. Doggos must be accompanied at all times, so ask the concierge for recommendations for pet-friendly restaurants and activities nearby.
Limit one dog. No breed or weight restrictions.
No pet fee.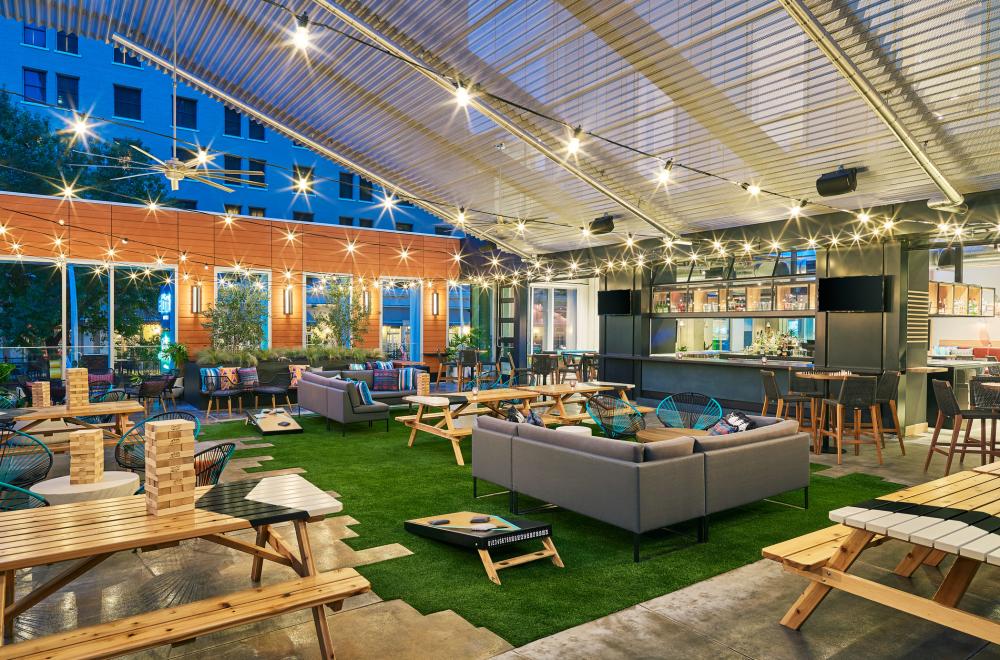 Courtesy of Aloft Austin Downtown.
Cats and dogs under 40 lbs are welcome at Aloft Austin Downtown for no extra fee. Their "Arf Program" will provide your puppy with a bed, dog bowl and bag of treats and toys during your stay. Make time for all-day Yappy Hour on Sundays at rooftop restaurant Upstairs at Caroline. When you bring your pup, you get 25% off your meal! You can enjoy a frosty marg under the clouds while your dog enjoys a treat from Healthy Pets Austin.
No pet fee for cats and dogs under 40 lbs welcome.
Contact the hotel to inquire about larger breed dogs.
Located near Zilker Park, Auditorium Shores, and Lady Bird Lake, The Carpenter Hotel is within walking distance of some of Austin's favorite green spaces. This refurbished union hall-turned-hotel is stylish yet comfortable, with minimalist design and dog-friendly concrete floors. Well-behaved pets can be left in rooms unattended, so you can explore while they catch some zzz's after a long day of fetch and walkies. But if you'd rather they have company, there's a doggy daycare right next door.
No weight limit or breed restrictions.
Requires a non-refundable pet deposit of $50.
Pet-friendly Hotel Viata Austin is the place to stay for a Hill Country adventure. Inspired by an Italian villa, this gorgeous hotel has views of the surrounding hills. You'll feel miles away from the city, even though it's just a few miles from downtown. Your dog will get a soft bed to use during their stay. And they can feast on treats like pumpkin and cinnamon bars or cage free scrambled eggs from the special dog menu. 
Limit two pets (dogs or cats.)
Requires a $100 non-refundable pet fee.
*Always double check with a hotel before planning your visit, in case their pet policies have changed.
**Note that all pet restrictions or fees are for companion animals only. Service animals should never be subject to additional fees.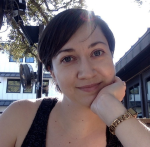 Contributed by Kate McDermott.
Kate McDermott is a local copywriter, content writer, and cocktail enthusiast. She writes about and for restaurants, hotels, event companies, and more from her home in Way South Austin.
Website: eatdrinkandwritecopy.com
Instagram: @eat.drink.writecopy