Spend just a few minutes in Austin and you'll quickly find that where the locals go, their dogs go. This applies to retail shops, parks and hiking trails, and of course, restaurants. While health codes usually prevent dogs from sitting inside, our almost 300 days of sun each year make patios and beer gardens the perfect place to dine al fresco with our best friends.
These ten dog-friendly Austin restaurants will welcome both you and your doggo with delicious eats and refreshing drinks.
Banger's. Credit Michelle Williams.
With the biggest tap wall in Texas (over 200 beers!), Banger's on Rainey Street has plenty to delight people and pups alike. Their massive outdoor beer garden welcomes dogs with water bowls and a special dog-friendly sausage called the Woof Wurst. All Wurst proceeds go to local shelter and rescue Austin Pets Alive! After your pooch has had a drink and a snack, let them loose in the small on-site dog run for a romp with new friends. 
Dogs aren't an afterthought at Yard Bar. They're the whole point. Dogs can play in the off-leash dog park, complete with agility equipment, toys, and hydrants. "Bark Rangers" keep an eye on things and make sure everyone is getting along, while you have a cocktail or a cold beer. 
Shake Shack isn't an Austin exclusive, but we love it for their fresh-ground beef burgers and dog-friendly patio. And your pup will love it for their special dog snacks. The Bag O' Bones has five dog biscuits made from beef, cheese, carrots, and rye flour. And the Pooch-ini is a dog biscuit topped with vanilla custard for a sweet treat.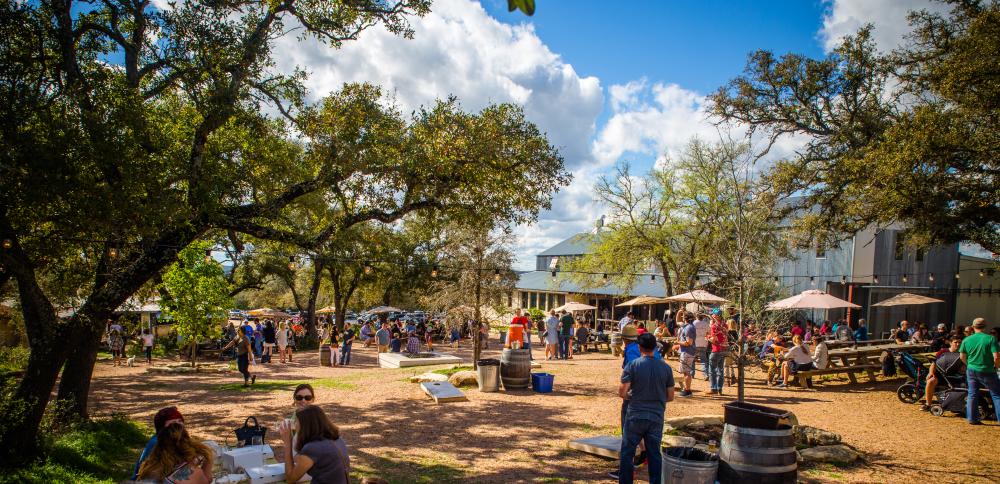 Courtesy of Jester King Brewery.
In West Austin, Jester King is part-brewery, part-restaurant, and part-working farm. Dogs must stay leashed, but there are walking paths around the 165-acre property where you can "do an explore" with your pup and meet the Nigerian Dwarf goats. Get a gourmet pizza while you're there and try one of their excellent farmhouse ales.
South Lamar's Bouldin Acres is dog-friendly inside and out. Outdoors, the space is carpeted in turf grass, comfortable for delicate paws and tummies. The off-leash dog area lets them get some play while you have tacos or burgers from the on-site food truck, CM Smokehouse. And since the food is cooked in the truck instead of inside, you can bring your best friend into the bar area while you watch the game.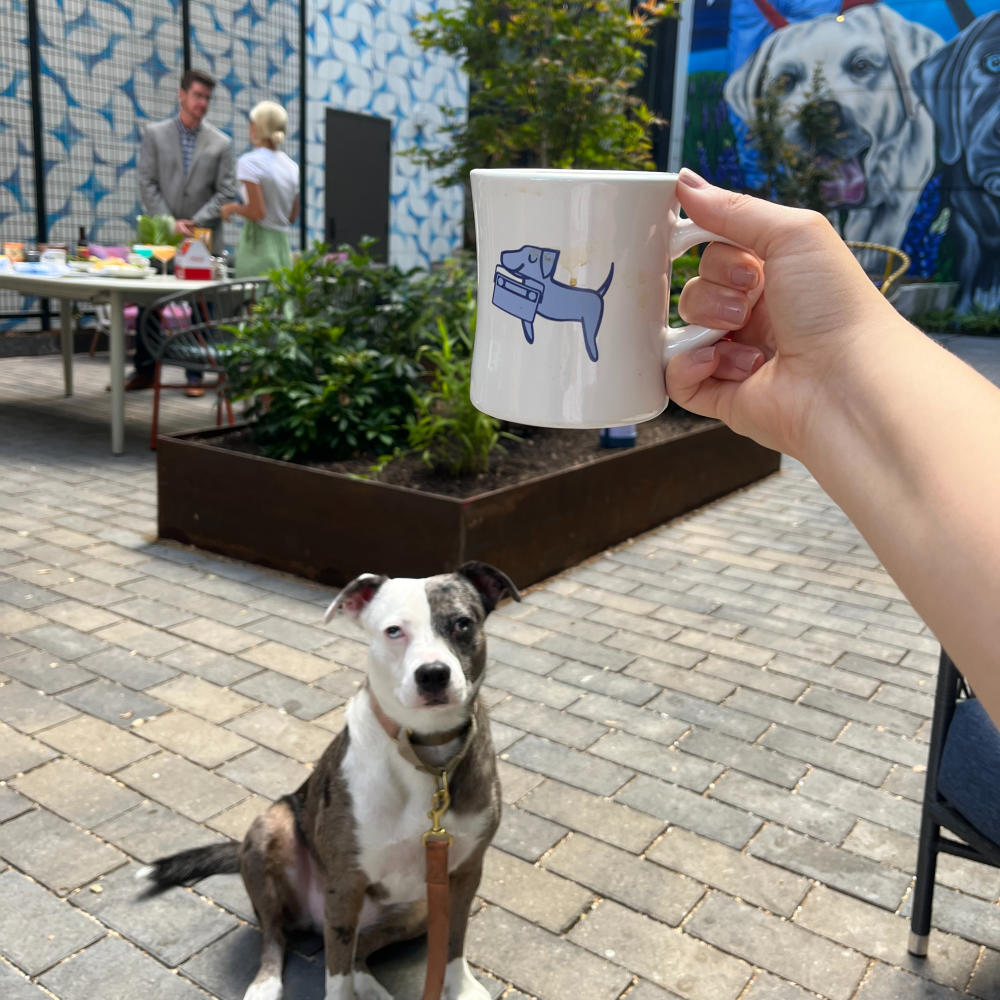 Blue Lacy. Credit Angela Hinson.
Named after the dog breed, Blue Lacy is a an all-day eatery made for people and pets! Located inside the Origin Hotel Austin in the Mueller neighborhood, Blue Lacy's dog-friendly patio and special dog menu will have your pup feeling just as treated as you. We recommend you try the breakfast Monte Cristo and the Texas fries while you're pooch enjoys a "Bowser Beer" or doggie ice cream.
This beloved Austin bakeshop and beer garden is an oasis for humans and pups alike. Easy Tiger's scenic South Lamar location is a great spot to bring the whole family (including your non-furry kids). Adults can sip on local brews on the upstairs deck, while kiddos run free at the park. Grab a beer, house-made pretzel and stay awhile at Easy Tiger.
Legendary local pit master Aaron Franklin teamed up with Uchi's Tyson Cole to create Asian smokehouse Loro. Their outdoor patio is spacious and shaded by leafy oak trees. You'll get smoked brisket with Thai herbs and a boozy slushee. Dogs will get fresh water bowls and whatever nibbles you're kind enough to share.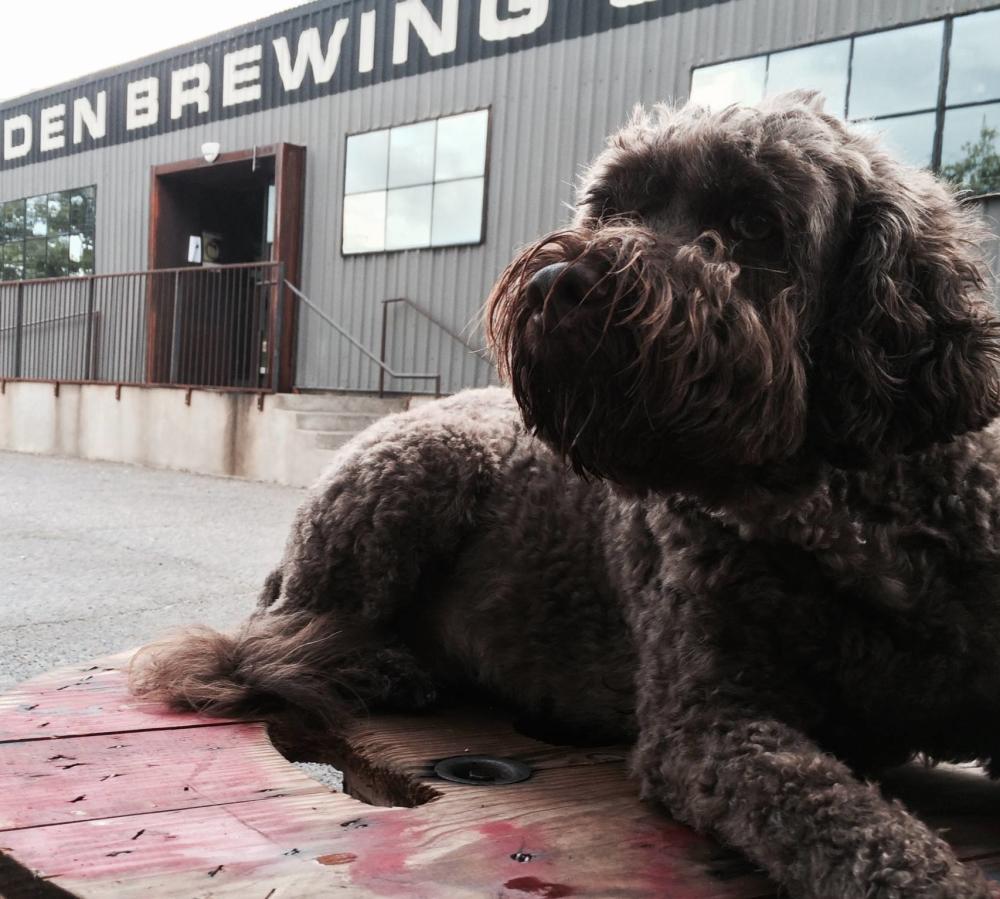 Courtesy of ABGB.
The dog-friendly, shaded patio at The Austin Beer Garden Brewing Company (ABGB) has watering stations to keep your friend hydrated, plus doggie biscuits for them and artisan pizzas for you. They also put their money where their mouth is. They commit 10% of their yearly profit to organizations that share their passions, like Austin Pets Alive!
In South Austin, The Little Darlin' offers Southern-style comfort food in a casual backyard setting. Play some cornhole while your pup relaxes under the shade of a giant oak. And if you have a kitty who is leash-friendly, bring them along too! All are welcome at this family-friendly, punk rock playground.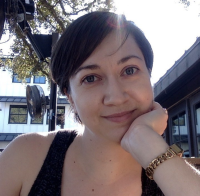 Contributed by Kate McDermott.
Kate McDermott is a local copywriter, content writer, and cocktail enthusiast. She writes about and for restaurants, hotels, event companies, and more from her home in Way South Austin.
Website: eatdrinkandwritecopy.com
Instagram: @eat.drink.writecopy