When you're on vacation you don't want to have to wait until the evening hours for a great beverage. Explore the map below to check out our list of some of the best happy hour spots in Austin that start early in the day - sorted by the area of town and what time each happy hour starts. We've called out some of our downtown favorites below!
A few of our favorite downtown walk-able spots to day drink
2:00 p.m.
315 Congress Ave.
Start your crawl with one of Swift's Attic's Ice Ball cocktails and some charred edamame, which is served with chile oil and pop rocks!
Happy Hour: Mon-Fri 2-6:30 p.m.
$6-8 specialty cocktails
$5 select wines
$2 Miller lights and Mickey's
Discounted select drafts
Le Politique
3:00 p.m.
110 San Antonio St.
Say oui to this Parisian restaurant - whether you choose to sit inside near the oyster bar or soak up sun on the patio.
Happy Hour: Mon-Fri 3-6 p.m.
Half off house cocktails, beer and wine
25% off fruits de mer
$35 for the Douzaine et Demi special featuring a dozen oysters and half-bottle of bubbly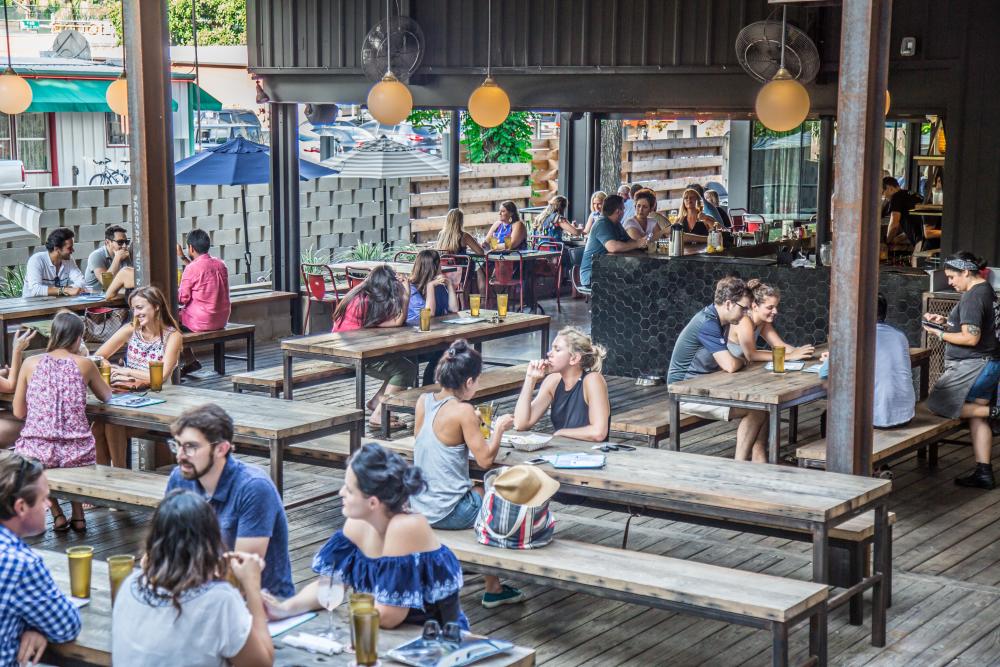 Irene's Patio. Credit Lost In Austin.
3:30 p.m.
506 West Ave.
Go for the adult juice boxes at this patio bar and eatery in the West Sixth Entertainment District.
Happy Hour Mon-Sat 3:30-6:30 p.m.
Free popcorn
$2 off all snacks
$1 off all draft beers
$4 house spirits
4:00 p.m.
500 W. Fifth St.
While you're here, be sure to curb a future hangover with some delicious bites from the happy hour menu. And order the biscuits on the regular menu - trust us!
Happy Hour: Mon-Sat 4:30-7 p.m., Sun 2 p.m.-close
$7.00 cocktails
$8.00 plates
$9 reserve wines
$5.00 beer
5:00 p.m.
605 Davis St.
Located in Hotel Van Zandt, a stylish, music themed hotel, Geraldine's regularly offers music programming. Music touches are found everywhere - even being piped out from the in-pool speakers on the pool deck!
Happy Hour: Mon-Fri 5-6:30 p.m.
$7 cocktails
$7 wines
Specials on food
Contributed by Ashley Dowgwillo.