Sunday brunch in Austin isn't your run-of-the-mill bacon and eggs affair. Here you'll find everything from a big band brunch with creative smoked sausages to a breakfast of Mexican specialties that go best with a frosty margarita. You'll want to rise and shine early on the weekend for these yummy morning meals, but if you're still craving a serving of brunch on a Wednesday, we have a few spots in mind for you, too.
Boozy Brunch
Meet the locals at Banger's Sausage House & Beer Garden, where the tables are spaced out, 200+ craft beers are served and the menu consists of sausages (ranging from wild game to veggie) cooked on a sizzling grill. Come on Sundays for the Big Band Brunch, with live music from 10 a.m.-1 p.m. Patio seating, reservations  highly recommended.
Come for brunch and the fantastic craft cocktails at Better Half Coffee & Cocktails. Spread out on the spacious patio and order the breakfast sandwich layered with fried farm-fresh eggs or a stack of sweet potato pancakes, sided with a Bloody Mary made with Better Half's own Bloody mix and house-pickled green beans. Patio seating, reservations recommended.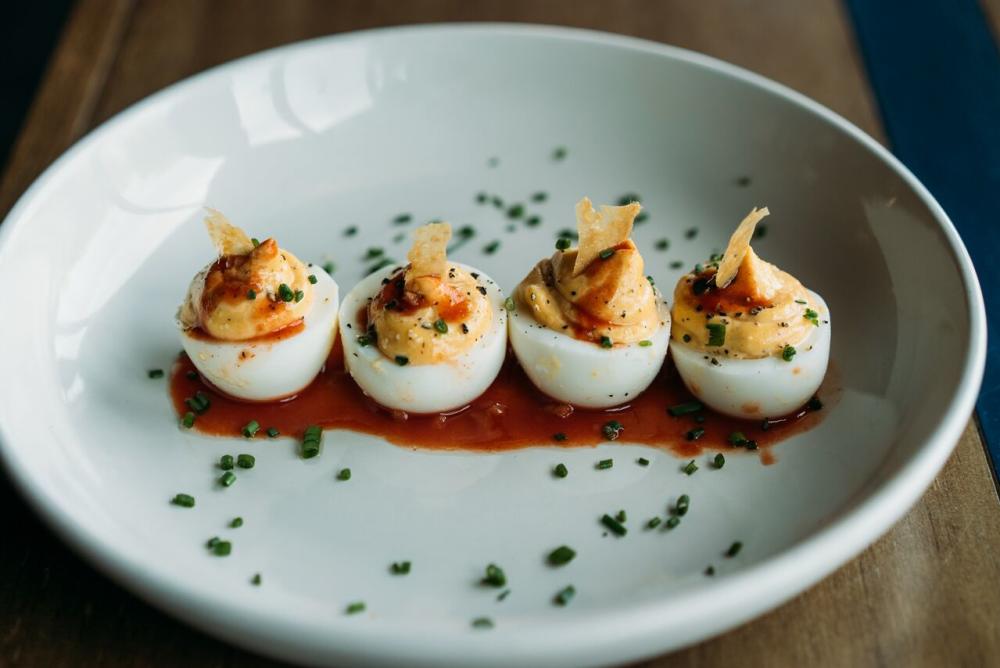 The Cavalier. Credit Alison Narro.
Casual Brunch
Get into the dive bar spirit of The Cavalier, a neighborhood scratch kitchen that turns out Southern favorites. Weekend brunch includes Southern staples like chicken and waffles and poutine, along with the locally popular Cavalier burger, topped with homemade mayo and pickles. Patio seating & limited indoor dining available.
Cenote receives raves for its fantastic coffee and fresh dishes that use ingredients sourced from local farmers. For everyday breakfast 'til 4 p.m. try the Cenote scramble, made with eggs, arugula, pesto, capers and goat cheese. On weekends Cenote adds chilaquiles to the menu, loaded with two fried eggs, avocado, sour cream and tortilla chips sautéed in Felipe's rojo sauce. Patio and socially distanced dine-in available.

Wu Chow. Credit Jane Ko.
Dim Sum
Delve into Hong Kong-style cuisine at New Fortune, a Chinese seafood restaurant that features dim sum carts from 10 a.m.-3 p.m. on the weekends. Gather a group and try Chinese dim sum specialties like shrimp and pork dumplings, spare ribs with black bean sauce and crispy Shanghai egg rolls. Limited dine-in seating available.
Modern Chinese food is the specialty at Wu Chow, which offers dim sum service on Sundays. Try the shrimp-stuffed eggplant, chicken and taro egg rolls, or the baked pineapple bao. The playful cocktail menu includes the Texan's Take on Tiki, mixed with The Botanist artisanal gin, Cointreau, jalapeño simple syrup and juiced cucumber. Sunday dim sum available for dine-in and patio, reservations available.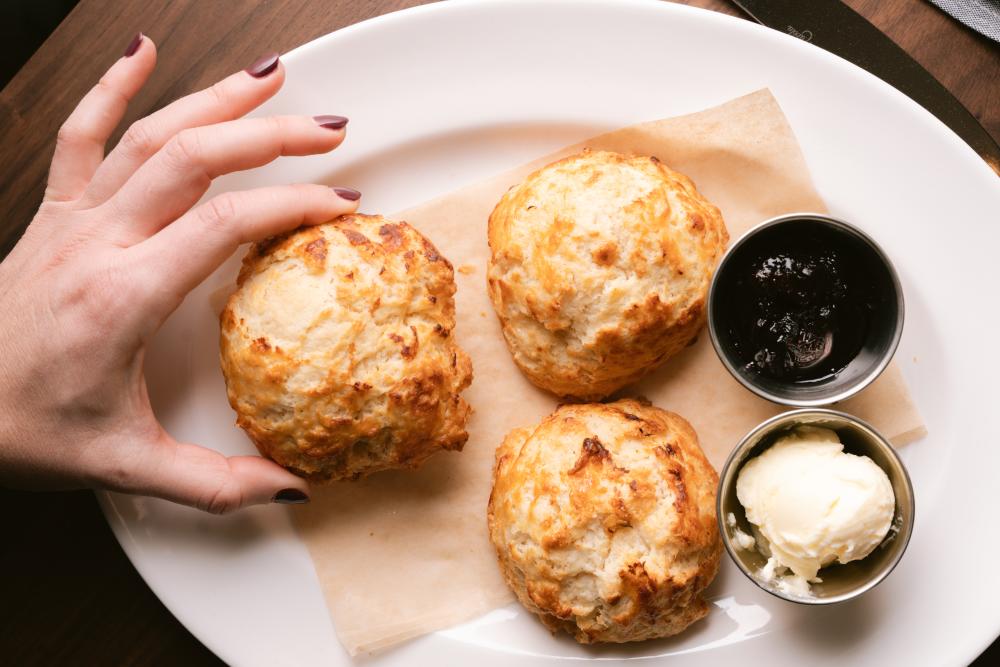 Courtesy of Corinne.
Weekday Brunch
Indulge in decadent breakfast sandwiches for breakfast and lunch, every day at Bird Bird Biscuit. Opt for a spicy chicken biscuit with cayenne black pepper honey and bacon-infused chipotle mayo or try the chicken sausage and egg with cheddar and basil pesto on a huge homestyle biscuit. Currently offering takeout with advance online ordering only.
Austin Marriott Downtown's restaurant Corinne is open for breakfast, Monday-Friday from 7 a.m. to 10:30 a.m. The menu features decadent items such as the light & fluffy pancakes topped with blackberries and drizzled with lemon syrup; a chicken sausage brioche sandwich made with jalapeño relish, scrambled eggs, and pepper jack cheese; all the homemade biscuits you can eat and more. Patio and dine-in seating, reservations available.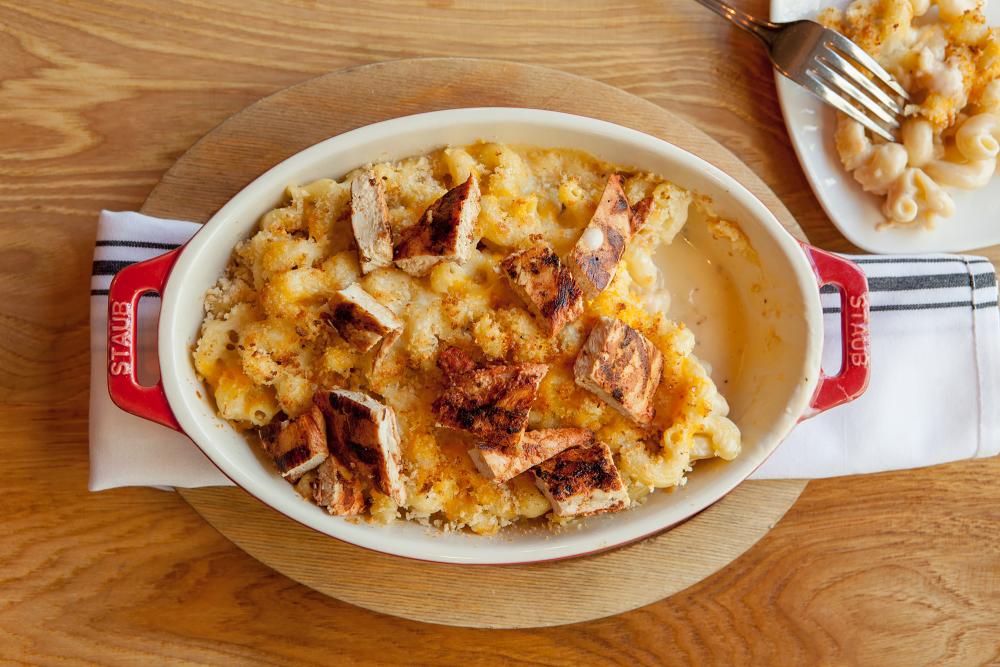 Jack Allen's Kitchen. Credit Kenny Braun.
Family-Friendly Brunch
Jack Allen's Kitchen uses locally sourced ingredients to create its classic Texan fare with a modern twist. The Sunday brunch buffet includes mouthwatering dishes such as the layered enchilada casserole, green chile pork and eggs, and fresh tomato and basil pie. All locations open for dine-in, reservations available.
Cherrywood Coffeehouse offers a bit of everything, from all-day breakfast to beers on tap and live kid-friendly music on Sundays. During the weekend brunch, treat the little ones to the Chocolate City smoothie (peanut butter, chocolate, banana and almond milk) and chow down on the cheesy shrimp and grits. Patio and limited dine-in available.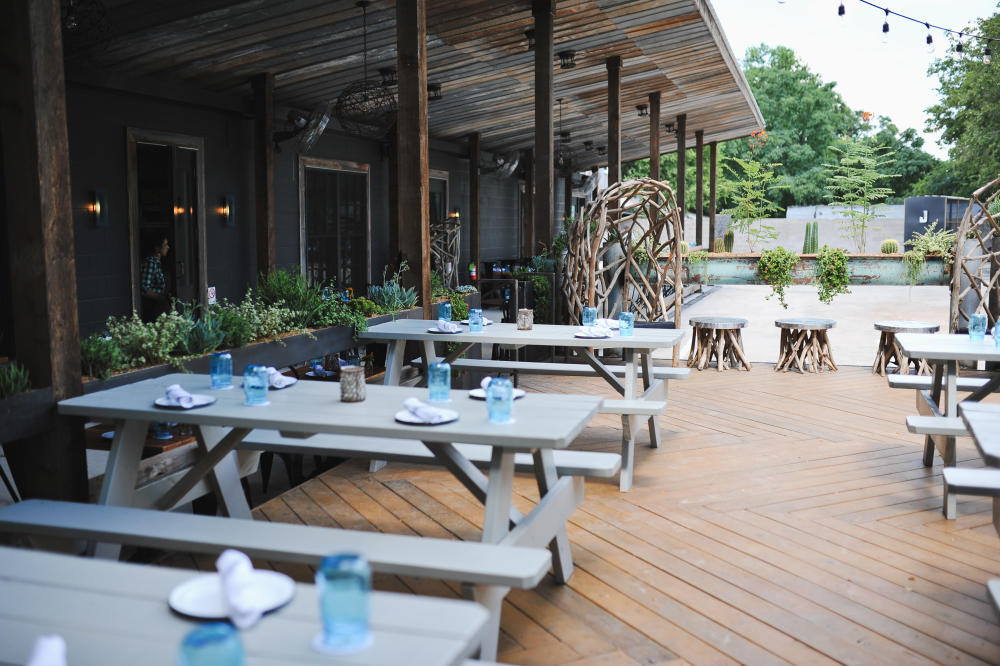 Jacoby's. Credit Natalie Seeboth.
Farm-to-Table Brunch
Adam Jacoby and Kris Swift's first restaurant, Jacoby's, is a ranch-to-table dining experience that serves up one of the tastiest burgers in town. Brunch is served on Saturdays and Sundays from 10 a.m.-2 p.m. with a menu that focuses on Texas fare. Dishes include smoked chicken migas, chicken fried steak and waffles, pimento grits and more. Open for patio and dine-in, reservations available.
Seasonal Hill Country cuisine is on the Sunday brunch menu at Hillside Farmacy. Housed in a building owned by one of East Austin's longest standing African American families, Doc Young operated the Hillside Drugstore from the 1950s-'70s. Today, the restored building offers a beautiful and thoughtful dining experience. Sample gourmet breakfast items like shrimp & grits, the egg & ham breakfast sammie (with sweet and spicy pepper salsa), buttermilk pancakes and more. Open for patio and dine-in.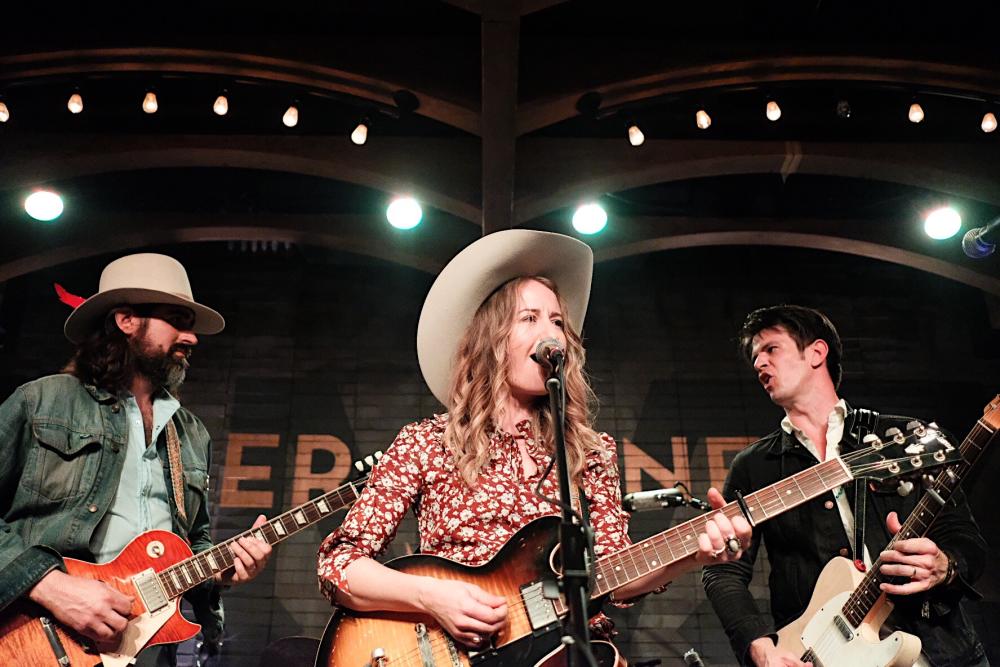 Geraldine's. Credit Kirsten Holliday.
Live Music Brunch
Found on the fourth floor of the Hotel Van Zandt, Geraldine's offers a new age spin on classic southern food and décor. Music is offered on Saturdays and Sundays from 11:30 a.m.-1:30 p.m. and features a classic jazz brunch with a rotating set of local jazz quartets. With a sprawling brunch and beverage menu, Geraldine's is your location for the perfect upscale Sunday funday. Limited indoor dining, reservations available.
Support Austin live music while getting your brunch on at Hotel Vegas. One of Austin's best places to find up-and-coming local acts and DJs, Hotel Vegas offers a dog-friendly patio brunch every Saturday and Sunday from noon-7 p.m. Expect a classic menu of comfort food, like chicken & waffles or the hash & egg breakfast bowl, plus plenty of cocktail options to get your fix (did someone say mango habanero margarita?). Patio seating available.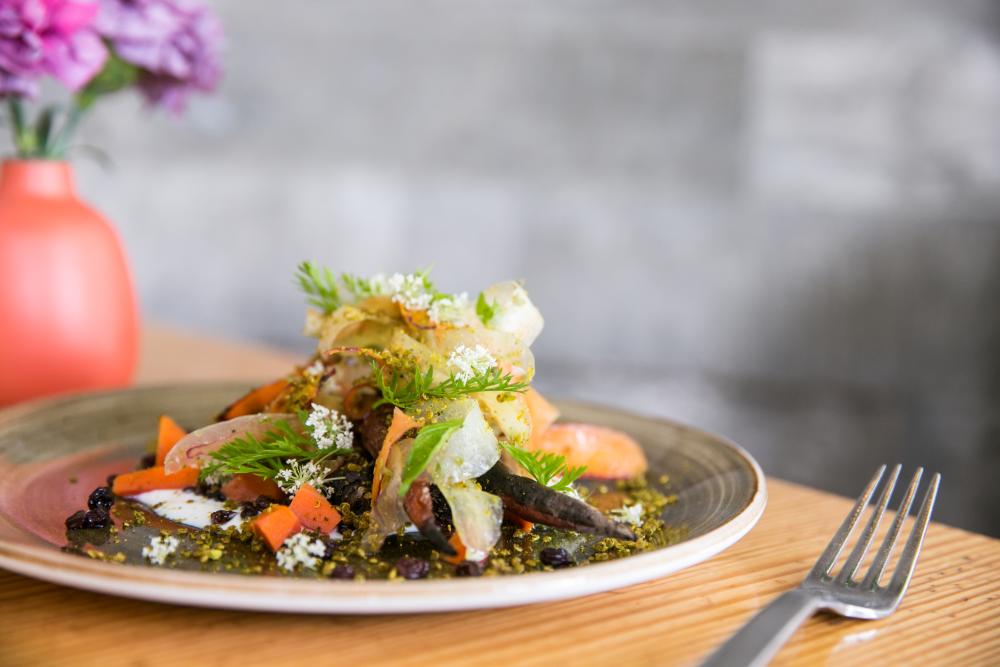 La Condesa. Credit Briana Balducci.
Mexican Brunch
Spend your Sunday morning watching passersby from the downtown patio at La Condesa. Sunday brunch is a colorful affair, featuring a brunch happy hour and dishes like short rib quesadilla, huevos rancheros and churros. Pair your meal with mimosas by the bottle or a frozen paloma. Open for limited patio and dine-in, reservations highly recommended.
You can celebrate an all-out fiesta during the weekend brunch at Suerte. Post up on the patio overlooking East Sixth Street and dig into elevated Mexican cuisine like the mole flautas, stuffed with duck confit, sesame seeds and a sunny duck egg. Open for limited patio and dine-in, reservations available.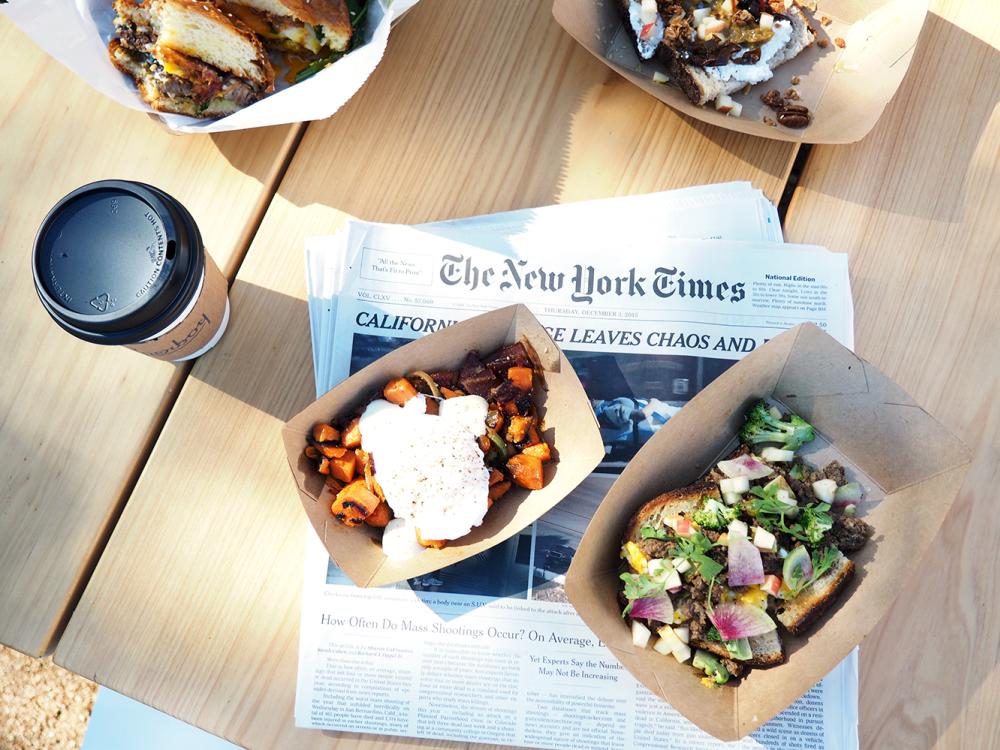 Paperboy. Credit Jane Ko.
New American Brunch
Fuel up for the day at Paperboy, located in a new brick-and-mortar restaurant complete with a rooftop patio and garden. Weekend brunch includes the popular Texas hash tossed with sweet potatoes, braised pork shoulder, a poached egg, kale and pecan mole. Open for patio dining, reservations available.
Try banh mi for brunch at Elizabeth Street Cafe, where Sunday brunch at this French-Vietnamese cafe includes brioche French toast, breakfast banh mi and an omelette filled with roasted pork and mushrooms. Open for patio and dine-in, reservations available.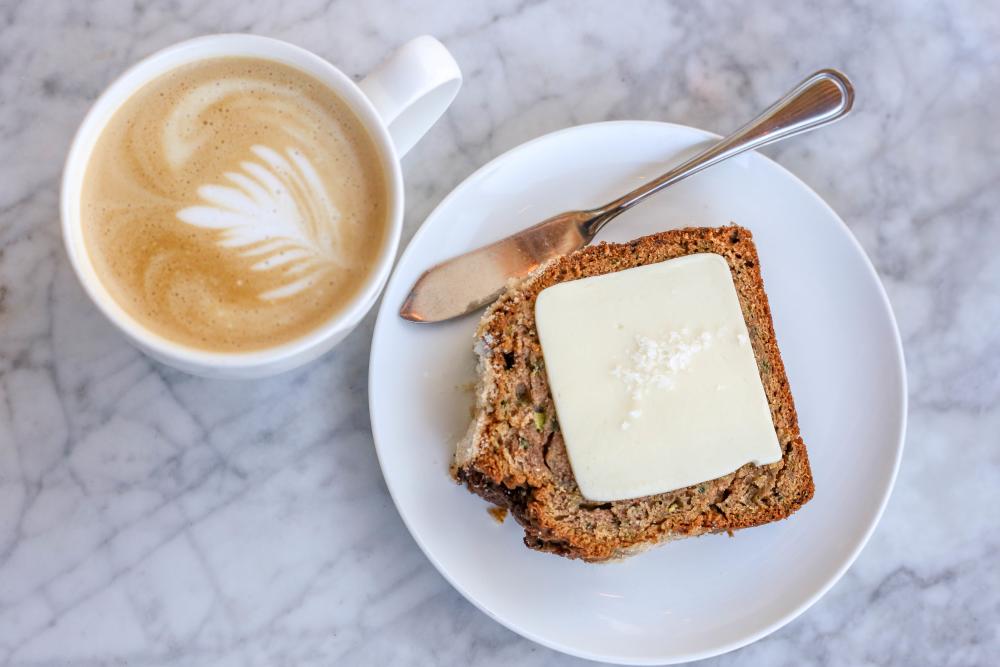 Courtesy of Launderette.
Patio Brunch
The critically acclaimed Launderette serves an eclectic brunch menu that includes everything from salmon gravlax to a fried egg BLT with avocado and pimento cheese. Don't miss the pastry of the day from noted Executive Pastry Chef Laura Sawicki. Open for patio and limited dine-in, reservations available.
Juliet Italian Kitchen's brunch menu is a delectable Italian affair, just steps away from Zilker Park. Share a prosciutto fig pizza and rose by the bottle, or sweeten it up with the bread pudding French toast. It's hard to beat an aeperol spritz with good company on Juliet's relaxed, neighborhood patio. Open for patio and dine-in, reservations available.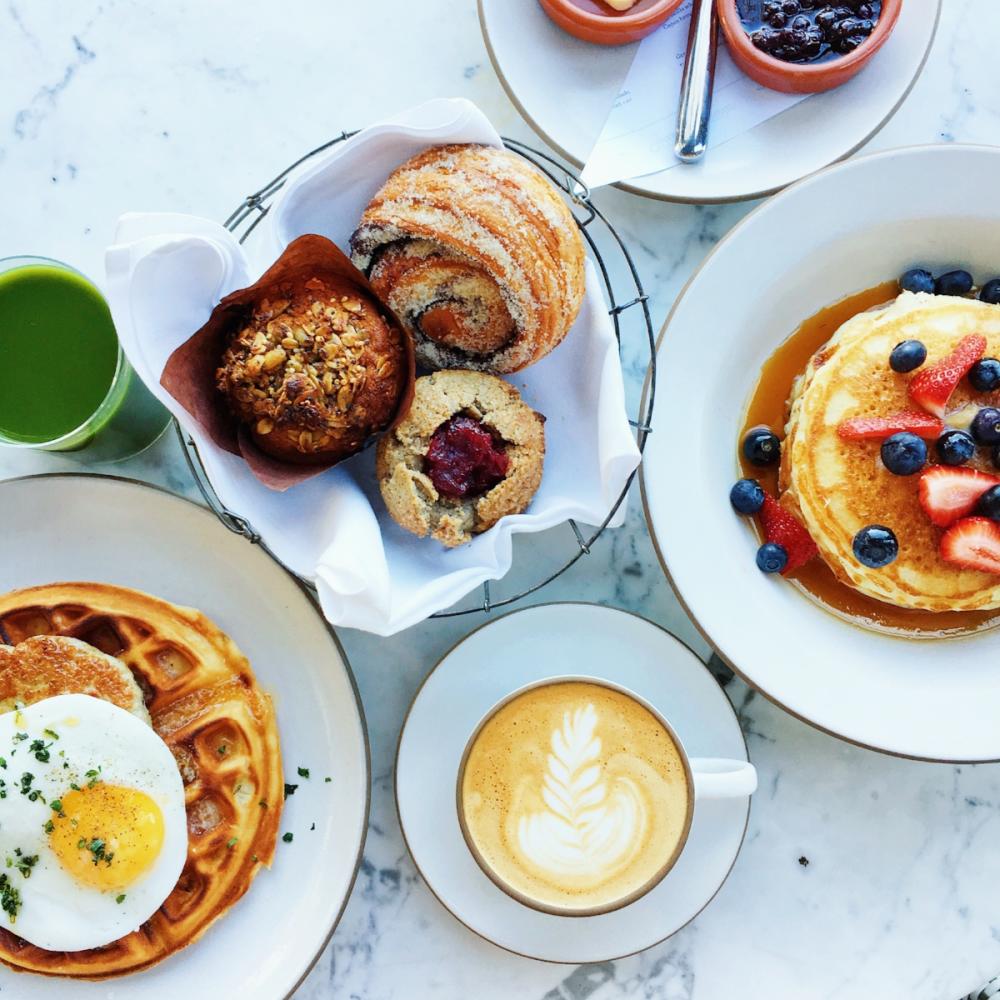 Josephine House. Credit Annie Whitehead.
Upscale Brunch
Located in a cozy little cottage in Clarksville, Josephine House serves up delectable brunch dishes like lemon ricotta pancakes topped with fresh strawberries and blueberries. Pick a seat in the charming dining room or stake out a shady little nook on the patio. Open for patio and limited dine-in, reservations recommended.
Step inside the stylish South Congress Hotel for a California-inspired weekend brunch at Café No Sé. Menu stars include avocado toast, yellowfin tuna poke with coconut rice, and a breakfast cheeseburger (top it with a sunny egg and crispy bacon). Open for patio and dine-in.
Vegetarian/Vegan Brunch
Located in Tarrytown. between downtown Austin and Lake Austin, you'll find The Beer Plant, the city's first vegan gastropub. The Beer Plant serves a fully plant-based menu and craft beer in a farmhouse pub atmosphere. Try the oysters and grits, made with Cajun-style oyster mushrooms and green Oaxacan grits sourced from the local Barton Springs Mill. Open for patio and dine-in, reservations available.
Counter Culture is known for its made-from-scratch vegan comfort food that's served up at affordable prices. Have brunch on the dog-friendly patio, where you can try the raw oatmeal banana split or gluten-free pancakes with house-made butter and organic maple syrup. Open for patio dining,