2-day Itinerary
Welcome to the Live Music Capital of the World®! This 2-day itinerary provides an overview of the city, plus plenty of signposts to help you get your cultural bearings. Here, you'll find a sampling of the Austin hits, with the top things to do, see and experience. Let our insider's advice point you in the right direction for history and culture, as well as where to go for an amazing meal, a relaxing afternoon or a hot night out. Along the way, you'll get to support tons of local Black businesses, musicians, comedians, artists and more.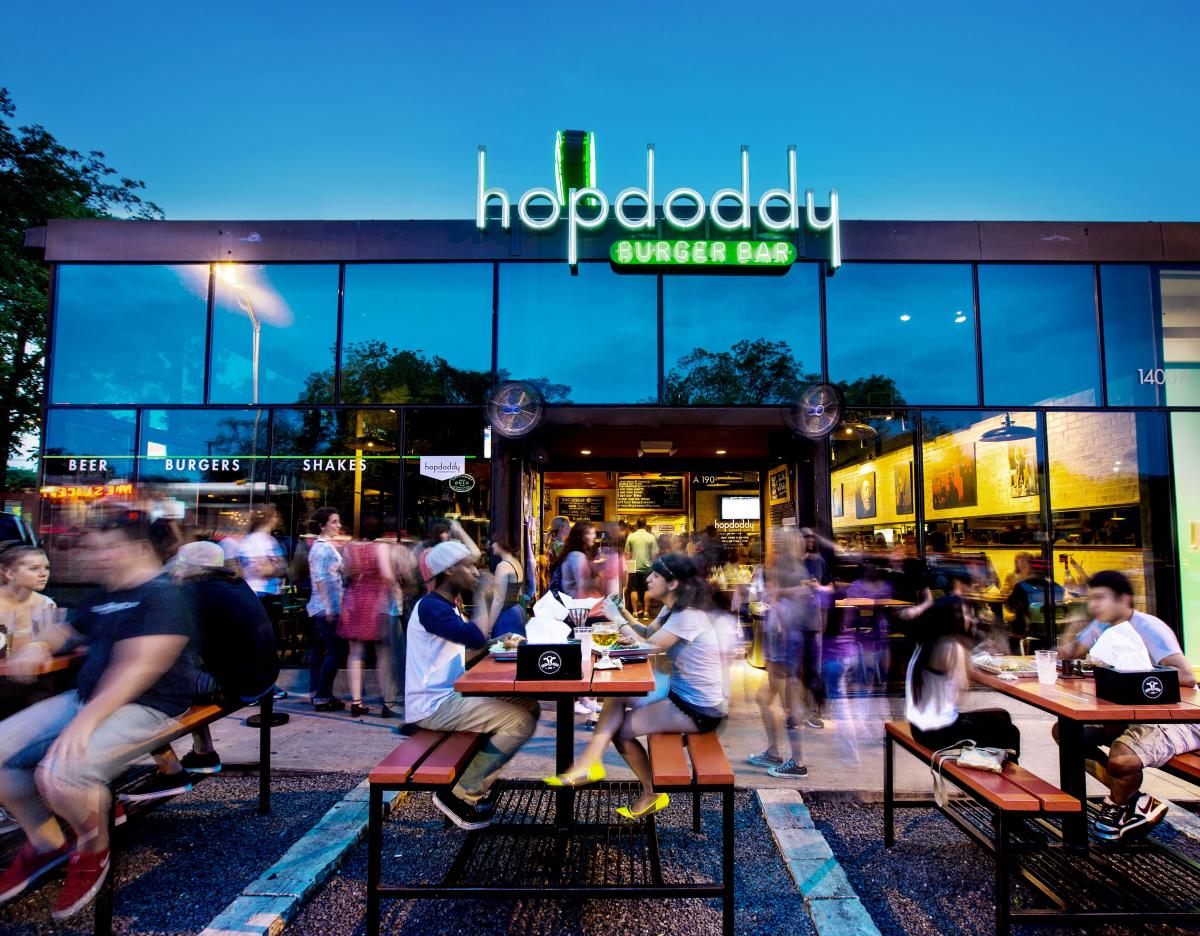 Hopdoddy South Congress Exterior. Credit Nick Simonite.
DAY ONE
MORNING
Get your caffeine fix at Caffé Medici before spending the morning exploring the Texas Capitol grounds and nearby historic sites. Don't miss the Texas African American History Monument, located on the south lawn, which depicts iconic events and individuals in Texas African American History.
AFTERNOON
For lunch, nothing but a juicy two-fisted burger and truffle fries from Hopdoddy Burger Bar, a light and savory avocado toast at Café No Sé or a slice of margarita pizza from Home Slice will do. Snap a pic at the iconic "I love you so much" mural, then stroll South Congress with a coffee from Jo's and pop in to South Congress Books, Lucy in Disguise, Triple Z Threadz, Big Top Candy Shop and all spots in between. Then take in some Texas culture at the Bullock Texas State History Museum. Kids and adults alike will enjoy the exhibits in this three-story downtown treasure, with its High Noon talks and IMAX theater. You can also visit the Mexic-Arte Museum, Harry Ransom Center or the Blanton Museum of Art. While you're in central Austin, stop for iconic Austin chili at Texas Chili Parlor, seen in Quentin Tarantino's 2007 "Death Proof" and serenaded by Guy Clark in his tune, "Dublin Blues."
EVENING
Take a sunset cruise or rent a canoe to watch the millions of Mexican free-tailed bats under the Congress Avenue bridge take flight (April through October, roughly). Head over to the East Side for dinner at local favorite Hoover's Cooking, divine Tex-Mex at family-owned Mi Madre's or no frills 'cue at Sam's Bar-B-Que, where the hot sausage and "you don't need no teeth to eat my beef" have been a mainstay since the 1940s. Afterward, get to dancing at Dozen Street where the EastSide Blues Syndicate hosts a weekly Blue Monday Jam, along with regular funk, soul and jazz throughout the week. Stop by Sahara Lounge for a house cocktail on the patio, along with live music ranging from African to folk, Brazilian to jazz, and more. Don't miss Africa Nights for dancing, music by house band Zoumountchi and a free buffet dinner! Or head back Downtown for jazz at Elephant Room.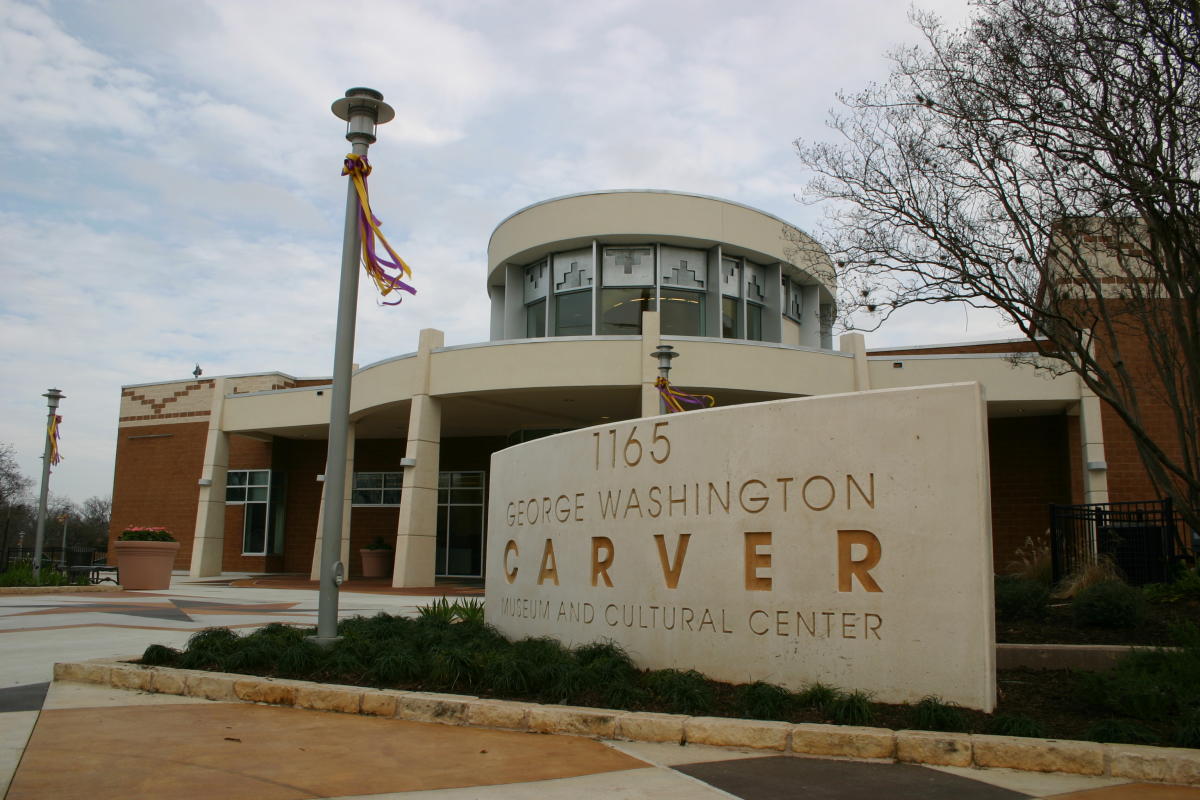 Courtesy of the George Washington Carver Museum.
DAY TWO
MORNING
Rent a Rocket Electrics bike and cruise over to the East Side. Hit up local legend Joe's Bakery for a Tex-Mex breakfast, then grab a cold-brew coffee from Cuveé. While east, visit the George Washington Carver Museum and Cultural Center and tour Six Square, in the African American Cultural Heritage District. See the Dedrick Hamilton House, owned by one of the first freed slaves in Travis County and now home to the Greater Austin Black Chamber of Commerce and next to the African American Cultural Heritage Facility. Then head to Downs Mabson Field, the historic baseball field that was once home of the Austin Black Senators and now the Huston-Tillotson Rams, and see the mosaics depicting iconic Black players.
AFTERNOON
Feeling some food-truck love? Check out the jerk chicken  and fried plantain at Tony's Jamaican Food or, fill up on cheesy comfort food at Emoji's Grilled Cheese. Looking for more? Meet up with your tour guide from the nationally lauded Austin Eats Food Tour. Their highly rated "Best of Austin" food truck tour is a foodie's paradise. With a roster of 80 local restaurants and food trucks they rotate through, you can rest assured that you'll get a proper sampling of the best of the best, bite by bite. Good weather? Grab your swimsuit and enjoy a splash in Barton Springs, and bring a kite and let the kids spend the afternoon at Zilker Park. Shopping beckons? Head north to the Domain for stores like W3LL PEOPLE and STAG Provisions for Men.
EVENING
Get dolled up for dinner at Uchi, for contemporary Japanese food by heavily lauded, James Beard Award–winner Chef Tyson Cole. For a more laid-back vibe, try Fresa's Chicken Al Carbon for tacos and margaritas on their tree-lined patio. Head to ColdTowne Theater for a rollicking night of laughs from all-black improv troupes Sugar, Water, Purple and Damn, Gina!. Or, check out live comedy at Esther's Follies, Cap City or any one of the five families of improv theaters across town. Make your way to East or West Sixth Street for evening cocktails, then the Red River Cultural District for live music.
Insider Tip: Here on a Monday? Don't miss the Blue Monday Blues Jam at the historic Victory Grill, hosted by DiverseArts Culture Works