Experience Austin's Vibrant Black Arts Scene
Art connoisseurs have a full itinerary all their own. Home to world-class museums and galleries, Austin's burgeoning creative scene is home to visual artists such as Chaka Mpeanaji, Kel Brown, Beth Consetta Rubel and many others. Check out this list for a small selection of the many Black and African American artists, performing arts organizations and comedians to see during your visit.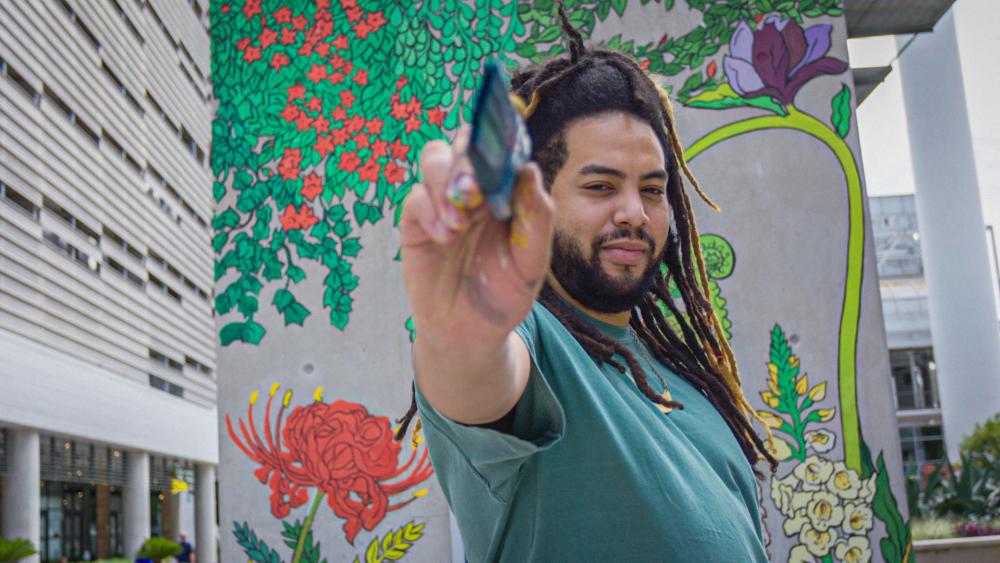 Rex Hamilton. Courtesy of Visit Austin.
Museums, Galleries & Public Art
The George Washington Carver Museum and Cultural Center collects, preserves and exhibits African American historical and cultural material. The museum has two rotating art galleries as well as four permanent exhibits honoring African-Americans in Austin and beyond. It's a fantastic place for the kids to explore, with a children's exhibit on African American scientists and inventors. Plus, the Genealogy Center provides genealogy databases, workshops and seminars for free. Its galleries, dance studio, theater and genealogy center come together to offer a truly immersive experience.
In partnership with the City of Austin's Civilian Conservation Corps, local nonprofit Raasin in the Sun installed the temporary Be Well Murals in 2021. The murals, located along the Lamar Boulevard Underpass, aim to share messages of hope and health during the uncertainty of the COVID-19 pandemic and were created by local artists Uloang, Rex Hamilton, Niz G, Samara Barks, Carmen Rangel and Kimie Flores. See the works at 300 N. Lamar Blvd.
Six Square is a nonprofit that preserves the art, culture and history of Central East Austin. They offer many wonderful programs and events that promote local Black artistry. Book a cultural tour, and follow them to find updates on live music shows and other events featuring Black creatives.
The Art Galleries at Black Studies at the University of Texas has two galleries dedicated to showcasing narratives of Black and African identities: The Christian-Green Gallery and the Idea Lab. Take a stroll through their contemplative, powerful, and culturally rich exhibits. Visits are currently available by appointment only. Book here.
The Dedrick-Hamilton House was once owned by Thomas Dedrick, one of the first freed enslaved persons in Travis County. The home, built around 1880, was in one of the earliest African American communities in East Austin. The fully restored historic house now serves as an African American Visitors Center and retail shop. The Dedrick-Hamilton House also houses the Greater Austin Black Chamber of Commerce and the Office of Arts & Cultural Resources. Stop by to see the Portraits of Our History mural by artist Ryan Runcie and the Reflections mosaic by Reginald C. Adams. Both feature important people, places and events in Austin's African-American community. Every year, an honoree is selected by the City of Austin's African American Resource Advisory Commission and added to the Reflections mosaic. 
The mural on 12th and Chicon, created by Austin artist Chris Rogers, tells the story of Austin itself. The original mural was a long-standing fixture in the community and depicted mostly Black musical icons alongside Día de los Muertos figures. In 2017, the new store covered the installation in white paint, resulting in a public outcry. But thanks to community efforts and the cooperation of store owner Veronica Ortuño, a new mural stands proudly in its place. Commissioned by Six Square, and decided upon by community members, the new mural depicts great artists James Brown, Prince, the late local rapper Octavis Berry and others. It's a great photo spot with a rich history.
Learn more about Austin art and artists here.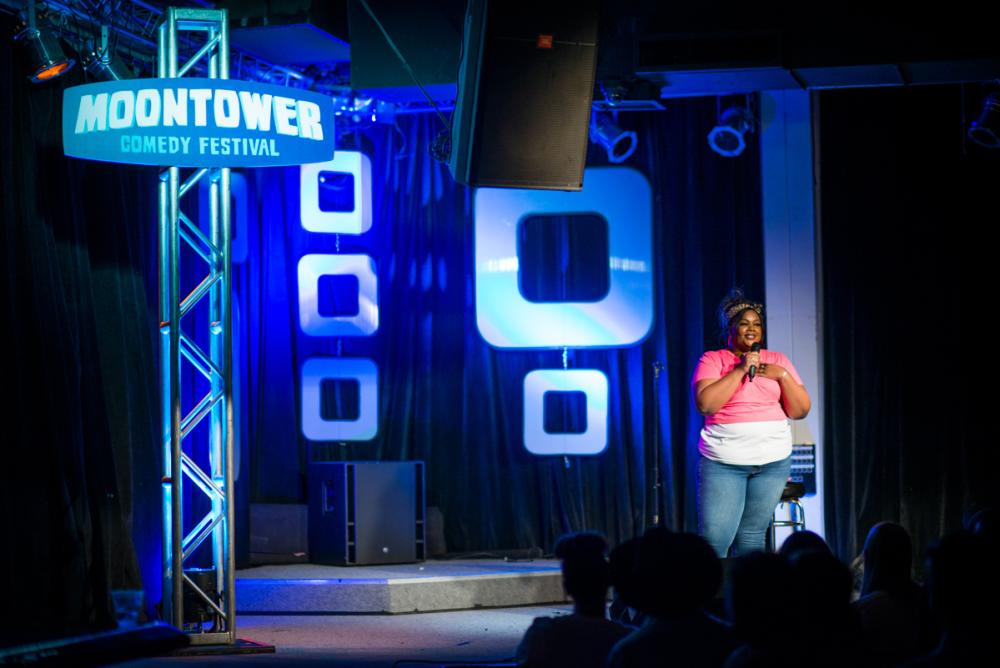 Nicole Byer at Moontower Comedy Festival. Credit Bells and Whistles Productions.
Comedy
Austin's comedy scene has exploded over the past decade, and there's something to see every night of the week. Here are a few of Austin's funniest folks, but don't take our word for it - check out an upcoming show for yourself!
See funnyman Chris Cubas live around town or listen to his podcast Bad Advice with Chris Cubas. The well-respected comedian has had multiple appearances on Comedy Central. Follow his Instagram to get updates on when he performs shows at venues like The Velveeta Room.
Chris Hills is not just a comedian but also a beatboxer. Much loved in the community, his sets are electric and animated, utilizing his wide range of talents. He regularly performs at venues like the Cedar Street Courtyard. Check his Facebook for updates on future shows.
Comedians Angelina Martin and Carlton Wilcoxson co-hosts the Buzzkill at the Buzzmill show. A "former teen heartthrob from St. Louis, MO," Wilcoxson is a stand-up comic that hosts the iconic and recurring Stoned vs. Drunk vs. Sober comedy competition at the Spider House Ballroom.
Home of the Funniest Person in Austin competition, Cap City Comedy Club brings in national headliners alongside a steady roster of up-and-coming stand-ups. Austin's four families of improv — Merlin Works, ColdTowne Theater, The Hideout, and The Fallout — hold comedy court at their respective comedy venues. Each spring, the Moontower Comedy Festival showcases the best we've got, alongside the best in the nation.
Find even more Austin comedy here.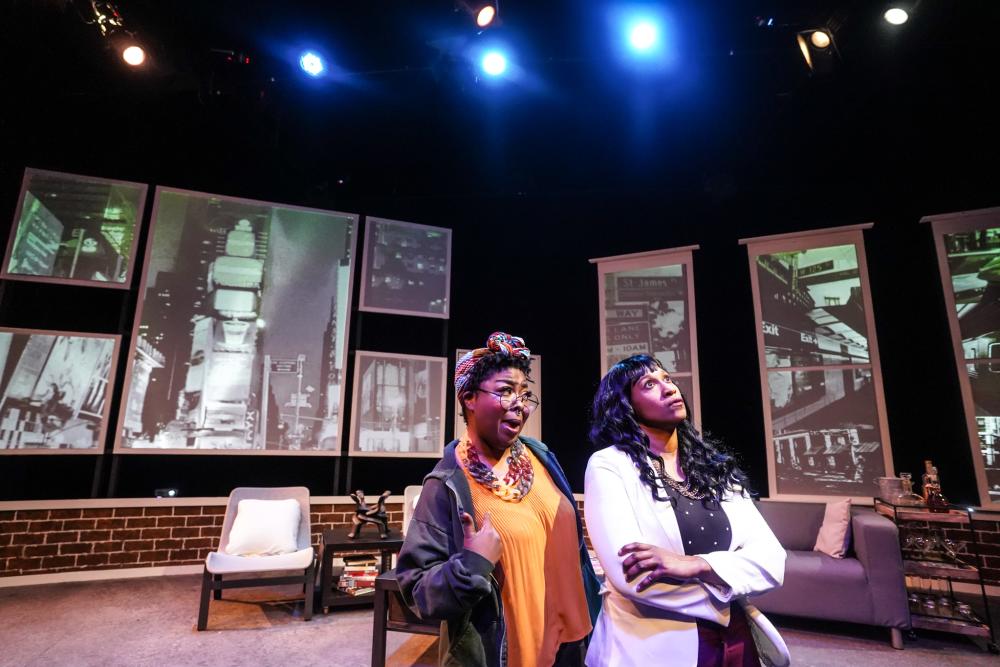 Performance of "Single Black Female" at Ground Floor Theatre. Credit Dave Hawks.
Performing Arts
Ballet Afrique was founded in 2008 by China Smith as a cultural center for the African American contemporary dance arts. Now home to a dance academy, a professional dance company, a youth dance ensemble and community dance classes, Ballet Afrique is a bedrock of cultural expression through movement.
The Capital City Black Film Festival celebrates the beautiful storytelling and universal perspective of talented African-American filmmakers. Check the festival website for this year's dates.
Nestled in East Austin, the Ground Floor Theatre produces works by and for underrepresented communities and provides a performance space for companies that share their vision of uplifting the voices of BIPOC, LGBTQ and female artists along with artists and writers who are disabled.
Austin's All Genders, Lifestyles, and Identities Film Festival (aGLIFF) screens nearly 70 films — including features, documentaries and shorts — over two weekends, while also hosting exclusive online festival events like artist conversations, panels and master classes. The festival typically takes place in August; check the website for dates.
The Spectrum Theatre Company seeks to explore the human condition through the lens of the African American experience. Their goal is to bring success to the larger community through their innovative and inclusive productions. Find details about upcoming shows on their website.
Discover more of Austin's Black performing arts scene here.