Spring is almost here! And with it comes loads of outdoor fun in Austin. From picnics in the park to scenic swimming holes and awesome events, you'll find that our town knows how to make the most of this sunshine season. Here are 12 fun things to do in spring for your Austin, Texas bucket list.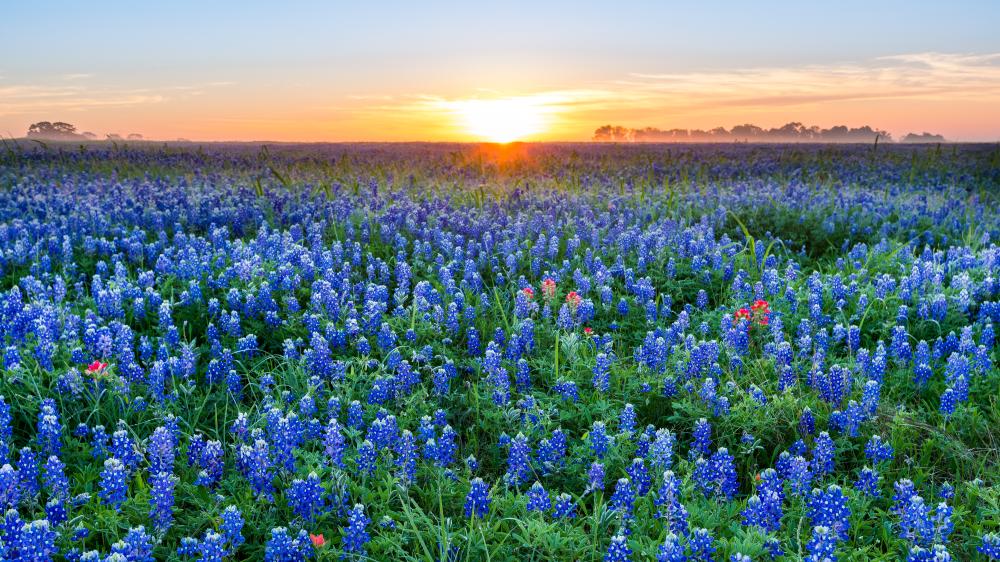 Credit Pierce Ingram.
1. Witness Wildflowers in Bloom
The Lady Bird Johnson Wildflower Center in southwest Austin displays 650 native Texas plant species in gardens and on nature trails. Or take a day trip out to Texas Hill Country, where the meadows and valleys burst into a colorful carpet of bright bluebonnets every spring. Be sure to stop in historic Fredericksburg and visit Wildseed Farms, a family-owned wildflower farm featuring blooming fields. In Burnet, known as the "Bluebonnet Capital of Texas," snap a selfie with the giant bluebonnet statue. Visit April 10-12 during the annual Bluebonnet Festival, featuring live music, parades and a wildflower show.
2. Rock a Rainy Day
Don't let a few raindrops ruin your good time in Austin. Go shopping in the trendy West Sixth District, where you can wander the bookshelves at BookPeople, thumb through the rare vinyl and catch an in-store performance at Waterloo Records, and grab a glass of wine at the Whole Foods Market flagship store. Or slip into a theater seat and catch an art house flick at AFS Cinema, Alamo Drafthouse Cinema or Violet Crown.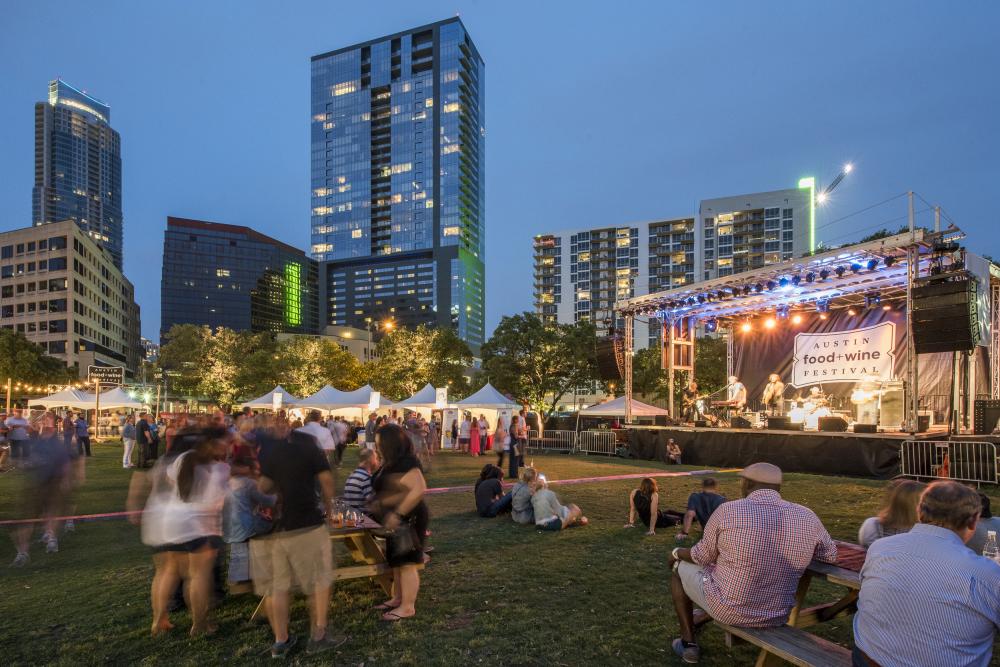 Courtesy of Austin Food + Wine Festival.
3. Attend a Spring Festival
Some of Austin's most exciting events happen during the springtime. The Moontower Comedy Festival, held April 22-25, brings some of the funniest and oddest comics from around the globe to Austin's stages. Fusebox Festival, presented April 15-19, is a hybrid arts festival that celebrates adventurous theater, dance, film, music, literature and visual arts. Some of the hottest chefs and winemakers from across the country create an unforgettable epicurean experience during the Austin Food + Wine Festival, held April 24-26. During the Pecan Street Spring Festival, held May 2-3, Historic Sixth Street is turned into a lively art fair. The West Austin Studio Tour, held the weekends of May 9-10 and 16-17, is a self-guided tour through the working studios and galleries of Austin artists. The Hot Luck Festival, held from May 21-24 in various venues around Austin, features chef-driven food experiences and events with live music.
4. Make a Splash at a Swimming Hole
The Twin Falls and Sculpture Falls areas of the Barton Creek Greenbelt are local secrets. Hike for about a half-mile and you'll find Twin Falls, known for its relaxing shallow stream waters and rocky areas for climbing. Hike a mile further and you'll reach Sculpture Falls, another hidden gem watering hole.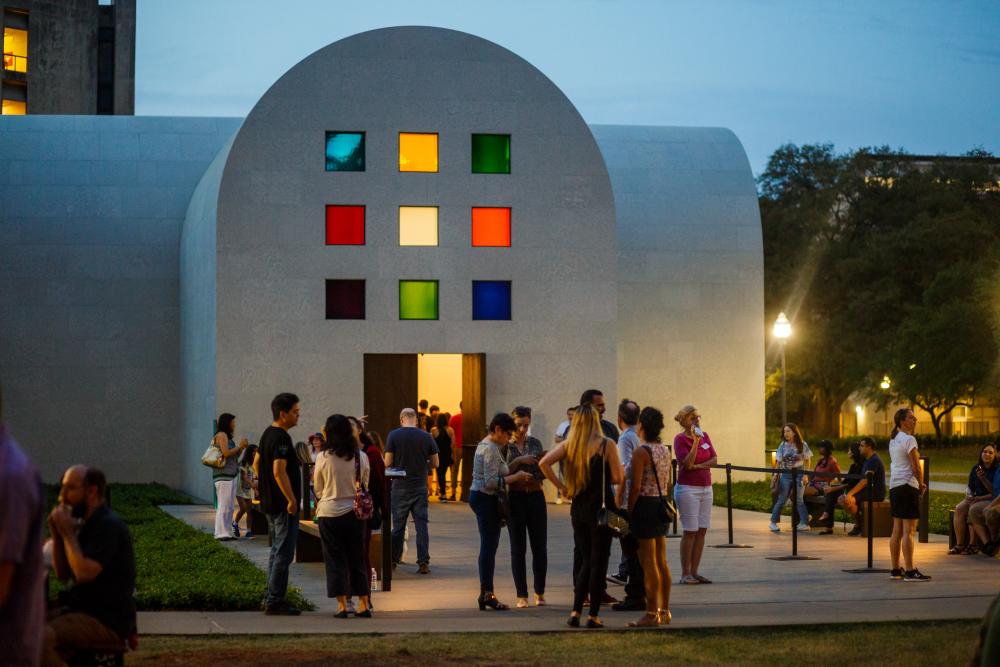 Ellsworth Kelly's "Austin." Courtesy of Blanton Museum of Art, The University of Texas at Austin.
5. Explore Must-See Museums
The Blanton Museum of Art features the dazzling permanent exhibition Ellsworth Kelly: Austin, a 2,715-square-foot stone building with brilliant colored glass windows and a totemic wood sculpture. Also on view at the Blanton is Ed Ruscha: Drum Skins, showcasing a collection of round paintings made by the pioneering American artist between 2017 and 2019, on view through July 12. See the outdoor installation by internationally renowned Chinese artist Ai Weiwei at The Contemporary Austin's Betty and Edward Marcus Sculpture Park at Laguna Gloria, nestled on the Lake Austin waterfront.
6. Dine Alfresco
Spring is the perfect time to dine outdoors. P6 offers some of the best rooftop views in the city at the stylish LINE hotel. Watch a live band as you savor a craft brew in the sprawling outdoor beer garden of the newest Easy Tiger Bake Shop & Beer Garden outpost at The Linc. In the Clarksville neighborhood, kick back under the shade of a historic heritage tree on the patio at Bar Peached. Soak in the backyard barbecue vibe at Loro, an Asian smokehouse and bar. Dine on some of Austin's tastiest tacos under the oak trees on the sprawling patio at Fresa's South First.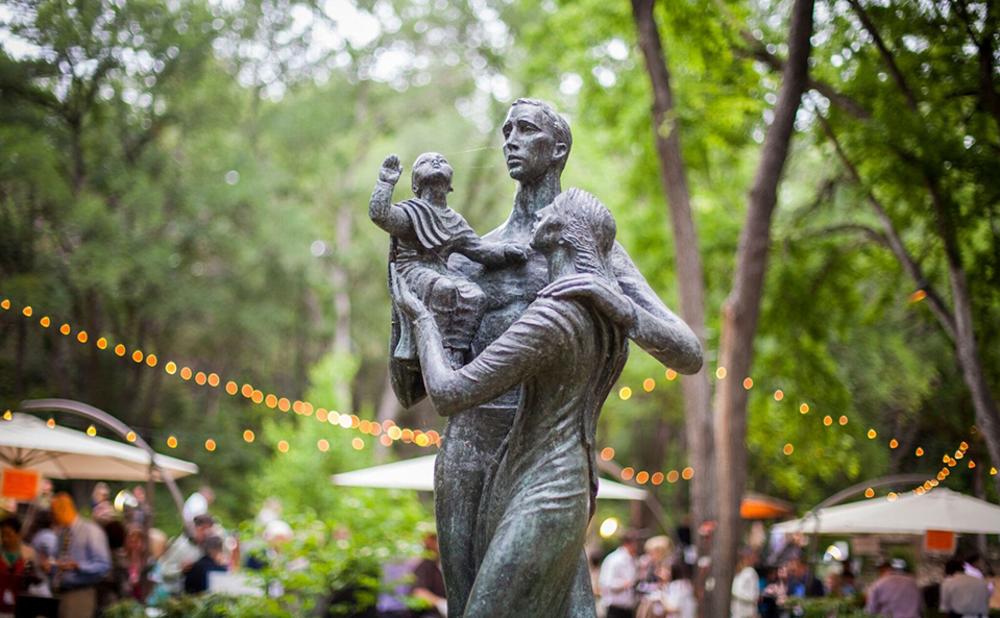 Umlauf. Credit Studio Uma.
7. Picnic in the Park
Pack a picnic and amble over to Zilker Park, a 360-acre oasis in the heart of downtown that's the site of festivals, free music and live plays at Zilker Hillside Theater, plus it's home to Zilker Botanical Garden, Umlauf Sculpture Garden & Museum and Barton Springs Pool, a spring-fed swimming spot that's also great for people watching.
8. Hike Mount Bonnell
Austin is pretty as a picture in springtime, so you'll want to find the best photo spots. Head to Pennybacker Bridge out on 360 to get a perfect sunset snap, hike Mount Bonnell's gentle slope for a bird's-eye view of the lake or drop in at Mayfield Park for a glimpse of their famous peacocks.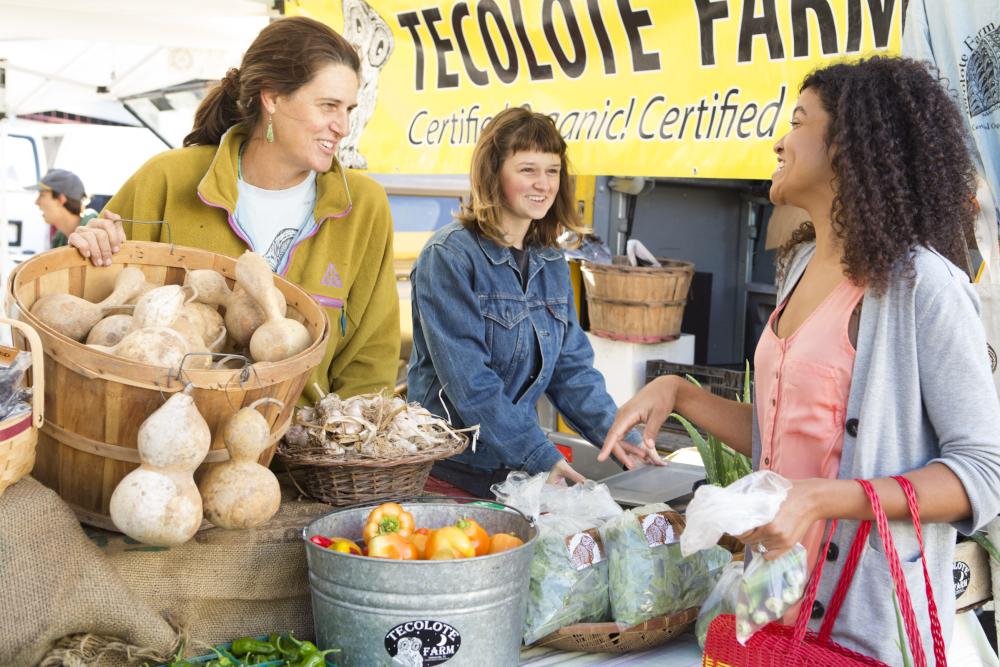 SFC Farmers Market. Credit Buff Strickland, Courtesy of SFC.
9. Shop Local at the Farmers Market
There are few things as refreshing as a sunny morning surrounded by fresh produce, colorful bouquets, hot coffee and the sound of a local musician wafting through the stalls at one of our many farmers markets. Browse homemade treats and gourmet snacks at the SFC Farmers' Market Downtown, held Saturdays in Republic Square Park. Or, make a Sunday morning trip to the idyllic Texas Farmers Market at Mueller.
10. Dine at a Food Truck
Post up at The Picnic, a food trailer park offering plenty of picnic tables and must-try eats from trucks like Coat & Thai and The Mighty Cone, located just down the road from Zilker Park. Dig into fresh-pulled pasta and homemade Italian sauces at Patrizi's. At Ranch Hand, try the organic grain bowls filled with locally sourced meats and vegetables. The Vegan Nom, Austin's original all-vegan taco truck, serves up breakfast tacos all day long. Grab a late-night bite at Via 313, which dishes up cheesy Detroit-style pizza.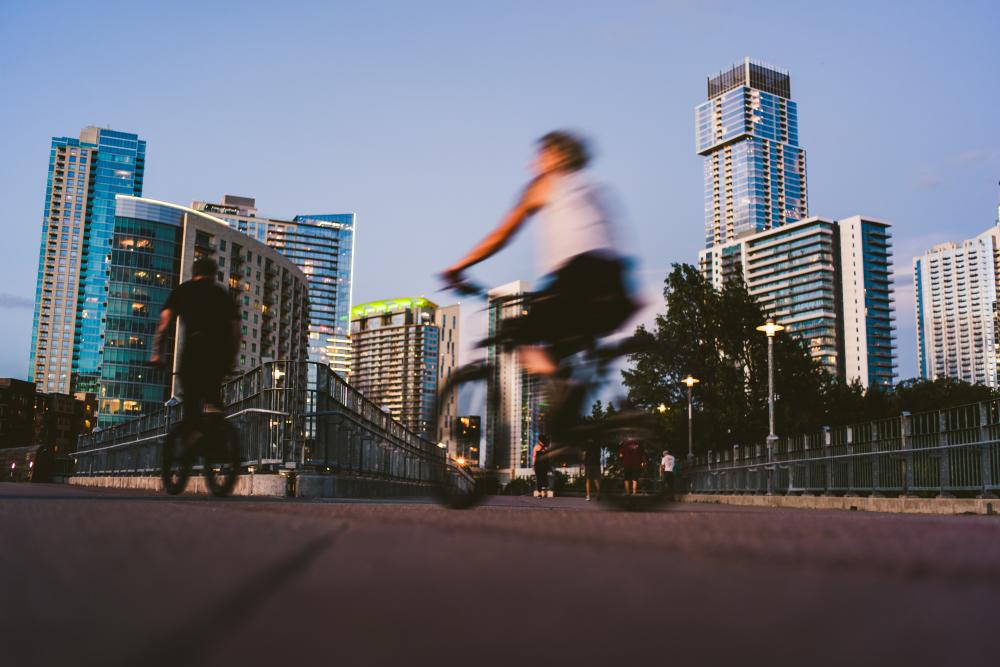 Pfluger Pedestrian Bridge. Courtesy of Visit Austin.
11. Get Outdoors
Double your fun with a yoga-and-hike session at the Barton Creek Greenbelt with Sanctuary Yoga. Or strap on a helmet and bike along the leafy 10-mile Ann and Roy Butler Hike-and-Bike Trail at Lady Bird Lake, which winds along shimmering waters and has picturesque views of Austin's skyline. The Barton Creek Greenbelt is also a great destination for mountain bikers, offering varied terrain within a beautiful landscape of cliffs and shaded groves alongside scenic Barton Creek. Road riders will want to bicycle from downtown to Mount Bonnell, peddling Scenic Drive along the waters of Lake Austin and catching an awesome sunset view from Pennybacker Bridge. If you're looking for an adrenaline rush, Lake Travis Zipline Adventures offers five pulse-pounding ziplines (one being the longest in Texas) to take you on an exciting outdoor adventure.
12. Head to the Hill Country
It's easy to take a day trip out to beautiful Texas Hill Country, located close to Austin. In Dripping Springs, sip your way through the Distillery District and make a stop at Treaty Oak Distilling, featuring Alice's Restaurant and The Cocktail Lab, an intimate lounge mixing up craft cocktails made with Treaty Oak gin and whiskey. Afterwards, cool off in the aquamarine waters of Hamilton Pool Preserve, featuring a 50-foot waterfall. In Driftwood, dig into family recipe brisket and pork ribs at The Salt Lick BBQ, a cash-only barbecue destination. Then head off on the Driftwood Wine Trail, where you can sample award-winning wines at popular spots like Duchman Family Winery and Fall Creek Vineyards.