A weekend-long festival that blends creative food tastings with live music, Hot Luck Live Food & Music Festival is any foodie's paradise. Returning for its third year May 23-26, 2019, the annual event has already been called "the best food festival in the country" by VICE's food channel, MUNCHIES. Whether you are looking to experience the hottest new chefs and inventive culinary creations or live music spanning all genres from Americana and bluegrass to indie and R&B in Austin's most iconic venues, explore our guide to the can't miss activities of the weekend.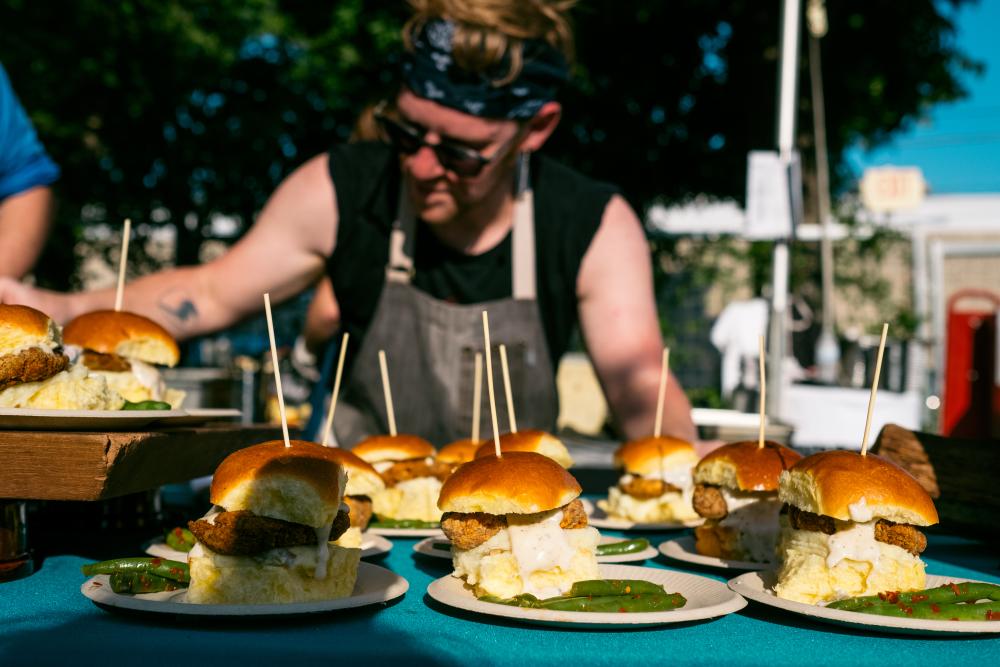 Credit Pooneh Ghana.
5/23/19
Giddy Up
Mohawk
Hot Luck kicks off the festivities with a special collaboration between VICELAND host and chef Matty Matheson and Austin-based pitmaster and festival creator Aaron Franklin (Franklin Barbecue). They will be accompanied by Austin chefs, Yoshi Okai of Otoko, Chad Dolezal of The Hightower and Callie Speer of Holy Roller for this insider event. Stick around for alt-country tunes, provided by Texas musician Robert Ellis and friends.
Whole Enchilada Pass: $550 each
5/24/19
Hi, How Are You
Franklin Barbecue
Aaron Franklin invites festival-goers to arguably the best block party in town, featuring 10 seasoned chefs with backgrounds ranging from award-winning steakhouses to Argentinian and Italian cuisine. Be on the lookout for Tavel Bristol-Joseph, the head pastry chef crafting farm-to-table masterpieces at Emmer & Rye. As well as Todd Duplechan and Jess Maher, the couple behind the ever-evolving menu at locally-sourced American restaurant, Lenoir.
Tickets: $175 each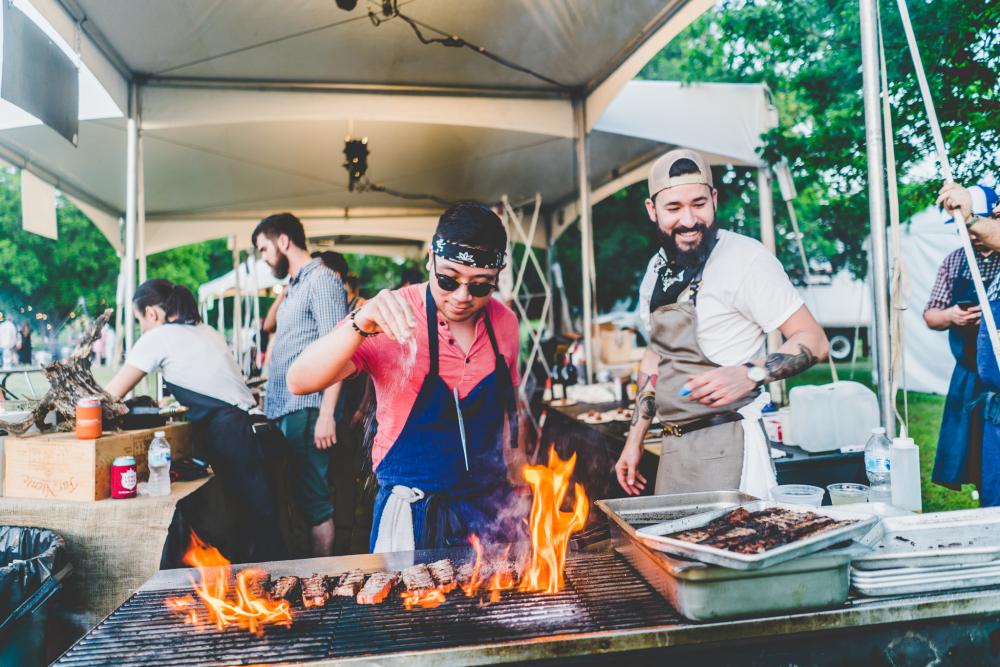 Credit Drew DeGennaro.
5/24/19
PJ Morton
Mohawk
A can't miss musical act this weekend is R&B talent PJ Morton. He has collaborated with iconic acts like Maroon 5 and Stevie Wonder, and garnered numerous GRAMMY nominations and wins for his solo albums.
Tickets: $25 in advance
5/25/19
Al Fuego
Wild Onion Ranch
Al Fuego is a casual backyard cookout, but better. This is an open-air, behind-the-scenes look at what's really going on in the kitchen of your favorite restaurants. With more than 20 chefs on display, this event will be packed with a diverse range of eats. Catch Michelin star chef Jeremiah Stone, of New York's Contra, or renowned Oregon restaurateurs Greg Denton and Gabrielle Quiñónez Denton, of Ox. Some of the award-winning Austinites you can look forward to seeing are Ben Runkle and Bryan Butler of Salt & Time, Fermín Núñez and Sam Hellman-Mass of Suerte, Laura Sawicki of Launderette, Tyson Cole of Uchi and Tatsu Aikawa of Kemuri Tatsu-Ya.
Tickets: $215 each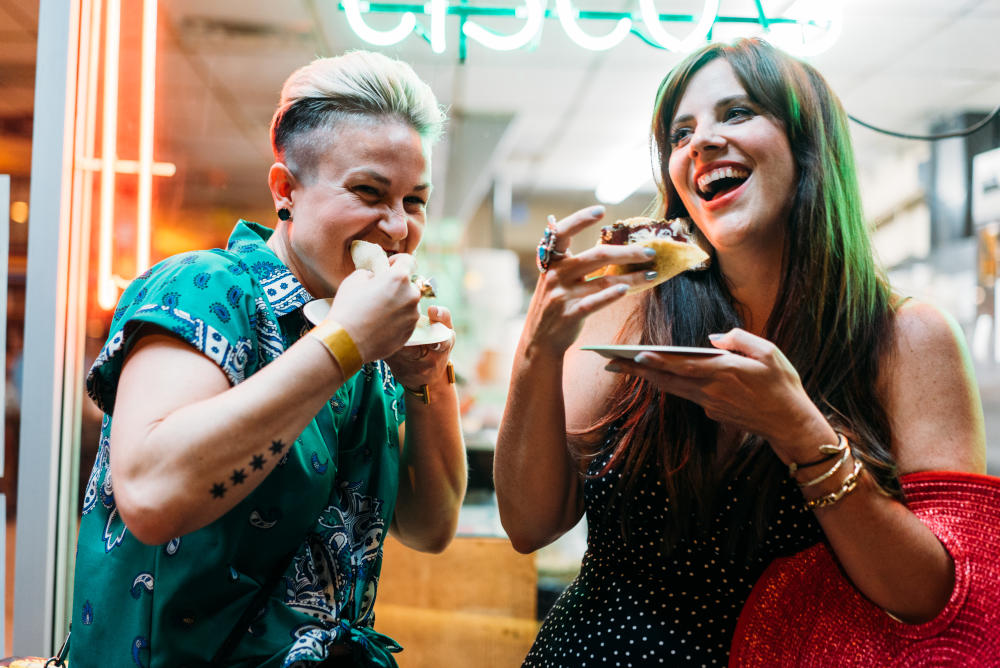 Credit Alison Narro.
5/25/19
El Tule
Barracuda
Burn off the calories from the day with an upbeat musical performance by El Tule at Barracuda in the Red River Cultural District. This original Latin genre-blending Austin band has played shows at SXSW, Austin City Limits Music Festival and Old Settler's Festival, just to name a few.
Tickets: $10 in advance
5/25/19
Sour Bridges and Reverend Peyton's Big Damn Band
Antone's
Stop by iconic local venue Antone's for an evening of bluegrass, with a twist. Dance along to Sour Bridges' browngrass tunes (bluegrass, but "dirtier"), along with country blues from Reverend Peyton's Big Damn Band.
Tickets: $15 in advance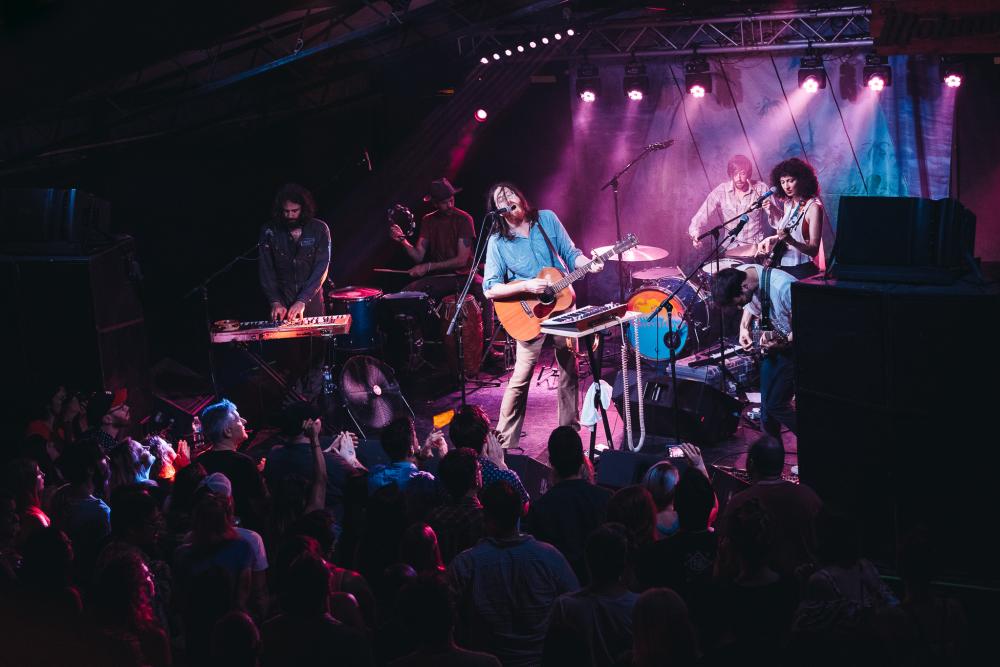 Credit Cody Cowan.
5/26/19
Coupe de Grille
Austin Speed Shop
End the weekend in a way that is uniquely Austin: brunch in a vintage garage shop. Peruse the classic cars as you admire the tastings from more than a dozen chefs. Make sure to check out Austin chefs who will be putting a twist on barbecue staples, such as pitmaster Miguel Vidal of Valentina's Tex Mex BBQ, chef JB Gross of Asian smokehouse Loro and butcher/chef Jesse Griffiths of Dai Due.
Tickets: $125 each
5/26/19
Harlem
Barracuda
Stop by Barracuda for a performance from Austin-based indie rock trio, Harlem. Their unique lyrics accompanied by their garage rock sounds make for a show that anyone can enjoy.
Tickets: $15 in advance
Explore the full schedule of events and concerts, get to know the talent and purchase your tickets today!
Contributed by Mara Techam, Visit Austin Music Marketing Intern.