Situated in the heart of west Austin, witness the natural beauty of Central Texas with a visit to Mayfield Park and Mount Bonnell. Whether you are an outdoor enthusiast, a visitor looking for a glimpse of Austin's famous wild peacocks or a local, you're sure to enjoy these historic parks and their unforgettable views. Plan your day trip with our guide to these parks, perfect for solo travelers, families, hikers, history lovers and more.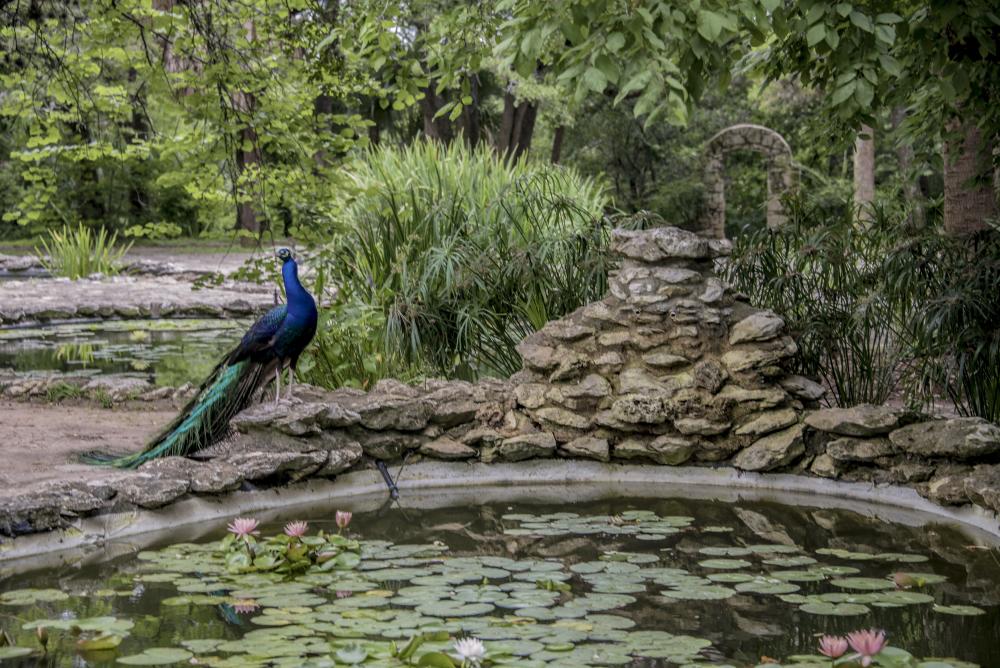 Peacock at Mayfield Park & Preserve. Credit Tricia Zeigler.
History
Formerly a 23-acre estate, Mayfield Park and Nature Preserve was gifted to the city of Austin in 1971 after the passing of owner Mary Mayfield Gutsch. The family's historic cottage is still situated on the grounds, along with picturesque gardens, stone walls and koi ponds. The park is listed on the National Register of Historic Places.
Mount Bonnell was named for George W. Bonnell, Commissioner of Indian Affairs for the Republic of Texas. Believed to have been located on an Indian trail, the viewpoint  overlooks Lake Austin and may have served as a defense point for the city in the early 1800s. The land was donated to the city in 1939 by the Covert family and was then officially designated as Covert Park and listed on the National Register of Historic Places.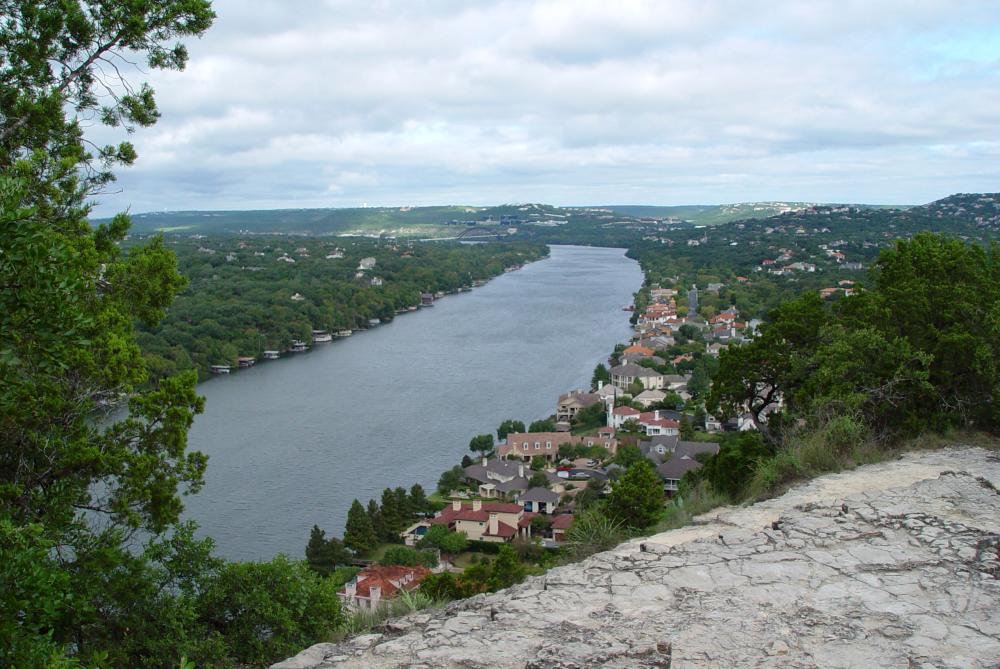 Covert Park at Mount Bonnell. Courtesy of Austin Parks and Recreation Department.
On the Grounds
Enjoy the natural beauty of Mayfield Park by exploring the 23 acres of colorful vegetated gardens. Immerse yourself in 21 acres of scenic hiking and walking trails, where visitors can admire the delightful and entertaining wildlife. Witness the historic cottage near along the riverbank and don't miss the pond containing water lilies, huge koi fish, lotus flowers and turtles. The park and preserve is also home to around two dozen colorful peacocks; listen for their echoing calls and look for them wandering the grounds. These confident peacocks will show off their beautiful colored feathers during spring, so don't miss out!
From Mayfield Park take the short drive north on Mt Bonnell Road and towards Covert Park at Mount Bonnell. Hike the 106 limestone steps to make it to the top of one of the highest points in Austin; it's definitely worth the workout because the view is breathtaking. Mount Bonnell stands at 781 feet above sea level, giving visitors an expansive view of downtown, Pennybacker Bridge, Lake Austin, impressive homes and rolling green hills. In March, look south for hundreds of colorful kites floating above Zilker Park for the annual ABC Kite Festival. On Fourth of July weekend, keep an eye out for the stellar displays of fireworks that go off near downtown at sunset.
Hours & Admission
Mayfield Park and Mount Bonnell are both open daily from 5 a.m. to 10 p.m. and are free to the public. There is free parking nearby at both parks and portable restrooms are available at Mayfield Park. If you are a pet owner feel free to bring your furry friends to Mount Bonnell, but unfortunately no pets are allowed at Mayfield Park. Learn more about Austin's historic parks and plan your trip with the City of Austin Parks and Recreation Department.
Contributed by Valentina Habib, Visit Austin Marketing Communications Intern