If you have never visited Austin, its likely you've seen a photo or two promoting the insanely beautiful sunset overlooking the Austin 360 Bridge (otherwise known as Pennybacker Bridge) and thought to yourself, is that real? Let me be the first to tell you that if my tired little smart phone can capture views like this, seeing it in-the-flesh is a different experience entirely. If you'd like a gorgeous view of downtown and the scenic hills to brag about when you get home, do what the locals do - hike to the top!
For 360 Views: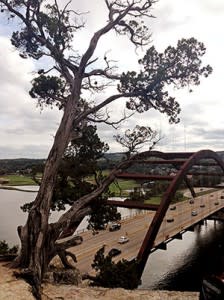 Wear sturdy shoes for a safe climb! While its likely you will see many stylish couples posing with this scenic backdrop, their look might have made their trek to the top a tad more difficult. This is only a short 10-minute hike, but its a little rocky and I recommend preparing for that. Remember, wearing tennis-shoes makes you feel more adventurous!
Bring a camera. Theres not much else to do once you reach the highest point of this climb but take in all of the beautiful scenery of Austin. To your north you will see the hill country, just west of the bridge an overlook of the downtown skyline, and of course the beautiful bridge overlooking the Colorado River.
Remember to tag your outdoor adventure with @VisitAustinTX or #TrueAustin to share your awesome new trip to Austin!