Even if you have never visited Austin, it's likely you've seen a photo or two of an insanely beautiful sunset overlooking the Pennybacker Bridge—also known as the Austin 360 Bridge—and thought to yourself, "is that real?" Yes, it's real and even more breathtaking in person. Here are our tips to see brag-worthy views of West Austin and the scenic Hill Country from Austin's 360 Bridge.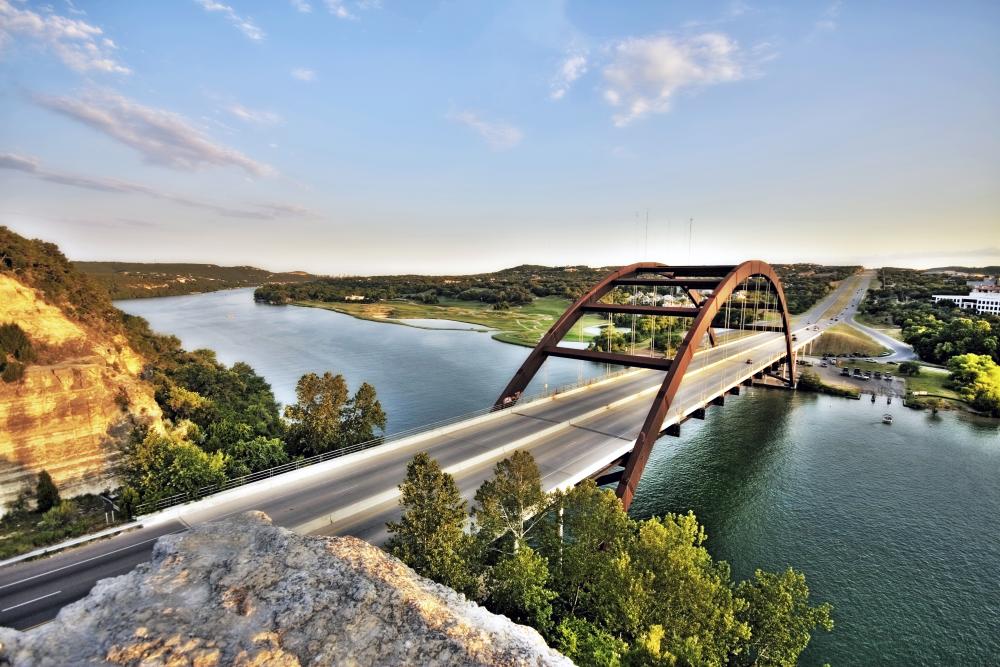 Courtesy of Visit Austin.
History of Austin's 360 Bridge
The 360 Bridge is the second bridge in the world to be built with a cable support system. In 1984, the Federal Highway Administration's Excellence awarded the bridge first place for highway design. It was designed by Civil Engineer Percy V. Pennyback who wanted to create a cable support system to keep the water below clear for activities like boating and paddling. 
How to Experience 360 Views
Do like the locals do - hike to the top. Even though there's ample hiking in Austin, the Lake Austin/360 Bridge Overlook Trail is a must-see. While it's likely you will see many stylish couples posing with this scenic backdrop, their look might have made the trek a tad more difficult. This is only a short, 10-minute hike, but it is a little rocky. We recommend wearing sturdy shoes for a safe climb as you hike up to this memorable view.
Bring a camera. There's not much else to do once you reach the highest point of this climb except take in the beautiful scenery of Austin. Point your lens north to capture rolling Hill Country, while views just west of the bridge will highlight Austin's dazzling skyline with the bridge overlooking the Colorado River.
Be sure to catch the golden hour. Have we mentioned the view is incredible? While that's true all day, nothing quite matches the view during sunset. The colorful glow of the Texas sun illuminates the area and reflects off Lake Austin's calm water. It does get a bit busier around sunset, but that's just proof of how amazing it is to see. 
How to Get to the Austin 360 Bridge
There is parking located on the west side of the road, north of the bridge. The easiest way to get to the parking area is by heading south on Loop 360. There are multiple spots to pull in and get ready for your rewarding hike. 
When visiting, remember to tag your outdoor adventure with @VisitAustinTX and #TrueAustin to share your experience. Looking for more hiking recommendations? Check out our hiking & recreation page for more information.
Contributed by Visit Austin Marketing Intern, Marissa Saenz. Marissa is a Public Relations and Mass Communications student at Texas State University. As a native Texan, she has travelled all over Texas, but still continues to come back to Austin. In her free time she enjoys finding the best local restaurants or huddling up in her room to play video games.