Shake the summer heat at some of the coolest swimming holes found in and around Austin.
There's no denying it: summer is sizzling in Austin. But luckily, Mother Nature helps out with a number of splashy swimming holes that offer a fun way to cool off. Check out these area favorites: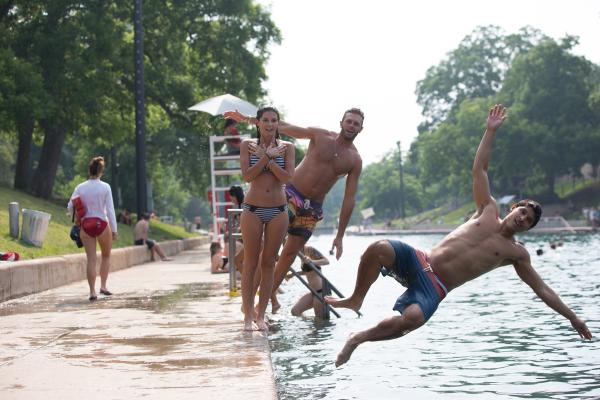 Swimming at Barton Springs Pool. Courtesy of Contiki.
Barton Springs Pool
Combine great swimming with people watching at the historic Barton Springs Pool, just minutes from downtown Austin. Located in the heart of the 360-acre Zilker Park, this swimmer's paradise features clear water fed from underground springs that stays a refreshing 68 degrees year 'round, along with grassy hills for sunbathing. Lines may get long on hot days, so arrive early if you can.
Deep Eddy Pool
The huge Deep Eddy Pool is the state's oldest pool, and offers a traditional public pool experience in the center of Austin. Catch the poolside fun during Splash Party Movie Nights, when family-friendly films are projected on an inflatable screen.
Jacob's Well Natural Area
Swim in an artesian spring just 40 minutes outside of Austin at Jacob's Well. The cool, clear water is surrounded by rocky ledges and shady trees, creating a picture-perfect swimming hole. Jacob's Well does fill up quickly, and reservations are needed to swim.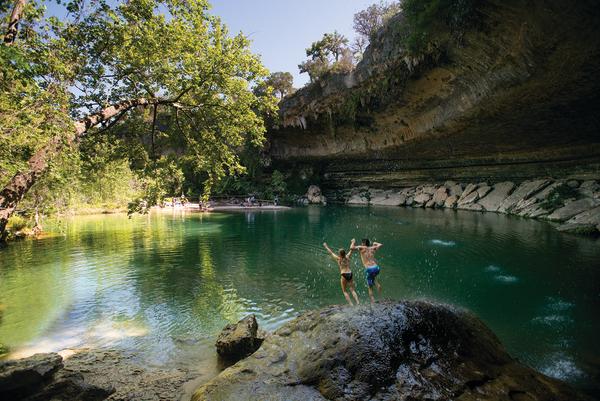 Hamilton Pool. Credit Dave Mead.
Hamilton Pool Preserve
Located a 40-minute drive from Austin in Texas Hill Country, Hamilton pool is a geological wonder. This historic swimming hole was formed by the Hamilton Creek spilling out over limestone outcroppings, creating a dramatic 50-foot waterfall that plunges into a canyon. Reservations are required from May through September. 
Barton Creek Greenbelt
The Twin Falls and Sculpture Falls areas of the Barton Creek Greenbelt are hidden local secrets. It's about a half-mile hike on a well-defined trail to reach Twin Falls from the closest entrance. But once you arrive you'll be treated to relaxing shallow stream waters, although there are plenty of rocky areas for adventurous climbing and exploring the falls. Hike a mile further and you'll reach Sculpture Falls, another hidden gem watering hole.
Blue Hole Lagoon
Drive 45 minutes south of Austin to reach the glorious Blue Hole Lagoon, located just outside of Wimberley. The crystal-clear waters of Blue Hole stay an ideal 75 degrees all year round, and are shaded by towering cypress trees. Manicured waterside lawns are the perfect place to spread out a blanket and crack open your cooler. Rope swings hanging from the trees complete the quintessential water hole experience. Admittance is limited, so come early.
Krause Springs
This well-loved swimming and camping site is located in Spicewood, just 30 miles west of Austin in beautiful Texas Hill Country. The friendly Krause family has privately owned the site for more than 50 years. Spend the day swimming in its 32 springs, as well as natural and man-made pools. And be sure to take a walk through the colorful Butterfly Gardens.