The Umlauf Sculpture Garden & Museum is a perfect blend of all things Austin: amazing local art casually set in a lush garden of local native Texas plants. The space is truly a relaxing and peaceful oasis only blocks from the hustle and bustle of downtown.

"The Spirit of Flight" at Umlauf. Photo Courtesy of Umlauf Sculpture Garden & Museum.
Noted 20th century American sculptor Charles Umlauf gave the bronze and stone sculptures occupying the garden to the city of Austin in 1991. These pieces are placed strategically throughout the space and interact, each in their own unique way, with the natural environment. For example, "The Diver" is placed so that viewers feel as if the little bronze boy will come to life and dive into the lily pad pond in front of him. As the seasons change, the natural environment and light around each sculpture changes as well so the art really takes on a new feel as time passes.
While the Umlauf is not large, you can easily fill a few hours taking a serene stroll around the museum and grounds, or sit on one of the many benches in the xeriscape garden, listening to the trickling of the small waterfalls and gazing into the pools. They are quiet places set strategically around the path and that were created to drown out the sounds of the city, and give the garden a relaxing tranquility.
The garden was made to be welcoming and accessible in many different ways: visitors in wheelchairs and parents with strollers can easily use the gravel path (laid out as a giant peace symbol); children can explore the grounds with Sculpture Safaris in hand, and the bronze sculptures have been waxed so that the visually impaired can touch and experience the art firsthand.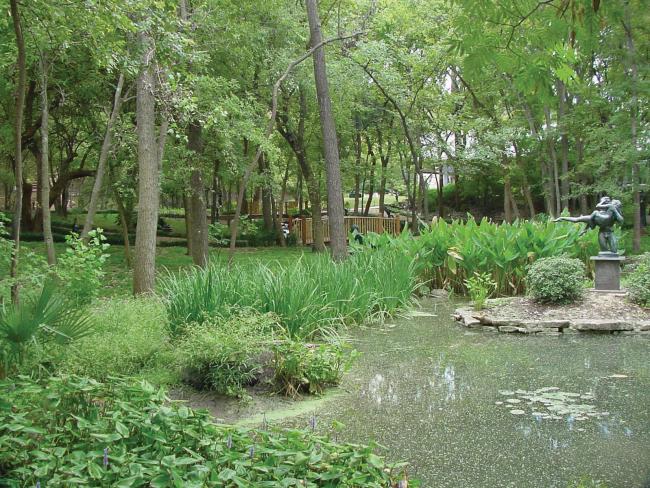 "The Kiss" at Umlauf. Photo Courtesy of Umlauf Sculpture Garden & Museum.
The Umlauf Sculpture Garden & Museum is open Tuesday - Friday, 10 a.m. to 4 p.m. and Saturday and Sunday 12 p.m.- 4 p.m. General admission is $5, with discounts for seniors ($3) and students ($1). Children 12 and under are free, as well as active military personnel and their family.
Umlauf Sculpture Garden 605 Robert E. Lee Road Austin, Texas 78704