There's so much to explore during a visit to the Blanton Museum of Art on the University of Texas at Austin campus. With nearly 18,000 works ranging from Greek pottery to Latin American modern art, you can spend the entire day at the museum and want to come back for more! If you don't have all day to meander through the museum halls, our informative guide will make sure you see all the hits and get a great experience out of your visit.
Permanent Collection
While there are exciting exhibits coming and going at the Blanton year-round, visitors can always count on the museum's extensive permanent collection to elevate your experience.The permanent collection features international modern and contemporary works, including European paintings, ancient Greek pottery, French and British drawings, modern American mixed media works and more. Here are some of the best pieces to see during your visit: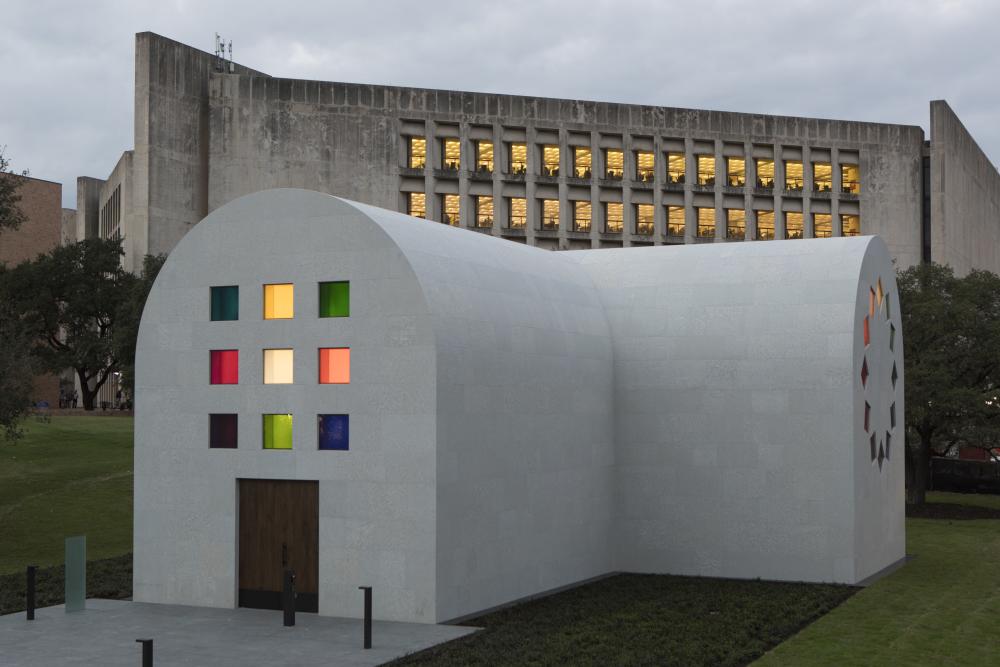 Ellsworth Kelly's "Austin," 2015. ©Ellsworth Kelly Foundation.
Ellsworth Kelly's "Austin"
Ellsworth Kelly's "Austin" has taken the city by storm this year. Kelly's sculpture is a 2,715 square foot stone building, decorated with colorful glass, marble panels and a wooden sculpture. While the building sits just outside of the Blanton, it will be a cornerstone of the museum for years to come. We highly encourage you to make the trip and visit "Austin" this year (pun intended!). 
Luis Jimenez - "Cruzando El Rio Bravo [Border Crossing]"
Since the Blanton is a Texas museum, there is a strong showing of Texas artists and history in many exhibits. Jimenez a UT graduate and his Border Crossing sculpture is prominently located in the Blanton's Art of the American West section. The sculpture was created as a tribute to his grandfather, who emigrated from Mexico to Texas in 1924. An important part of Texas history, Jimenez wanted to articulate his feelings about Texas immigration through his art and the sculpture is a must-see for those who want to further understand a vital piece of Texas history.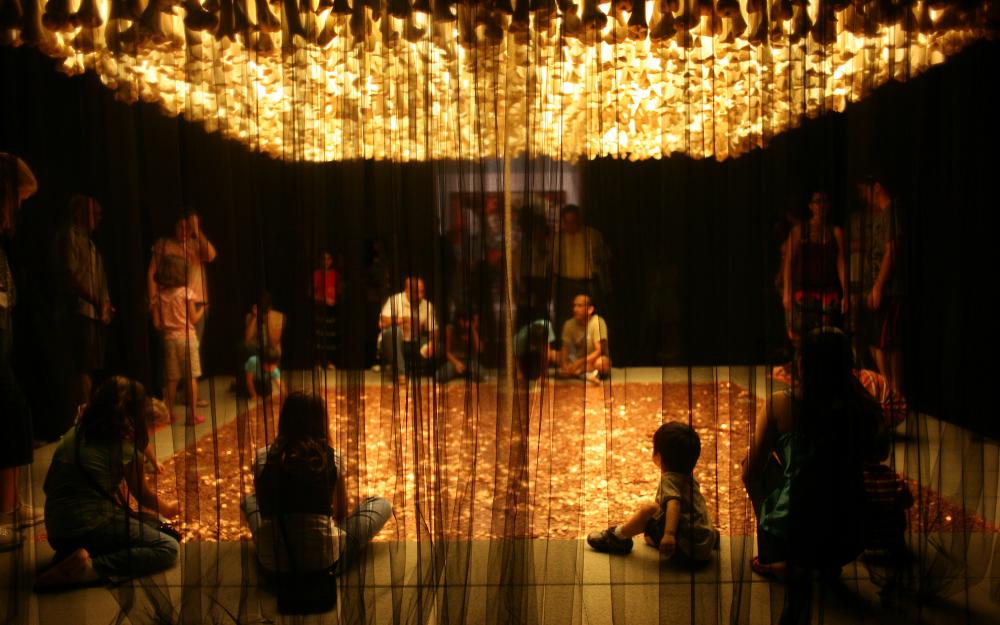 Cildo Meireles - "Missão/Missões [Mission/Missions] (How to Build Cathedrals)"
One of the most iconic and memorable pieces in the entire museum is Cildo Meireles' "Mission/Missions (How to Build Cathedrals)." The Brazilian artist's instillation is made up of 600,000 coins, 800 communion wafers, and 2,000 suspended cattle bones. Not only is it fascinating to look at, but it also has a powerful message. Meireles comments on Jesuit Europeans' influence in the Americas, using the coins to represent material obsession and the bones and communion wafers to represent religious consequences. Experience it for yourself during your visit.
Regina Bogat - "Cord Painting 14"
During the mid 20th century, artists began incorporating craft material such as ropes, strings and yarn into their artwork. Bogat's "Cord Painting 14" is a beautiful assortment of colorful strings at varied lengths, resting on a beautiful maroon canvas. You will definitely have to stop and take a closer look when you walk by.
Recurring Events
Listed below are some of the many regular events that the Blanton hosts throughout the year. Check the calendar for dates and details.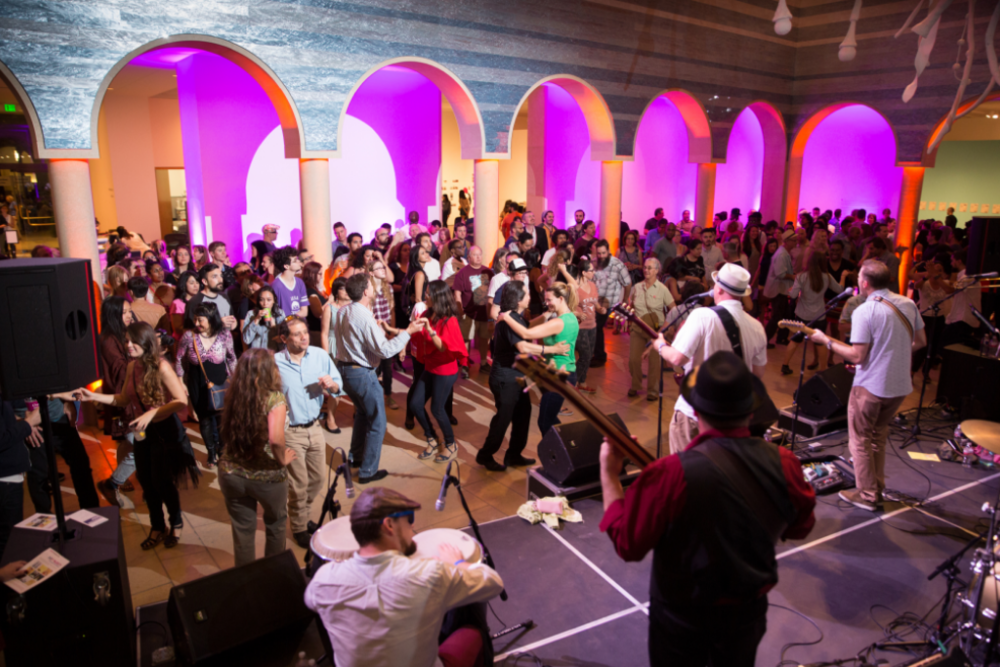 Blanton Block Party.
Third Thursday
Held every third Thursday of the month featuring live music (Beat the Rush concert at 5:30 p.m.), art talks and special programs. Free admission all day until 9 p.m.
Midday Music 
Live performances in the Blanton's Rapoport Atrium are held the last Tuesday of every month (excluding summer) at noon. Midday Music is a collaboration between the UT Butler School of Music and the Blanton; included with admission.
SoundSpace
Live music series occurring three times a year, featuring simultaneous, interdisciplinary performances throughout the galleries. Included with admission.
B Scene
An art party that coincides with the opening of major exhibitions featuring live music, tours, snacks and a cash bar. Free for members, $12 for the general public.
Blanton Block Party
An annual free day-to-night community festival that includes live music, food, art-making activities for adults, families and more.

Insider Tips
Admission is always free on Thursdays! Be sure to park your car at the Brazos Garage and bring your parking ticket to the museum for a validation parking discount of only $4. The Blanton's café is fantastic, and is best known for delicious sandwiches and house made cookies.
All photography courtesy of the Blanton Museum of Art, The University of Texas at Austin. Contributed by Jonah Camberg, Visit Austin Marketing Communications Intern.