Dine at Black-Owned Restaurants in Austin
While in Austin, you must pay homage to the diverse and expansive food culture. From soul food and Cajun cuisine to old school barbecue and new school food truck fare, Austin has tons of incredible dining spots helmed by Black chefs that are perfect for hanging out with friends or family, sipping cocktails and trying something new. The list below is just a small selection of the variety of restaurants and culinary styles available in Austin.
Barbecue
In Texas, barbecue is as ubiquitous as sunshine and football. East Austin's Sam's BBQ, serving Austin's original hot sausage and home of the "You Don't Need Teeth to Eat My Beef," is a mainstay among locals. They've been at their base at 12th and Chicon Streets since the 1940s, and in this quickly changing part of town, they're a stronghold of East Austin's past.
Detroit-based Dirty Gloves Midwest BBQ found a home in Austin and drummed up a big fan base faster than it took to smoke those ribs. They have shrimp and catfish on their menu, along with all the Southern sides you could ask for.
Who says you need to have a sit-down restaurant to serve up swoon-worthy food? Walk up to the Brown's Bar-B-Que barbecue trailer outside Corner Bar on South Lamar to put in your order, and leave with a plate piled high with some of the best 'cue around: succulent pulled pork, smoked chicken, juicy ribs and perfectly charred brisket. And don't even get us started on the sauce-slathered brisket-and-sausage sandwich.  
Check out even more Austin barbecue here.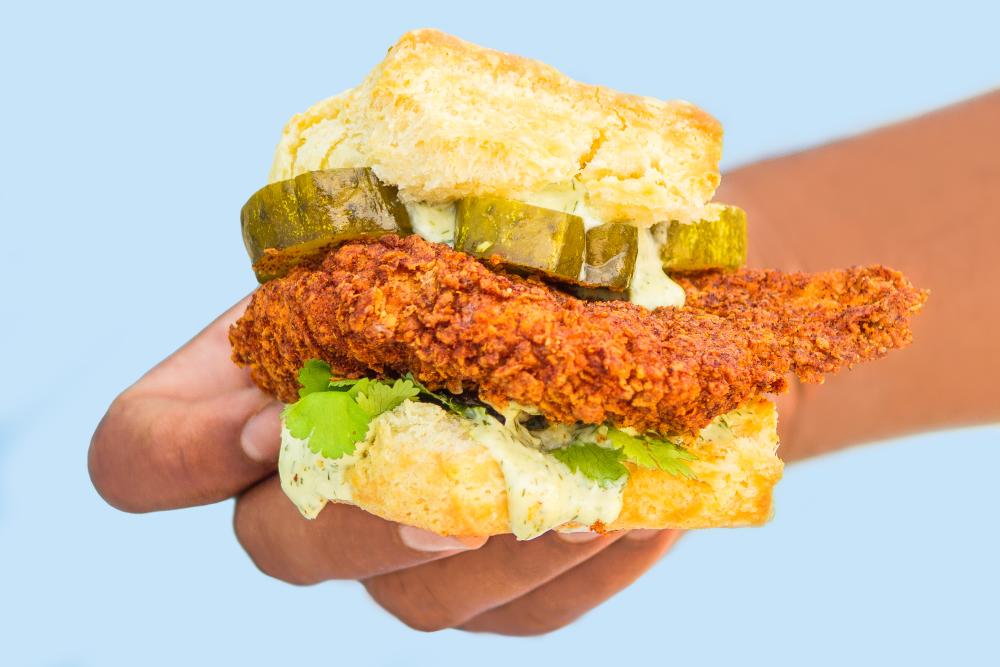 Bird Bird Biscuit. Credit Jasmin Porter.
Soul Food & Cajun Food
Hoover Alexander's Manor Road restaurant Hoover's Cooking has been serving soul food to the Austin community for more than 20 years. The Jamaican jerk ribs are a must order, or try Southern specialties like the fried catfish or smothered pork chops. Ask about the day's margarita special, and leave some room for the yummy banana pudding.
The Big Easy Bar and Grill is Austin's original New Orleans po' boy and gumbo shop. This family-owned eatery specializes in authentic Cajun cuisine, such as crawfish etouffee, red beans and rice with sausage, boudin links and char-grilled oysters. After 40+ years, you'll still find brothers Freddie and Eddie Roland of Roland's Soul Food and Fish dishing out home-style cooking in East Austin.
Southern seafood and New Orleans-approved sides are on the menu at eco-friendly and woman-owned Gullah Geechee kitchen LE Meals. Try the shrimp and grits topped with spicy Creole sauce.
If you're in town during Austin's 19th Fest Juneteenth Celebration, you'll get a taste of the hidden soul food mobile truck gems that are tucked all over the state. From savory BBQ, to Cajun-seasoned seafood and traditional soul food, participating food trucks serve up piping hot, mouth-watering dishes.
Find more soul food and homestyle food here.
American & New American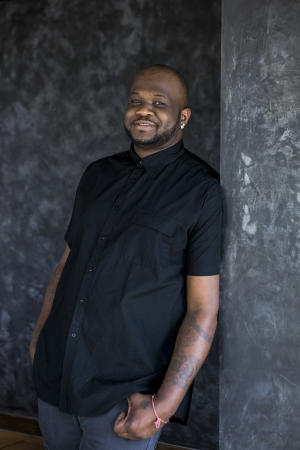 The team behind acclaimed Emmer & Rye's second restaurant concept, Hestia, features a custom 20-foot hearth as the culinary centerpiece of their live-fire New American grill house. Halibut, lion's mane mushrooms and wagyu ribeye all get the open-flame treatment. The team's Caribbean restaurant Canje is located East Austin. The menu is based on executive chef Tavel Bristol-Joseph's favorite foods from his childhood in Guyana, as well as the cuisine of Puerto Rico and Jamaica. Don't miss the fruity Caribbean-influenced cocktails.
Grey Diner Bar and Grey Market at the downtown Thompson Austin hotel are helmed by James Beard Award winner Mashama Bailey. Grey Diner Bar features sandwiches, charcuterie and cocktails, while Grey Market's Southern-style bodega offers grab-and-go sandwiches and boxed lunches.
Indulge in decadent breakfast sandwiches for breakfast and lunch, every day at Bird Bird Biscuit. Opt for a spicy chicken biscuit with cayenne black pepper honey and bacon-infused chipotle mayo or try the chicken sausage and egg with cheddar and basil pesto on a huge homestyle biscuit
Food Trucks
The food truck scene in Austin is on another level. Named by Eater as one of the 11 Best New Restaurants in America, Distant Relatives food truck raises the bar on barbecue. Pitmaster Damien Brockway looks to his African ancestry for unique ingredients to sauce his meats, such as molasses and chile-vinegar butter, and cooks up sides like fresh corn grits. Distant Relatives is parked at Meanwhile Brewing Co.
Experience Texas backyard barbecue at the Bigg Belly BBQ food trailer, known for its mouthwatering brisket - available as a sandwich, quesadilla or taco. Also try the ribs or go big with a turkey leg. And don't pass up a side of dirty rice and an order of banana pudding to finish! 
Billed as "the best baked potatoes in Austin," the Anything's Baked Potato food truck uses quality ingredients in its stuffed russet potato creations. Try the Cajun, loaded with shrimp, fried chicken, andouille sausage and corn, topped with a Cajun cream sauce.
Black-owned Three Chicks Soul Food, Krab Kingz Seafood and MaMa'Z Soul Kitchen are all solid choices. Find even more food trucks here.
Vegetarian & Vegan
As much as Austin loves their barbecue, we have many options when it comes to vegetarian, vegan and specialty diets. Lawrence Eguakun, former owner of World Beat Cafe, now owns Wasota Vegan Paradise. The food truck specializes in freshly cooked and natural Nigerian and West African vegan food. Opt for the jollof rice, with an order of fried plantains to share.
Taste of Ethiopia owners Woinee Mariam and her husband, Solomon Hailu, believe that they have a responsibility to the people of Austin to serve meals made with love and real ingredients. Not a single dish leaves the kitchen without Woinee's own seal of approval.
More vegetarian food in Austin.
Bars & Beverages
Austin's original Victory Grill was a stop on the Chitlin Circuit, a network of African American juke joints that brought big-name blues and R&B performers to Austin in the 1940s. Today, the historic club is home to a full bar and The Rolling Rooster, a Southern comfort food restaurant known for its chicken and waffles that pays homage to the venue's legacy by showcasing blues performances.
Black-owned Sans Bar is a sober pop up bar and music venue that serves alcohol-free beverages in a safe, welcoming environment. Come for the zero-proof cocktails and stay for the great community.
Slab BBQ & Beer offers a twist on traditional Texas barbecue, incorporating cooking influences and flavors from Memphis, Alabama and the Carolinas. Featured on the Travel Channel and Food Network, try the famous Notorious P.I.G. sandwich with a pint (or two) of local beer!
Serving up a selection of yummy (and colorful) frozen cocktails, head to Austin's Paradise On Ice for daiquiris, margaritas, and more.
After five years of homebrewing, Urban Jungle Brewing is planning to open Austin's first Black owned brewery soon. They're regularly releasing collaborations with breweries around the city, including a collab with Hold Out Brewing, Batch Craft Beer, Fast Friends Brewing and participation in the Black is Beautiful initiative.
Discover more local bars and beverages.
Photo above, courtesy of Chef Tavel Bristol-Joseph.