Food & Drink
BARBECUE
In Texas, barbecue is as ubiquitous as sunshine and football. We're home to Franklin Barbecue, a joint so world-famous that President Obama considered it a must-try on his stop through town. While he was able to skip the hours-long wait, no one else can, so be prepared to stay a while. The "swear it's worth it" waiting is considered part of the experience, and there's no shortage of cold beer to make that line bearable.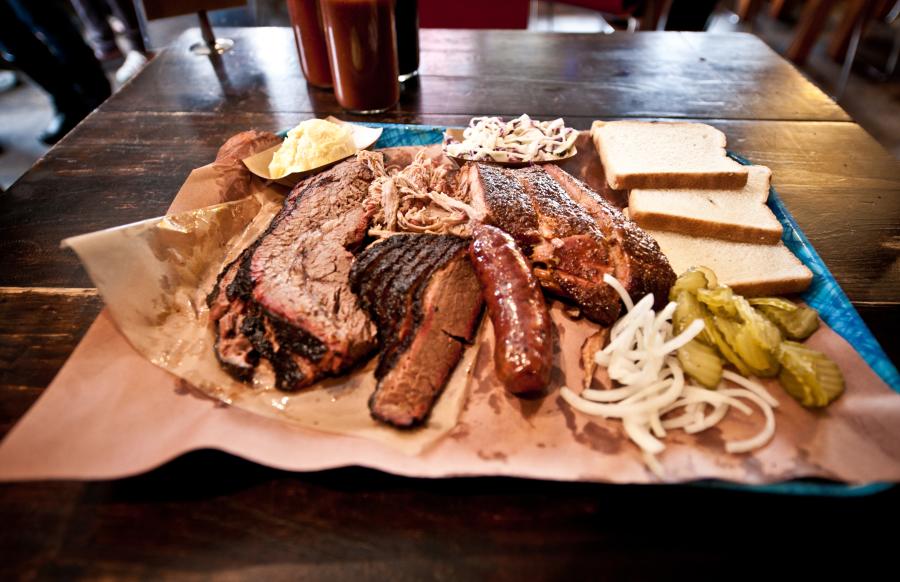 East Side's Sam's BBQ, serving Austin's original hot sausage and home of the "You Don't Need Teeth to Eat My Beef," is a mainstay among locals. They've been at their base at 12th and Chicon Streets since the 1940s, and in this quickly changing part of town, they're a stronghold of East Austin's past.
Insider tip: Sam's BBQ is open until 3 a.m. on the weekends!
Detroit-based Dirty Gloves Midwest BBQ found a home in Austin and drummed up a big fan base faster than it took to smoke those ribs. They have shrimp and catfish on their menu, along with all the Southern sides you could ask for.
La Barbecue and Micklethwait Craft Meats are also heavy hitters here in town.
TEX-MEX
Where to find Austin's most authentic Tex-Mex breakfast, lunch and dinner? The East Side, of course. On Cesar Chavez, Juan in a Million is famous for their breakfast tacos. On East Seventh Street, Joe's Bakery & Coffee Shop is a family business that got its start in 1935 with a small restaurant that doubled as their home. Serving up traditional style of pan Mexicano (pan dulce) from the start, and in the '60s, expanding into a full-service restaurant, Joe's has been a staple of the community ever since. Their diner-style breakfast (chicharrón platters, barbacoa tacos, migas) is served all day, and their lunch will never leave you hungry.
Insider tip: Locals swear Joe's menudo is the best around (but save some room for their pink cake!).
FOOD TRUCKS
The food truck scene in Austin is on another level. Black-owned Three Chicks Soul Food, The Grub House (don't miss their firecracker fries!), Krab Kingz Seafood, and Emojis Grilled Cheese are all solid choices. Hit up Wild Magnolias for New Orleans–style catfish and their crowd-favorite peach tea.
Originally starting out as a food truck, Chi'Lantro BBQ has multiple locations around town, including South Shore along Lady Bird Lake and serves up delicious Korean-Mexican fusion. They are best known for their kimchi fries, but you can't go wrong with anything on their menu.
CRAFT BEER
Austin is a heavy hitter on the craft beer scene. Taste your way around the beer menus at the many breweries, pubs and restaurants. Our brewmasters and bar staffs are well-versed and can steer you in the right direction, so don't be shy and ask questions. CraftBeerAustin.com is a great online source for the latest suds news and tasting events.
VEGETARIAN/VEGAN/HALAL
As much as Austin loves their barbecue, we have many options when it comes to vegetarian, vegan, halal and paleo. Counter Café, Mr. Natural, Casa de Luz and Bouldin Creek Café don't skimp on big flavors. Picnik is Austin's premier paleo stop. They pride themselves on allergy awareness and are known for their grass-fed butter coffee.
For certified halal, The Halal Corner, Halal Bros and Shawarma Point are all local favorites. Heavily lauded Kababeque has food trucks on The University of Texas campus and at The Domain.