Located in North-Central Austin, the Anderson Lane area is a convenient place to stay the night or spend an afternoon, just minutes from shopping at the Domain and Domain NORTHSIDE, history and culture at the University of Texas at Austin and downtown activities and nightlife. The suburban neighborhood is home to beautiful mid-century homes and some of our favorite family friendly activities. Learn more about the area and find shops and restaurants on Anderson Lane.
Anderson Lane Restaurants
Bartlett's
For more than 10 years, Bartlett's has been serving up top quality cuisine in Central Austin. From in-house ground chuck burgers to fresh steaks and seafood, this restaurant is known for its affinity for "dining well" and they deliver on that promise daily. Bring your friends to drink test out their extensive wine list and indulge on a local favorite, the Warm Nutty Brownie.
District Kitchen and Cocktails
District Kitchen and Cocktails serves contemporary American fare. The full menu receives raving reviews, but we recommend starting out your day with their killer brunch. From the Boudin omelette to the kid's Nutella and strawberry sandwich, District features unique breakfast options for foodies of all ages. Plus, don't forget the wide selection of flavored mimosas and "hangover cure" cocktails.
Eldorado Cafe
Eldorado Cafe boasts hearty, Mexican-inspired comfort food with colorful Austin flair. The breakfast tacos are top notch - we recommend the machacado with egg, shredded short rib, tomatoes, peppers, onions and queso fresco - but their menu is full of unique and flavorsome options. The papas rellenas and green chile pork plate will have you coming back for a second round. Don't forget to add on one of their inventive cocktails, like the tamarind margarita.
Genuine Joe Coffee House
This local coffeehouse is the epitome of what makes Austin unique. Sip on a freshly brewed espresso in Joe's eclectic space alongside locals, filled with community art and collected trinkets. Genuine Joe is as their name states - authentic and welcoming to all who want a taste of great coffee and the local buzz.
Jack Allen's Kitchen
This local chain is famous for their classic Texas menu with an upscale twist. Jack Allen's is the perfect spot for both casual and celebratory meals. Start with the pimento cheese appetizer (you can also get a mason jar to go!), and stuff yourself on their slow-braised beef barbacoa enchiladas. Their steak offerings and extensive wine list also make it a great date night spot.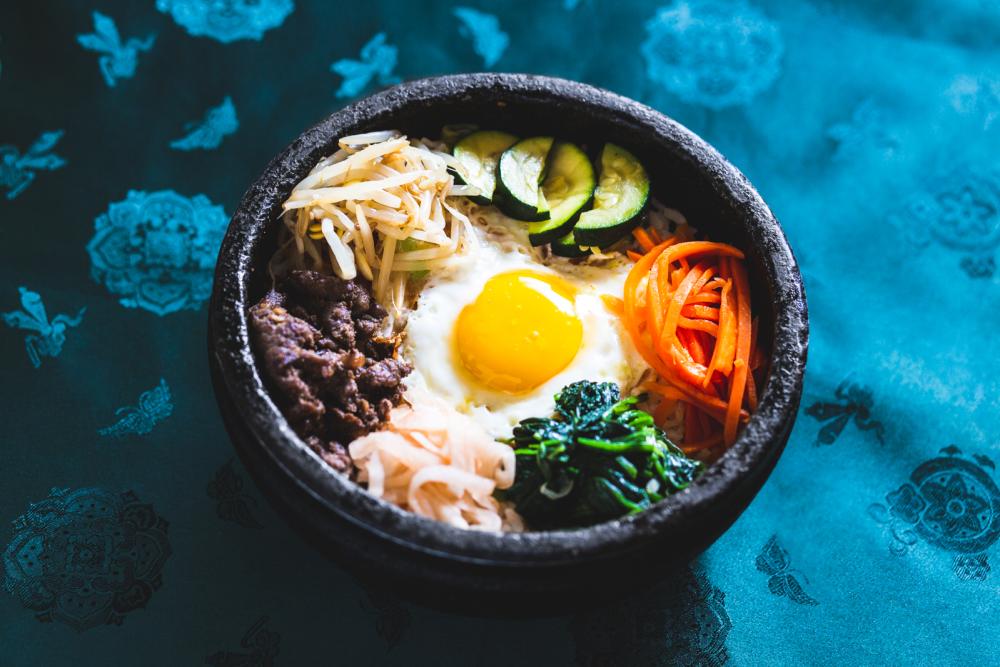 Korea House. Credit Tom Yu.
Korea House
Started by Mama Kim and Papa Kim in 1988, Korea House is Austin's original Korean restaurant. This true "mom and pop shop" is now run by Mama and Papa's kids and spouses. Korea house is known for traditional Korean dishes, and their Korean barbecue. Try the bibimbap, bulgogi, or test out their variety of cold sake options. 
Shortie's Pizza and Grinders
One of the newer spots on the Anderson scene, Shortie's Pizza and Grinders dishes out New England Greek-style pizza and grinders (a New England term for hero sandwiches). The pizzas are made with local ingredients and are cooked to perfection in cast iron skillets - did someone say delightfully crispy edges? The grinders are served both hot and cold, and most pizzas can be modified into a sandwich. Spend an afternoon on the patio with a Big Sexy, a sandwich stuffed with a whole braised beef rib, tomato red wine ragout, bell peppers, provolone and a creamy horseradish sauce. Did we mention this spot is named after the owner's dog? Shortie is even featured in the art and decor around the restaurant.
Tarka Indian Kitchen
Tarka is your one-stop-shop for fresh, healthy Indian cuisine. Must trys include their vegetable samosas, fresh garlic naan, and the biryani bowls. Tarka Indian Kitchen is an obvious choice when looking for a convenient meal or classic Indian dishes, packed with flavor.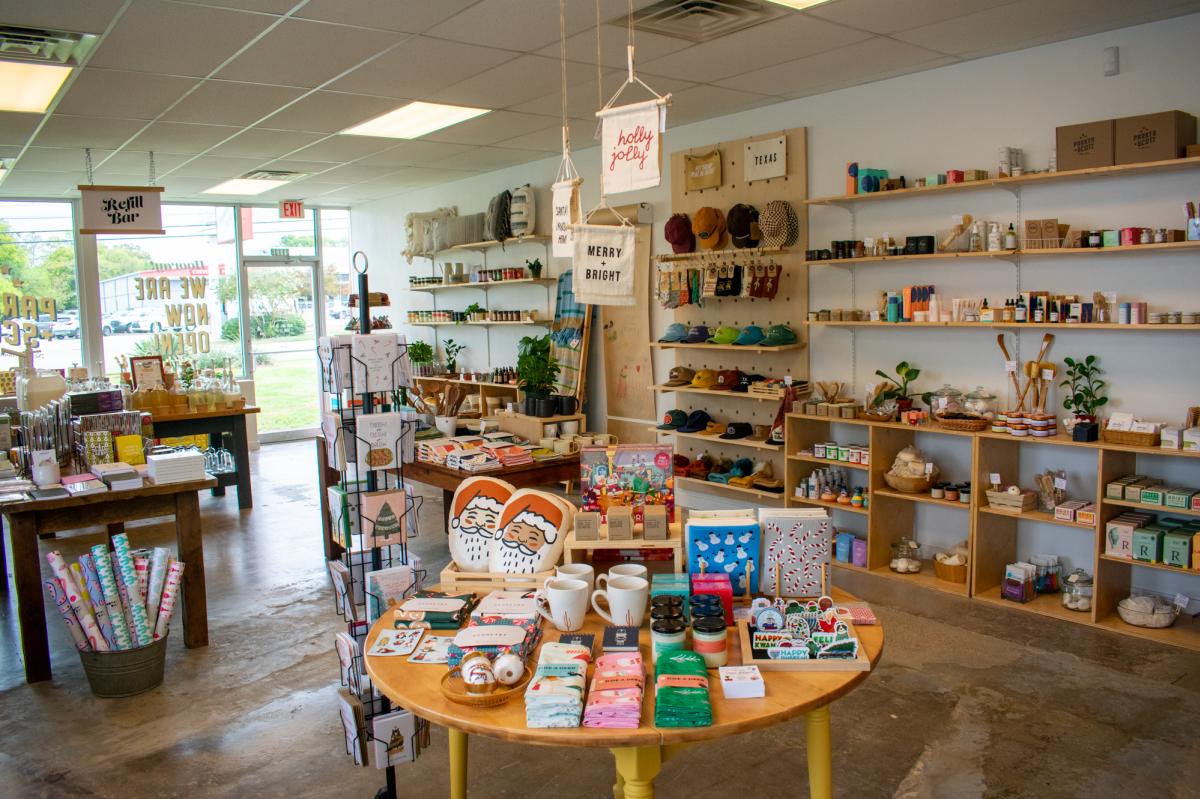 Courtesy of Parker + Scott.
Anderson Lane Shopping & Entertainment
Alamo Drafthouse Cinema
A passion for great film and delicious food collide at Alamo Drafthouse. Founded in 1997, this local cinema has made its mark with locations nationwide. Each Alamo Drafthouse location features an expansive menu prepared with fresh, locally sourced ingredients. With "drafthouse" in the name, it's a given that the coldest local brews are just an order away to enjoy during the show. This theatre is made for cinephiles, down to the menus inspired by upcoming blockbusters.
Anderson Lane location temporarily closed. See website for details.
Black Swan Yoga
If you're looking to get your body moving, Black Swan is the best spot for a walk-in class, and is open to yoga enthusiasts and novices alike. This community-driven, heated yoga studio will give you a taste of what makes Austin one of the fittest cities in the nation. Check out their events page for special class offerings to challenge your practice or find your inner zen while in town. Class fees are by donation, but $10 is suggested. Yoga mats and towels can be rented on location.
High 5
High 5 is Anderson's go-to destination for both kids and adults. Featuring a full service restaurant, upscale bar, lounge areas, video arcade and bowling, this entertainment center is perfect for the whole family or a unique adult date night. The Anderson location is outfitted with restored historic bowling lanes, and a private karaoke booth for those who love to belt out the classics. Plus, the menu is divine. High 5 makes pizzas, wings and tacos fresh to order; you won't find packaged nacho cheese in this kitchen!
Parker + Scott
Known as Austin's neighborhood general store, Parker + Scott has a little bit of everything. From specialty snacks and drinks to home goods and children's toys, all the products are carefully curated and eco-friendly. Whether you're looking for a unique earth friendly gift for a friend or something for your own home, Parker + Scott is a must visit.
Precision Camera
Stop in to the most impressive showroom at Texas' largest camera store. Precision has been helping Austin photographers grow since 1976 with workshops and extensive camera knowledge. Even non-photographers will be like kids in a candy shop visiting this 20,000 sq. ft. showroom.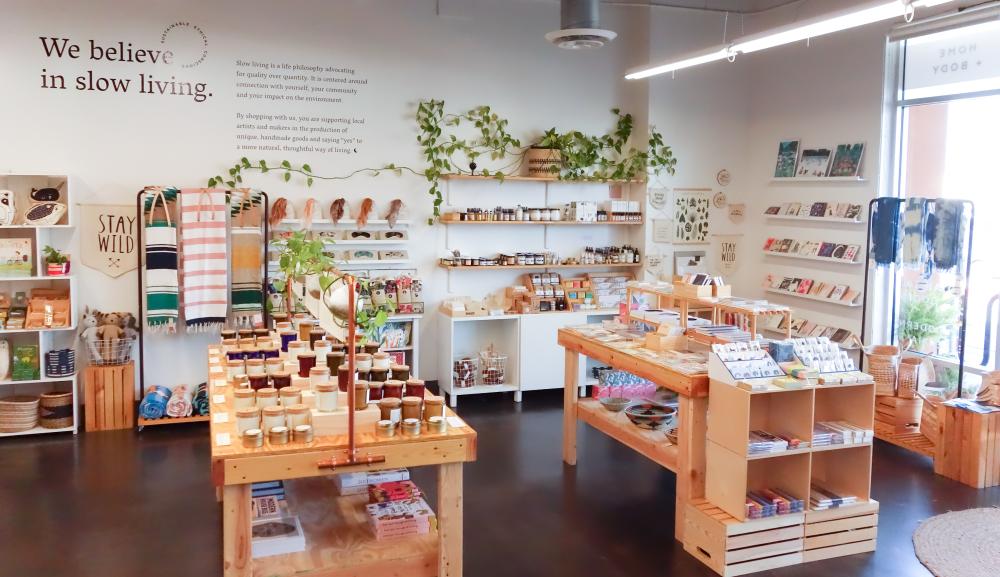 Slow North. Credit Michelle Simmons.
Slow North
Shop clean, botanical products at this home goods and beauty store. Slow North was founded out of the need for natural alternatives to less healthy products, without losing the calming ritual of lighting a candle. Visit the brick and mortar store for its charming interior filled with delightful scented candles, and featured goods from other local makers and artists. Slow North is a great place to find a local gift for someone you love, or a special something to treat yourself.
Terra Toys
Terra Toys is a fun adventure for kids and adults alike. Peruse aisles of nostalgic toys, ogle at their in-house art gallery, or grab a coffee from their espresso bar and relax while your kiddos go toy-crazy throughout the store. You can also find a variety of eclectic toys, books, and other knick-knacks scattered throughout the 12,000 sq. ft. shop. Terra Toys is an Austin staple, supplying toys to kids (and kids at heart) since 1978.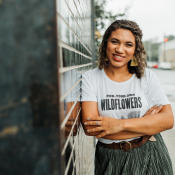 Contributed by Alyssa Jarae.
Alyssa Jarae is a native Austinite, and wedding and lifestyle photographer in the area. She enjoys exploring the multiple coffee shops around town and anything to do with Willie Nelson.