ATX Television Festival returns June 5-7, 2020 with a whole new format. ATX TV… from the Couch! is the first-ever completely free and completely virtual version of the classic festival and will include three days of cast and creative conversations from various series, industry-forward panels with show runners and executives, sneak previews of upcoming series and virtual events like TV trivia and a music showcase. Tune in for free on ATX's official YouTube channel, and be sure to donate to fundraising efforts for​ Direct Relief and​ The Actors Fund, to benefit those affected by COVID-19.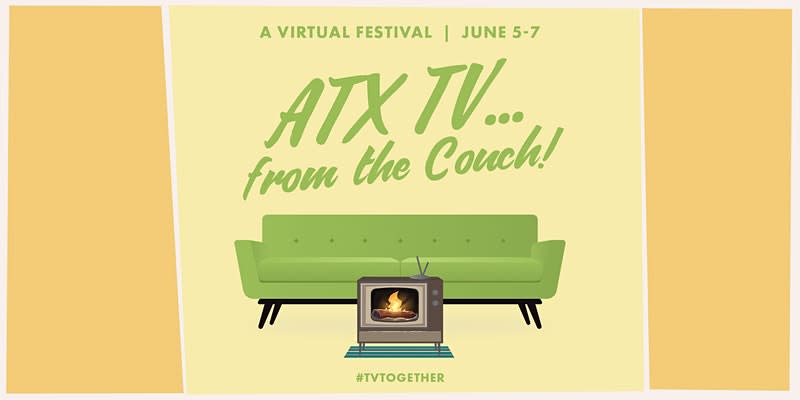 Registration
Free registration for the virtual festival is now open. For the latest developments, full lineup and information on "ATX TV…from the Couch," visit the ATX Television Festival official site atxfestival.com.
Virtual Panels & Programming
The festival recently announced that "Cougar Town" stars Busy Philipps and Christa Miller, as well as "Scrubs" creator Bill Lawrence and cast members Zach Braff, Donald Faison, Sarah Chalke, John C. McGinley and Judy Reyes, will reunite for special conversations during the virtual festival. The casts for both series were previously confirmed for ATX Season 9 in Austin, and have rescheduled their in-person reunions for the 2021 festival. 
The CW's "Nancy Drew," which has already been renewed for a second season, will host a panel celebrating the 90th anniversary of the iconic sleuth's literary debut, diving into the character's pop culture significance from early novels, to the feature film adaptations to the modern TV depiction. "Nancy Drew" creator/executive producer Noga Landau, showrunner/executive producer Melinda Hsu Taylor, and stars Kennedy McMann and Scott Wolf are confirmed to participate.  
Longtime ATX partner HBO will present a marquee panel conversation with the cast and creatives of "Perry Mason" in a first look at the network's new summer drama, which premieres Sunday June 21. Set in 1932 Los Angeles, the series tells the origin story of famed defense lawyer Perry Mason, based on characters from Erle Stanley Gardner's novels.
The festival will feature a virtual table read event with the executive producers and cast of "Search Party" ahead of the show's debut on the new streaming platform HBO Max. The "Search Party" producers and cast will perform a script reading of the dramatic season two finale, followed by an exclusive sneak peek at the upcoming season. Confirmed talent includes stars Alia Shawkat, Meredith Hagner, John Early, John Reynolds and Brandon Micheal Hall. 
FX Networks will present a "Justified" retrospective to celebrate the series' recent addition to the expansive FX on Hulu library. The panel will include a look back at the series with creator/showrunner/executive producer Graham Yost, director/executive producer Michael Dinner, executive producer Sarah Timberman, and stars Timothy Olyphant and Joelle Carter. "Justified" is available to stream now on FX on Hulu.  
Showtime will return to ATX with a look at the upcoming sports docu-series, "Outcry," which examines the gripping story of high school football star Greg Kelley and a quest for truth and justice in central Texas. The five-part series follows Kelley's conviction for sexual assault of a four-year-old boy and sentence of 25 years in prison with no possibility for parole, and the subsequent groundswell of support that emerges, calling into question the investigation, the prosecution's tactics and ultimately, the validity of the conviction. Emmy award-winning director and executive producer Pat Kondelis (Austin's Bat Bridge Entertainment), will join the festival for a conversation about the making of the series. 
NBC and Universal Television's hit medical drama "New Amsterdam" will host a conversation about using fiction to navigate important conversations about health and healthcare access in underserved communities, and how recent storylines around heart health and rural & urban hospital care are particularly relevant in the time of COVID-19. The conversation will include director/executive producer Peter Horton, amongst others.
"ATX TV…from the Couch!" will also feature a variety of topical panels including  "Channel Changers: A Conversation with TV's Presidents,"  an industry-forward conversation with network, studio, and streamer presidents about the state of the industry, the personal and professional philosophies they bring to their individual brands, and why inclusivity at the highest levels remains imperative to producing bigger and better storytelling. Participants include Sarah Aubrey (Head of Original Content, HBO Max), Pearlena Igbokwe (President, Universal Television), Lisa Katz & Tracey Pakosta (Co-Presidents, Scripted Programming, NBC Entertainment), and Tina Perry (President, OWN).
ATX will highlight Latino & Latina content creators with "Celebrating Authentic Stories," a conversation about celebrating and continuing the push for positive Latino & Latina representation, and how allies/decision-makers within the industry can better support and amplify Latino & Latina voices. Showrunner/executive producer/director/actor Gloria Calderón Kellett ("One Day at a Time"), creator/showrunner/executive producer/director Tanya Saracho ("Vida"), creator/executive producer/director Steven Canals ("Pose"), and creator/executive producer Ilana Peña ("Diary of a Future President") are confirmed to participate. 
The festival will also give viewers a look "Inside the Writers Zoom Room" in a Zoom-based discussion with showrunners & writers about the process/experience of taking their writers rooms digital and staying connected creatively. The panel will include creator/showrunner/executive producer/director Dan Goor ("Brooklyn Nine-Nine"), co-showrunner/executive producer Beth Schwartz ("Sweet Tooth"), showrunner/executive producer Melinda Hsu Taylor ("Nancy Drew"), and creator/showrunner/executive producer Sera Gamble ("You"). Additional panelists will be announced soon. 
Peacock and Wolf Entertainment will host a ​"Live with OneChicago"​ conversation with "Chicago Fire" showrunner/executive producer ​Derek Haas ​and cast members​ Jesse Spencer​ ("Chicago Fire") and LaRoyce Hawkins​ ("Chicago P.D.") from across the hit "OneChicago" franchise ahead of the platform's July launch. The group will discuss the increasingly interconnected world of the three series, and the larger Wolf Entertainment world established by prolific creator/executive producer Dick Wolf.
Peacock will also host a "Psych" panel with creators Steve Franks and Chris Henze, as well as cast members James Roday, Dulé Hill, Kirsten Nelson, Maggie Lawson and Corbin Bernsen ahead of the premiere of "Psych 2: Lassie Come Home" on the platform this summer.
ATX will include a conversation with the women of the critically acclaimed "One Day at a Time," which is currently airing its fourth season on Pop TV. Showrunner/executive producer/director/actor Gloria Calderón Kellett, and cast members Justina Machado, Rita Moreno, and Isabella Gomez will join viewers for an informal brunch conversation to discuss the series' upcoming animated special, "The Politics Episode," which will air June 16th on Pop TV following a marathon of the current season.  
The festival will also take viewers inside the writers room of "Little Fires Everywhere," the Hulu original series based on the novel by Celeste Ng. Showrunner/executive producer Liz Tigelaar, co-executive producer/writer Attica Locke, co-executive producer/writer Raamla Mohamed, co-executive producer/writer Amy Talkington, co-executive producer/writer Nancy Won, writer/producer Shannon Houston, writer/producer Harris Danow, and writer/producer Rosa Handelman will discuss how they worked together to broach issues of race, sexuality, and class in ways that both built on and departed from the themes of Ng's novel, and how their own life experiences informed how they brought the story from book to screen.