Austin is filled with craggy walls and limestones cliffs perfect for climbing and bouldering. In fact, the city is home to a robust population of climbers. And visitor or local, beginner or pro, you don't have to go far to send it.
Austin Climbing Gyms
Climb any time of year and in any weather at these well-outfitted climbing gyms located around the city.
Austin Bouldering Project (ABP)
This gym with locations in South and East Austin is all about bouldering. So don't expect to find any ropes or harnesses here. But boulder problems? You'll find those in abundance. Walls are as high as 17 feet and problems change multiple times per week. Plus there are fitness and yoga classes and a weight room so you can blast your quads or squeeze in some hang board training. A day pass is $20 for adults, $18 for young adults (14-23 years) and $13 for youth (13 & under). And if you need to rent shoes, they're free on your first visit.
Crux Climbing Center
Prefer the security of a rope and harness when you climb? Good news: you'll find it at Crux in South and Central Austin. Crux has plenty of space to get vertical, but if you prefer to stay close to the ground, there are bouldering walls for that, too. Other amenities include a space for weight training and fitness classes (including yoga). A day pass is $22, $16 for students, military and youth. Need a harness and shoes? Rent them both for $5.
Mesa Rim
Looking for a little something for everyone? Mesa Rim is Austin's newest indoor climbing gym complete with 50,000 square feet of climbing and bouldering walls, a speed wall, and yoga and fitness programs with dedicated training areas. Whether you plan to bring the whole family, or are just looking for some fun fitness time during your stay in Austin, Mesa Rim is the ideal place to have fun while you sweat. Day passes are $25, $18 for guests 17 and younger (rental gear available for an additional charge). 
Outdoor Rock Climbing in Austin
Almost all of the climbing in and around Austin is sport climbing, so bring your ropes and a few 'biner's and you're set!
Seismic
Located on Austin's Barton Creek Greenbelt, Seismic has climbs for everyone, rated from 5.7 to 5.12. There are even swimming holes nearby provided Austin has had rain recently (bring your Chacos because you might have to do some wading across the creek to get to the wall). Use the 360 access point and park on the west side of the office building for Greenbelt trail access.
Gus Fruh
Also located on the Greenbelt, Gus Fruh is a bit more beginner friendly, but has a range of bouldering and sport routes for climbers of all skill levels. Bouldering ranges from V2 to V11 and sport routes from 5.7 to 5.12a (with most being in the 5.9 to 5.11 range). Park on Barton Hills Drive for access to the Gus Fruh wall and swimming hole.
New Wall
This wall on the Greenbelt is more for the intermediate and advanced set than beginners. With sport routes rated mostly 5.10 and above, you'll find plenty of opportunities to challenge yourself, including multi-pitch routes. Use the trail access point on Spyglass Drive for the shortest hike to the wall.
Pace Bend Park
Ever tried deep water soloing? It's a beloved summer activity for climbers in Austin and you can do it at Pace Bend. It's $5 per person for entry to the park and there are plenty of climbs accessible to climbers without their own boat. Just make sure to check with the park regarding water levels before climbing.
Milton Reimers Ranch
Located about 30 miles southwest of Austin, but close enough for it to be a local favorite, Reimers Ranch is brimming with climbs ranging from easy 5.5's to finger-shredding 5.14's. You'll even find a bit of trad climbing among the routes. The Pedernales River is adjacent, so you can take a cooling dip post-climb. Park entrance is $5 per person for the day and is cash only. It does tend to get busy on weekends, so be prepared as the park is first come, first served.
McKinney Falls State Park
Love to boulder? This is your park with scads of boulder problems ranging in difficulty from quick and easy V0's to difficult and varying V10's. Need a cool-down to soothe sore forearms? Take a dip in the swimming holes by the falls. A day pass for the park is $6 and it's recommended that you purchase a pass in advance, especially on weekends when the park gets busy early.
Looking for more ways to get moving? Check out these ways to exercise in Austin during your vacation (that's not at your hotel gym!).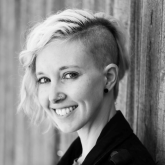 Contributed by Alisha McDarris.
Alisha McDarris is an Austin-based writer who specializes in writing about the outdoors, vegan food, and sustainable travel. She is the co-founder of sustainable travel and adventure blog Terradrift.com and accompanying YouTube channel (youtube.com/terradrift) and her outdoorsy tips and tricks, plus vibrant photos of wild spaces and places, can be found on Instagram (instagram.com/terradrift)