Visitors travel across Texas in search of serene vistas and wide-open skies… but that road trip isn't necessary. Austin is lucky enough to be just 30 minutes away from neighboring Bastrop, a city whose charm cannot be overstated. Just a hop, skip and a jump from the heart of Austin. Bastrop feels a world away from the hustle and bustle of the big city. It's well worth a day trip during your visit, to soak in the big sky, small-town appeal of beautiful Bastrop.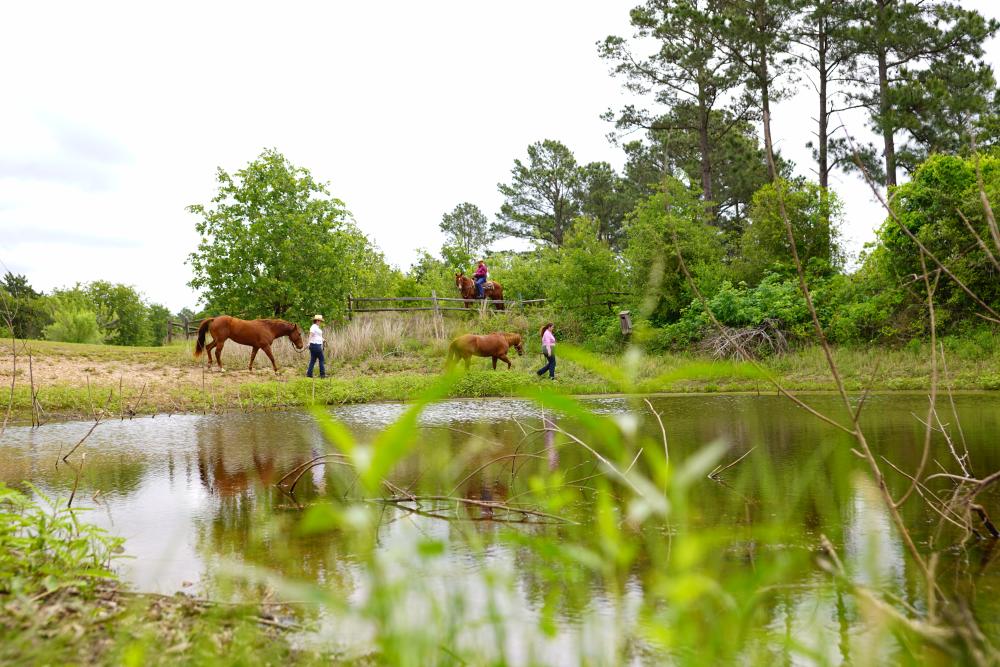 McKinney Roughs Nature Park. Courtesy of Visit Bastrop.
Outdoors
Bastrop continues to be one of the prettiest parts of Texas. Wander the extensive trail system, overnight camp, nature watch or take a dunk in the pool at Bastrop State Park. Get out on the El Camino Real Paddling Trail in a rented canoe from Bastrop River Co for a leisurely six-mile paddle with fabulous views and stop along the way for pics and picnics. You can also BYO watercraft and put in at Fisherman's Park. For something more interactive, check out McKinney Roughs State Park where you can dual-zip line, horseback ride, hike the trails, and spend the night in onsite camp housing.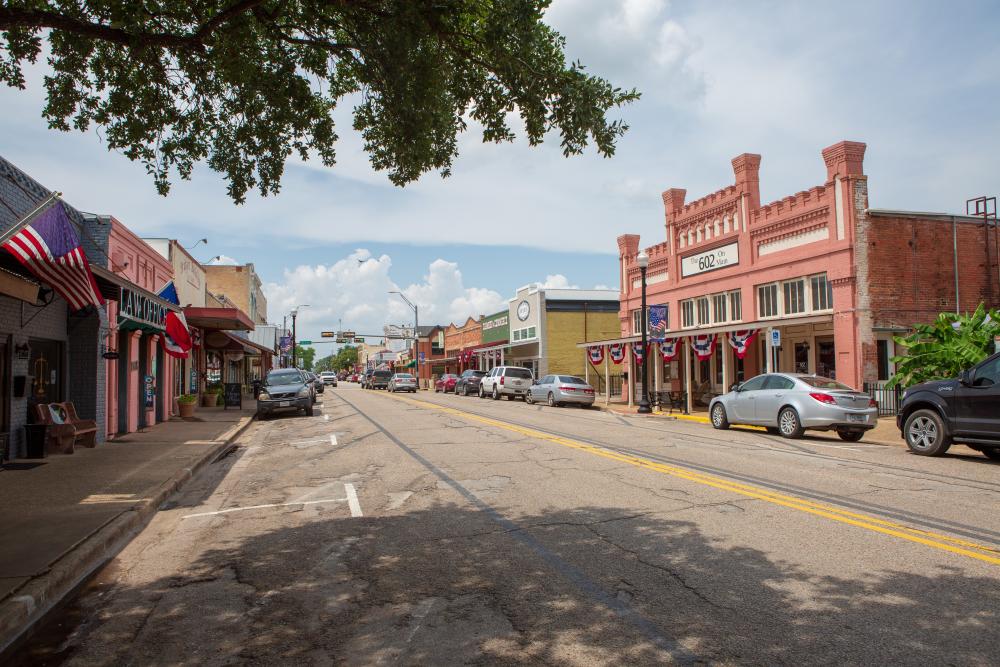 Courtesy of Visit Bastrop.
Shopping
Strolling historic downtown Bastrop is a delightful experience. Main street is lined with shops, restaurants, breweries, and more. Stop into CC Wine & Co. for the cutest things you ever did see. This is also the spot for wine connoisseurs—their hefty selection of wine and wine accessories are all too easy to buy after a legendary tasting. Ivana May is the perfect place to find sweet and timeless pieces for your little ones. All pieces are unique and handmade! For something more esoteric, the Lost Pines Art Bazaar has decor and furnishings, art, antiques and gifts from all around the world. Art lovers will also find a home at the Lost Pines Art Center, a comprehensive art center with a gallery, classrooms, artist studios, a sculpture garden and more. Music lovers can lose hours flipping through vinyl at Astro Record Store, voted best satellite record emporium by the Austin Chronicle. And for a pricier (but also more enviable) souvenir, get fitted for beautiful boots at Texas Boot Company. If you're spending a little more time there, stop by the producer-centric Bastrop Farmers Market for produce, artisan goods, meat, honey, and prepared items to make your stay a little tastier. Community Gardens is one of the most unique venues in Bastrop—they've partnered with local businesses to curate products, comestibles, coffee and all things garden for a food hall-meets-local mall-style experience.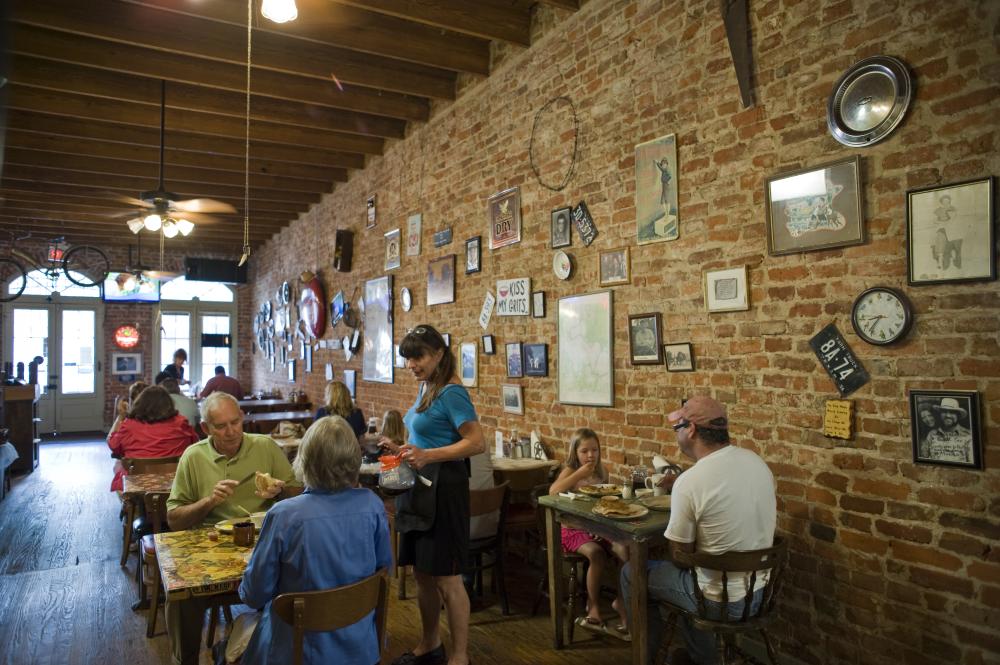 Maxine's Cafe & Bakery. Courtesy of Visit Bastrop.
Restaurants
It's pretty easy to find something delicious in Bastrop. Kick off your morning with eye-popping portions at the famed Maxine's Cafe and Bakery. If you're doing it right, you'll opt for a big-as-your-head griddlecake or the spicy Texas Benedict with jalapeno hollandaise. Don't forget the pie to go! For lunch, Gracie's can do no wrong. It's comfort food at its finest—big burgers, chicken fried steak, pork roasts—all served in an indoor/outdoor eatery that also sometimes has live music. For some mambo Italiano, Bastiano's Pizzeria and Creamery has brick oven pizzas, salads and fresh pasta plus a dinner special nightly. Food out of a gas station is pretty common in central Texas but The Gas Station can lay claim to being part of the original set the 1974 cult horror flick "The Texas Chainsaw Massacre." Appropriately they serve barbecue (ahem) and sell novelty items from the film. There's something so romantic about a little wine and cheese and Stem and Stone doubles as a casual eatery and a spot to have a date night. They serve paninis and artisan flatbreads along with cheese and charcuterie, craft beer and wine.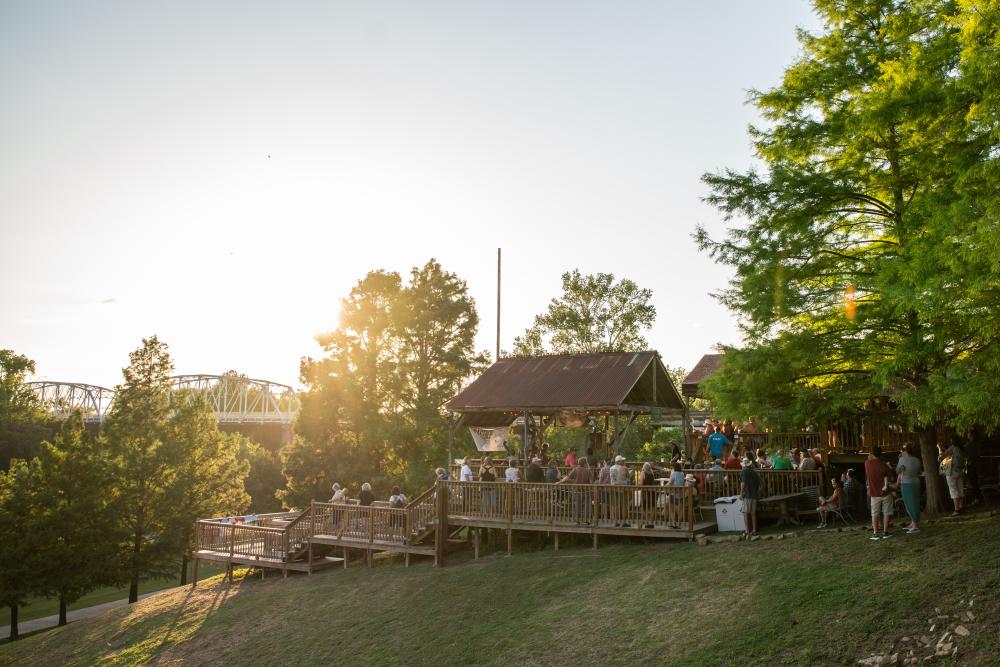 Courtesy of Neighbors Kitchen & Yard.
Breweries, Wineries, Distilleries & More
Central Texas is (now) well known for its abundance of breweries, distillers, and great bars. For folks in search of a cold brewski, the Bastrop Beer Co should be their first stop. Located in downtown Bastrop, they have hundreds of beers available in bottles, cans or on draft. Grab something to go or belly up and stay awhile for one of their beer cocktails, wine or sake shots. Veteran-brewed and serving American food, the 602 Brewing Company has a scratch-kitchen serving up the classics and a beer menu that has both in-house brews and beers from the surrounding local areas. For something a little boozier, the Copper Shot Distillery is both a fantastic place to have a cocktail and a spot for cool dogs. Enjoy a flight of whiskey or whiskey drinks while enjoying some sunshine on their patio. The tasting room at Colorado River Winery is a nice spot to cool your heels on a hot day. The Tuscan-style shop has a wide range of small-batch wines to taste and take home. Part music venue, part restaurant, it's hard to nail down Neighbor's Kitchen and Yard except to say that it's like being at a cool backyard party with better music and food that you don't have to cook. Right on the banks of the Colorado River, it's situated on a sprawling piece of property that feels just right on a clear night.
For more information on the awesome things Bastrop has to offer, check out www.visitbastrop.com