Welcome to the Best Seat in the House, a digital series from Visit Austin, bringing together some of the best personalities in Austin's service industry sharing some ways to experience a taste of Austin from home.
In this episode, Ian Thurwatcher and Krystal Craig, chefs and co-owners of Intero share their simple "at home" Mozzarella Salad.
Mozzarella Salad
3 oz. fresh mozzarella, torn into bite sized chunks
1 small cucumber, cut into angular chunks
½ cup sungold or cherry tomatoes, halved
1 small shallot, jullienned
2 Tbsp kalamata olives
1 Tbsp red wine vinegar
1 Tbsp olive oil
1 lemon
1 bunch fresh basil
1 bunch fresh mint
Instructions
Add olive oil to a small saute pan and place over medium heat. Once the oil is hot, add the tomatoes and shallots. Cook for 2 minutes, then add vinegar. Transfer to a mixing bowl and add the mozzarella, cucumbers, olives and the zest of 1 lemon.  Season with salt and lemon juice to taste. Transfer to a plate or bowl and finish with basil and mint leaves.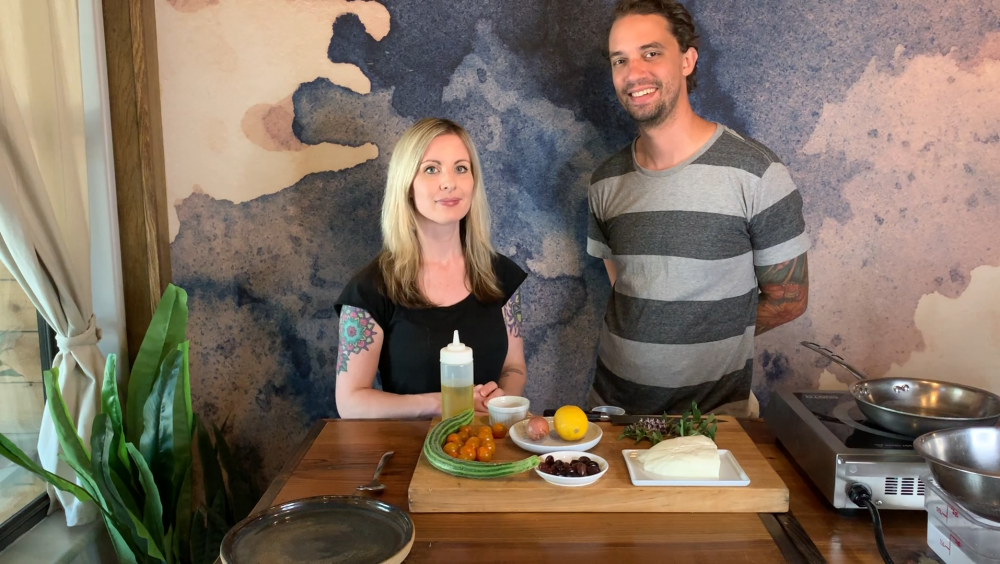 Chef Ian Thurwatcher and Chocolatier & Pastry Chef Krystal Craig
Born and raised in Austin, husband and wife duo, Chef Ian Thurwachter & Chocolatier/Pastry Chef Krystal Craig sought to share their love of Italian cuisine and their combined knowledge of savory and sweet. Both self-taught in their professions, each attributes the inspiration of their work to influences they had growing up. Bringing together over 35 years of collective experience in the food and restaurant industry, along with the talents of many friends and family, the couple opened Intero together in 2018.

Intero
Intero offers a contemporary Italian inspired menu highlighting the changing seasons in Central Texas. Intero wholeheartedly embraces the importance of sustainability by utilizing locally raised animals and farmed produce to create its dishes. This drives the idea behind Italian cuisine, which is rooted in necessity and gratitude towards every ingredient.
Photos courtesy of Intero.