Austin is home to many independent and family-owned businesses that make our communities culturally rich. Here's a list of Black-owned shops, restaurants, and services that you should know about! Be sure to check out the Greater Austin Black Chamber of Commerce to learn about even more Black-owned local businesses to support. 
Shops and Services
Nana's Prayers Tattoo Studio is a Black-owned tattoo shop. Inspired to revisit her art during the pandemic, the owner Imani aka Twiggy, wondered if she could put her designs on herself. Not long after, Nana's Prayer was born. Contact Twiggy for your next ink session! The shop's apprentice Patricio is also available for booking!
Run by the delightful Katrina Brooks, Black Pearl Books is a community-focused independent bookstore that promotes diversity, inclusion, equality, and cultural awareness. Visit their shop on Burnet Road, or head to their website to purchase your next big read.
Owned by Taneil Mckelvey, Bleu Nail Café provides high-quality manicures, pedicures, and foot massages. The space is known for its comfortable environment, and meeting Taneil has been described as like meeting a new best friend. You can book an appointment with them online.
Learn about Austin's Black history from Austin native Javier Wallace, Founder and Guide at Black Austin Tours. Javier is a master storyteller and offers visitors a perspective of the city that is not always seen. Stretch your legs (and your mind!) on a tour through downtown, Austin's east side or even along the Colorado River to learn more about contributions from Austin's Black community through history. Book your tour online!
This is just a sampling of the diverse shops and services owned by Black Austinites. Visit our Black-Owned Austin page to explore more of Austin's Black history and culture. 
Restaurants and Bars
A native East Austinite and a fifth-generation Texan, Hoover Alexander brings us top-notch soul food over at Hoover's Cooking. Head on over for some hearty meals like their catfish étouffée or their smothered pork chops. You're guaranteed to leave with a big smile and a full stomach.
Sans Bar is an alcohol-free bar and community dedicated to making a safe and inclusive place not centered around alcohol. Their expertly made cocktails, wines, and beers are all zero-proof! Originally started as a series of pop-up events, Sans Bar now also has a brick-and-mortar location in East Austin. Check them out on E 12th St.
Wasota Vegan Paradise is the brainchild of food industry-veteran Lawrence Eguakun. Their fully vegan menu offers a wide variety of African cuisines and delicious flavors. Stop by for a plate of jollof rice or fried plantains and thank yourself for making the trip out!
At a Taste of Ethiopia, Woinee Mariam and her husband Solomon Hailu serve up delicious meals proudly made with love and real ingredients. They have a diverse menu with both meat and fully vegan options. Be sure to check out their Ethiopian drinks like the honey wine and Ethiopian coffee.
Paradise on Ice is a family-owned and operated beverage bar. Combine colorful flavors to make truly unique and refreshing beverages. Head over on Monday for their buy one get one half-off deal, and check out their website for their other daily specials!
Looking for more? Check out our guide to supporting Black-owned restaurants in Austin.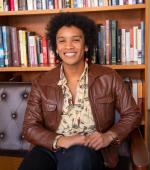 Contributed by Jade Fabello
Jade Fabello is an Austin-based writer and a recent graduate of the University of Texas, where he was a double major in the Journalism and the Communication and Leadership programs. You can find his work at JadeFabello.com. 
Instagram @Jade__Fab. Twitter: @Jade_FW