Make your way to beautiful Blanco, Texas. Though it's known for hosting an incredible lavender festival, the town offers so much more year 'round. Get out in nature, learn some history, sip on some of the most well known and sought after craft beers and whiskies, plus eating well and living right.

Old Blanco Courthouse. Courtesy of the Blanco Chamber of Commerce.
Blanco Attractions
Blanco's Old County Courthouse is a sight to behold. Built in 1886, it only officially served as the courthouse for four years but it's found a second life as an historical museum, an event center, and a movie set for films like True Grit. For more Blanco history, and movies, definitely stop into the Blanco Buggy Barn Museum. Part ghost town, part buggy museum, this organization preserves all types of buggies, displaying them with origin placards. Burly the Buffalo also lives onsite for a little extra authenticity.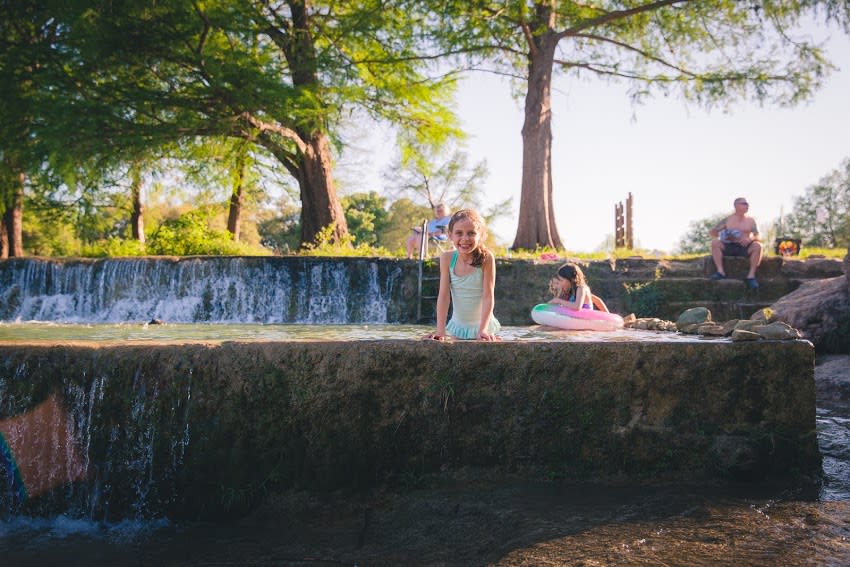 Blanco State Park. Courtesy of the Blanco Chamber of Commerce.
Outdoors Activities
In the summer months, Blanco is the most relaxing place to be… due mostly to the fields of heavily scented and oh-so-soothing lavender. Known as the Lavender Capital of Texas, you can head out here to pick your own or buy delicious body products. If you're smart, you'll schedule around their Lavender Festival with live music, a speaker panel, a market, and regional wine and beer. The Blanco River is a gorgeous place to be and it's easy to spend a night or a weekend on its shores at Blanco State Park. Swim, fish, paddle, boat, hike, camp, geocache, and make sure to snap a picture of the tiered falls. Set in the Rockin' J Ranch, the Vaaler Creek Golf Club is the quintessential hill country golfing experience. It pulls in all the natural beauty of the Blanco area and has been voted among the most desirable courses in Texas. You can also grab a bite at their Vaaler Creek Grill.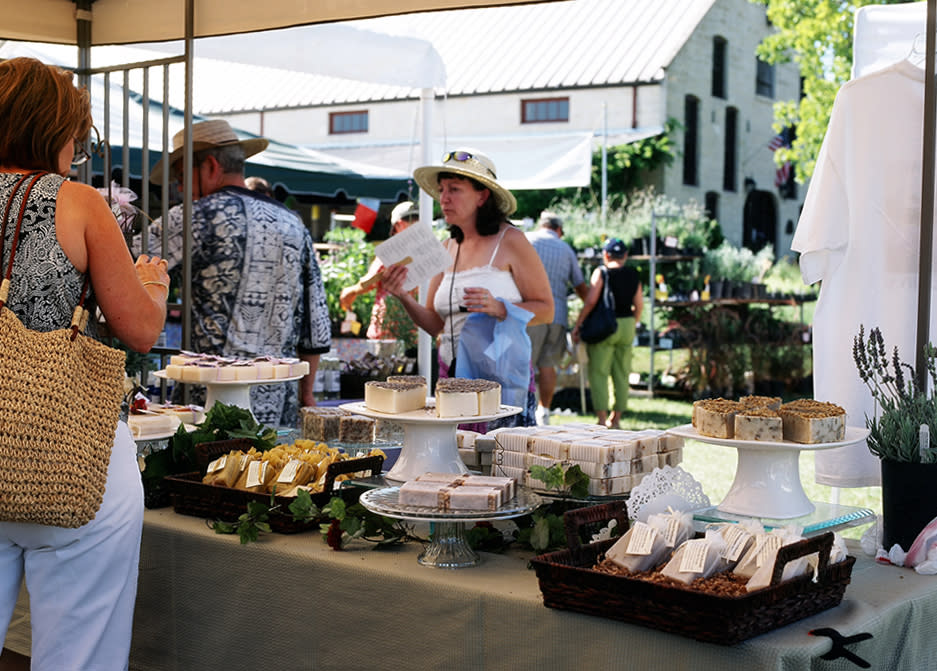 Blanco Lavender Festival. Courtesy of the Blanco Chamber of Commerce.
Entertainment
Sure, you've bowled… but have you been to a traditional German bowling club? Nine pin bowling is a German style of bowling that only exists in Texas and The Blanco Bowling Club is one of only eleven still operating. We won't get into the rules of the game but the rules of the club are that you have to make a reservation 7 days in advance. They also have a little cafe if you're feeling peckish after knocking down some pins. If you're in the mood for a little retail therapy, stop by Brieger Pottery and take a piece of the Texas Hill Country home with you. Brieger Pottery owners Jan and Jon Brieger make a variety of functional clay items using clay native to Texas. Housed in a former Baptist church, Rain Bird Rustic Furniture, Art, and Antiques has one of the most diverse selections in town for anyone looking for some retail therapy. The gallery pulls from local, national, and international artists specializing in jewelry, decor, collectibles, and bigger pieces for the home.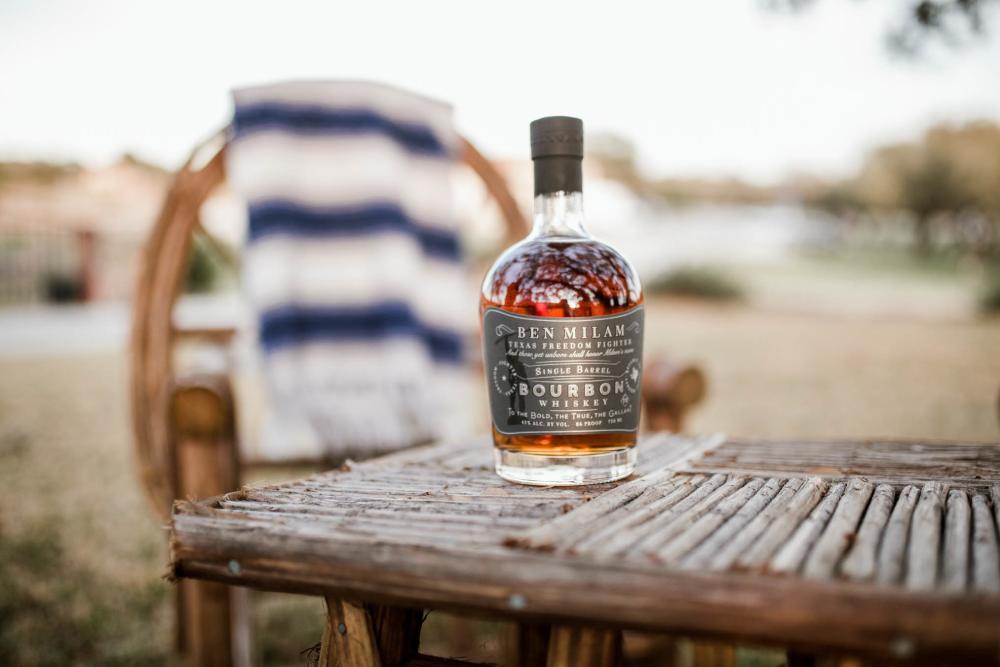 Milam & Greene. Credit Brooke Taelor Photography.
Beer, Wine & Spirits
Texas craft beer is a dominant force in the market… but that wasn't always the case. Real Ale Brewing Company helped put Texas on the map. Stop in during your trip to sample their selection of beers that includes their Mysterium series, a batch that's flavored by its time in wine and whiskey barrels. If you can believe it, Blanco has a triumvirate of whiskies. Alumni of Real Ale, the owners of Andalusia Whiskey decided to throw their hat in the whiskey ring. Stop by for samples, beverages, and tours. Find the award-winning Milam and Greene Whiskey just off the main square where you can taste the goods, have some barbecue, see live music, and learn about the spirit. Hye, Texas is south of Blanco and home to the famed Garrison Brothers Whiskey. This distillery is the oldest legal whiskey maker in Texas and it's nothing short of legendary. They offer guided tours and definitely keep an eye on their calendar for bourbon dinners, releases, and collaborations. Wine drinkers should head straight to Tenuta Bianco, a wine bar, grocer, and kitchen sharing Italian and Texan wines, craft beers, and artisanal groceries. They're right on the square so you can people watch as you sample. Just outside of Blanco is Esparanza Winery, a great place to sip wine outdoors around lush scenery. Complete with a tasting room, Esparanza is a small winery with a number of varietals made from fruit produced on the estate. If you're willing to get a little dirty, the winery welcomes volunteers to help take care of the vines, harvest and plants. Don't worry, there's something in it for your too. Once you're done helping out, you'll be rewarded with food and wine!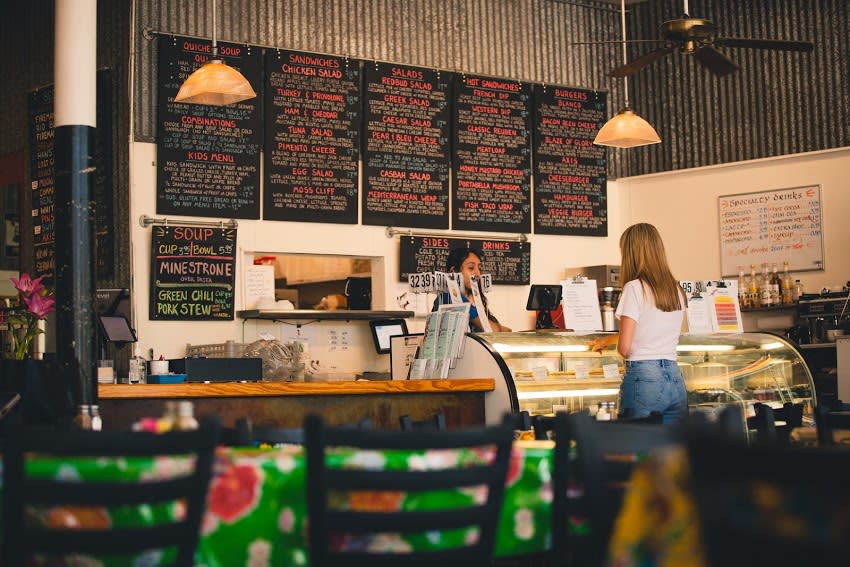 Redbud Cafe. Courtesy of the Blanco Chamber of Commerce.
Blanco Restaurants
Ask anyone in town for food recommendations and they'll point you to the Redbud Cafe. Housed in the original Blanco Hardware Store just off the square, It's casual with a counter setup, fabulous burgers, and cold beer on tap. For a lunch that may leave you groaning, but happy, try the enormous chicken fried steak at Chess Club Cafe. Old 300 Barbecue isn't messing around. It's a genuine Texas barbecue spot serving up brisket, sausage, turkey, pork loin, chipped bbq, and all the sides and fixins. And do not sleep on their smoked cheese cake. Josie's Kitchen is, in a word, adorable. From the friendly staff to the hearty dishes, the great views from their patio and the welcoming touches, it's a lovely place to linger over lunch. Freshly renovated, 419 Gelato has the good stuff. And by good stuff we mean authentic gelato, delicious desserts, and live music. Uptown Blanco says it all in the name—this is one of the nicer options in Blanco. Definitely a date night or treat yo' self affair with seafood, steaks, poultry, and brunch on Sunday.
Stop by the visitor center, located at 300 Main Street (in the Old Blanco County Courthouse), when you arrive for local insight about things to do and places to see. Plan your Blanco visit today at VisitBlancoTexas.com.