If you're looking for a day trip with culture, nature, deep Texas historical roots and great food and drink, then head straight to Boerne, Texas. Settled over 150 years ago by German immigrants, this Hill Country town is nothing short of delightful. It's one of those places where you stroll arm-in-arm with your person or your friends, stopping in to shop and have a bite, getting a cold beer or finding a swimming hole. About an hour and a half from Austin, there's plenty to do in Boerne during your next day trip.

Courtesy of Visit Boerne.
Things to Do
Before you do anything, meander down the "Hill Country Mile" and fall in love with the quaint shops, antique stores, art galleries, historic architecture, and the easy, friendly nature of Boerne residents. Named one of the "Top 25 Small Town Main Streets in America" by Country Living, the mile is littered with gems like the veteran-owned Black Rifle Coffee Company, and the Boerne Epicure Gourmet Market. History buffs better carve out some time for a visit the Kuhlmann-King Historical House, complete with a historical kitchen and the beautifully built St. Peter The Apostle Catholic Church. The whole family will be impressed by the AgriCultural Museum & Arts Center with its antique buggies, chuckwagons, and farm equipment. They also have a wood shop, a blacksmith shop, and events like bluegrass jams and antique tractor pulls. Be sure to visit Flashback Funtiques and shop to your heart's content. This antique shop brings fun to antiquing with a store full of merchandise sure to put you in a nostalgic mood.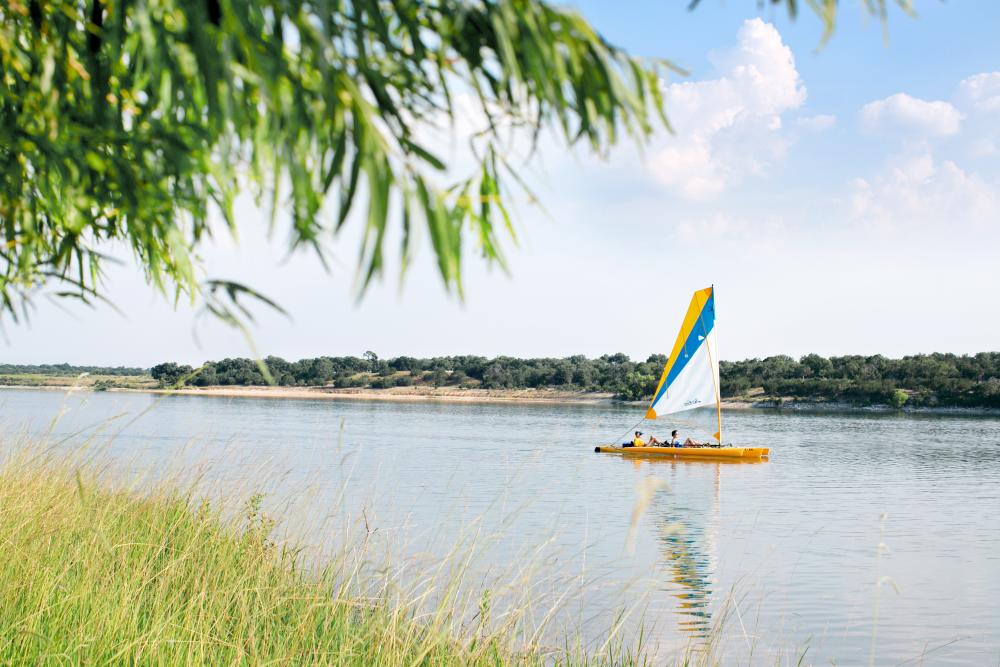 Courtesy of Visit Boerne.
Outdoor Activities
Boerne is serious about being out in nature. In fact, the Cibolo Creek comes right through downtown as does the Cibolo walking trail. On a nice day, runners, walkers, bikers, and dog parents hike and stroll the trail to get out in the fresh air. Or, you can admire the art that decorates the trail. Hit the boardwalk within Boerne City Park's Cibolo Center for Conservation, with plenty of hands-on experiences for the family. Bring your swimsuit for a dip in Boerne City Lake where you can canoe, fish, picnic, grill, and fish off the pier. Nearby Cascade Caverns is another one of Boerne's draws. It's a "living cavern" meaning it has abundant wildlife (salamanders, bats, frogs, etc.) and has a huge variety of awe-inspiring cave formations. Head a little further out to Cave Without A Name, a Natural National Landmark. It's also a living cavern and has six major rooms with amazing stalactites and stalagmites. They even host concerts in the "Queen's Throne Room," a magical experience that's really unlike anything else you've done.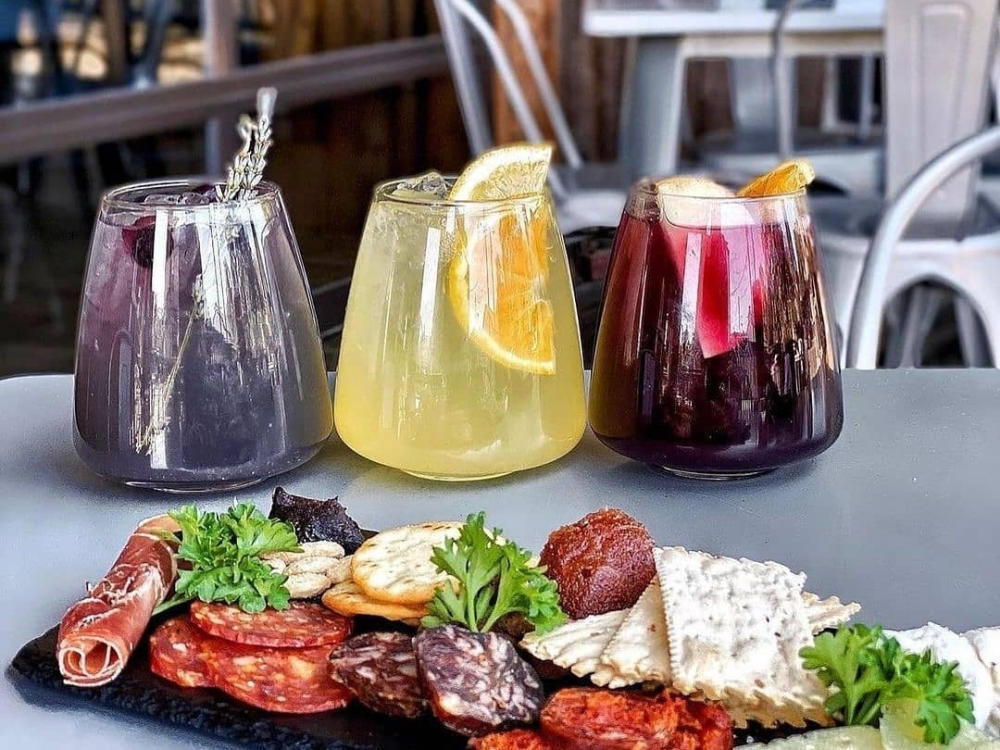 ​Courtesy of Botero Tapas + Wine Bar
Boerne Restaurants
You need only walk down the street to smell the warm, sweet smells coming out of Bear Moon Bakery. Stop in for a lavender honey iced latte and a three-napkin cinnamon roll to go or sit down and have one of their super filling biscuit sandwiches. Better get to Mary's Tacos before 11 a.m. if you want one of their famous breakfast tacos (but hey, the lunch tacos are great too). Flaky homemade tortillas stuffed with your choice and a side of menudo, yes please. For lunch, try Peggy's on the Green at The Kendall (a former stagecoach stop) where the crap dip, hearty steaks, and lobster mac n' cheese may send you straight into the nap zone. Or be transported by the authentic El Salvadoran flair of Casa Amaya's caldos, pupusas, and baleadas. If dinner calls for casual and classy, there's no better spot than Cypress Grille. Located in the heart of the historic district, their menu is lots of wood-fired and seafood specialties. If you're lucky, you'll get the table with the tree literally coming through the table top. Rustic Italian with farm-to-table flair is what Valeria Italian Restaurant stakes their claim on. Have a bold glass of red and a fresh pizza or some mussels in broth that's just begging for more bread. Nothing says "Texas" more than Tex-Mex and barbecue, and that's what's on the menu at Compadres Hill Country Cocina. Originally a food truck, owner Mark Sierra opened a sit-down-style restaurant and continues to serve up the perfect bite of Hill Country cuisine.

Cibolo Creek Brewing Co. Credit West Vita Photography.
Bars & Breweries
Most of Boerne's drinking establishments also have a pretty great menu but let's be honest, you're here for the beer (or wine or cocktail.) Take a load off at the Dodging Duck Brewhaus. With live entertainment year round and almost every day, it's definitely a place you can stay awhile. They were (allegedly) the first craft beer spot in Boerne so you should thank them by buying a pint of their TurfDucken IPA or some Duck Wabbit Season. Cibolo Creek Brewing Co., named after the aforementioned creek, serves crafty beer and a full bar menu from appetizers to burgers. Their front patio kind of feels like hanging at a friend's place with tables scattered about and an ample front porch. If you'd actually like to be on the water, try a flight at Tusculum Brewing Company right on the river. The relaxed patio and regular live music at 259 Brantley's Bistro is spectacular. With a modern Texas menu, featuring everything from wild game and fresh seafood to fresh salads and seasonal soups, you're sure to leave impressed. Important fact: Salvador Dobbs has swings, y'all. Also they have great mixed drinks so stop in for something off their inventive cocktail menu or go with a classic. For our wine-loving friends, Botero Tapas + Wine Bar has the wine scene locked down. This Spanish tapas and wine bar has creative sangrias, a tapas heavy menu, and a lovely outdoor atmosphere.
For more information, check out visitboerne.org or stop by the Boerne Visitor Center at 282 N Main St, Boerne, TX 78006.