Welcome to the Best Seat in the House, a digital series from Visit Austin, bringing together some of the best personalities in Austin's service industry sharing some ways to experience a taste of Austin from home.
In this episode, Chef Chef Fermín Núñez of Suerte shares one of his simple "at home" migas recipes.
Migas
Recipe by Fermín Núñez, Executive Chef of Suerte
Ingredients:
6 eggs
Chopped green onions
Salsa of your choice
Avocado
Fried Tortilla Strips / tortilla chips
Aged cheese
Tortillas
You will need:
Non-Stick Pan
Cooking Oil
Spatula
Instructions:
The first thing you have to do to make migas is scramble your eggs. Crack the eggs into a bowl and whip them with a fork until there are no lumps and the mixture is smooth.
Warm tortillas on a comal or griddle for about 30 seconds on each side.
Heat a lightly oiled pan on medium heat and add the green onions. Cook the onions until soft. If you'd like to add chorizo or another pre-cooked meat, add that now.
The perfect migas are about temperature and time. Turn your heat down to medium low. Add the eggs to the pan and stir continuously with a rubber spatula until you've reach your desired doneness (Chef's is soft scrambled)
Once the eggs are cooked to your liking, remove from heat and fold in the tortilla strips.
To serve, top the eggs with salsa, cheese and sliced avocado. Serve with warm tortillas.
Fermín Núñez, Executive Chef, Suerte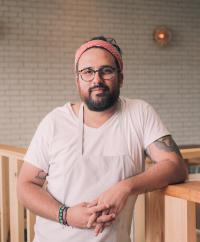 Renowned chef and local Austinite for almost a decade, Fermín Núñez is executive chef of Suerte. Raised in Mexico, Núñez's love for the explosive taste of Mexican cuisine ignited as he learned to enjoy and capture the culinary experience that so often accompanies gatherings between family and friends. Previously assisting chefs at Austin favorites like Launderette, La Condesa and Uchiko, Núñez enjoys creating personal connections with each Suerte customer one tortilla at a time. Núñez's positive reputation hails from his attention to detail and dedication to creating a respectful culture among coworkers.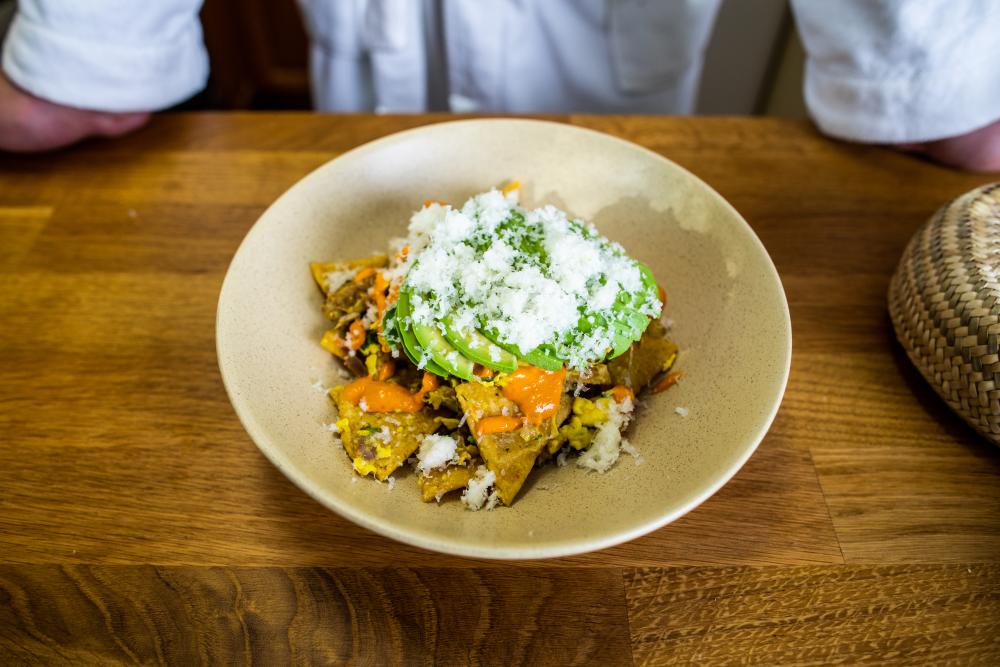 Credit Richard Casteel.
Suerte
Executive chef Fermín Núñez and the Suerte kitchen team have prepared a menu that combines local ingredients, thoughtful cooking techniques and the flavors of Mexico. From the full bar with tasty beverages to the patio overlooking East Sixth Street, Suerte is the perfect spot for anything from date night to a big fiesta.