Austin is an exceedingly dog-friendly city. Everywhere you go, you're likely to find plenty of pups with their owners in tow. And with a warm climate for most of the year, there are lots of dog-friendly water activities so visitors and their pooches can stay cool, especially when temps rise in the spring and summer. Here's where to let your pup splash around in Austin.
Always check bacteria levels before you go to help ensure your companions stay happy and healthy.
A small section of Auditorium Shores between Riverside Dr. And Lady Bird Lake is open to off-leash adventures. There are shady spots to lounge, green space for playing, and even a couple of "dog launches" where pooches can jump into the lake for a quick swim. Park in the roadside lots along Riverside Drive.
Also known as the Barton Creek Spillway, this little oasis has been dubbed Barking Springs for its popularity with dog owners. While pets may not be allowed inside Barton Springs Pool just on the other side of the fence, they are welcome to frolic in the rocky-bottomed waters along the hike and bike trail and enjoy a swim. Park in the paid Zilker Park lots near the pool or the lots off Azie Morton Rd.
Turkey Creek Trail in Emma Long Metropolitan Park on the western edge of the city is a water-loving dog's dream come true. While water levels in Turkey Creek vary depending on the season, there is usually enough for pups to get their feet wet and splash around a few times as the off-leash trail zig zags across the creek a dozen times or so. Park in the lot along City Park Rd. The usual park fees aren't collected for this section of trail.
Located south of town, a section of this park south of William Cannon Dr. is off-leash and since the creek itself typically has water except in the driest months, it's a stellar place to dogs to play, splash through the usually shallow water, and enjoy themselves. There are walking trails for dogs and people, too. Park by the Onion Creek Soccer Complex for the easiest access to Onion Creek Metropolitan Park.
Know well among dog-loving Austinites, Red Bud Isle is a popular off-leash strip of land on the western end of Lady Bird Lake. Dogs can run the loop trail then cool down in any number of side trails that lead down to the water, the most popular of which is located at the island's point. Park in the small lot off Red Bud Trail road, then let your dog roam, splash and play among the trees and along the shore of this 17-acre island.
In North Austin, Walnut Creek Metro Park is a sprawling outdoor area is mostly off-leash (the section north of the creek) and miles of hiking and mountain bike trail are available for ambling before or after you and your dog hit the shallow waters of Walnut or Wells Branch Creeks. There's plenty of free parking within the park.
After all of that activity you and your pup may be ready for some food. Check out these dog friendly restaurants to grab a bite with your furry friend.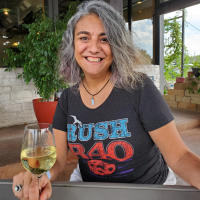 Contributed by Claudia Alarcón
Mexican by birth, Austinite by choice, Claudia has been immersed in the city's food and beverage scene since her arrival in 1984. After years of working in restaurants she started writing about them in 2000, and has seen the growth transformation of the dining scene from the beginning. In her sparse spare time, she watches futbol, tends her garden, and is an active dog rescue advocate. She lives in South Austin with her fur babies, Benji and Eddie.