The free summer music festival, Hot Summer Nights, is back in Austin's own Red River Cultural District and we are so ready to experience another year of amazing local talent. This year's Hot Summer Nights will take place from Thursday, August 26 to Sunday, August 29, 2021. Enjoy the free concerts at some of Austin's top venues: Cheer Up Charlies, Empire Control Room & Garage, Elysium, Mohawk Austin, Stubb's Bar-B-Q, and more. Check out some of the music we're excited to see at this event this month.
8/26/21
Cheer Up Charlies
Known for their darkly comic and nervy take on punk, Big Bill fully embraces the "all are welcome" vibe that Austin is widely known for. Touring throughout the U.S. and Canada in 2017 didn't stop this Austin-grown band from making time to come and perform regularly for its city. It's only fair that you go and enjoy some tunes from their "Stand By Your Bill" album and experience the weird, quirky rock band at Cheer Up Charlies on August 26.
8/26/21
Empire Control Room & Garage
Texas-born and raised and three-timed "Best of Austin", DJ Chorizo Funk, is one of the premiere sound selectors in the Lone Star state. His hip hop, soul, reggaeton, Cumbia, Pop, Afro-Latin, and funk sets show his passion for music and dedication to making a soulful experience for music lovers and dancers. Get to sweatin' and dancin' the night away at Empire Control Room & Garage on August 26 starting at 11 PM.
8/27/21
Stubb's
Cha'keeta B is a rebellious lyrical young femcee from Austin that produces raw rap with substance from a female standpoint. She's accomplished big milestones such as being the only female on freshmen cyphers to engaging in all male rap battles for cash prizes. Setting the bar high and making a name for herself is nothing new to Cha'keeta B. Think you can take her in a rap battle? You won't after hearing her performance at Stubbs on August 27.
8/27/21
Cheer Up Charlies
Heading to Cheer Up Charlies on Friday, August 27 is Daphne Tunes. This live supergroup's music is described as warm pop songs with shimmering, lived-in arrangements, and perfect for a relaxed morning or a long drive. We can't get enough of it. Neither can you? Watch the band perform some of their hit records starting at 9:30 PM.
8/27/21
Cheer Up Charlies
For a more upbeat and dance-worthy show, stop by Cheer Up Charlies on Friday, August 27 to see your favorite electronic pop superstar P1nkstar & Y2K. The release of her debut EP "Number 1 Hits" in March of 2020 consists of futuristic beats and highly processed vocals in which she tells her story that lays out her queer, trans, and immigrant identity in a hyper-meditated world.
8/27/2021
Empire Control Room & Garage
Quin NFN is an American rapper, singer, and songwriter who started rhyming and writing rap songs at six years old with inspiration from artists like Lil Wayne and Young Pappy. He started gaining attention in his hometown of Austin, Texas back in 2016 and now has a second mixtape and millions of views on Youtube.
8/27/21
Mala Vida
Dance the night away with local indie/R&B singer-songwriter Sheila, on August 27 at Mala Vida. After growing and reflecting on life, her debut album, Chilita, explores the duality of strength and vulnerability over dreamy bedroom-pop beats which are not only empowering but also a blast to dance along to.
8/27/21
Mala Vida
The fierce sisterhood, Tiarra Girls delivers an electric sound and anthemic lyrics that celebrates a message of unity and empowerment. The trio constantly faces adversity being an all girl band, but that has never stopped them from showing the world what they are capable of. Experience the girl power magic at Mala Vida on August 27.
8/28/21
Valhalla
Catch some loud menacing psychedelic blues from local rock n' roll band Amplified Heat at Valhalla on August 28. This trio of brothers plays vintage Fenders and Marshalls amplifiers with an old Ludwig drum kit and has been touring since 2004, spreading their brand of intensely fun rock music. You won't want to miss this electrifying and relentless set!
8/28/21
Cheer Up Charlies
Packed with raw emotion, an eclectic mix of sounds, and inspirations from the world around, Torre Blake has a sound that no one will ever forget. Blake was able to gain fans in the Austin area by showcasing her talent at SXSW and securing two headlining sets on the So Far Sounds: Austin roster. Gravitate towards her unique and bold sound at Cheer Up Charlies on August 28.
8/29/21
Mohawk
What started as a local solo act, Star Parks has become a lush orchestra of indie pop sounds. Their music has been featured in the indie film "I Used to Go Here" and their most recent sophomore release continues to push them closer the top of Austin's indie band lists. Catch them on Sunday August 29th at Red River Cultural Districts flagship, The Mohawk.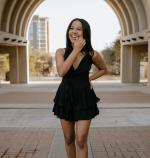 Contributed by Brooke Lewis.
Brooke Lewis is a copywriter and a recent graduate from Texas State University where she was a major in Advertising. As a new resident to Austin, she strives to find new food, music, and nightlife spots every weekend. You can find her work at brookelynnlewis.weebly.com or connect with her on LinkedIn at Brooke Lewis.