Now in it's 5th year, Hot Summer Nights is bringing four packed days of music to Austin's own Red River Cultural District. Originally created to bring awareness to local businesses and artists during the slower summer months, Hot Summer Nights has grown to be a marquee event for locals and visitors alike. Along with the District's annual Free Week festival in January, Hot Summer Nights is a rocking annual event that hosts thousands of attendees and tons of amazing talent in the Live Music Capital of the World®.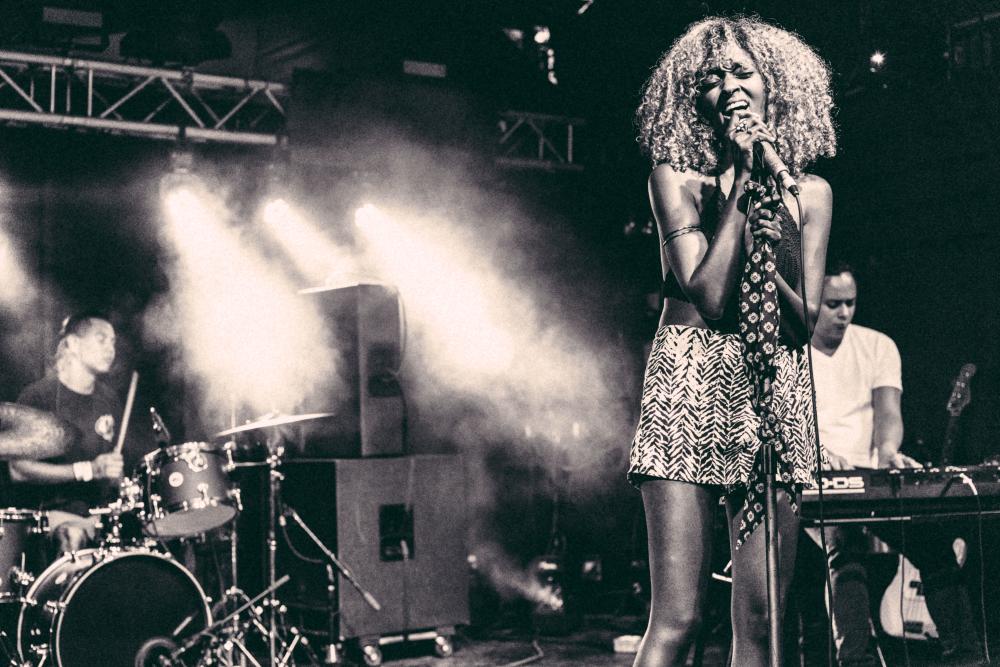 Courtesy of Hot Summer Nights.
When is Hot Summer Nights 2022?
This year's Hot Summer Nights will take place Thursday, August 4 to Saturday, August 6, 2022. Stay the whole weekend to experience a killer lineup of talented musicians in over ten of Austin's most popular music venues. Admission is FREE! Check back closer to the event or view their website for more details.
Featured Artists
Catch a free show to over 100 local and national artists, including some of Austin's top talent. For the full lineup, visit redriverculturaldistrict.org.
Big Bill - Punk rock four-piece band bringing 1980's punk to present day.
Brigitte Bandit - Drag queen known for her weekly shows and likeness to Dolly Parton.
Mama Duke - Austin rapper Mama Duke is a two-time Austin Hip-Hop Award winning Artist and two-time Austin Music Award Nominee.
P1nkstar - Austin's Queer Pop Princess merges pop, electronic and Latin genres for a one-of-a -kind music experience.
Pleasure Venom - They call themselves a "garage punk" band, but Pleasure Venom has quickly grown to be a local favorite. 
SOBBRS - Electro-pop SOBBRS features moody sets and killer original tracks.
Participating Venues
Enjoy the free concerts at some of Austin's top venues:
Cheer Up Charlies
Cheer Up Charlies is an everybody-friendly space, usually playing hot dance hits and electronic music in their kaleidoscopic canopied backyard. Their vegan bar offers kombucha on tap and organic juice-blend cocktails. 
Elysium
Elysium Nightclub is one of the longest standing residents to serve as a venue for Austin's alternative nightlife. 
Empire Control Room & Garage
Empire's modern space boasts three unique stages and has hosted some of the greatest local and international acts. 
Flamingo Cantina
If you're looking for "good vibes music", Flamingo is the place to be. Usual beats include reggae, Latin, hip hop and world music.  
Mala Vida
Check out the first music venue and club to bring música regional Mexicana to downtown Austin.
Mohawk Austin
If you want to see emerging creative talent (from Austin and beyond), you'll need to catch a show at Mohawk. Renovated with recycled materials, Mohawk has two stages, a rooftop, multiple bars and killer live music.
Stubb's Bar-B-Q
More than just a famous barbecue joint, Stubb's is a favorite local entertainment venue that hosts local and national acts. From hip hop to country, rock to electronica, shows at Stubb's are sure to have you headbanging.
Swan Dive
Known for its dance parties and drag shows, Swan Dive is sure to showcase artists that will have you dancing all night long.
The Green Jay
Grab a drink from The Green Jay's vintage bar and jam out to a mix of tunes from talented musicians.
Valhalla
Truly a neighborhood bar, you can listen to live music and challenge your crew to games of pinball, pool and air hockey in between sets.
Ready to plan your trip? Find places to stay near Red River Street.