Whether you are looking to enjoy music with friends of all ages, a significant other, by yourself, or even as a family, Austin has it all! To satisfy your music needs, we've gathered a list of local venues that are open to audiences under 21, and breweries with regular music that allow you to bring the kids along.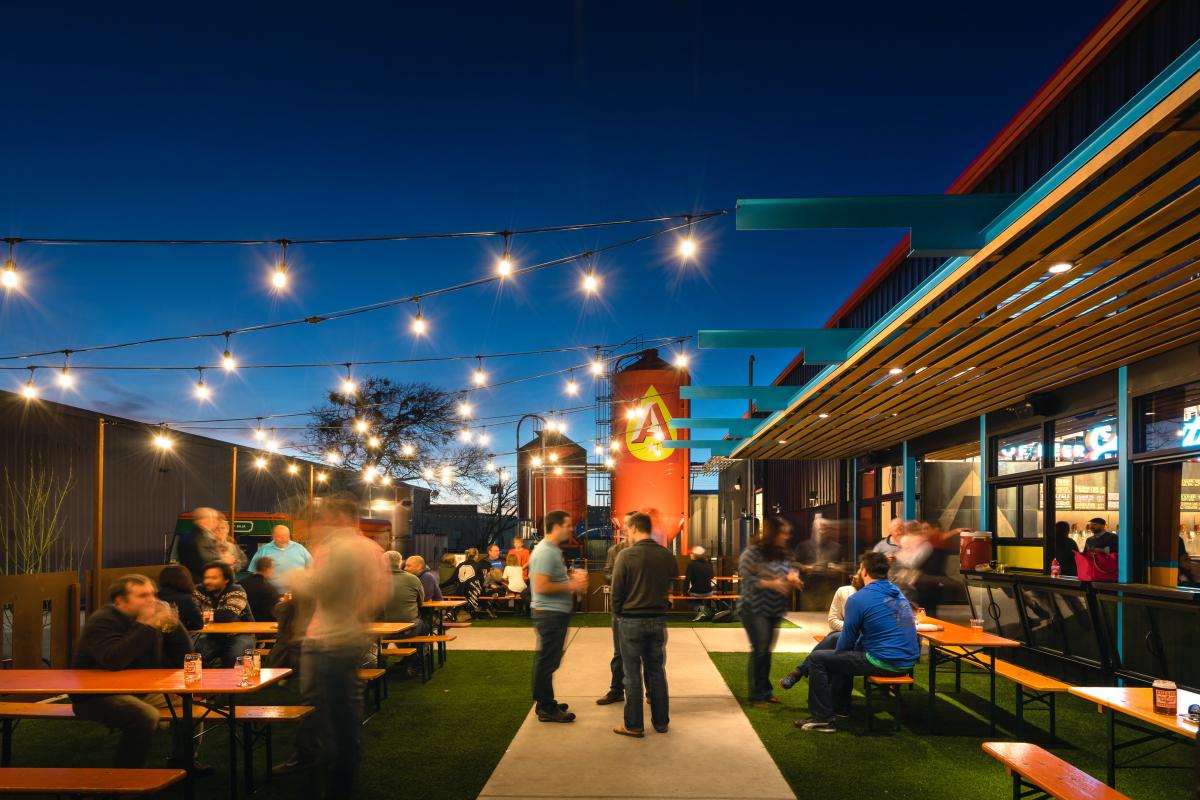 Austin Beerworks. Credit to Chase Daniels.
Beer really does make everything better at the Austin Beer Garden Brewing Company (ABGB). Keep the kids happy with tasty pizza and great sandwiches, all while watching a band perform every Wednesday-Sunday night. The ABGB is the perfect spot to hang with your friends, pups, family, or fellow Austinites.
Besides holding a very vibrant can of beer that shows the fun of Austin in your hand, Austin Beerworks is the place to find a good excuse to make a visit any day of the week because there are always good things going down here. Kids are welcome to get their energy out at the playground while the adults enjoy adult beverages and listen to local live music.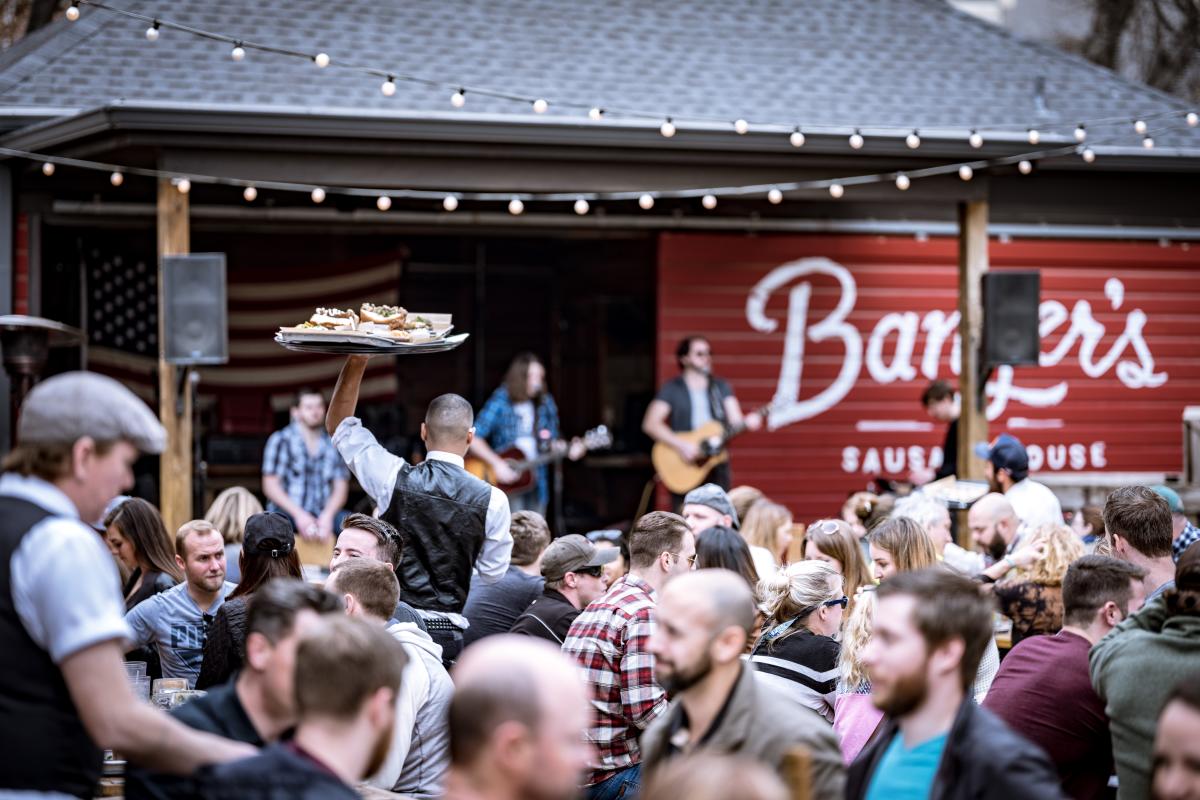 Courtesy of Banger's.
Rainey Street is home to many great bars, food trucks and entertainment spaces, including Banger's. If you are looking to have an old fashioned good time, this is the place to be. The kids will enjoy running around the spacious patio area, while parents can have a taste of their homemade sausages, craft beer, seasonal pig roasts, house-made beef jerky and pickled vegetables while delighting in all forms of Americana and Big Band music. Take a look at their website to discover upcoming events (like the weekly Big Band Brunch).
Located in East Austin is Central Machine Works, a microbrewery beer hall and pub grub menu in a spacious converted machine works. Almost every day of the week, events are held such as live music, Austin FC watch parties and more that are open to guests of all ages. Take a look at some of the happenings each week on their website here.
Your weekly grocery shopping trip just got more fun. A trip to Central Market is a full experience for your senses, with the smell of just-baked breads, sight of quality meat and fish, taste of exotic cheeses, and the smell of freshly ground coffee. Enjoy a variety of live music genres on the patio, along with a large playscape for kids, a full menu of bites from the cafe, cold drinks and more! Visit the website to find events going on and plan your next grocery trip accordingly.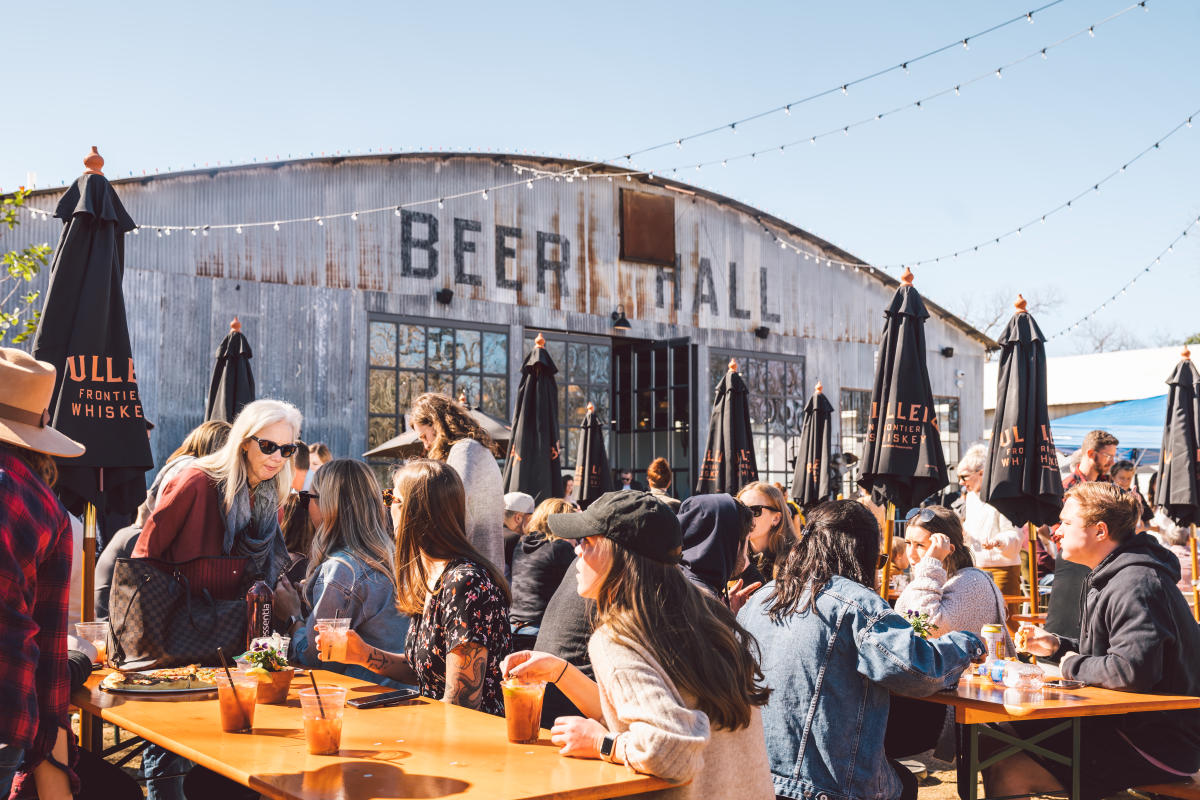 Central Machine Works. Credit to Jenna Krackenberger.
East Austin is home to plenty of casual neighborhood coffee houses with great atmospheres, and Cherrywood Coffeehouse is one of the longtime local favorites. You will experience a true Austin vibe at Cherrywood, where they host community events, free yoga classes, live music, free kid-friendly shows on Sundays and a patio for your four-legged friends. For the adults, it doesn't get much better than their extensive draft beer list and Ruta Maya coffee!
Just outside of Austin, in Dripping Springs, is Family Business Beer Company. This family-owned brewery is the perfect place to relax, eat some pizza, enjoy a wide variety of hand-crafted beers and experience local live music. There's a large, enclosed playground for the kids, and adults will enjoy lawn games like horseshoes, corn hole and bocce ball. Check out on their Facebook page for upcoming events.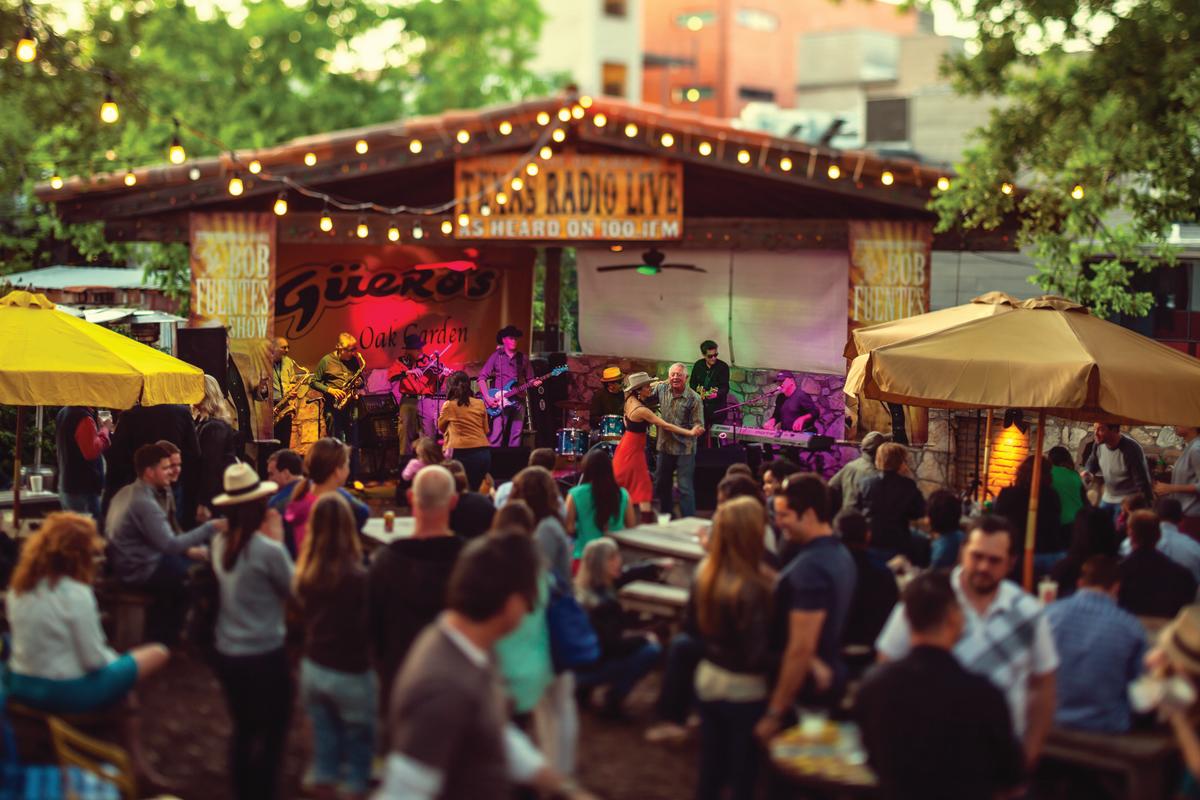 Guero's Oak Garden. Credit to Andy Mahr.
Full of vibrant colors, hand-shaken margaritas, Mexican beer and tasty tacos is South Austin's Guero's Taco Bar, where visitors and locals flock every day of the week. If there's a wait, no worries; guests can enjoy live music and appetizers in the Oak Garden, Wednesday through Sunday. It's a great spot to get your Tex-Mex fix while enjoying local, live music with space for the kids to dance.
Jester King Brewery isn't your average brewery. There is plenty to do at this farmhouse brewery, such as an outdoor dining area and an inventive menu made with locally grown ingredients, a constantly rotating list of carefully crafted beer, hiking on the beautiful Hill Country trails and going on a tour of the on-site working farm. All ages are welcome so everyone gets to experience this authentic unique spot. There's a spacious play area and sand pit for kids, and they're sure to enjoy meeting the baby goats on the farm tour each spring.
This spot is one of the coolest hidden gems in town—an all ages music venue within a coffee shop. Kick Butt Coffee was founded by local Tai Chi and Kung Fu master, Thomas Gohring. He strives to create a space for a community who loves coffee, booze, food, comedy and, yes, martial arts. The only thing that'll kick your butt here is the urge to stay here all night!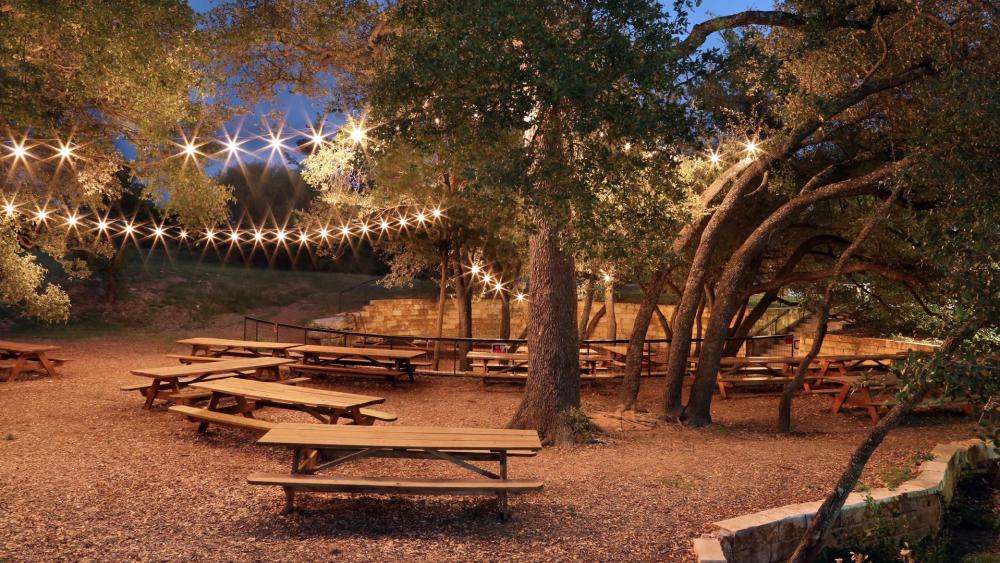 Courtesy of Live Oak Brewing.
Only eight miles from downtown Austin and located near the airport, Live Oak Brewery has plenty of room for passionate beer drinkers to sit back and enjoy a cold one. Don't miss the German comfort food from the on-site Black Forest food truck. This family-friendly brewery has a 9-hole disc golf course and plenty of space to run around, welcomes well behaved pets on a leash, and offers regular live music in the biergarten.
There is always something going on, or something worth raising a glass for, at Meanwhile Brewing Company. Their space offers an outdoor soccer field and playground for the kids, an outdoor stage to listen to local musicians perform, and a private events venue for special occasions. Expect great beer, great times and even better company.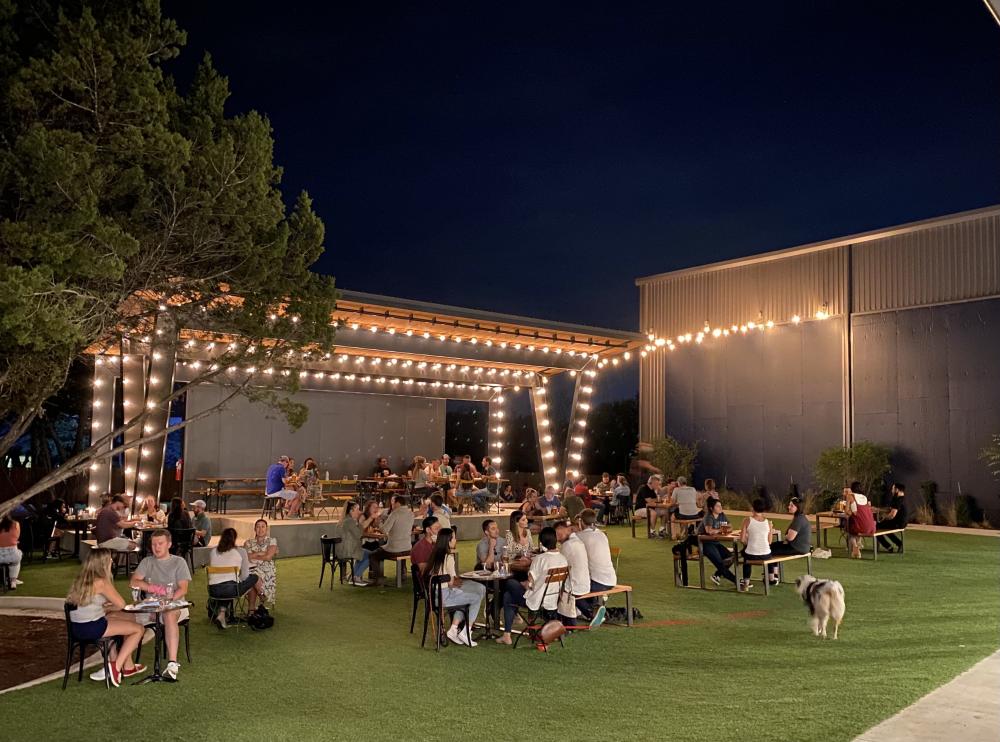 Courtesy of Meanwhile Brewing Co.
Located in the heart of Downtown Austin is the Mohawk, a one-of-a-kind, all-are-welcome live music venue, event space and bar. Stop by to enjoy the unique indoor/outdoor setup, where they host killer, all-ages rock shows from local and touring musicians nearly every night of the week.
Pop in to Pinthouse Pizza & Brewery for casual vibes, open seating and award-winning craft brews. While adults sip on some tasty beer, the kids are able to indulge in yummy pizza and a selection of vintage arcade games. Visit the multiple locations in the Austin area.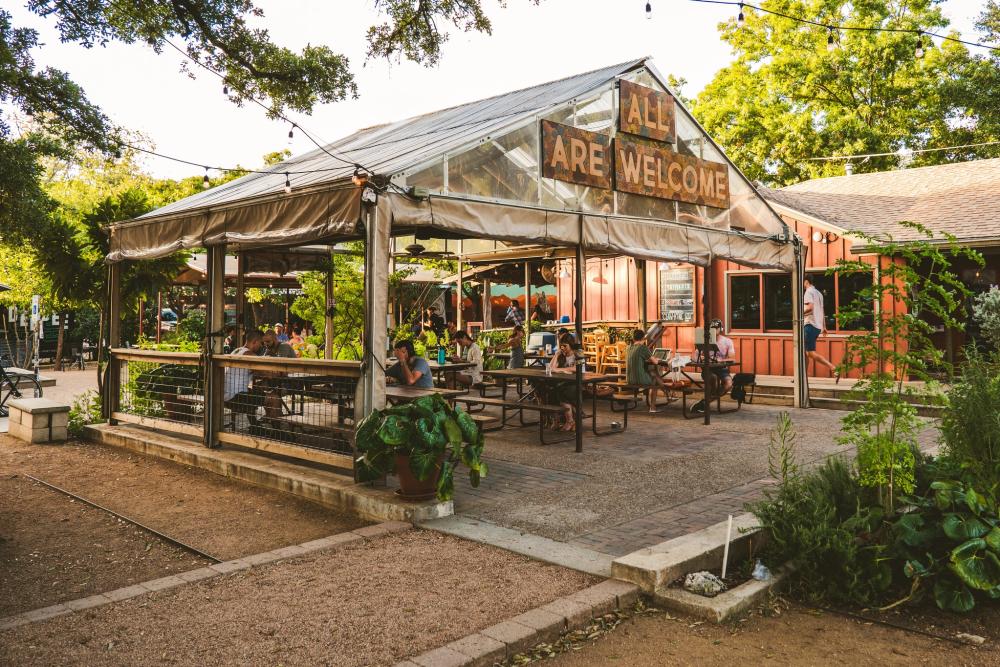 Radio Coffee + Beer. Credit Arts + Labor.
Visit Radio Coffee + Beer to experience one of the best ongoing music residencies in town. Radio hosts Bluegrass Nights every Monday on the expansive patio, located in South Austin. Plus, be sure to try the delicious bites from on-site food trucks Veracruz All Natural and Dee Dee Thai, along with coffee, beer, wine and cocktails at the bar, seven days a week.
Named after and located in the St. Elmo neighborhood of South Austin is St. Elmo Brewing Company. This beer hall and beer garden is where locals gather six days a week. Visitors of all ages can enjoy the regular live music, large selection of board games, community and yoga events and more!
Stubb's is more than just a popular barbecue joint. It is also a local entertainment venue that holds concerts with legendary performances. The venue boats two stages, one indoor stage that's home to a weekly Gospel Brunch, and a large outdoor amphitheater with a full calendar of local and touring artists. Reserve your spot at the family-friendly Gospel Brunch to indulge in authentic Texas barbecue and live music every Sunday.
Vista Brewing is a 21-acre destination brewery just outside of Austin, in Driftwood, Texas. Here, guests can breathe in the fresh Texas Hill Country air, listen to live music on the outdoor stage and enjoy beverages and bites in the beer garden. The brewery is very spacious, so bring the kids along to roam around in the playground while the adults try a taste of the beer and wine.
Find even more Austin music venues with our full Venue Guide, and keep an eye on upcoming family-friendly events on our Calendar.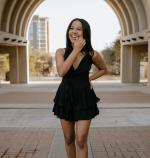 Contributed by Brooke Lewis.
Brooke Lewis is a copywriter and a recent graduate from Texas State University where she was a major in Advertising. As a new resident to Austin, she strives to find new food, music, and nightlife spots every weekend. You can find her work at brookelynnlewis.weebly.com or connect with her on LinkedIn at Brooke Lewis.