During this time, the health and well-being of our local community and our visitors is vital. Travelers to Austin – and all destinations – should continue to observe the health recommendations of national, state and local public health officials, as they plan to travel, when they travel and when they are visiting any destination. For the latest updates about the status of each featured business, please check each location's website. To learn more about local restrictions and closures in San Antonio, click here.
Just over an hour from Austin, San Antonio has emerged as a Texas hot spot and a great day tripping destination. While it's always been one of the largest cities in the state, over the past five years it's come into its own as a great destination for food, fun, drinks and cultural adventures. You should still wander around the Riverwalk but there are lots of other fantastic neighborhoods and developments that are worth exploring too.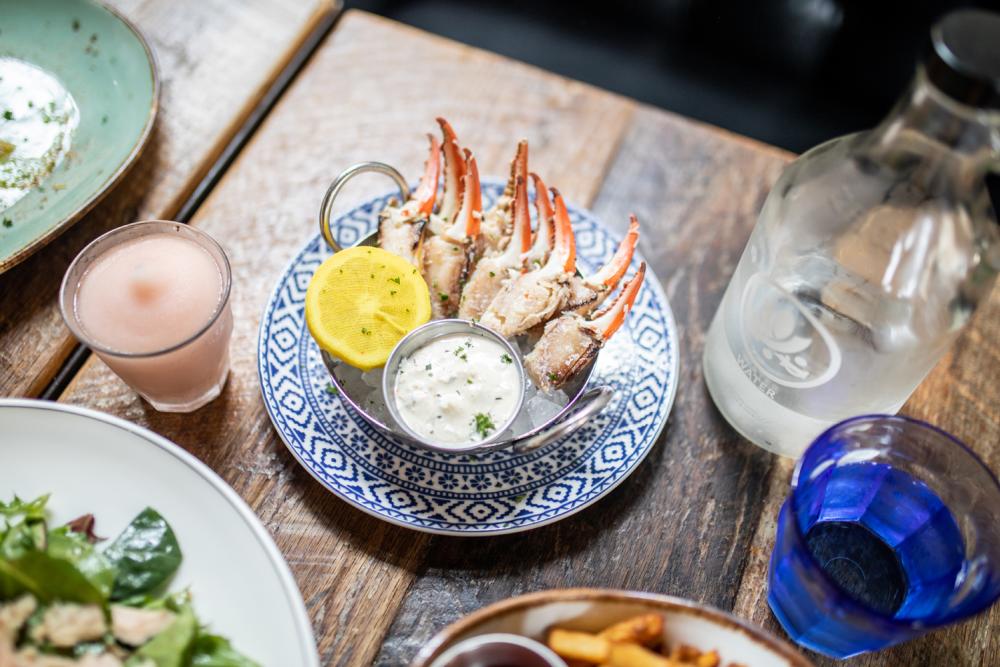 Southerleigh. Courtesy of the Pearl.
Restaurants
San Antonio's food scene has traditionally skewed Mexican. Given its proximity to south Texas, you're on solid footing getting a taco just about anywhere (and especially at TacoFest). Of late, however, the restaurant scene has evolved into something special, with creative and award-winning chefs bursting onto the scene. Like the folks from Meadow Eatery + Bar which blends southern classics with Texas seasonal ingredients, part of the redesigned Alley on Bitters development. The Pearl development is home to the meat-forward Cured, Southerleigh's Fine Food, and a year-round farmer's market. San Antonio also has a food hall, The Bottling Department, featuring five different restaurants including a ramen spot, a bakery, a rotisserie, a sandwich shop and more. Griddled burgers on a buttery bun are on the menu at hole-in-the-wall Papa's Burgers and the Philly at Gino's Deli and Ice House has landed them a number of awards. Outlaw Kitchens gets rave reviews despite (or maybe because of) their very short prix fixe menu. It changes every day and they source as locally as possible for each dish. If bliss is a gorgeous space and a perfect meal, then Bliss the restaurant delivers with melt-in-your-mouth seafood and impeccable service. Restaurant Gwendolyn also hits that high-end food factor, not only coming up with some of the most creative food in the city but also exclusively using 1800s cooking techniques for every dish. The Smoke Shack has that smoky, divey feel you want in a barbecue restaurant just as Nonna Osteria's rustic Italian food is evocative of someone's Italian grandmother's home cooking. And we'd be remiss if we didn't mention Alamo Cafe's absolutely legendary food, which starts with housemade flour tortillas and spreading butter.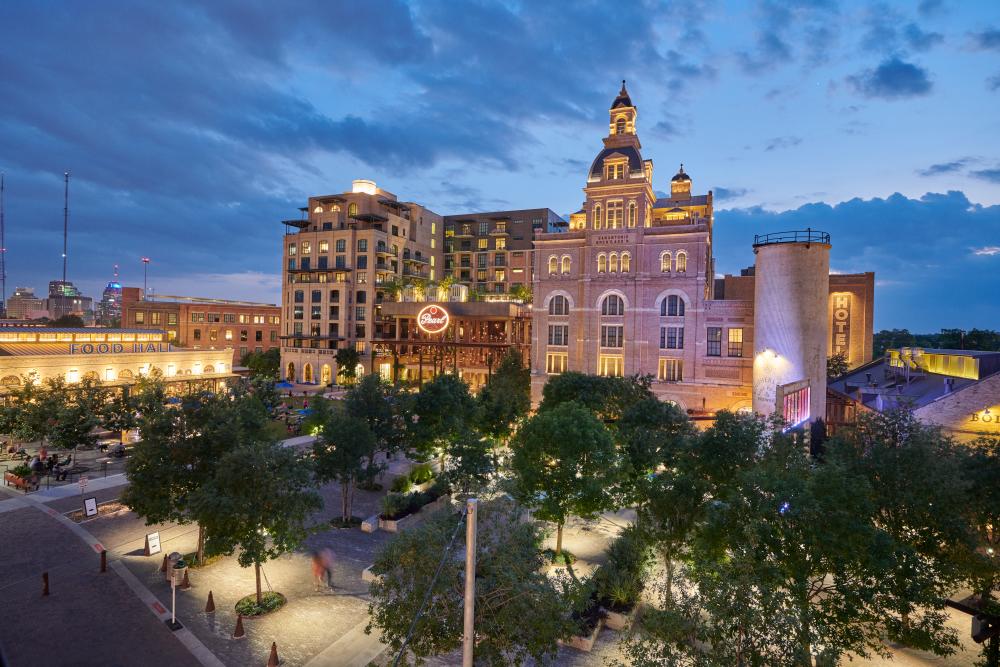 Courtesy of the Pearl.
Drinks
There are new bars popping up in San Antonio weekly. Honkytonks, craft breweries, and speakeasy-style bars boasting modern cocktail alchemy are littered throughout the city. In San Antonio, you're never too far from a really great bar, like Jet-Setter. A relative newcomer, this bar is globally influenced, using flavors from all over the world in their handcrafted cocktails. The Modernist feels like the best secret with a barely discernable sign and no menu—tell the bartender what you like and they'll whip something up. The Havana Bar is another such underground spot, albeit with a distinctly Cuban tone and a killer mojito. The historic Esquire Tavern is not only the oldest bar on the Riverwalk but one that keeps garnering accolades for their fantastic drinks and gastropub food. And if vintage is your vibe, Bang Bang Bar is quirky and kitschy, unapologetically divey and home to lots of live music. For karaoke, take yourself a real down and dirty dive, the Hidden Tavern. Wine connoisseurs will find a home at High Street Wine Co at the Pearl or Copa Wine Bar with a solid wine list and a good food menu. Craft beer lovers will find a cure for what "ales" them at spots like Blue Star Brewing, Freetail Brewing Co, Ranger Creek Brewing & Distilling, and Maverick Whiskey Distillery & Brewery.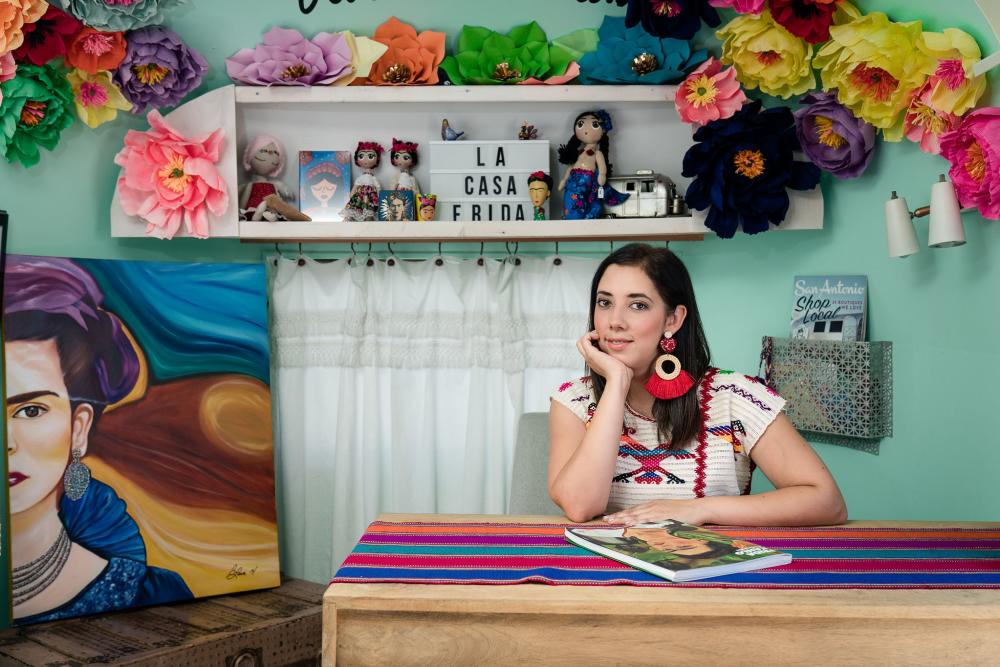 Courtesy of La Casa Frida.
Shopping
There is literally no way to encapsulate all of the shopping adventures that await in San Antonio. There are whole shopping complexes like The Rim, Shops at La Cantera and Shops at Rivercenter but there are also local standouts. Places like La Casa Frida which sells highly unique items from Mexican artisans like bright ponchos and tooled purses. Her Hippie Heart Boutique is just what you'd expect with long flowy dresses, beaded bangles, and an overall bohemian feel. Set aside a day for a visit to Trader's Village. This enormous market feels like a carnival, and indeed there are actually kiddie rides in the center. Make sure to wear comfortable shoes to visit over 1000 vendors. Both Bird and Pear and Feliz Modern will keep you smiling with their eclectic collection of artwork, decor, funky items, and tongue-in-cheek accessories. And no trip to San Antonio would be complete without a trip to La Villita Historic Arts Village. Walk down the cobblestone streets in old San Antonio and dip in and out of the over 25 shops and galleries selling handmade crafts, jewelry, and cultural keepsakes.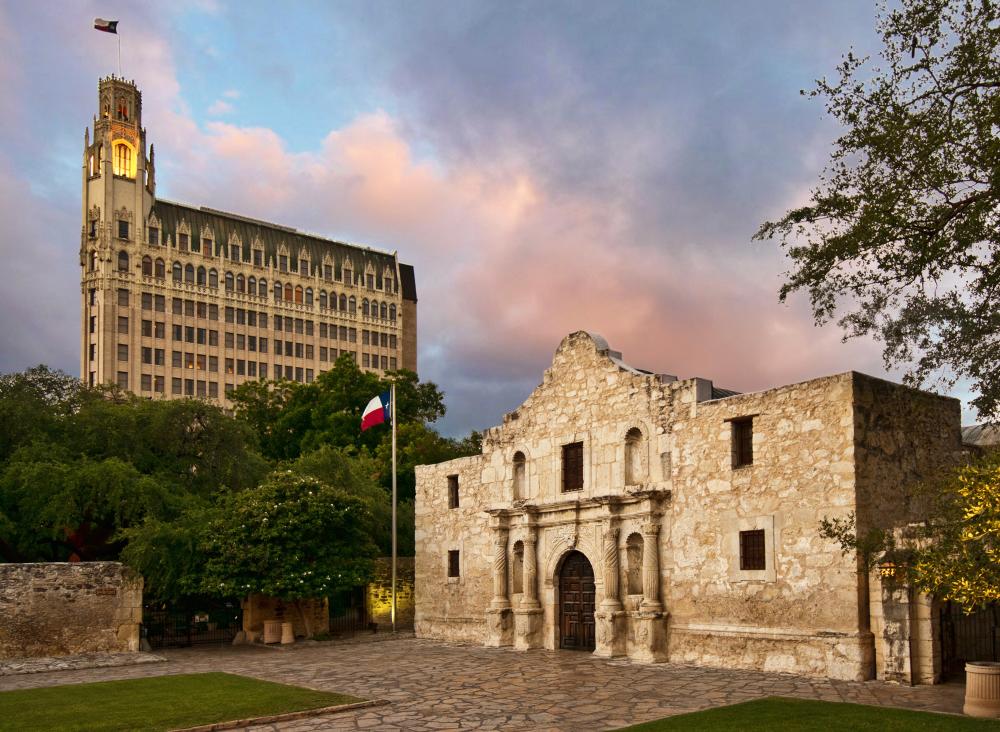 Credit visitsanantonio.com
Attractions
San Antonio is an old city with an incredibly rich history. The most important and most obvious tourist attraction is the infamous Alamo, smack dab in the middle of downtown. Another historical site is the Hemisfair, originally the location for the 1968 Worlds Fair. It's been turned into an awesome family park with a huge Tower of the Americas fountain, a splash pad, picnic tables, climbing structures, and yard games. For something more tranquil, try the Japanese Tea Gardens with lush green gardens, shaded walkways, tranquil waterfalls, and koi ponds. Keep on the natural track with a visit to the Botanical Gardens where you can walk around the rose garden, take the Texas Native Trail, and birdwatch for native species. They have cool events too so make sure to keep an eye on the calendar. One of the most interesting attractions is Natural Bridge Caverns, an enormous underground cave system just a short drive or bus ride out of the city. There's a 90-minute tour plus a ropes course, a zip line, and fossil mining. Closer in town is the Robber Barron Cave, an extensive maze cave with numerous interconnecting passages, part of which you can explore. For big fiesta days like Cinco de Mayo and Día de Los Muertos, the Historic Market Square will be packed with people and working artists selling clothing, art, handicrafts, and food from street stalls.
Stop by the Visitor Information Center at 317 Alamo Plaza, San Antonio, TX. And learn more at www.visitsanantonio.com.