Known for being an expansive district of oak tree-scattered neighborhoods, green spaces, and the quintessential weirdness that, well, keeps Austin weird, South Austin is filled with a ton of hidden gems that locals like to keep secret. A secret no more, here are some of the best live music spots you need to check out down south.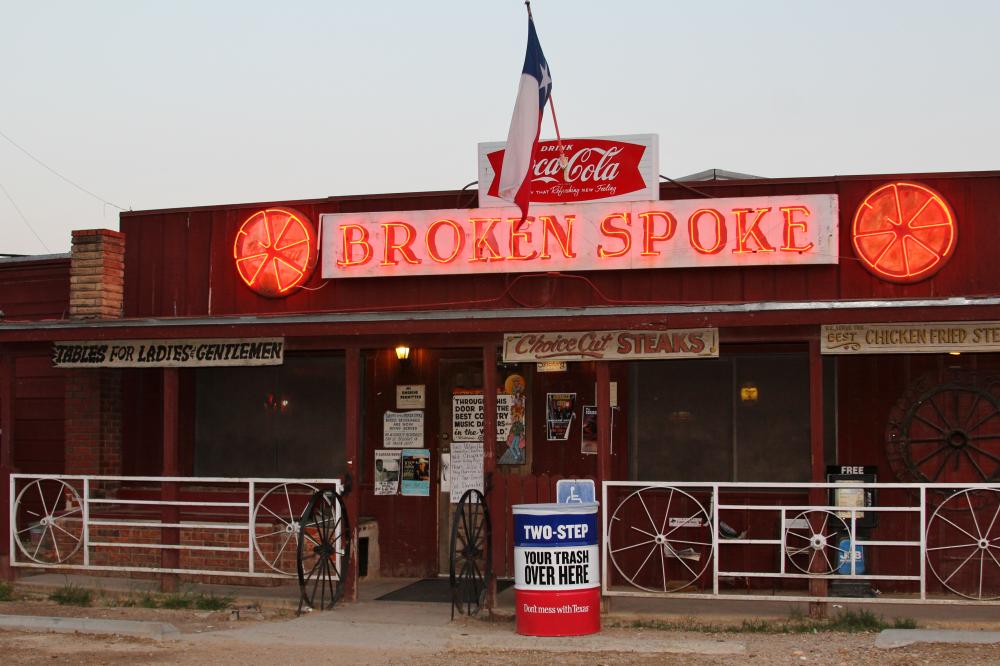 Broken Spoke Photo Credit Winker Withaneye.
If you want a truly Texan experience, visit the historic Broken Spoke, a honky tonk established by the late Austin icon James White in 1964. The venue has been the pride and joy of Mr. White and his wife Annetta for decades. The Spoke offers everything from Texas two-steppin' lessons to chicken fried steak and ice cold beer. It's seen a young George Strait come through the doors to cut his teeth as a fresh face in country music. Come experience the Broken Spoke for yourself and feel the warmth and energy left behind by the legendary James White.
Near the beginning of 2020, the owners of popular Mueller-area pastry shop Quack's 43rd Street Bakery opened their long-awaited South Austin sister store, Captain Quackenbush's Coffeehouse, to much local anticipation. Shortly after their grand opening, the bakery debuted their indoor stage, Soundspace. The wait was well worth it as Soundspace has become loved by locals who appreciate it as one of Austin's most intimate and best sounding rooms.
Down the street, C-Boy's Heart & Soul is a South Congress juke joint with a full calendar of live music. Steve Wertheimer, a consummate club owner and lifelong music fan, opened C-Boys as a tribute to C-Boy Parks, a friend and avid blues aficionado. While you're there, chill on the venue's breezy outdoor patio, an Austin trademark, or enjoy a drink in the "Jade Room," the intimate cocktail lounge upstairs.
Starting in 1955 in the same location on South Congress that it sits to this day, the Continental Club has served as a supper club, Austin's first burlesque club, and finally a blue collar bar. The club's accompanying speakeasy-style gallery area, as well as its main stage, has seen legendary performances by Stevie Ray Vaughan, Joe Ely, and Robert Plant. Today, it continues to host only the highest caliber local acts like the Heartless Bastards, Dale Watson, and Tomar & the FCs.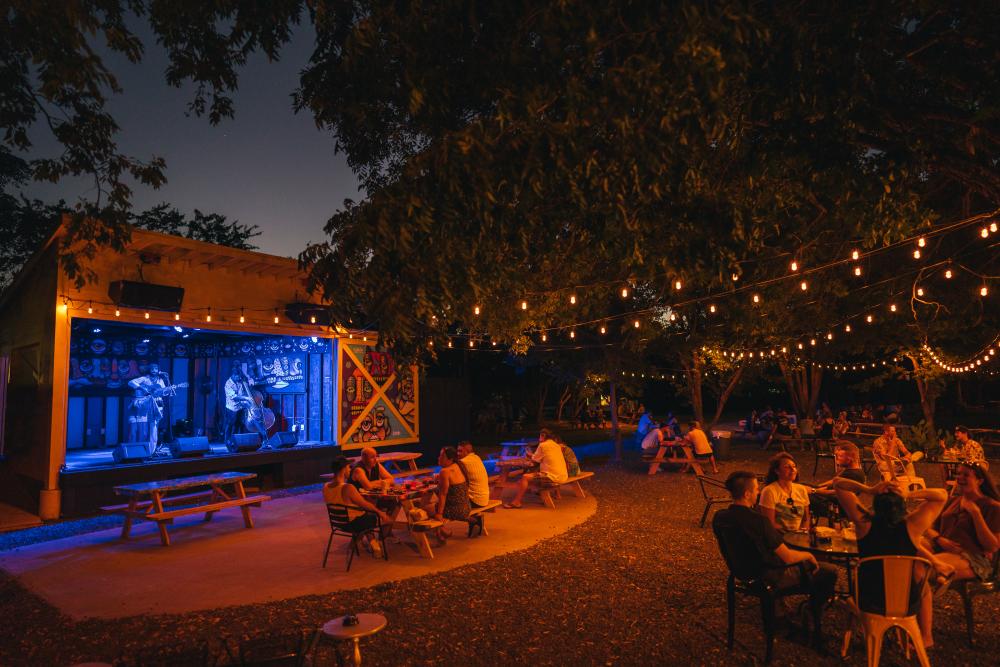 Far Out Lounge & Stage. Credit Roger Ho.
The Far Out Lounge & Stage is a food truck park, watering hole and live music venue all at once. Recently voted "Best New Venue" at the Austin Music Awards, the Far Out is epitomized by its upper echelon food truck experience, multiple stages for live music, and heavy-handed pours. Booking a venue that sprawls across three acres, the Far Out's ace talent buying team ensures that the party never stops. 
Want the Rainey Street experience without having to go to Rainey Street? Lustre Pearl's South Austin location may do the trick. Although similar to its other locations, Lustre Pearl South has a personality all its own. This sprawling bar and venue features three areas for play, ample outdoor seating, towering light-strung trees, an excellent selection of food trucks, and of course, live music. Patrons can take advantage of the South Austin Shuttle to go on more bar-hopping adventures to neighboring watering holes like the double-decker Armadillo Den or family-friendly South Austin Beer Garden, the latter of which features a massive 62-tap beer wall and a spacious outdoor area with games, fire pits, and live music.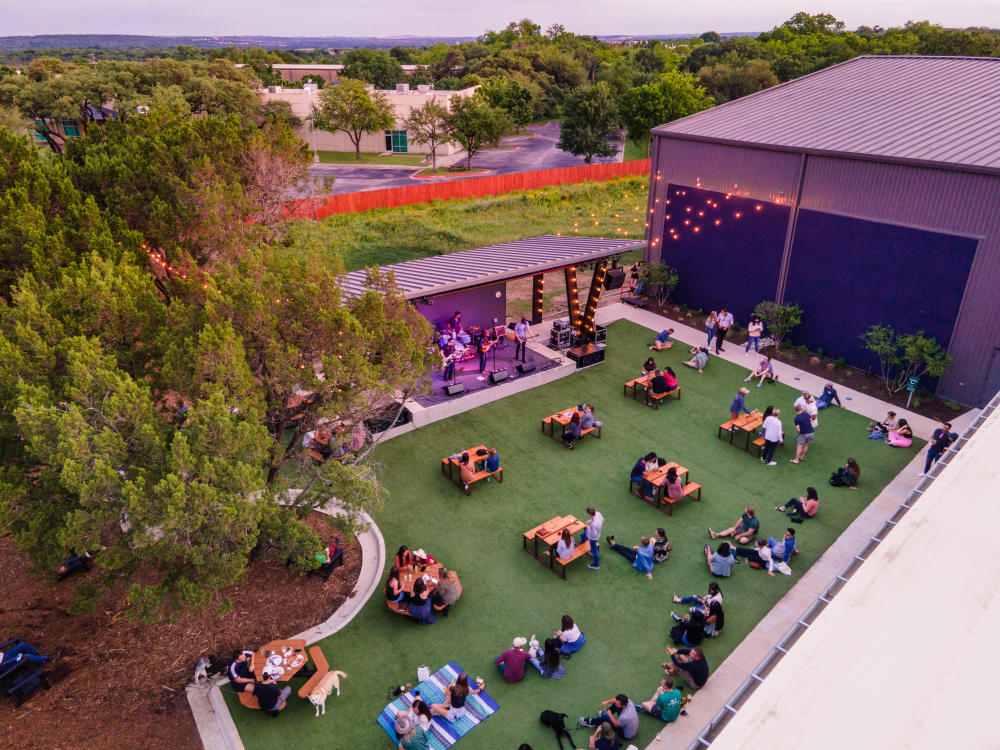 Courtesy of Meanwhile Brewing.
On the southeast side of town, Meanwhile Brewing quietly built one of the best backyard sound stages in Austin. As unassuming as it was, it was met with an increasing amount of fanfare as patrons began flocking to the spacious outdoor acreages of this new South Austin venue. Every Tuesday and Thursday night, Meanwhile hosts free live music. Stop by for some family-friendly and dog-friendly fun.
Whether you call yourself a honky tonk aficionado or if you just know how to have fun on the dancefloor, Sagebrush is a trusty spot to catch some local country bands that will give you a hootin' and hollerin' good time. A sister bar to East Austin's White Horse, the Sagebrush calls South Austin home. Out front, patrons can get their grub at Cajun food truck Baton Creole while out back, the venue brandishes a humbly sized stage and beverage trailer. While the set-up may seem unassuming, the venue is nothing short of special.
Want to jam out to live music in other areas of town? Check out our Music Venue Guide for a complete list of places to see live shows in Austin.
Contributed by Nathalie Phan.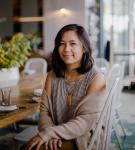 Nathalie Phan is a local music connoisseur and the founder of On Vinyl Media and SoundSync Music. She is passionate about helping Austin musicians and the local music industry.
Twitter: @natphantastic