Home of Texas favorite and country music legend Willie Nelson, Spicewood has a charm all its own. Fantastic barbecue, rolling hills, fabulous vineyards, and incredible views make this day trip really memorable. You'll feel miles away from the city while still satisfying that need for novelty.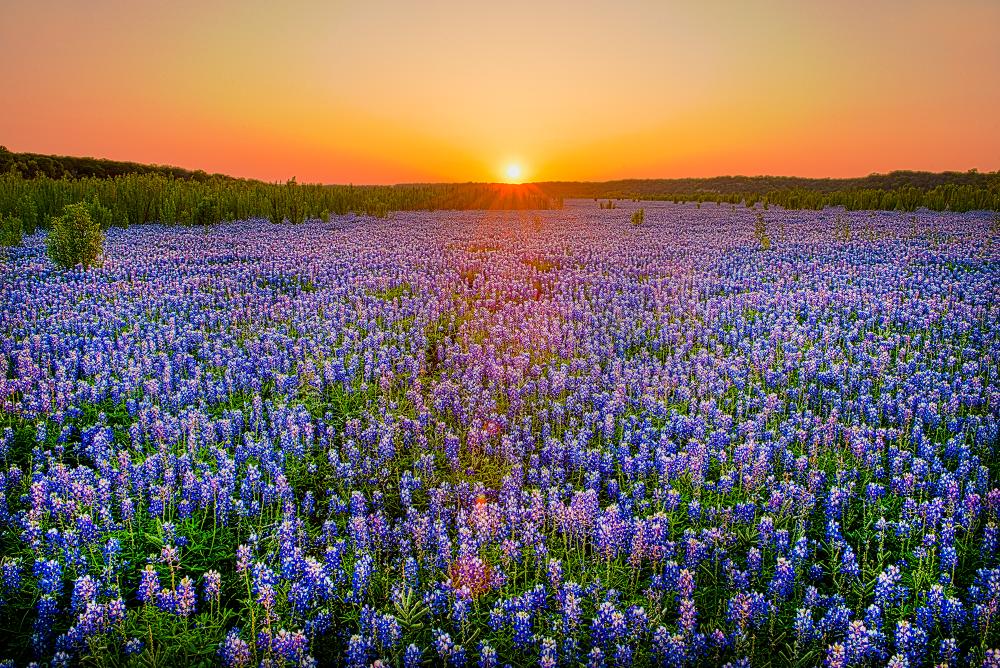 Bluebonnets at Muleshoe Bend. Credit Theresa DiMenno.
Nature & Adventure
Muleshoe Bend Recreation Area is known best for one thing: bluebonnets. Rolling fields of bluebonnets pop up in the spring and it's truly an awesome sight to behold. Of course, everyone else is beholding it too so in the non-wildflower season, come here to hike the trails, enjoy the green fields, and dip your toes in the water. It's also dog-friendly! Krause Springs is definitely a top five natural water destination in the area. There are jump off points, a rope swing, waterfalls, and a hidden grotto spread among the 32 springs and the man made natural pool. Plan to spend the day here hiking around or sunbathing on the giant rocks. If you'd like to stay overnight, there are 24 RV sites with hookups. Cruise through the air on a Cypress Valley Canopy Tour, five ziplines that take you through a wild ride from platform to platform. After your tour, you can take a dip in their small private lake, have a picnic, or even stay overnight at their contemporary treehouses. They also offer night rides with glow bracelets and twinkly lanterns in the trees.

Cypress Valley. Credit Smiling Forest Photography, Shannon Vandivier.
Golf
Natural water is abundant in this area of the state but Lakecliff Country Club took it up a notch. They created twelve man-made lakes to complement their views of the hill country. You can play both tennis on US Open style hard courts and play some rounds on the Arnold Palmer designed golf course. Have a bite and a bloody mary at onsite Briarcliff Bistro. Nearby, Willie Nelson's Pedernales Cut-N-Putt is exactly the opposite of that country club scene. It's golf… the Willie Way and that means fun. Loud tunes, no dress code, and rules like "when another player is shooting, no player should talk, whistle, hum, click coins, or pass gas!" No need to be a member to play.
Spicewood Restaurants
Spicewood has become a culinary destination for people with all different types of palates. If you're a barbecue snob, then Opie's is definitely on your map. It's in competition for the best barbecue in Texas. When you walk in, you're greeted by a huge pit smoking any kind of meat you could desire. Buy it by the pound and make sure to add on some jalapeno creamed corn and that tater tot casserole. It's All Good barbecue stands by their assertion that everything there is good—and locals agree. Brisket, beef ribs, and short ribs are the winners here—they have the trophies to prove it—so make sure to get there early because they can sell out. Take a walk on the wild side and head to Kaiser's Twisted Barbecue. They're mixing it up by adding Asian fusion flavors like five spice, vindaloo, szechuan, and more creative takes. Call ahead to reserve the Wagyu Hoisin Beef Ribs. For fine dining, try Apis Restaurant. Yes, this is the kind of place that plates things, where everything has a multi-layered story, and it was likely grown out back. And it is amazing. Craft cocktails, micro-brews, a beautiful restaurant and if you'd like, a tour of their very own beehives. They've also got a casual concept—Pizzeria Sorellina with the same dedication to quality ingredients but with more fun and a kids playground. High quality wood-fired pizza with creative toppings await at Pizzeria Casa Nostra. Cute and casual with outdoor seating, their pizzas have that kind of thin crisp plus chewiness that's so hard to achieve.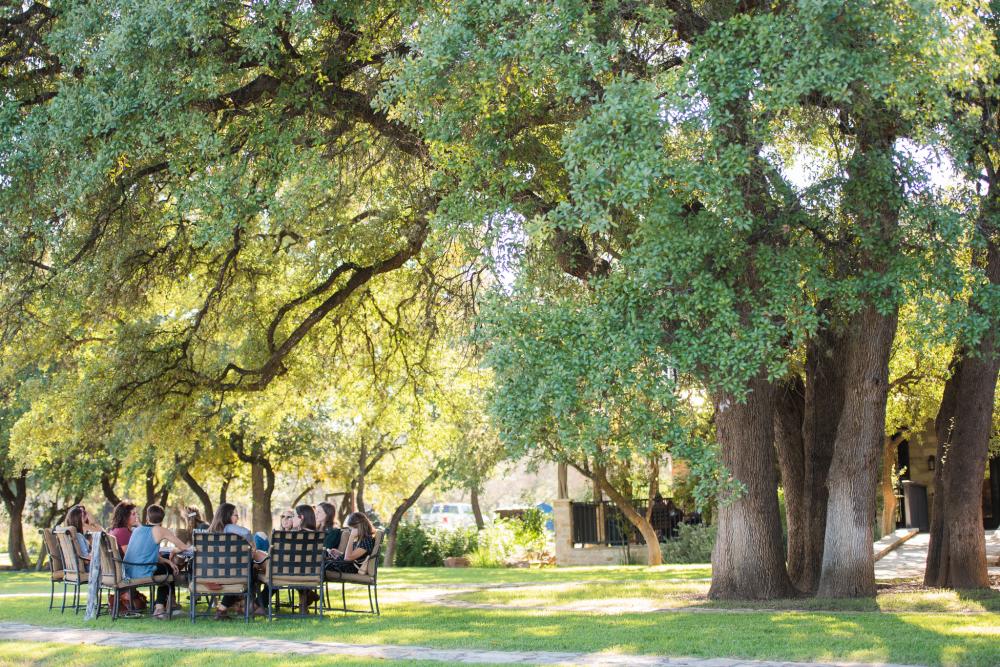 Courtesy of Spicewood Vineyards.
Spicewood Bars & Nightlife
Don't you dare go to Spicewood without stopping into Poodie's Hilltop Bar & Grill. It's practically a cardinal sin. This legendary venue is the watering hole for all kinds of famous Texans, likely because the original owner, Poodie Locke, was Willie Nelson's stage manager. Memorabilia of all kinds, shuffleboard, pool table, an outdoor deck, cheap beer, and a lot of fried stuff on that menu. If you're lucky, you may even spot a celeb. Live music, deck seating, a food truck, and some seriously strong drinks are on the menu at Iron Wolf Ranch and Distillery. It's family-owned and family friendly with games and a playground for kiddos spread out on 15 acres of land. It's also dog friendly with entertainment every Saturday. When it gets cold enough, blaze up those fire pits! Vineyards can be snooty—that's the opposite of what you'll feel at Spicewood Vineyards. Family-owned, the vineyards are gorgeous and their tasting space feels like you're hanging out in a friend's home. They host a ton of events on the grounds, including their annual Paella party, the Friday Night Wine Down on the first Friday of the month, and other casual gatherings that bring wine together with that Texas life.