If there's any place where you can find just about anything you want, it's Domain NORTHSIDE.  Locals and tourists alike mix and mingle in this thoughtfully designed complex in north Austin. Delicious dining options abound in every flavor imaginable. The immense variety of stores is a huge draw for those seeking both haute-couture and fast fashion. And after all that walking and buying, the nighttime is the right time to enjoy a little entertainment and a cold cocktail (or three.)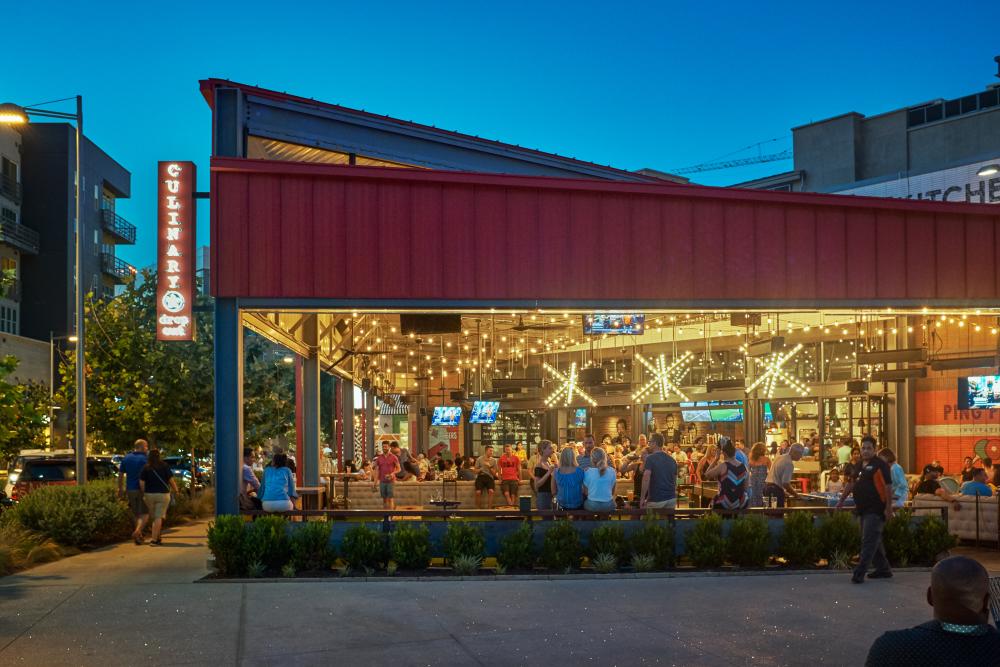 Culinary Dropout. Credit Alex Hayden.
Dining
The Domain NORTHSIDE is not the place to wear constricting pants. You could spend an entire week visiting the wide range of restaurants and still feel like you missed out. Try some tacos at Cyclone Anaya's Tex-Mex, spend lavishly on $2 mimosas at brunch at Taverna, or sneak into Bazille for some lobster mac n cheese at Nordstrom. Then the eating really starts.
Bakery Lorraine: Something sweet will make your morning all the richer. There's no shortage of delectable quiches and baked goods like biscuits with cultured butter and house jam or Raspberry Coffee Cake.
Thai Kun: Some of the most authentic Thai food in Austin. Originally an East Austin food truck, this spinoff has all the favorites and then some. For spice lovers, the Waterfall Pork is a must.
Mia Italian Tapas: Sometimes everyone wants something different and that's okay. Enjoy your Italian food, tapas-style with bites of smoked salmon bruschetta, arancini, and meatballs or opt for the heartier fresh-made pasta.
Lotus Chinese: Not that same ol' sesame chicken, this modern Asian-fusion spot is heavy on the Cantonese. Dig into a bowl of fried rice and some steaming soup dumplings and feel like a very lucky cat.
Culinary Dropout: Comfort food meets good times at this casual restaurant whose menu runs the gamut from BBQ pork belly nachos to pesto shrimp orecchiette. Happy hour starts at 3 pm and has $5 glasses of wine.
Second Bar + Kitchen: Upscale but unfussy, Second Bar + Kitchen never fails to please. It's an all-day affair so start your morning with a Texas benedict, eat their famed Congress burger for lunch, and keep your eye on that black truffle and bleu cheese pizza for din din.
Sway: This forward-thinking Thai restaurant levels up the classics into something remarkable. Their unique seating style and imaginative dishes make this a favorite for dinner and weekday lunch. Try the Tiger Cry and the Som Tam.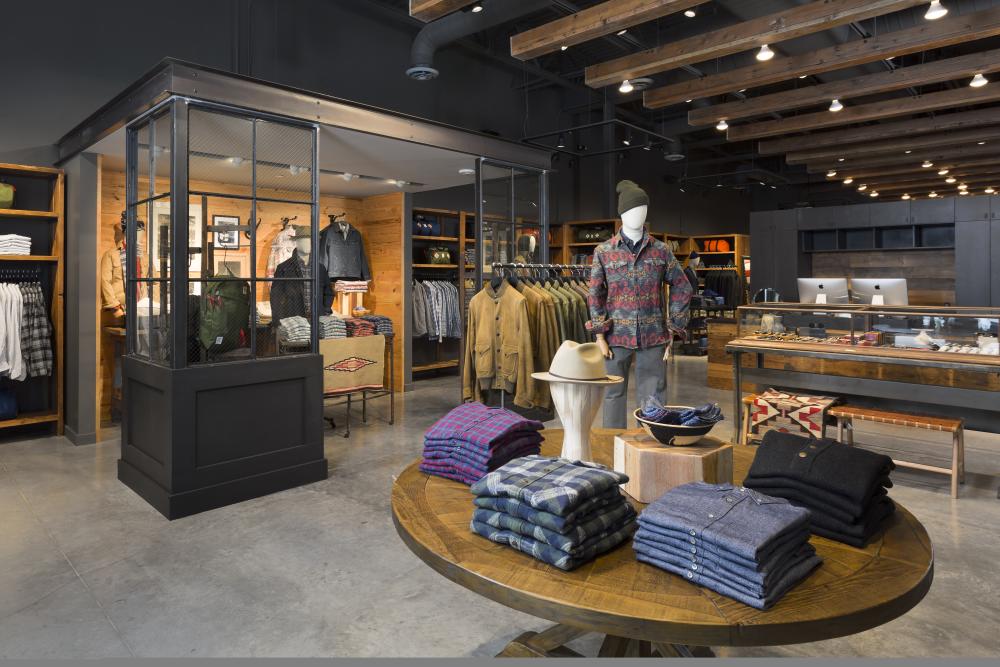 Courtesy of STAG Provisions.
Shopping
Strolling around Domain NORTHSIDE is basically like being a cool, outdoor luxury mall where you can load your bags with everything from high-tech gadgets at the Apple Store to trendy fashion at Impeccable Pig. Window shopping is totally an option but expect to indulge in some retail therapy—after all, who could resist some Dream Cream lotion from Lush Cosmetics or a new planner from Erin Condren's flagship store?
Stag Provisions: Guys won't feel left out of the shopping game with this high-style store featuring on-trend clothing, cool accessories, art, and irreverent gifts.
Frye: These are "those" boots—the ones that last for a lifetime and look good doing it. Frye opened its second Texas location in the Domain and they have their classic offerings plus sneakers and sandals.
Limbo Jewelry: Simple, elegant, and (most importantly) built in Austin, Limbo Jewelry plays with geometric designs for a look that's always classy, classic, and enviable.
Amazon Books: Amazon gets down with its original '90s self at this bookstore. Curated 4-star-plus customer favorite reads along with toys, games, electronics, and home items, it's like shopping online… but like, in person.
Theory: This New York-based men's and women's clothing label is all about pulling together your look. It's the kind of spot where you get signature pieces that live in your wardrobe until the end of time.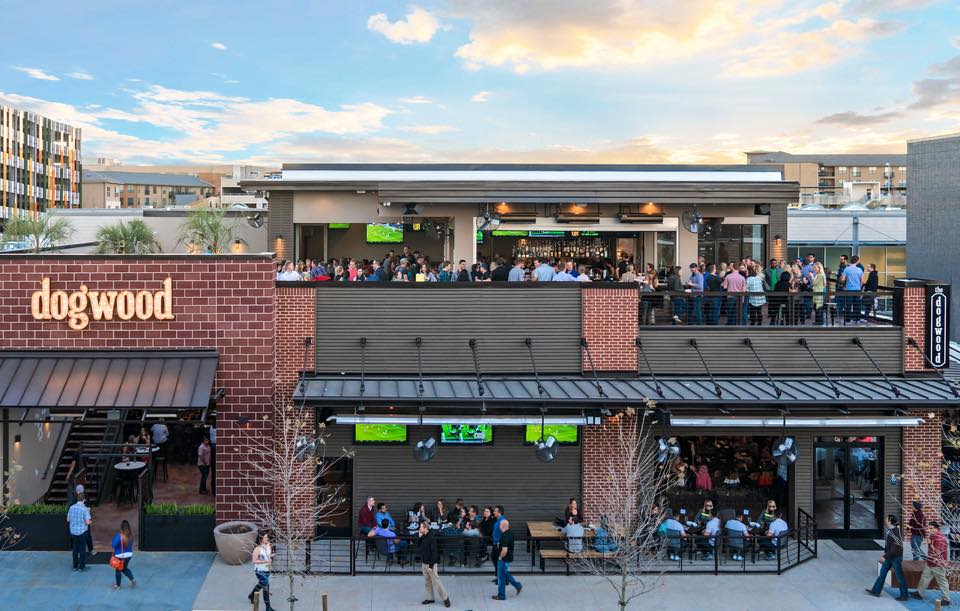 The Dogwood. Credit Carmack Concepts.
Music & Entertainment
There's a fantastic time to be had around every corner at Domain NORTHSIDE. Try a treat-yo-self package at Viva Day Spa to feel pretty and pampered, bring the whole fam to weekly events (like movies in the park and art walks), unleash that inner child on vintage video games at Kung Fu or get a little wild at the European-style dance parties at the Rose Room. No matter what, your calendar will be full of fun, Domain-style.
Wonder Bar: If you're doin' it for the 'gram, here's your spot. Walk in and marvel at the unicorn carousel, printed cocktails, and multi-colored disco balls hanging from the ceiling. Make sure to spin the wheel for a special (wink!) surprise.
Lavaca Street Bar: What was once a little sports bar downtown has become the sports bar in Austin. The Domain iteration is much like the others—tons of screens, lots of beers on tap, and sustainable seafood from Turf N Surf.
Jack & Ginger: Bringing a bit o' the Irish to the Domain NORTHSIDE, Jack & Gingers is the quintessential Irish pub. They have an elevated bar menu (with fish and chips, naturally), a long wooden bar for drinkin', and now, live music on Fridays.
Yard House: Bar games and big beers and sportsing are the name of the game here. Except their food is actually good and quite diverse—try the buffalo cauliflower with spicy tahini and the shrimp and red quinoa salad.
The Dogwood: Cold beer, cocktails, and comfort food characterize this southern-ish spot. Their outdoor patio is perfect for a sunny brunch or an after-work gathering. Pro-tip: Don't plan to share the mac n cheese.
Learn more about the Domain NORTHSIDE, find hotels in the area and plan your visit today!