During this time, the health and well-being of our local community and our visitors is vital. Travelers to Austin – and all destinations – should continue to observe the health recommendations of national, state and local public health officials, as they plan to travel, when they travel and when they are visiting any destination. For the latest updates about the status of each featured business, please check each location's website. To learn more about local restrictions and closures in Waco, click here.
If you're itching for some new scenery, Austin's central location in the Lone Star State makes it easy to take a day trip to and from. In the past decade, Waco has garnered a ton of national attention (in a good way.) The wild popularity of Chip and Joanna Gaines' show, their Magnolia Market, the mad rush of people moving to Texas, and the national appetite for finding the hidden gem have all brought the spotlight to bear on Waco. If you're day-trippin to this town, here are your must-dos.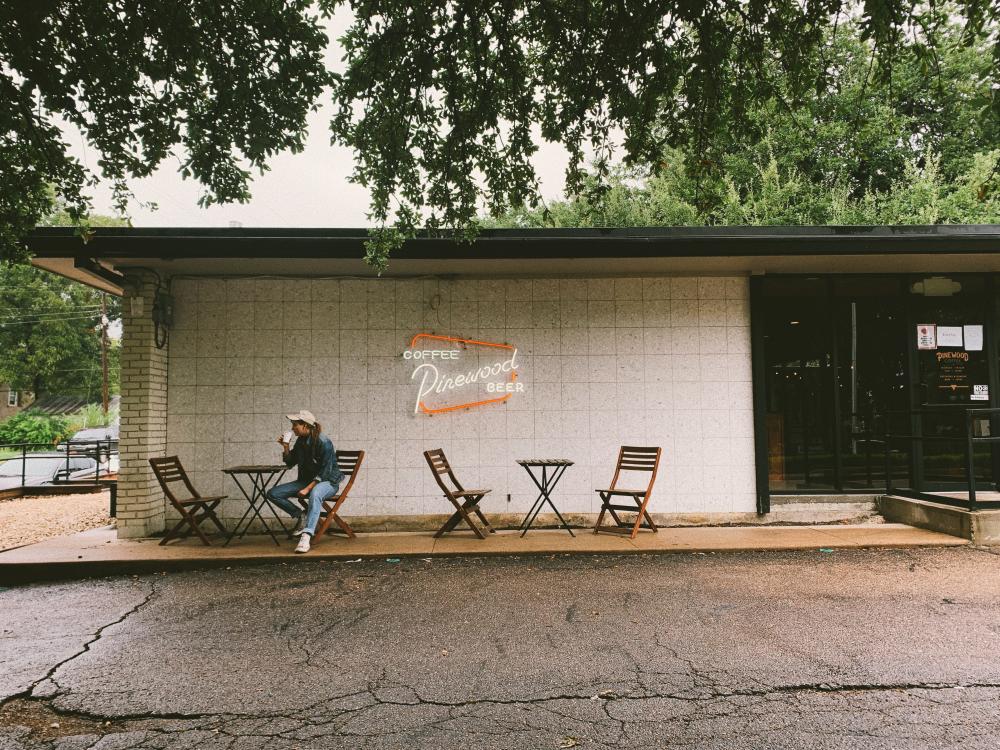 Pinewood Coffee. Credit Laura Lee Washington.
Restaurants & Coffee Shops
Make no mistake… if you plan to do Waco right, your visit absolutely must start with caffeine. The best coffee in the city is at a shop called Pinewood Coffee Bar. They're incredibly hip, roast the coffee in-house, and they offer a number of other options like kombucha, turmeric, matcha, chai, and CBD cider (plus craft beer.) Prepare yourself—because your breakfast at Harvest on 25th means you'll have to decide between strawberry lemon poppy pancakes, blackberry lavender french toast, their brunch socca (flatbread, pistachio pesto, caramelized onions, roasted tomatoes, avocado and egg) and many more delights. Alternatively, stop in at Lula Jane's, the first garden-to-table restaurant to open in the county. Awesome pastries, lovely lunches, and their famous baked oatmeal are the draw. For lunch, Magnolia Silo's Guess Family BBQ is the darling of the meatatarian crowd and Texas Monthly's barbecue list. Their brisket has a great bark, the potato salad boasts just enough vinegar, and they've got loaded barbecue nachos. Stop into Revival Eastside Eatery for creative sandwiches, salads, and burgers served with a wedge of watermelon. Choose-your-own adventure for dinner at Union Hall, a community food hall that brings some of Waco's best food vendors together. Our favorite is koKo Ramen, authentic ramen, steam buns, skewers, and other house-specialties, often in conjunction with other local shops. Finish your meal/day off with Press Waffle Co, a spot that smothers Belgian waffles in all-the-things (as featured on Shark Tank.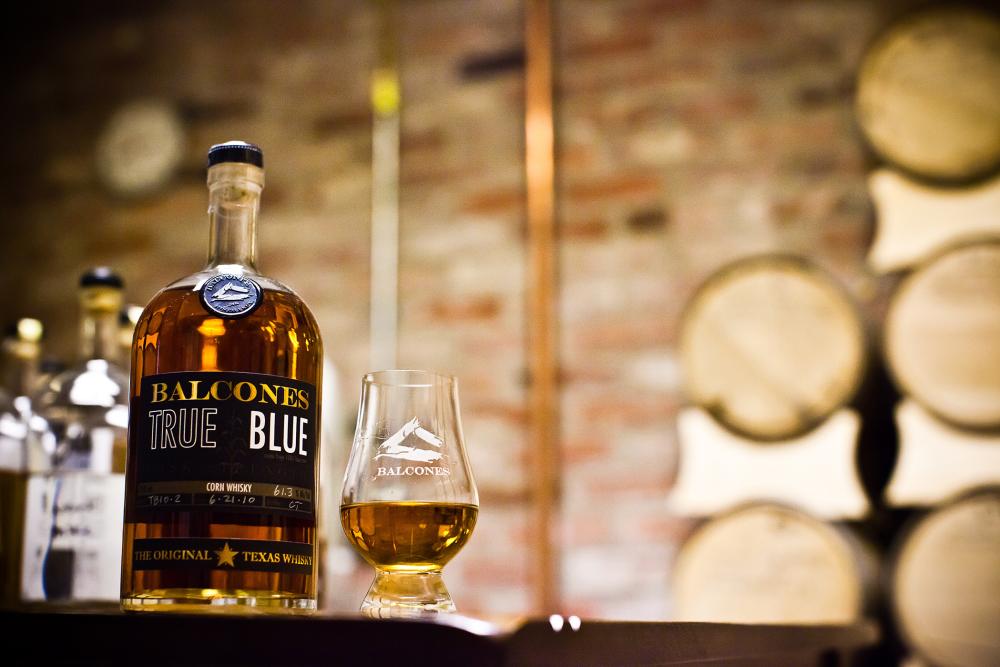 Balcones Distilling. Credit Dustin Meyer Photography.
Bars & Breweries
Wherever you are in Texas, you'll stumble upon some great bars… even in Waco, which was a dry county for many years. Celebrate your right to get a cocktail by snagging one at George's, a classic spot with budget friendly drinks (including frozens!) and cold, cold beer. Craft beer lovers are spoiled for choice. Your first stop should be Bare Arms Brewing, given that it was (allegedly) Waco's first brewpub. Alternatives include Dancing Bear Pub, Brotherwell Brewing, and TrueLove, a bar offering 100+ craft brews. For a crafted cocktail, you won't go wrong at Sam's Bar (in Union Hall) especially if you're already planning on dinner there. For coffee, cocktails, and beer both Dichotomy Coffee and Spirits and One Day are making gorgeous grammable drinks. If you prefer to go straight to the source, stop in at Balcones Distilling, the first Texas whisky maker since prohibition. They have a range of whiskies and annual releases that are practically an event every year. For a bar with laid back vibes, check out The Backyard Waco where string lights dangle over a huge outdoor area and local and national artists grace the stage.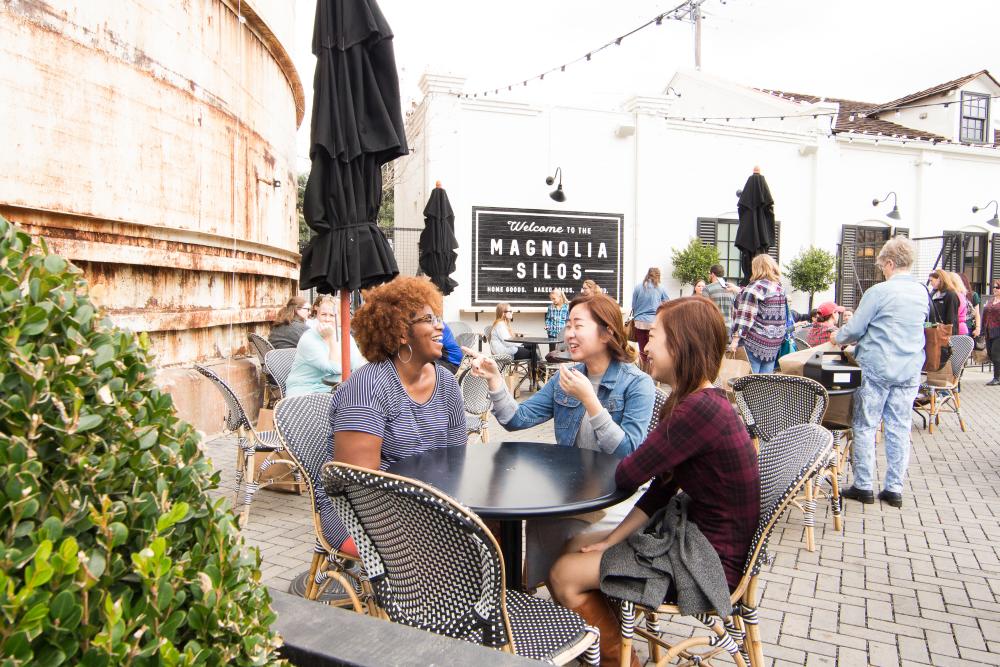 Magnolia Silos. Courtesy of Visit Waco.
Shopping
It wouldn't be an article about Waco without talking about the charms of Magnolia. People plan entire vacations around a trip to this area—their "silobrations" bring them to the market to take selfies, buy decor and antiques, have lunch, and fawn over Fixer Upper fashions. Go rustic and pick up some antique farmhouse decor at Junque in the Trunk and The Findery or get funky at Savage Finds Antiques to peruse art, furniture, salvage, vintage clothing, glassware, and more. To walk out wearing a bit of Waco, Wildland Supply Co is the spot for chic and trendy finds and Roots Boutique will keep you bejeweled and be-garbed in sustainable, ethical fashion. It's always fun to see another city's farmers market and Waco's Downtown Farmer's Market happens every Saturday and brings together food and beverage vendors and artisans from around the area. To take home something without spending any money, scout around Waco's mural walls. Find many of them at the silos and make sure to check out the newest one, Birds Flying on University Park.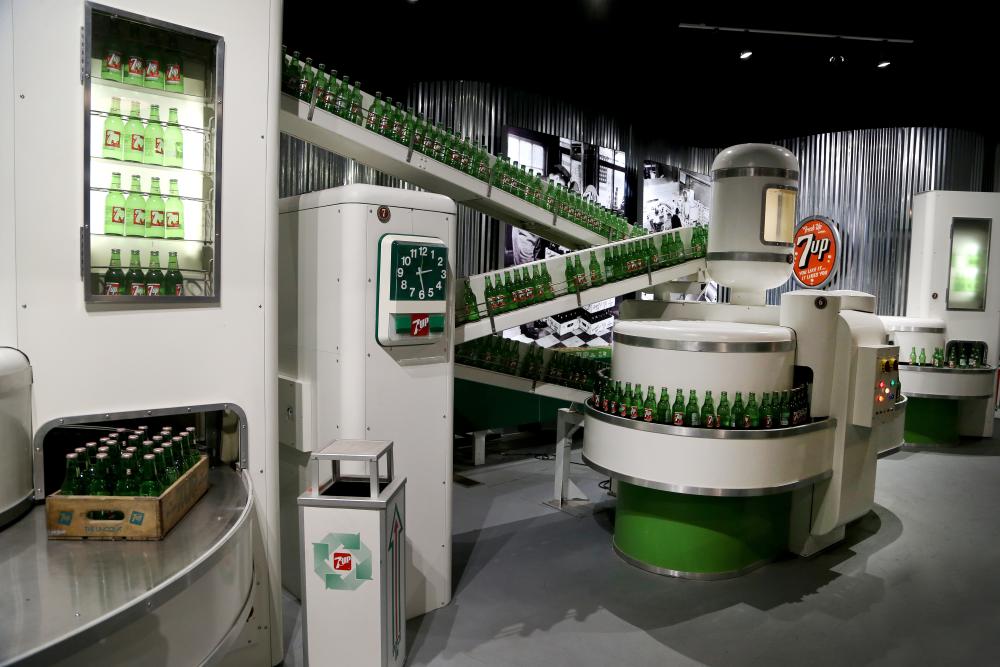 Dr Pepper Museum. Credit Mark Randolph.
Attractions
The biggest attraction (certainly in terms of acreage) is Cameron Park. It's one of those parks that encompasses everything. Situated off the Brazos, it has kayak and boat entrances, frisbee golf, children's play areas, hiking, biking, gazebos, glorious vistas and horse trails… plus a zoo. It goes without saying that you'll need to come to the park with an agenda. If it's your first visit, and you're fit, that agenda should include Jacob's Ladder, a structure comprised of nearly 100 uneven stairs to the top of a bluff. Not for the faint of heart, it's something you'll remember forever (and not just because your muscles are sore.) Take a walk on the wild side at the Cameron Park Zoo. Spread across a 52-acre natural habitat, the zoo features monkeys, eagles, tortoises, big cats, bears, an aquarium and a slew of other animals. For an animal of another era altogether, scope out the Waco Mammoth National Monument which is centered around the bones of the massive Colombian mammoth. This isn't a re-articulated skeleton but rather the original dig site of the animal with 14 feet shoulders and a weight of 20,000lb. Another Texas "mammoth", Dr Pepper, has its own museum in Waco, with years of advertising and history plus a soda fountain where they mix it fresh. Baylor is arguably the most recognizable thing about Waco and the campus is really a beautiful thing to walk around. Definitely stop by the Armstrong Browning Library, which houses the world's largest collection of Browning material and other fine collections of rare 19th-century books, manuscripts, and works of art. Baylor is also the home of the Bill & Eva Williams Bear Habitat featuring Baylor mascots Lady and Joy. For a cooler afternoon, grab a ticket to see a show in Waco's Hippodrome, a gorgeous building, live music venue and theater.