Austin's reputation for "weirdness" is a bit hard to pin down. What exactly does it mean to be weird, anyway? If it means laid back, creative, fun-loving, and a little quirky, then it's a fitting description.  Visitors to our fair city should stop by some of these attractions to see if you agree with our weird bona fides. And Austin locals, if you haven't been to these fun spots, what are you waiting for?
This house in a "normal" south Austin neighborhood has been transformed into an eco-conscious funhouse. Whimsical lookout towers, glittering mosaics, gleaming fire poles, and decor inspired by the owners' world travels have turned this home into a liveable masterpiece. And it's green, with solar panels, rainwater collection, and no air conditioning. Since this is the owner's daily home, tours of Casa Neverlandia are available by reservation only. 
Spend an afternoon browsing the collection at Curia Arcanum's House of Curiosities, and pick up a souvenir for your favorite weirdo. Tarot cards, books of mysticism, antiques, and oddities are waiting to entice you. Get a card reading, or just browse while classic horror films play in the background. 
This charming pocket park is an Austin original. Once a utilitarian electrical substation, Sparky Park was overhauled by local artist Berthold Haas—along with some helpful neighbors—in 2008. The materials here show how one man's trash...you know the phrase. Bits of glass, stone, broken dishes, shells, marbles, and other shiny bits and bobs turn the walls and pillars into a tactile art installation that you'll want to feel as well as see.
Behind a brightly-painted house, a tree-lined alley bursts with color and whimsy. The roadway and fence are painted in bright, cheerful colors, and sparkly globes hang from overhead tree limbs. At foot-level (aka fairy level), you'll find fairy houses waiting for their tiny residents to come home. This charming little spot is a little weird and a little magical all at once.
On 6th Street tucked amongst the bars and nightclubs, a different kind of attraction awaits. It's right there in the name—this place is weird. A stuffed cyclops and a Fiji mermaid, shrunken heads, and something called the Minnesota Ice Man are all on display, harkening back to the old-fashioned carnival days. The museum is inside Lucky Lizard Curios and Gifts, so you can get a souvenir while you're there.
Ginny's Little Longhorn Saloon isn't the only place in town to catch a round of Chicken S*** Bingo, but it was the first. Here's how it works: pay $2 for a ticket. Then gather around and watch a hen…"do her thing" on a numbered board. If she leaves a little something on your number, you'll win a prize. Games are played on Sunday afternoons at the Little Longhorn, a no-frills, old-school Austin dive bar with live music six nights a week.
Behind a small house in South Austin, the legendary Cathedral of Junk stands tall (although not quite as tall as it used to!). Built bit by bit starting in 1988, this colorful clubhouse by property owner Vince Hannemann started out as just a bit of fun, and became a beloved part of the Austin landscape. There was once a three-story tower as part of the Cathedral, but Hinnemann tore it down, intending to be finished with the project. A change of heart led him to re-use the materials for three additional rooms to explore. Visitors are welcome, but must make an appointment.
Bits of hair, an old cigarette, a bent fork. Are these the makings of a museum? At the Museum of Natural and Artificial Ephemerata, they are. This in-home, family-run museum in East Austin shares the stories behind these bits of overlooked curiosity. That bit of hair came from Elvis Presley's head. The cigarette was Marilyn Monroe's last. The fork is said to have bent with telekinesis. The magic in these objects is in the stories, which owners Scott and Jen are eager to share.
Where Did All This Weirdness Begin?
Austin has had a reputation as a city "on the fringe" since the 1960s and 70s, when affordable living and counterculture ruled. But where did the famous catchphrase come from?
Former Austin Community College librarian Red Wassenich didn't intend to give the city a slogan when he called in to The Lounge Show on KOOP Radio in 2000. When the host asked why he was making his donation, he responded, "I don't know. It helps keep Austin weird."
Red and his wife soon printed the phrase on bumper stickers, which they deliberately sold at a loss. Just a few years later, the community rallied around the phrase when a proposed Borders threatened the livelihood of beloved Austin bookstore BookPeople. Now the official slogan of the Austin Independent Business Alliance, Keep Austin Weird is a rallying cry for all the strangeness that calls the city home.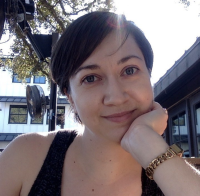 Contributed by Kate McDermott.
Kate McDermott is a local copywriter, content writer, and cocktail enthusiast. She writes about and for restaurants, hotels, event companies, and more from her home in Way South Austin.
Website: eatdrinkandwritecopy.com
Instagram: @eat.drink.writecopy