Perhaps no state mammal is associated with its "home state" as quickly as the Texas Longhorn. Weighing in at up to 1,500 pounds and standing up to six feet tall, these bovine beauties certainly catch the eye. But it's their titular longhorns, sometimes reaching eight feet from tip to tip, that really make these cattle stand out. 
Want to see the real thing? There are several places in Austin where you can catch a glimpse. But enjoy them from a distance! While Longhorns are beautiful and usually docile, they are incredibly strong and must be given proper respect. Longhorns need plenty of grazing space, so they're less common here in Austin than they might be out in the country. Still, there are a few places within the city limits where you can spot these impressive cattle.
Fast Park & Relax
If you're flying in from out of town, spying a few Texas Longhorns could be the first thing you do! Right across State Hwy 71 from Austin-Bergstrom International Airport, a herd of longhorn cattle roams the ranch land adjacent to the Fast Park & Relax parking lot. 
To get there, just turn onto Spirit of Texas Drive and pull over in the runoff area before entering Fast Park. The cattle have a large plot to roam, so they're not always visible from the road. But with no admission fee required, it's worth a look!
Austin Zoo
For a more reliable longhorn sighting, try the Austin Zoo. This rescue and conservation zoo provides a comfortable "retirement" for animals that have been saved from unsafe or unsustainable living conditions. Among the zoo's residents are three longhorns, which visitors can see during a ride on the Rawhide Train.
Lakeline Mall Drive
In Northwest Austin, a mini-herd of Texas Longhorns graze at the corner of Lakeline Mall Drive and Rutledge Spur. These cattle are on private property and safely fenced in, but visitors can get a look at them from the street. Steer clear of the electric fence! 
What's So Special About Texas Longhorns?
The Texas Longhorn's history predates Texas by hundreds of years. Descended from cattle brought to the Americas in the late 15th and early 16th centuries, these hardy mammals are well adapted to the dry, rugged conditions of Central Texas. 
While they were once raised for meat, their lean beef fell out of favor in the 1800s, leading to their near extinction. But the breed was saved, partially due to the popularity of Bevo, a Texas Longhorn that was designated the mascot of the University of Texas at Austin in 1917. The steer you'll see at a UT Longhorn's football game today is the 15th Bevo to bear the name.
The renewed interest in Longhorns led to conservation efforts throughout the 20th century, which helped to stablize the population. In 1995, the Longhorn was designated the official large mammal of Texas, and they're considered an important part of the state's cultural heritage.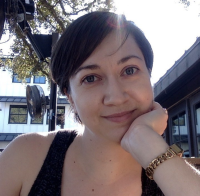 Contributed by Kate McDermott.
Kate McDermott is a local copywriter, content writer, and cocktail enthusiast. She writes about and for restaurants, hotels, event companies, and more from her home in Way South Austin.
Website: eatdrinkandwritecopy.com
Instagram: @eat.drink.writecopy