FOOD TRUCK CATERING IN AUSTIN
Food trucks are an integral (and fun!) part of the Austin experience. There are so many options to choose from in Austin, and  thanks to Roaming Hunger, sorting through cuisines and details of food truck catering doesn't have to be overwhelming.
We've put together the ultimate Austin food truck catering guide to help you find exactly what you need for your next event, with a list of the best local food truck caterers — noting their cuisines and what types of events they're perfect for — and handy tips on how to hire one. Let's dive right in!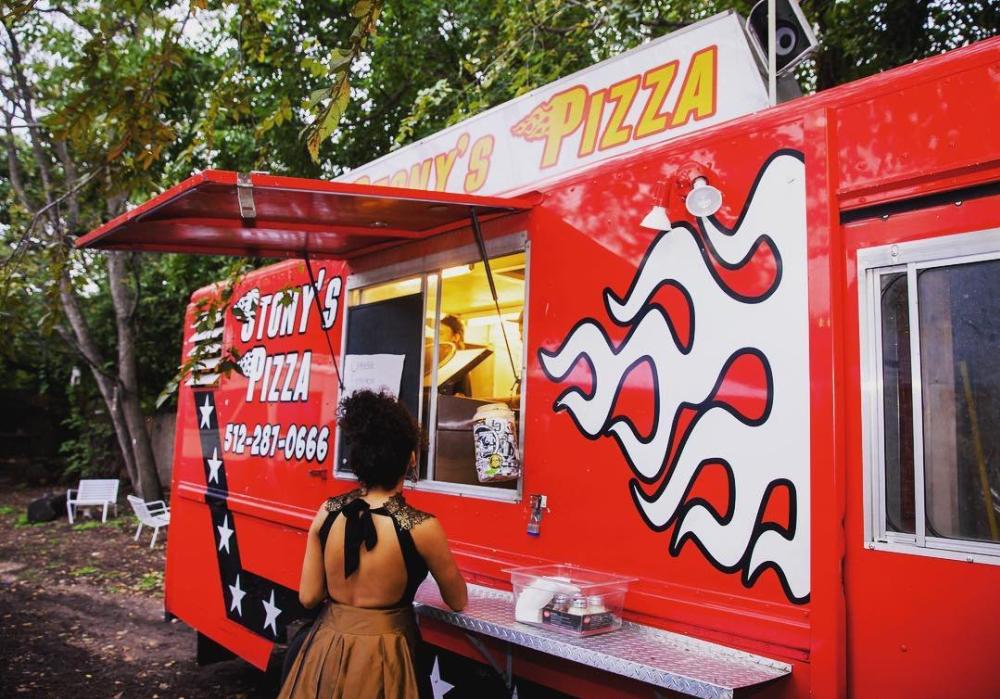 Taco Trucks
When it comes to taco truck catering, you have plenty of options. Wake up attendees with breakfast tacos that contain fresh, organic ingredients like shrimp, eggs and cheese. Take a midday break with Ensenada-style burritos or the iconic taco brunch. End your night with a curry shrimp taco. Here are some terrific taco trucks you can bring to any Austin event.
Rosarito
Carlos, the owner of Rosarito, offers your attendees the best of both worlds with his Baja, California fusion, naturally blending influences from Japanese and Mexican Pacific seafood.
Great for: Corporate Catering, Huge Events, Weddings
Cuisine: Mexican, Seafood, Tacos, Vegetarian
Mix'T Caribbean Blends
Your guests will enjoy the melting pot of flavors offered by Mix'T Caribbean Blends — it's literally in their name! Tatiana French-Dejuan, owner and head chef, perfectly blends her heritage and roots into her cuisine by combining Caribbean and Southern comfort foods. 
Great for: Family Events, Huge Events, Corporate Catering
Cuisine: Caribbean, Tacos, Burgers, Sandwiches, Pasta
TacoMan512
With a catering setup that can be scaled to any size event, TM512 will have your guests going back for seconds (and thirds and fourths) with their tacos, aguas frescas and paletas.
Great for: Corporate Catering, Fancy Affairs, Large Events, Weddings
Cuisine: Mexican, Tacos, Dessert, Drinks, Vegetarian
Mama Noy's Food Truck
Mama Noy knows how to cook up a great dish and do it well, using only the freshest ingredients to serve your guests the perfect fusion of Laotian and Tex-Mex flavors. 
Great for: Corporate Catering, Huge Events, Weddings
Cuisine: Tacos, Asian Fusion, Eggrolls, Vegan, Vegetarian
Pepe's Tacos
Welcome to birria heaven and meet your Birria King, Pepe. Bless your party guests with these tacos full of juicy, mouthwatering flavor. Attendees will also be happy to find birria quesadillas and tortas on the menu. 
Great for: Corporate Catering, Huge Events, Weddings
Cuisine: Mexican, Eclectic, Tacos, Sandwiches
BBQ Trucks
There really is no barbecue like Austin barbecue. You'll not only get a twist on traditional Texas barbecue here, but you can also experience influences from all over the country. Think bohemian brisket plates and aptly named championship rib plates. Bring one of these barbecue catering trucks out to your next party and your guests will never forget it.
Micklethwait Craft Meats
Treat your guests to some truly famous barbecue from Micklethwait Craft Meats. They have served Austin since 2012 with various craft meats, such as handmade slow-smoked sausage and brisket — and don't forget the Moon Pies. 
Great for: Large Events, Festivals, Drop-Off for Smaller Parties
Cuisine: BBQ, Sausages, Sandwiches   
Bohemian Barbecue
Be the talk of the town when you have Bohemian Barbecue at your next event. They have all the original flavor plus some with their bohemian flair, such as their Bohemian BBQ sundae (don't ask, just try it for yourself!). 
Great for: On-Set Catering, Huge Events, Corporate Catering
Cuisine: Comfort Food, Burgers, Sandwiches, BBQ
Señor Smoked Barbeque
Give your guests an experience they'll never forget by inviting Señor Smoked Barbecue to your next event. They blend Latin flavors with barbecue that's guaranteed to surprise your attendees' tastebuds. 
Great for: Office Parties, Block Parties, Birthday Parties
Cuisine: Latin Fusion, Tex-Mex, BBQ


Burger Trucks
When we say burgers, we know you're probably thinking juicy meat loaded with fresh ingredients. If that's the case, you're absolutely right! But that doesn't even scratch the surface of all the dishes that burger catering trucks in Austin can offer.
Wholly Cow Burgers
Your attendees will be hollering "holy cow" when they taste the finest grass-fed reubens, burgers and cheesesteaks that Austin offers. 
Great for: Weddings, Office Parties, Festivals
Cuisine: Burgers, Sandwiches, Cheesesteaks
ATX Sliders
Not only will you be feeding your guests the best sliders in Austin, but you'll be supporting the community, because a portion of each sale is donated to charity. 
Great for: Corporate Catering, Fancy Affairs, Large Events, Weddings
Cuisine: Sliders, American Classics
Urban Cowboy
It's hard to find a mobile caterer that excels at both burgers and tacos, but Urban Cowboy pulls it off. While this pop-up doesn't come with a traditional food truck, we had to include them on this list.
Great for: On-Set Catering, Huge Events, Corporate Catering, Weddings
Cuisine: Southern, Tacos, Burgers
Pizza Trucks
Cheese. Pepperoni. Sausage. Veggies. Chicken. Bacon. No matter what your favorite topping is, these pizza catering trucks have got you covered. With irresistible pizza toppings and sauces, you'll be sure to spice up your next event!
Hungry J's Pizza
You can never go wrong with pizza, especially if it's being catered by Hungry J's. They take pizza to a whole new level. Your guests can either try one of their unique cheesy creations or make their own from their extensive list of delicious toppings. 
Great for: Fancy Affairs, Family Events, Huge Events, Corporate Catering
Cuisine: Pizza, Wings, Vegetarian
Stony's Pizza
This father-and-son duo had a business goal of "go big or go home," and they went bigger than you can imagine. Have Stony's cater your next BIG party with their seriously BIG pizza. 
Great for: Large Parties, Corporate Catering, Weddings
Cuisine: Pizza


Dessert Trucks
Searching for some of the best sweet treats in Austin? Look no further, because these dessert trucks have got exactly what you need. 
Bananarchy
Let your guests DIY their own chocolate-dipped, ethically sourced bananas, or pick one of their recommendations. Go banana crazy when you invite Bananarchy to your next party. 
Great for: Small Parties to Huge Events
Cuisine: Eclectic, Frozen Treats, Sweet, Fruit
Crepe Crazy
Bring a little bit of France to your next party when you book Crepe Crazy. They bring savory favorites like Florentine and Caprese, as well as sweet treats like Nutella Royale or Brown Sugar & Cinnamon. 
Great for: Weddings, Private Gatherings, Corporate Events
Cuisine: Crepes, Vegetarian
Casey's New Orleans Snowballs
Support a family-owned business when you book Casey's New Orleans Snowballs. Not only do they offer traditional flavors like tiger blood, but they also have favorites such as Boston cream pie. Extra bonus? They're all homemade.
Great for: Family and Kid-Friendly Events, Huge Events, Corporate Catering
Cuisine: Ice Cream, Frozen Treats, Sweet, Shaved Ice, Vegetarian
More Amazing Food Truck Caterers You'll Love
The great thing about Austin cuisine is that it's not all just barbecue, burgers and tacos. We've included some comfort food, along with dishes inspired by Mediterranean, Latin fusion and Asian fusion tastes. Think gyro plates served with warm beef and lamb, a chipotle-style burger mixed with black beans, kafta with hummus wraps and even grape leaves. No matter what you're craving, you'll be more than satisfied with these food trucks.
Burro Cheese Kitchen
Nothing says comfort food like a gourmet grilled cheese sandwich from Burro Cheese Kitchen. Artisan cheeses and breads are used to create mouthwatering masterpieces that will make your party guests melt with delight.
Great for: Large Events, Weddings, Corporate Events
Cuisine: Grilled Cheese, Comfort Food, Dessert, Vegetarian
Meat Your Heart
You'll set your guests up for a great love story between their tastebuds and Meat Your Heart's food. The food truck stacks American and Caribbean flavors into a single sandwich — all the flavor you could imagine in a single bite! 
Great for: Family Events, Huge Events, Corporate Catering, Weddings
Cuisine: Caribbean, Sandwiches
Shishman Mediterranean Grill
Treat your guests to fresh and authentic Halal and gluten-free Mediterranean street food. The owner, Sefa Kara, wanted to bring Turkish food to Austin, and we couldn't thank him enough for sharing his delicious, culture-rich food with us. 
Great for: Indoor Events, On-Set Catering, Corporate Catering, Vegans and Vegetarians
Cuisine: Mediterranean, Gluten-Free Friendly, Kebabs, Halal, Vegetarian
The Mighty Cone
Make it easy for your guests to eat delicious food and mingle with friends by hiring The Mighty Cone for your next event. Chef and owner Jeff Blank created the ultimate street food by loading up his Hot 'n' Crunchy chicken in a paper cone — something you'll have to try. 
Great for: Large Events, Weddings, Kids' Events
Cuisine: Eclectic, Comfort Food, Fried Food Served in a Cone
Garbo's Lobster Food Truck
Lobster rolls have made a home in Austin and set up shop at Garbo's Lobster Food Truck. Surprise your guests with this delicious fusion that successfully blends flavors from the Northeast and soul from the South. 
Great for: Large Events, Weddings, Corporate Catering
Cuisine: Lobster Rolls, Soup, Seafood
Shawarma Point
Book Shawarma Point for your next party and show your attendees what modern Mediterranean Halal street food tastes like. They brought all the flavor, fun and spice to Austin! 
Great for: Large Events, Weddings, Corporate Catering
Cuisine: Mediterranean, Falafel, Wraps, Salads, Vegetarian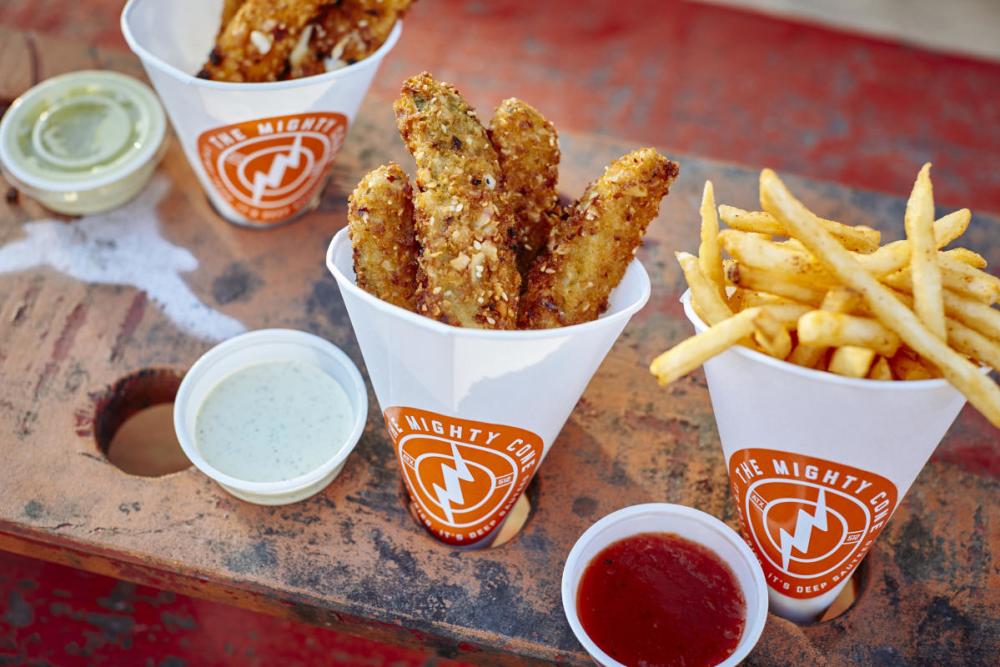 Credit Paula Biehler PR
How to Book a Food Truck for Catering
Now that you know the best food trucks in Austin, let's discuss the nuts and bolts of renting one. Here are some things to do in order to make sure your food truck catering goes smoothly.
Once you have all your event details, you can use a food truck booking service like Roaming Hunger. Not only do they know all the best food trucks for catering in Austin, including the ones mentioned above, but they also make hiring a food truck super easy.
Finalize your budget
Food truck catering costs can range from $10 to $35 per guest, so it's useful to have a budget range, depending on the number of attendees you're expecting at your event.
Here's a helpful breakdown, courtesy of Roaming Hunger's guide to food truck rental prices:
| | | |
| --- | --- | --- |
| Cuisine | Average Price per Person | 1–100 Eaters (Minimum) |
| Taco Truck Catering | $10–15 | $1,000 |
| Dessert Truck Catering | $8–15 | $800 |
| Other Food Truck Catering (BBQ, Burger, etc.) | $15–25 | $1,500 |
Decide on the number of food trucks
Once you have tallied the total number of attendees that will be at your event, decide on the number of food trucks you need. We recommend one food truck for every 150-200 attendees, although you can always rent more than one to give your attendees even more variety.
Make sure to also get your shortlisted food trucks' input on the number of attendees they can serve hourly.
Select menu and cuisine options
There are many attractive menu and cuisine options that cater to a wide range of palates, including vegan and gluten-free dietary preferences.
Food trucks usually have catering packages to choose from, based on budget and attendees. Some food trucks will provide a main course and side dish options, while others will allow you to choose one or more items that they will bring to serve. Some can also customize their menu based on your requests — a great way to elevate your attendees' experience!
Check food truck regulations
If your event is on public property or at a park, ensure that you have all the essential documents, such as a city permit. If you need one, they are relatively easy to obtain.
If it's on private property, you might just need the owner's permission. Also, make sure that your food truck contains any registration and certification required to operate in Austin.
Choose a location
Choose a suitable location for your event, where food trucks are permitted to park and can easily be seen by your attendees. Ensure that the parking space is large enough and on flat ground, with no low-hanging branches and any other obstacles that could be in the way. 
Now that you have everything you need to know about food truck rentals, it's time to start planning. Go forth and make your next event a roaring success!
To learn more about food trucks in Austin and food truck rentals, visit roaminghunger.com.
Article and images courtesy of Roaming Hunger.