AUSTIN'S TOP OUTDOOR VENUES
Austin is home to amazing outdoor venues that are perfect for all types of meetings and events. Check out an array of spaces that include rural ranches, urban beer gardens and rooftop decks with skyline views. Here are a few of our favorites. Find a more comprehensive list in our digital venue guide.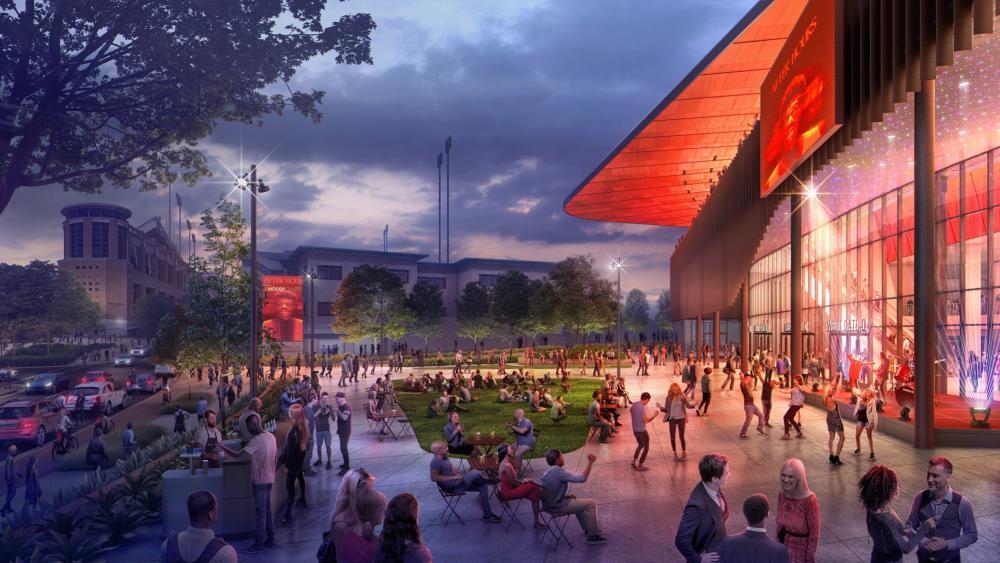 Moody Center Rendering. Credit Moody Center.
Major League Soccer has come to Austin, along with the new 20,500-seat Q2 Stadium, where the Austin FC plays. Expect to see co-owner and Oscar-winning actor Matthew McConaughey cheering on the team in the stands. One of the unique features of the modern, multi-purpose venue is an outdoor amphitheater which has a maximum capacity of 3,000.
Waterloo Greenway, along Waller Creek in downtown Austin, features art installations and concerts at Symphony Square, an open-air amphitheater. Opened in summer 2021, the revamped Waterloo Greenway unveiled the architecturally stunning Moody Amphitheater, which presents regular concerts and cultural events, along with 11 acres of revitalized greenspace that includes gardens and hiking trails.
The Live Music Capital of the World® now has another world-class venue to add to the mix with the Moody Center, which opened in spring 2022. The new arena is located on the campus of the University of Texas at Austin, setting the stage for the Texas Longhorns Men's and Women's Basketball teams. Moody Center is designed to hold 15,000 seats, providing an impressive venue for touring concerts and shows, as well as a variety of special events. Attendees can take advantage of the Center's spacious balconies with stunning downtown views, as well as an expansive plaza.
Banger's. Credit Michelle Williams.
At fun-loving Banger's Sausage House & Beer Garden, the picnic tables are spread across the huge beer garden, 100+ craft beers are served on tap and the menu consists of 30 different house-made sausages (ranging from wild game to veggie) cooked on a sizzling grill. Live music and pig roasts are part of the raucous Banger's experience. Book a small dinner party (for groups of 12+) or rent the whole place out for a private event (1,000 people maximum), Mondays through Thursdays.
Go rural with your next event at Star Hill Ranch near Bee Cave. Star Hill is a re-creation of an early-1900s Texas Hill Country community, made up of actual historic buildings that have been relocated from throughout the state and centered around the quaint Pontotoc Chapel. All of the venue buildings are situated on the Main Street Plaza, which is illuminated overhead with carnival lighting and is the perfect spot for outdoor receptions and dinner parties, as well as tented events. Depending on the event, Star Hill can accommodate anywhere from 20 to 2,000 guests, and vintage props are available for rental. The Reception/Banquet Hall is a converted 1920s school that features large, open indoor space, along with a covered veranda and lawn seating. The larger Fitzhugh Building can accommodate events for 300+ guests.
For an intimate gathering at an iconic Austin locale, visit Moonshine Patio Bar & Grill. Located across from the Austin Convention Center and just steps from some of the city's most noteworthy hotels and entertainment areas, Moonshine offers an outdoor patio and plenty of classic comfort fare. Located in the historic Waterloo area and housed in a refurbished 1852 mercantile, Moonshine serves up innovative down-home cooking in a casual atmosphere that defines Austin. The festive patio areas are perfect for larger events in every season.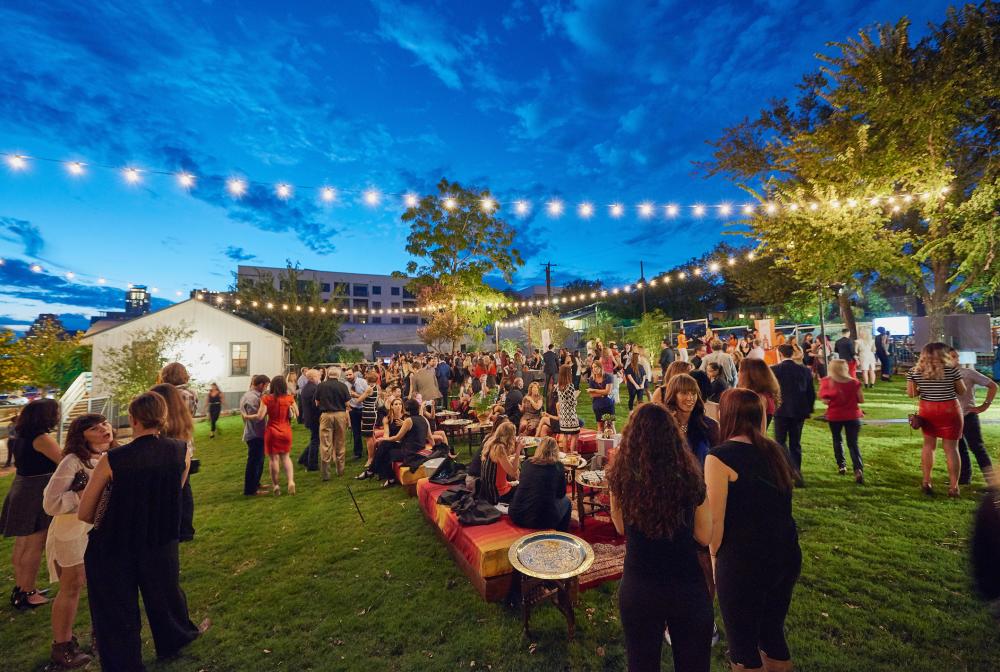 Fair Market. Credit Nick Simonite.
Located close to downtown, Fair Market is a unique community space housed in a funky, quonset hut-style building. Set in the vibrant East Austin neighborhood, Fair Market also offers a versatile outdoor space. The expansive interior features 16,000 square feet of space, while the exterior measures 15,500 square feet. Take the party outdoors, where 1,200 guests can be accommodated.
The Central Machine Works brewery and event hall offers space for groups up to 1,000 in East Austin. Sample small-batch beers like the American Lager or Midwest IPA at the beer hall, housed in a former 1940s machine shop. Or host a private event in the beer garden, complete with food trucks and live music.
Book a fun event at the Easy Tiger Bake Shop & Beer Garden location at The Linc. Reserve the outdoor Patio North (125 standing/60 seated), the Patio Breezeway (160 standing/108 seated) or the Entire Outdoors (200 standing/160 seated), where your guests can challenge each other to games of ping-pong and toast the winners at the outdoor bar. The Private Mezzanine is ideal for networking events of up to 50 people, or a seated dinner for 40 guests. Large party menus include Easy Tiger's famed sandwiches with house-made meats and artisan breads. Be sure to check out the South Lamar and 7th Street locations for private outdoor events, as well. The South Lamar outpost is a hidden gem with picturesque Barton Creek Greenbelt views from its deck, wile the 7th Street location offers a sprawling, 15,000-square-foot lawn that can accommodate large and small gatherings.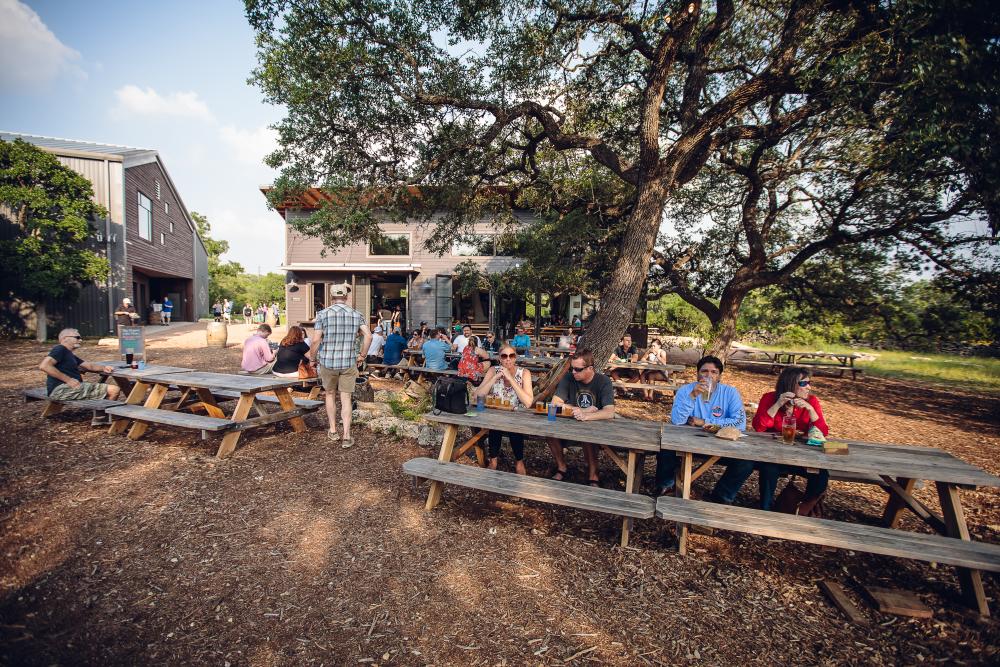 Courtesy of Vista Brewing.
Enjoy the wide-open ranch views at Vista Brewing, located in Driftwood at the gateway to the Texas Hill Country Wineries trail. Plan an event at this beautiful, 21-acre combination brewery, restaurant and farm that offers multiple indoor and outdoor spaces for groups of any size. The on-site catering team crafts dishes made with ingredients direct from the farm, which can be paired with Vista beers like the elegant Le Saison Farmhouse Ale or the citrusy Destination American IPA. You can also arrange for beer tours and tastings or group culinary classes.
Located on a historic intersection of Bouldin Creek and the lively South Lamar Boulevard, Bouldin Acres offers approachable, quality eats and drinks in a fun indoor/outdoor environment. With two acres overlooking Bouldin Creek, Bouldin Acres is a great venue for groups to come together to watch sports, play games, eat, drink and network in quirky South Austin.
The Venue on historic Sixth Street in downtown Austin features a large, open floor plan that makes it ideal for anything from a live concert to conferences and fashion shows. The Venue offers a full-size stage with dedicated sound booths, high-end lighting systems that cover the entire stage and dance floor, eight screens for presentations, VIP areas, and a Green Room equipped with its own kitchenette and full bathroom with shower. The Venue also boasts the biggest balcony overlooking Sixth Street, along with three bars. If you're considering a food truck for catering, The Venue features a huge rolling back wall that allows easy alley access.
Mattie's at Green Pastures is an elegant American restaurant housed in a lovingly restored turn-of-the-century farmhouse. Choose from an array of private event and dining spaces, as well as an outdoor patio shaded by towering live oaks. The 2,300-square-foot Marion Hall, drenched with natural light streaming through its windowed walls, accommodates 160 for dinner (and can be fitted with a dance floor). Intimate seated dinners (for 32 people) or cocktail parties can be held in the cozy Lounge Room, while The Table Royale is perfect for small meetings of up to 16 people, and comes equipped with A/V hardware. Or take the party outdoors on the sheltered Pavilion, accommodating 100 guests for a reception or 80 for dinner.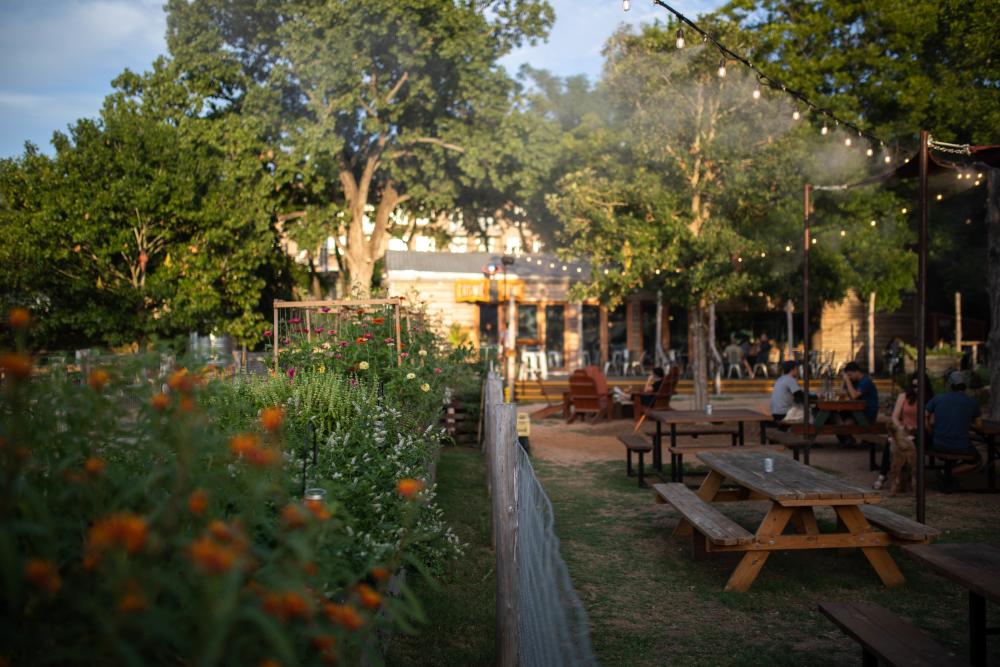 Cosmic Coffee + Beer. Credit Julia Keim.
If you're looking for a laid-back garden setting for your next outdoor gathering, South Austin's Cosmic Coffee + Beer Garden may be just the spot. Just down the road from the popular South Congress Avenue entertainment district, the coffee shop and beer garden features specialty coffee, locally brewed beer, craft cocktails, a food truck park and live music in a permaculture-inspired garden setting. It's hard to beat this true Austin setting (complete with outdoor space heaters, chicken coops and raised bed gardens) as an ideal spot to enjoy warm afternoons and cool evenings year 'round.
Stubb's Bar-B-Q is an Austin institution, known for its lip-smacking barbecue along with some of the best live music around. By day, Stubb's serves mouthwatering, slow-smoked, authentic Texas barbecue for lunch and dinner in an historic 1850s limestone building. At night, Stubb's transitions into a rollicking live music venue featuring blues, country, rock and more in its outdoor amphitheater and on an indoor stage. Private Old West-style spaces, including two bars perfect for cocktail parties, an upstairs patio and the outdoor Waller Creek Amphitheater, make your event a true Texas experience for 20-2,200 guests.
If you've got a group of whiskey lovers, you'll want to check out Still Austin Whiskey Co., which holds the distinction of being the first whiskey distillery located within Austin city limits since Prohibition. A true grain-to-glass distillery, everything is done in-house (and made from ingredients sourced from local farmers), from mashing to barreling and bottling. Plan a private tour for your guests to see how Still Austin's whiskey is made, followed by a cocktail party or dinner in the Whiskey Garden or tasting room.
Republic Square is an active, urban greenspace grounded in rich history that traces back to the birth of Austin. The renovated square is a place unlike any in Austin, with daily programming, modern amenities and a full-service cafe. Republic Square Park is available for event rental with a capacity range of 50 to 3,500 people.
Courtesy of The Contemporary: Laguna Gloria.
The Contemporary Austin: Laguna Gloria is a historic landmark located on the shore of Lake Austin that's dotted with outdoor sculptures by renowned international artists. The charming Mediterranean-style villa and expansive landscaped grounds make it the perfect setting for exquisite events and corporate gatherings. Whether you choose from the villa, amphitheater or outdoor spaces, Laguna Gloria can accommodate 150-175 seated guests. 
Located Close to downtown Austin, the UMLAUF Sculpture Garden + Museum is a lovely option for meetings and intimate events of up to 40 people. groups have exclusive use of the light-filled Crenshaw Room, which overlooks the scenic Sculpture Garden. There's complimentary Wi-Fi, along with access to an LCD display with connectivity for presentations. Guests are welcome to explore the Sculpture Garden and leafy grounds. 
Groups with diehard soccer fans will want to consider holding an event at The Pitch, a new dining and entertainment destination located near Parmer Field. With four restaurants serving up everything from burgers to banh mi and two bars, The Pitch offers a number of venues to accommodate meetings and events of various sizes. The Pitch is also a great place for a casual cocktail party, where viewing a soccer match in the beer garden can be part of the fun. 
With an amazing view of the downtown Austin skyline, the indoor-outdoor Palmer Events Center offers two column-free exhibit halls with 70,000 square feet of space, 5,000 square feet of meeting space on the second level, plus outdoor canopy-covered space that adds a whopping 50,000 square feet. The Palmer Events Center has LEED Gold Certification and GBAC STAR™ accreditation, and offers an in-house IT team to handle all technology needs. The on-site catering department works with 30-plus vendors to provide local flavors, from Tex-Mex to barbecue. The Palmer Events Center has indoor capacity of 5,550 guests.